Here are the Success stories of the next 8 Mompreneurs we featured.
Mompreneur Success Stories
Penny Angela
My word to describe Penny is Dynamic.
Within just one short year Penny invented, designed, manufactured and marketed and sold half of the first container load of Ditch the Dummy, a weaning pacifier. And she did all this while working two other jobs and caring for her son. The amazing part was Penny thought that was slow.
In her interview, Penny said: And the lows I suppose were, I could do in 3 months on another product what took me 12 months the first time around.
Penny's Message to the World:
If anybody has a dream, a good concept or an idea and they want to move forward with it, I would say, "Don't just dive in, but research it first". There are a lot of pitfalls, a lot of learning curves.

It's a long journey and you have to be committed. I would have wasted a lot of time and money if I only got half way through this journey and stopped before I actually got to the end gain.
Also, it must be something you believe in, you need to have full faith in it.
Jennifer
I think I have to sum Jenn up in three words: Brave Gentle Heart.
Jenn is a Single Mom to 4 Special Needs Children, 3 are on the Autism Spectrum. She is very clear about putting her children first. She builds her work from home business out of necessity, in the little snatches of spare time she can carve out, working around her children's needs and doctor's appointments. Her blog, Positive Parenting Specialized, is inspirational. Her aim is to give other special needs parents hope that their children can accomplish so much more than the powers that be think they can, through love and nurturing and self-belief.
Jenn's message to the world is:
I think no matter the hand we're dealt, something beautiful will come out of it.
Her advice to new entrepreneurs:
Just get started. Don't just sit around thinking about it. Just go for it. Make small baby steps every single day.
When I pass I want to be sure I made a difference, somewhere, somehow, even if its a tiny one.
Olivia Fox
My word for Liv is Generosity.
Liv has boundless energy coupled with a generous spirit. She works crazy hours and still manages to look after two young children. Liv is the daughter in a Mother-daughter partnership. Their business, My Tiny Teepee is a creative endeavour. Liv's Mamma designs and creates the exquisite children's teepees while Liv creates equally exquisite digital marketing campaigns. Liv's Instagram page is enviably delightful and she manages a number of other Social Media accounts for other successful Mompreneurs.
I don't make a cent from My Tiny Teepee. All the money goes to my Mamma. My favourite bit – doing something because I love it NOT because of the money. That's when you know you've found a keeper job.
Test it – if your boss told you, you had to work for free – would you stay?
Liv's message to the World is: Be great. Be true.
Liv's Mamma also provided some sound advice for entrepreneurs just starting out:
Learn to rely on yourself and nobody else. Trust your intuition and judgment paired with hard work and commitment.
Dorota Dyk
My word for Dora is Humble.
Dora preferred to pass on the question: Do you have a message for the world? as she felt she was not experienced enough to answer that question. Yet she has invented MEDAPTI Baby, a brilliant device to help parents administer medicine to their babies while holding down a half day job and caring for two busy young boys.
Her advice for entrepreneurs:
Not to be afraid of failing as long as you know you're learning and developing. It's worth taking a chance.
Dora also said that she wish she knew to approach people quicker when she first started out.
All the inventors I approached for tips, I would have done that quicker. It was purely because I didn't have any confidence. There wouldn't have been any harm if I did – even if it was rubbish idea.
Rina
My word for Rina is Efficient.
Rina has only 2 hours to focus on her Breastfeeding blog, Living with Low Milk Supply and she's only been building her blog for a couple of years. Yet she has 100,000 page views a month, 2,500 email subscribers and earns over $1000 a month.
How does Rina work so efficiently and effectively? Rina has a daily routine as well as fortnightly routine.
I publish a post once every 2 weeks and the other week I do other things, learning some Pinterest traffic techniques or creating my email broadcasts.
Here's another key to Rina's success.
When I first started, maybe I'd post once a week because I tried to make the post Super-perfect. If I had continued in that way, I wouldn't have an email list and enough blog posts to drive traffic to my site.
Rachel le Char
I believe Rachel's secret sauce is her creativity and spiritual approach to every aspect of her life.
She has the ability to pour her heart and soul into her work, being completely present and focused on the design and creation of her beautiful breast milk jewelry keepsakes, while never losing sight of her real work, being wife and mother.
I prioritise my child's needs over my mine, in the healthiest and most natural way possible…So motherhood is really my top priority, before work life or anything else. This is really my main job.
Rachel's Message to the world:
Your fulfilment must not come not from things that will make you happy temporarily, including achievements that you think will create a lasting legacy for the world.
Instead, true joy comes from fulfilling your duty as a mother and a wife without the expectation of reward.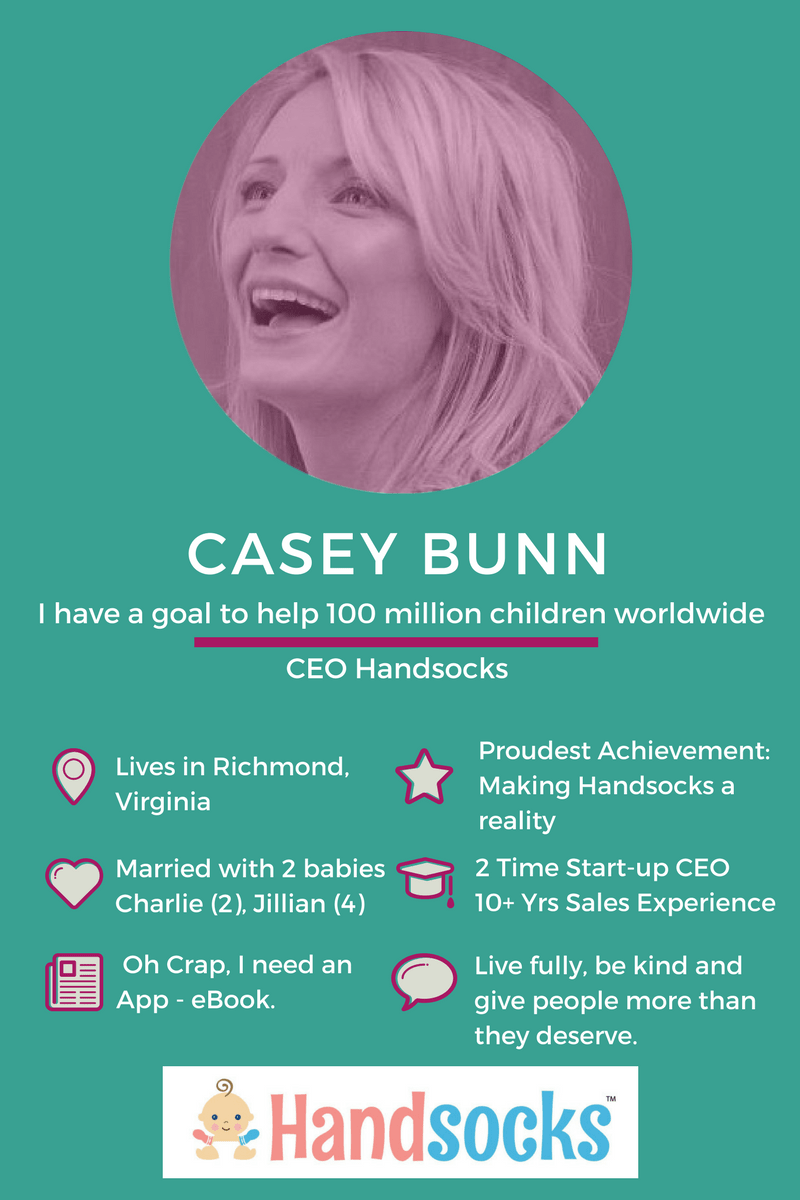 Casey Bunn
Casey embodies the Energy and Enthusiasm that comes with having a clear, strong Purpose.  If I had to choose only one word to describe all this it would be Driven.
Casey has a huge goal, to help 100 Million children worldwide in 10 years.  She'll be doing this by selling hundreds of millions of her Handsocks and donating a percentage of proceeds to Orphan's Promise.
Casey's message to the world is:
I think we were all created for a purpose and I don't think you should stop trying to figure that out. I think you should do whatever you have to do to know what the plan is for your life and then just believe everything is possible because it is.
I think you should do whatever you have to do to know what the plan is for your life and then just believe everything is possible because it is.
Her advice to other entrepreneurs is to be a servant leader by building community and doing things for others.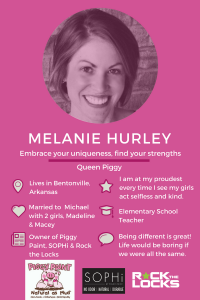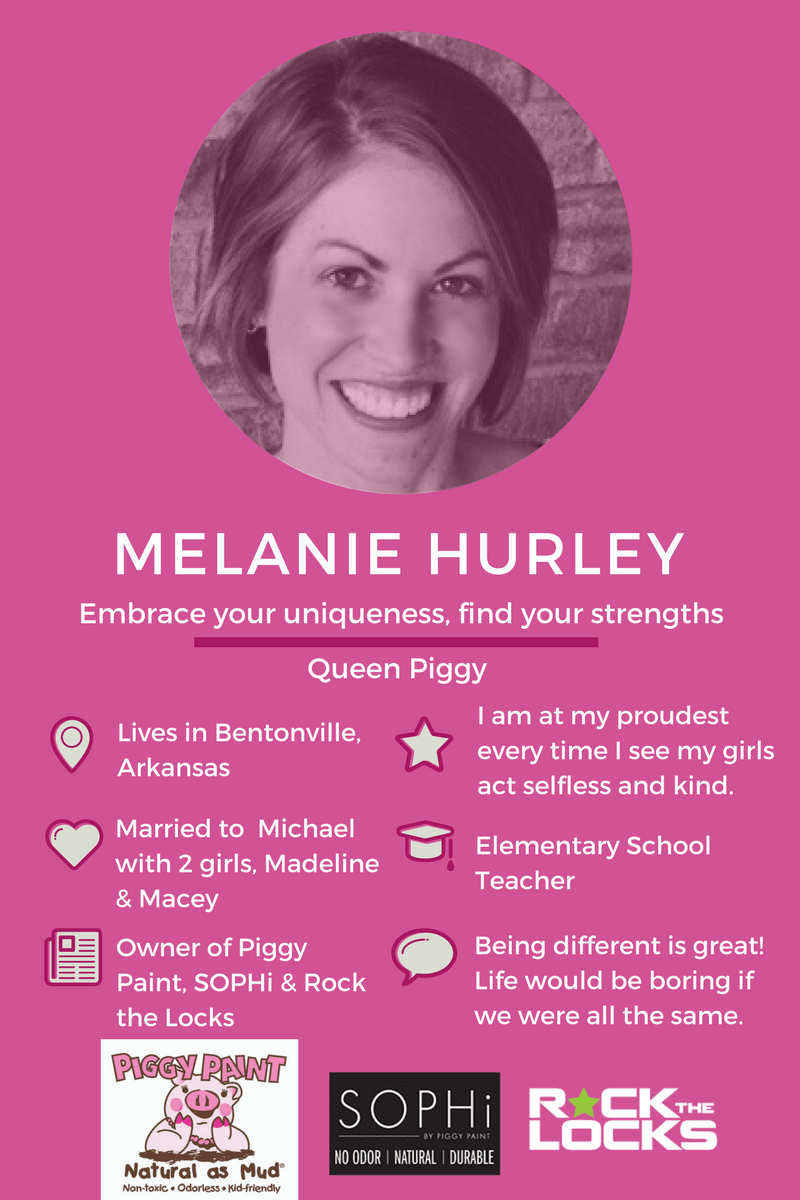 Melanie Hurley
The two words I would use to describe Melanie are Creative Teacher.
I'm sure she would agree as she expressed in her interview that she felt that teaching was her calling and she's found a way to incorporate it into her business life, by giving talks to kids at schools about becoming entrepreneurs.
Her message for the world is for children:
Something I always tell the kids at schools, that being weird or different is a great thing and they should embrace being unique in their individual strengths instead of trying to be like everybody else.  
Her advice for entrepreneurs is similar:
It is important to make a difference.  It may be impossible to change the world, but making a difference in one person's life may very well change their world—and the generations that follow them.  I've learned that I need to use my success as a platform for good.
Hope you have been inspired by these success stories.  Do they entice you to read the full interviews?
It's your turn…can you identify the one thing you feel has made you successful?  
Tell us in the comments below and maybe your success story will be our next feature.