Please follow and like us:
3 Mum Inventor Interviews – 3 Superb Solutions to Common Mum struggles.
Julia Christie with her Nail Snail to trim baby's nails safely and easily.
Penny Angela with her weaning pacifier, Ditch the Dummy.
And now, introducing Dora Dyk, who has invented Medapti, a clever gadget to help Mums administer medicine to their babies.
The struggle is real. These Mummy solutions are brilliant.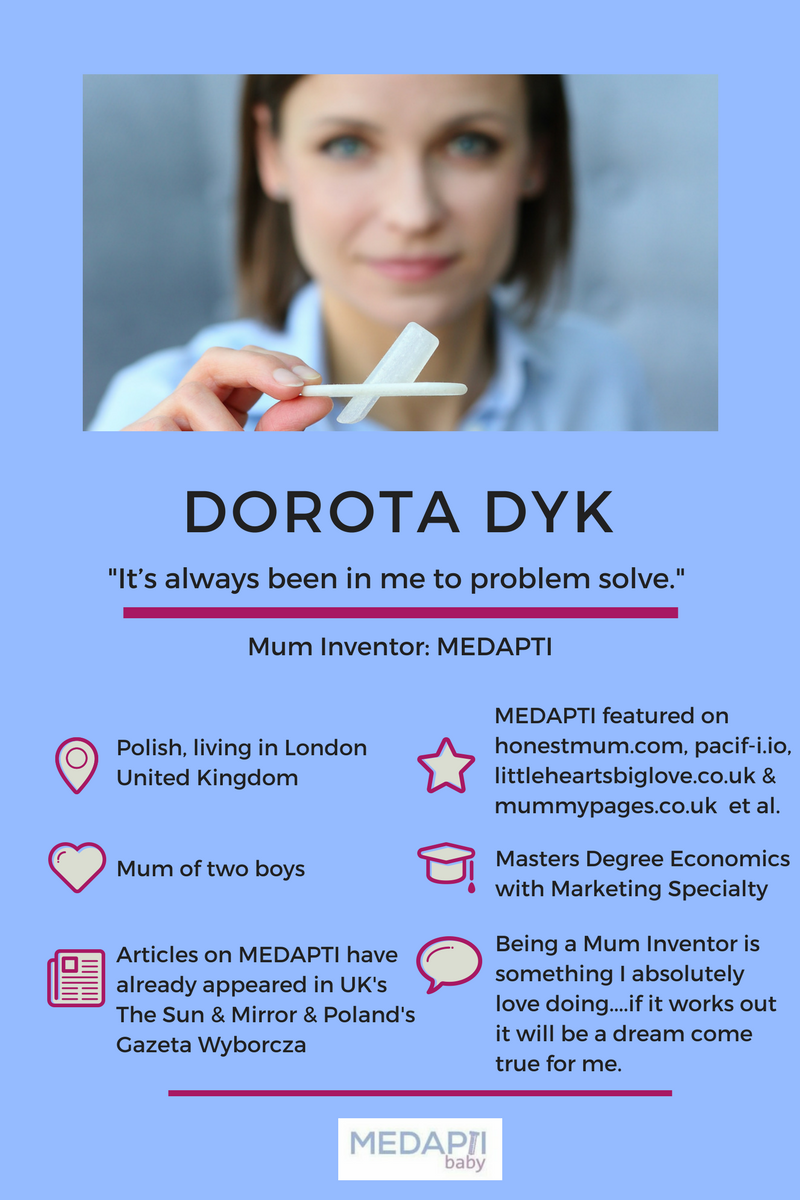 Here is Dora's interview.
How did you come up with the idea for your invention?
I used to struggle to give medicine to my children when they were babies.
My first baby was on reflux medication and I always used to worry about hurting his gentle gums with the hard plastic syringe.
I had even a bigger issue with my second as he completely refused to take the medication. He would pull his head away and cry uncontrollably. It was an incredibly stressful and distressing experience for both of us. It would take ages to calm him down. I was distraught to see him so upset and was always worried that he would become more unwell if I was unable to give him his medicine.
I just couldn't stop thinking that there had to be a safer and better way!
Describe your path from inspiration to creating a viable, marketable product/prototype.
The whole journey started when I sent the idea to the innovation company. They were very interested which gave me confidence that the idea was good and it went from there really.
I did more in-depth market research. I arranged a consultation with a patent attorney, started calling designers, manufacturers and organised a small focus group. It all seemed very unreal and I didn't think anyone would take me seriously.
I will never forget the first time I picked up the phone to call the manufacturer, I was almost chuckling to myself thinking there is a good chance they will just laugh at me.
Well…nobody did, everyone took me seriously and liked the idea.
I became more confident and started thinking to myself: "Something might actually come out of this!"
I had the drawings done and the first 3D prints. The breaking point for me was when I got the funding from Innovate UK and produced a prototype that looked similar to the finished product. I was able to make a video and present it visually.
Last year I applied for Richard Branson's VOOM Competition, which gave me big exposure, articles about MEDAPTI appeared in the Sun, the Mirror and best-selling newspaper in Poland.
I then started contacting NHS related organisations and ended up gaining interest from hospitals like Great Ormond Street Hospital, Alder Hay and Sheffield.
What has been the toughest hurdle to overcome so far?
The toughest hurdles were and still are, finances and time. I work part time and we have two boys so it's difficult to fit MEDAPTI in. It has mainly become my night job. Finances is another hold up as I am unable to fund the tooling and production of the first batch of my product.
What has taken up most of your time?
I don't think I can point out at a single thing that has taken me the longest. Every step is a long process. Throughout this journey, one of the most important things (and toughest) I have learnt is to be patient. I generally like to get things done here and now but I quickly realised that it's not the case in the process of developing a product!
What tools or resources have been most helpful to you?
People were most helpful – my friends, family, other inventors, entrepreneurs and a few organisations listed below.
Right at the beginning of my journey I wanted to do everything myself. I felt like MEDAPTI was my baby and I felt proud to be doing it all myself. I quickly learnt that it's just impossible to do. There were people out there that could do things quicker and better than me. It didn't take me long to realise that if someone offers help I should take it.
I also started approaching other inventors and entrepreneurs asking for tips and advice. It is incredible how approachable people like this are and how willing they are to help you! It's actually pretty amazing. I think it's because they have been there, done it and know how difficult it is.
I think it's also very valuable to apply for various competitions and funds.
Innovate Vouchers – Innovate UK
I am very glad that I applied for Innovate Vouchers through Innovate UK.  Due to their funding, I was able to make a prototype, a look-alike 'sample' which opened new doors for me. This was huge for me.
I also feel very grateful to have had the support of these two organisations:
TITCH – Technology and Innovation Transforming Child Health
One which gave me amazing backing was TITCH – Technology and Innovation Transforming Child Health who have a national paediatric network of clinicians, specialist nurses and other health professionals. Through their network I gained some real interest and traction in MEDAPTI. This has the possibility of leading to collaborations with professionals at Great Ormond Street Hospital, Alder Hey and Sheffield Children's Hospitals.
Just recently, I also have had support from TRUSTECH which is the service delivery partner for the GM AHSN Innovation Nexus. Again, they connected me with vital health professionals.
Have you had a lot of support for your idea?
I have had amazing support and people encouraging me to carry on, not to give up. I won't lie, I also had a few people doubting in the whole idea who were not so sure I should commit my money and time in it. Their intentions are always good and I know it comes from a good place because they just worry what will happen if it doesn't work out. The truth is that the whole thing can still go either way but I am glad that I don't let the doubt stop me from pushing forward. Either way, I have learned so much that even if doesn't go to plan, it will never be a failure.
Have you had any opposition to your idea?
I have had people saying: "I don't see the point, you just put the syringe in, squirt the medicine, job done!" I am prepared that there will be people saying things like this but I also know that there are many parents/carers that were not as lucky and really struggled to give medicine to their babies like I did.
A lot of people also mistake MEDAPTI with a medicine dummy just because it looks similar. I had comments like: "Hasn't she heard of a medicine dummy?!" MEDAPTI doesn't work in the same way. I actually used one myself with my little one and I have to say, it did help as at least I wasn't worried about hurting his gums but as he didn't like dummies, I had to press the plunger and on numerous occasions, I made him choke.
Another difference is that you just slip MEDAPTI on the syringe itself so there is no need to squirt the medicine in any container prior to dispensing.
Have you applied for a patent?
Yes, I have pending patents.
What support do you need right now?
I mainly need financial support at the moment. Business advice support is also always hugely valuable to me.
What do you do for a living?
I work part time as a Database Manager. My job (as well as my partner's) are the only sources of income at the moment. MEDAPTI needs funding rather than brings us money. I spend comparable amount of time on both – my regular job is my daily job, MEDAPTI is mainly my evening 'job'.  MEDAPTI is the one I absolutely love doing.
When did you become a Mompreneur?  When they were in nursery school.
Where do you work most days? Mostly at home, online. I go into the office once a month. Working from home has given me the opportunity to be a Mum and have a source of income.
Which job title best describes you? One Woman Band.
What kind of hours do you work?
I work 100 hours a month in my daily job (4.5 to 5 hours a day) and probably about 120 hours a month on MEDAPTI.
Do you consider yourself an Entrepreneur?
I don't think yet – no. I don't feel like one yet. But because I don't have a successful product yet. I think of it as my project rather than as my main thing I'll be doing.
When did you take the decision to become a Mom Inventor?
I've always had it in me. As a little kid I loved to make things and loved problem solving.
My education was not exactly what I wanted to do. Still, there's a great sense of achievement when I think I managed to pass all my University exams and finish with a Masters Degree in something I didn't even enjoy doing.
When I finished University, my current job was the first serious job I applied for and I learned it all from scratch.
I have never found a true passion throughout my education and career. I've tried many different courses looking for something that I really love doing. I've done 3D Design courses, Web Design, at one point I even thought I could become a Yoga Instructor! Even though I have had an IT related job for the last 12 years, I was always very creative and always tried to try find the right outlet for my creativity.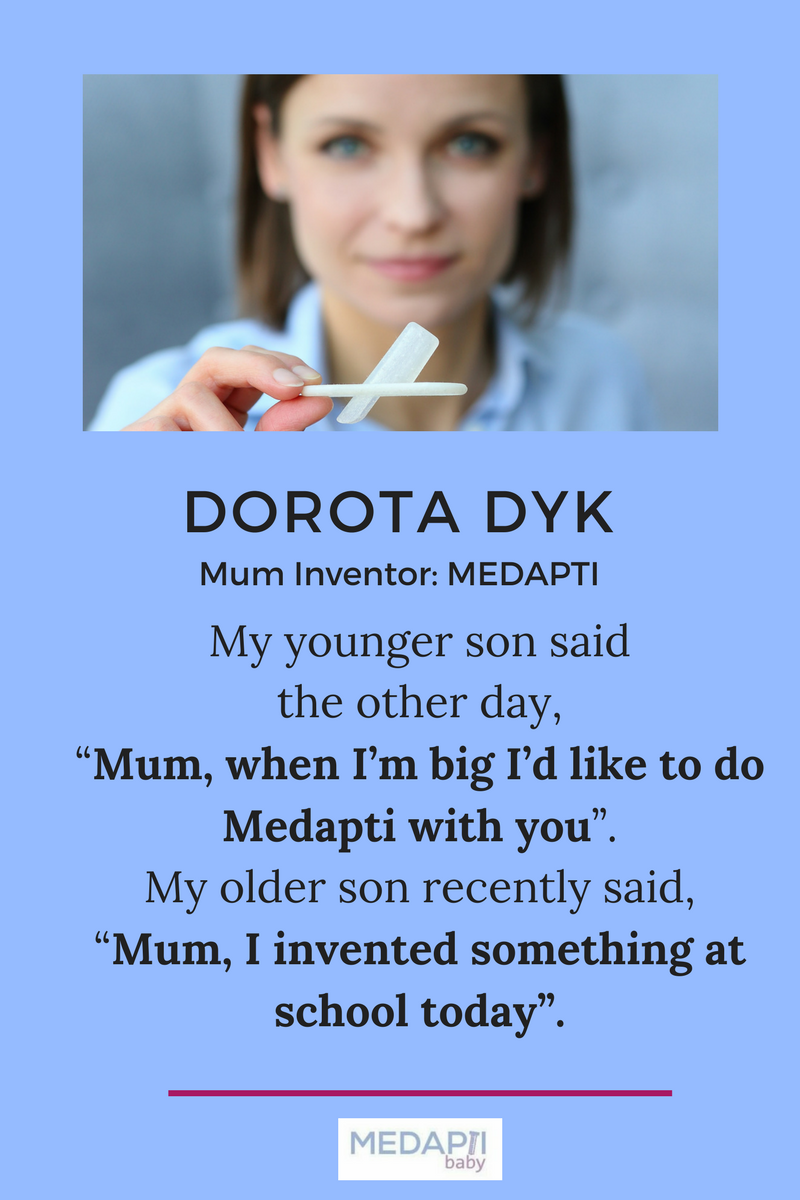 The first product idea I had was FidgetFeet :-). My first baby hated grow bags so I came up with an idea of a grow bag with legs. As I was about to have a prototype made, I came across an article about a company called Dreamgenii who were about to release Twinkle Togs. It was like looking at my idea! Twinkle Togs are lovely, I used them for both of my boys! At least I knew I had a good idea but was just that little bit too late.
It's always been in me to problem solve.
Being a Mum Inventor is something I absolutely love doing. I get 20 minutes in the morning before I start work. I open the computer and check for emails related to Medapti. I can't wait to see what's in my inbox! If MEDAPTI works out it will be a dream come true for me.
I love the variety and that I'm constantly learning something new. It's different every day.
Do you like the term Mumpreneur?
It doesn't bother me. I know that some people get offended with the term but I don't think it makes you less of an entrepreneur.
Do you feel there's a difference between Mother or Father Entrepreneurs?
It depends, it's different for everybody but I think in most cases, mums have to cover for sick days, keep track of school events, etc. I think mums are generally better at multi-tasking as well. I'm sure it's not the same for everybody, but that's how it works in our family.
Would you like to share any highs or lows in your career as a Mumpreneur?
The high was when Medapti was featured in newspapers and major hospitals showed interest. No real lows so far.
What has been the greatest challenge for you to overcome in your career?
Time. It's normally a juggle between work, kids and Medapti every day. It just never feels like there is enough time for everything you want and need to do family-wise and work-wise.
Money has also been holding me back.
What has been the number one highlight of Motherhood for you?
Every stage is different and beautiful in its own way. My most precious memories were in their first years when I could spend a lot of time with them and focus on them.
How old are your boys?
They are 5 and 7. I can't get over how quickly they're growing up. Now they come home from school at 3pm and there's no time to do anything. When they were at nursery school we had time to go and do things after. With MEDAPTI and work, it feels like I'm missing out on a lot.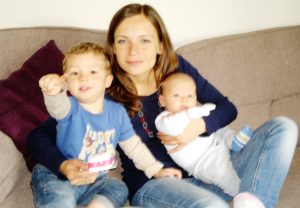 What has been the greatest challenge for you to overcome as a Mother?
Time to balance everything in the right way. I do have guilt when I'm busy with the project and I have to leave them to their own devices. Before I got so involved with the project I had more focused time with them. There are not as many moments as there used to be. I realise how quick the time is going.
Part of me wants to go on with it, but part of me feels I'm missing out on that time and won't get it back. Yet I can also see how they share my happiness and excitement for my project.
My younger son said the other day, "Mum, when I'm big I'd like to do Medapti with you". My older one recently said, "Mum, I invented something at school today".
They have seen happiness coming out of it, they have seen hard work which I think is a good example for them. It shows that if you work hard and love what you are doing, it makes you happy and hopefully successful. Now they are bigger, I know that it's good for them as well to play on their own and develop their own ideas.
Has it been tricky balancing work and home life?
Yes. It's very tricky. I still need to find the right balance. Purely because I don't have time for everything. I should also try and dedicate time to myself but that's not always possible.
What do you love most about being a Mum Inventor?
I love everything about it. I'm passionate about my project.
It was just an idea one day. Yet how great it is to find my idea has travelled across the globe and someone wrote something about it.
I still don't know which way it's going to go but I love all the steps.
All things considered, do you feel it was a good decision to become a Mum Inventor?
Definitely. Doing the project will never be a waste of time. One of the best decisions ever.
Where do you work at home, what does your room or desk look like?
Just the living room, on the dining table. I have a Minion colouring stuck to the wall in front of me at the moment. 🙂
Do you think it's harder to balance work and home life working from home?
No, I wouldn't find it easier going to an office. I mainly work when my kids are not here or in bed. The only time I work when they're here is some Saturday mornings or very occasional short times in the afternoon.
What daily rituals are important for you to maintain work-life balance?
I used to have 10 minutes of exercise every day, I'm trying to get back into that.
Routine. Otherwise, there's nothing I personally do to make things work. I just try and get on with it as I go along.
Do you feel you have already created your best work?
No. I don't think so. Hopefully, this is just the beginning.
If you were to die tomorrow, would you be at peace knowing you had lived a full, happy and meaningful life? Or would you feel you were dying with your song unsung?
I still definitely have so much more to give and do in life. I'd be gutted if it all ended now. There's way more I want to do.
What advice would you give someone just starting out as an entrepreneur?
Not to be afraid of failing as long as you know you're learning and developing. It's worth taking a chance.
Is there anything you know now, that you wish you knew when you started out with your project?
Approach people quicker- all the inventors I approached for tips, I would have done that quicker. It was purely because I didn't have much confidence to start with. Now I realise there wouldn't have been any harm if I did, even if it was rubbish idea. On the other hand, different people will give you different tips so I would say it's probably (well, hopefully in my case! :-)) a good idea to follow your gut feeling.
Is there anything you know now, that you wish you knew when you first became a Mum?
Not really. I loved the whole journey of being a Mum.
Is there anything you feel you missed out on by becoming a Mumpreneur?
Time with the boys.
Is there anything you feel you gained by becoming an entrepreneur?
Learning so many new things and meeting different people.
Do you feel you chose an easy path or a difficult one?
Some people say difficult. To me, it's tough, but it's the only route I could be able to take because I could never find anything that got me passionate.
Who has been enormously helpful to you?
My closest family and friends. I've had a lot of support, especially my partner taking over when I need to work as well as my sisters and best friends who I constantly hassle for advice and they patiently give it to me. Also when I needed to fund certain things to do with MEDAPTI, I had a lot of help from family in a form of a loan and investment. I also had a lot of encouragment from them which really helped.
All the inventors who've given me different tips.
My closest network of social media contacts.
Are there any courses or studies you feel have been essential to your success?
Finances – it is really essential that I have that done really quickly.
Who is your target market? If I were to give you a referral, who would I be looking for?
Investors, possibly a partner
Moms and parents of babies under 2
Is your market local or international?
International.
Visit Dora's Company Website – MEDAPTI.
Medapti also recently featured on:
Honest Mum     Pacif-i      Little Hearts Big Love      Mummy Pages       Bringing Up Charlie
Mum Muddling Through      Mum Turned Mom     The Baby Website   and others
Connect with Dora on the following social media.  Don't forget to like Dora's Facebook Page.
Please follow and like us: