Please follow and like us: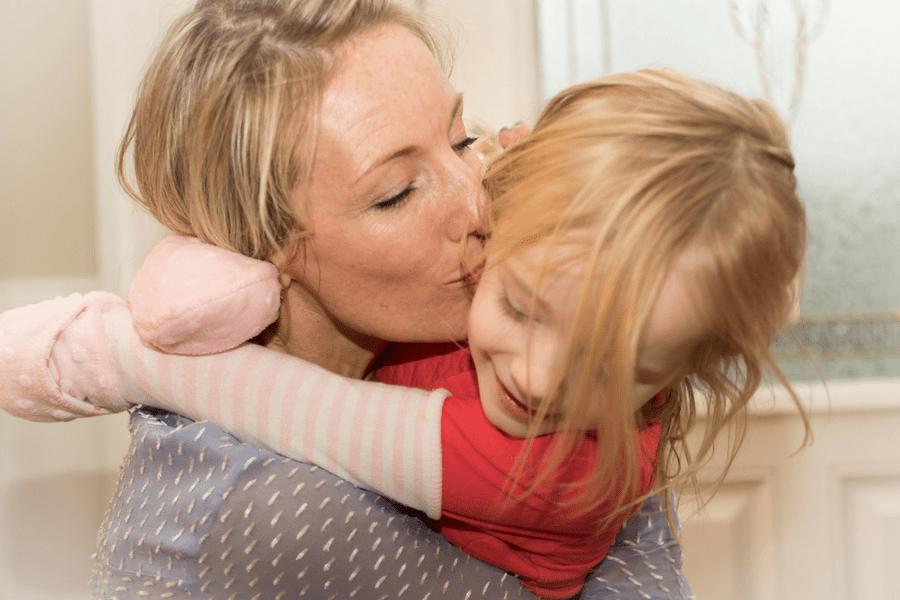 We've featured  3 Mom Inventors so far and each has presented us with unique, special, clever baby shower gifts.  Julia Christie and her Nail Snail to trim baby's nails safely and easily. Penny Angela and her weaning pacifier, Ditch the Dummy.  Dora Dyk and her Medapti to help Moms administer medicine to their babies. What can be more appropriate for a baby shower than Mom invented products that solve the problems new Moms encounter? 
Here's Mom Inventor Interview No. 4 and Casey Bunn of Handsocks has yet another brilliant Baby Shower gift idea.  Click here and you can also access Casey's super duper Newborn Gift Guide packed with Tips, Inspiration, and the best gifts for a Baby Shower.  This gorgeous, colorful 31 page Gift Guide is a completely free 126MB download and includes deals on various items.
Ooh, while we're on the subject of Baby Showers…
Just found these lovely Baby Shower Invitations ideas thanks to this clever Guest Post from Basic Invite,  Tips for a Gender Reveal Party on our sister site, Happy Human Pacifier.
Casey is a Mom with a huge heart, her love extends far beyond her own two beautiful children to children everywhere.   Her goal is to help one hundred million children worldwide in ten years.  Yep, you heard right –  100,000,000 children in 10 years!  Doesn't that just make you feel all tingly inside?

On with the interview…
Why did you take the decision to become an Entrepreneur?
The story of Handsocks, it really kind of came out of nowhere. It's not my first business. My first business idea came about 10 years ago, it was an event registration software. But Handsocks, you know, it's funny what you are passionate about as you move through the different stages of life because when I came up with Handsocks I had a baby and she was only 9 months old. I became more passionate about the Handsocks idea than I ever was about my registration business. So, you just never know.
I was on a ski trip with my family. My husband and I had waited a long time to get up on the mountain, you know when you're pregnant you can't go skiing…it finally rolled around to the cold season. We got all the way up to the top of the mountain, and we were dressing ourselves warmly. I looked at the baby and thought, oh my goodness, I haven't brought anything warm for her.   You know you feel like a terrible parent when you've thought of everything for yourself and nothing for your baby, I couldn't believe I did that, but I ended up with my ski socks on her arms and they went all the way up to her armpits.  I got her nice and cozy and bundled her up and sent her with off with her Aunt.  At the end of the day, I came back and those suckers were still on.   I just thought, boy, she looks comfortable, babies need better mittens.
So the Handsocks business was an unexpected find, and I'm just so glad that it happened the way it did because it's become so much more than I ever imagined it would be.  The idea that my baby could have better mittens was the reason why I decided to go ahead and create them.
How long ago was that? How old is your baby now?
She was 9 months when I had the idea and she'll be 5 in June.
And is she still wearing Handsocks?
She loves Handsocks. I have a 2- year-old too and he also loves his Handsocks.  They are obsessed about their Handsocks.
That is amazing because you know you offered to send a pair of Handsocks down for my 3-year-old son? The morning I saw your message I said to my son, guess what, a lovely lady in America offered to send you some Handsocks.  And he went, "Oh yes!  I love Handsocks"!  He doesn't even know what Handsocks are yet, but I guess the name is so descriptive.  I thought that was incredible.
Aah, that's awesome!  That makes me so happy.  He will love them!  I've found that toddler age babies love them. The parents send me pictures of their older children glowing, it's hot, it's Texas, it's not even cold outside, but these kids won't take their mittens off. I had a mom in Texas say, "My baby wore my mittens to Church, would not take them off."
It makes you feel happy on the inside when you create something that makes kids feel happy.  I tell you what, to be a parent and have kids not be fussy about something but rather be excited about something is the best. Do you know how much struggle you have as a parent to get kids to do things, to get your kids to like things….so anyways, it's fun.
Yeah, you have a got a stunning product there, just judging by the response of my own kid. It's incredible, and he hasn't even seen them yet. 
When you guys get Handsocks, it'll be cold there, right?
Yes, we've had our first cold snap, after a huge, long drought and massive thunderstorm today.  It's Autumn here, the cold, rainy season is on its way.
Awesome, then the timing couldn't be better to get some Handsocks.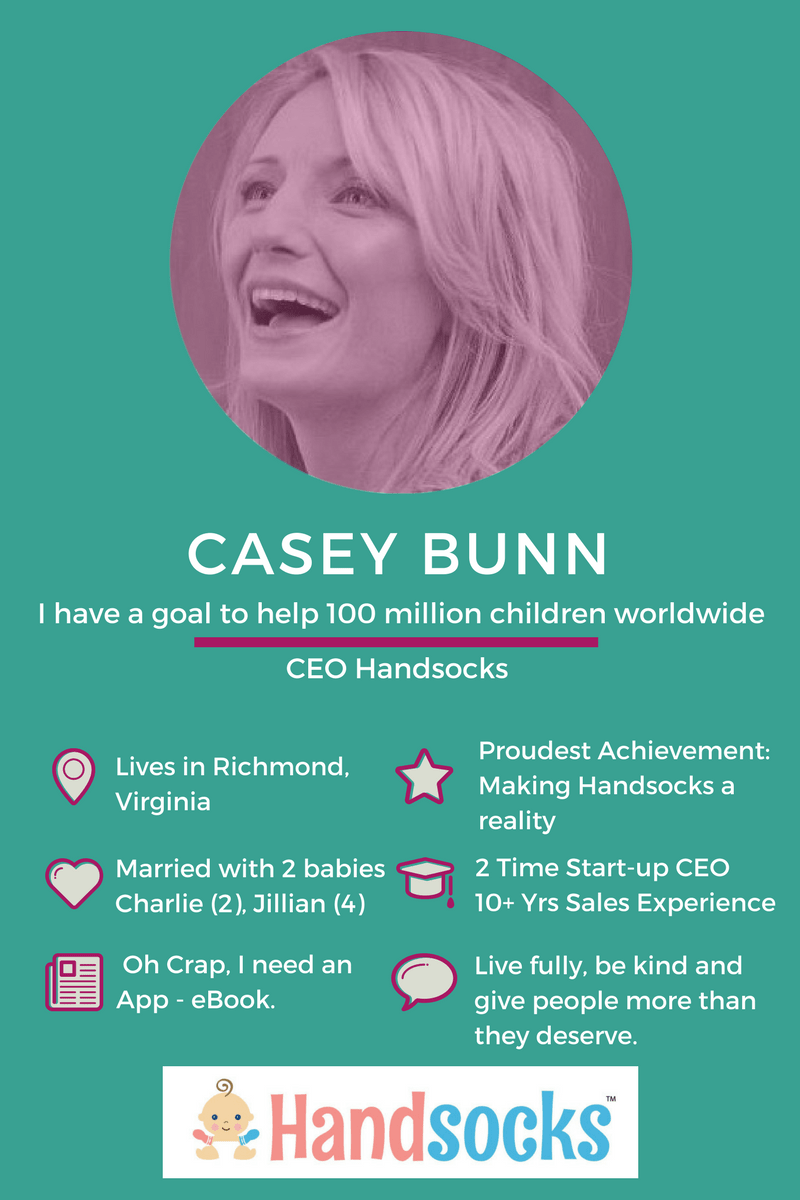 What has been the number one highlight of your career (as a Mompreneur)?
Wow… Number 1?   Because of what Handsocks has become I have so many highlights, but truthfully, the business has changed my perception on parenting and life, and I feel that without this business I might have just been floating along, with my 2 healthy children and just my regular life.
I just have a regular life, I'm blessed.  And it's not that I'm not a caring person, and I'm not observant because I am.  It's just that I didn't know how anybody that was affected by the things people are affected by.  I have a regular life, most of my friends have regular lives, people I knew were just not struggling with extraordinary health or other issues, I don't know, I can't describe it…This business has changed the way I view my family, my community… I think the biggest thing as a Mompreneur for me is the fact that I've realized how I can make a bigger impact on families and communities and the world and I didn't have that before.
So if I were to say Highlights, I mean… I talk to parents who have been struggling with one thing or the other for their children, because of what Handsocks has become, and every time I talk to a parent and they get a pair of Handsocks in the mail that solves their problem, it just makes me glow.
I'll give you some examples of that.  I had a Mom who was a foster parent who reached out to me. She said she was fostering a baby that had a feeding tube. This baby was younger than 12 months old, could barely sit up, so not a crawling baby, younger than that. And feeding, you have to hold the baby up, hold the feeding tube, all the equipment to have to feed this baby out of a tube in his belly.  So you have to do all of that plus you know how babies are, you can't tell babies what to do and have them do it, they just do whatever they want.  So this little baby would be pulling on its tube and it just made feeding time impossible. You don't have enough hands to feed the baby because the babies touching everything and you have a tube and you're trying to hold the baby up and feed the baby…  I had never been given such perspective.  We Moms complain when our kids eat too slowly or are fussy about this or that…throw food on the floor…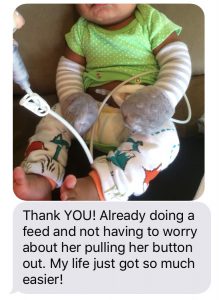 This foster parent, God Bless her, is fostering this baby with special needs and I sent her some Handsocks and she said, "You have changed feeding time forever", because the baby now has Handsocks, she's comfy and I can get done what I need to get done because she's not pulling on her tubes while I'm trying to feed her.
And you know, that's something so small, you think that's something small, but babies eat all the time. What that did for that foster Momma, to be able to have peace of mind that her baby is safe and comfortable, and to be able to have a more casual, comfortable feeding experience, I mean what is that like every day for her? It's changed her life, it's changed the life of the baby, all because of a pair of mittens.
I'm just giving you one example, but I've had parents reach out to me about all kinds of things.  I had a woman reach out to me the other day who said her daughter twirls her hair, it's a habit, she does it even when she sleeps, to the point where he's ripped out half the hair on her scalp.  It's a problem.  You know, it's an older child, older than a toddler, and she said, we use Handsocks to keep her from subliminally twisting her hair out in the middle of the night and we lost one on vacation, we need new Handsocks, it's the only thing we found to fix the situation.
Now again that's something really small right?  But for a poor Momma, it's huge.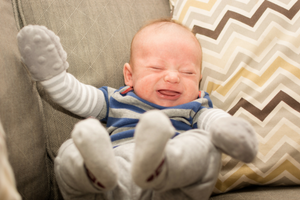 There are babies that are missing hands, they call it limb difference. That particular limb doesn't get as much circulation, it stays cold.  But most mittens are designed for a child with a wrist but those babies don't have a wrist so if you don't have a wrist, how do you keep a mitten up?  These parents with babies that are already struggling with how's my kid going to adapt, how's my kid going to crawl, all those things you think of that your baby is not just like every other baby in the world.  Just one small thing of being able to warm up that little arm and be able to have something that stays on.  I mean it's just, I don't know, it just makes their lives better.
That's beautiful and I can hear how passionate you are… and do you get to meet these people personally or do you mostly get messages or emails from them?
I get messages from people, really, all over the world because I get connected with people who have certain conditions and the product helps them so much that they post about it on their pages, and they are friends with parents of babies who have the same condition, all over the place, especially rare conditions.  And these parents exist all over the world and they reach out to me and say, my baby was born in December without a hand, and we're in the UK and we need some Handsocks.  I don't get to meet some of those folks personally but we have such beautiful conversations it feels like we're meeting.  And their happiness is just so real and so genuine that it feels like they're friends even though we don't get to see each other.
Here in Richmond, people know about Handsocks because I've been like shouting it from the rooftops, you know, telling everybody about Handsocks.  I do donations to the local hospitals so I've met a number of parents here locally who've used Handsocks.
And even just friends, my best friend growing up and her baby is perfectly healthy and sleeps with Handsocks. And one night they forgot to put Handsocks on and her son woke up with a big scratch on its face. And she says, look, the one night I don't use your product, my baby wakes up with his face scratched.
I do get the opportunity to interact with people locally. There a lot of Moms here who reach out to me about their babies being Handsocks models. So that when we do photo shoots, they come, we have a good time, we get a bunch of babies in the room.  You know, it's super cute, the babies are just crawling all over each other, in their diapers and Handsocks.  It is fun, so I do get to meet some of them.
One family in particular that reached out recently stands out in my mind.  Now, this baby Luke is almost a year old and his Mother is thinking of starting a little retail boutique. And she reached out and said, "My son is a missing a hand and I'm thinking of starting a retail boutique and would like to carry your product.  You know, I've seen the value of it".  So I got to meet her and her son and I don't know, he's amazing, these babies are amazing.
So you're helping her get her retail boutique started with your product and other products?
Yeah, well, she's new to it, so she wanted to understand e-commerce and setting up a store, and what that would entail, so she wanted to get my advice on that, and she wanted to get her hand on some unique products, so she was coming to me to say, "hey I love your product, and I'd like to understand more of how this works".
Right now I'm selling exclusively on Amazon or my own website unless I get custom orders from hospitals or corporations who want to give them away to their employees having babies.
I'm still working a full-time job.
Whaaat?
Yes, I am, so I have a limited amount of time for customer service and boutiques. So I've streamlined distribution to Amazon, which has been brilliant, wonderful.  I mean, Mommas are so busy they usually shop on Amazon anyways.
And spare time is focused on trying to do what I'm doing with you, trying to build awareness in the Mommy community and also like I said, reaching out to corporations, saying "hey, these make very sweet, functional gifts for you to give to your employees who are Moms having babies and we can personalize them".
And by personalizing I mean, either putting a company sticker on them that says "love from your XYZ company family" or "congratulations on your baby" or for bigger orders I'm looking into making the design on the fabric of the Handsock itself, with their company logo.
What has been the greatest challenge for you to overcome in your career?
I would say, sticking to the business piece, the greatest challenge for me is… there are so many challenges in any business, right?  But I think probably hiring the right people has been tough. Making the right decisions on vendors has been difficult. The right partnership decision is really the biggest challenge, you have to vet people really carefully. It's hard because when you're a trusting person and you do the work you say you're going to do and you have the right intentions in your heart, you have these high expectations that other people work the same way that you do, but that's not how life is, right?  There's this hardening that you have to do of some piece of your heart to be able to guard and protect and make sure the alignments that you create make sense and you have to get rid of some of the emotion to make sure you're hiring the right people. It's hard, it's a challenge, whether that be internal people or vendor alignment, I think hiring the right people to help your business is the hardest part.
Interesting. I think you're right.  Finding the right people and keeping the right people is always tricky in business, but it will all come in time.  It sounds like things have been moving really quickly for you.
Yeah, I think so. The product is awesome, the community is awesome, I think it's just a matter of awareness and scale.
And you're obviously planning to scale really big…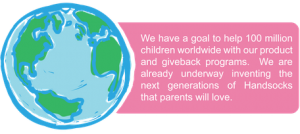 Yeah, I have a goal to help a hundred million children worldwide.  Now that's not to say that 100 million children will have Handsocks, I would love to say 100 million children will have Handsocks, but we have a give-back program to Orphan's Promise.  For every pair of Handsocks purchased, we give back a portion of proceeds to Orphans Promise.  They are an organization that supports orphans both in the US and worldwide, with the four basic things people need, shelter, food, education and medical care.
And for me, being able to support something that supports the future generations of people who don't have the most important thing…  Parents are the most important, right?  The home unit is the most basic unit of the community and with broken homes, I just want to take care of those children, and that's why I decided our give-back program would be orphans.
Between the sales of Handsocks themselves and the money we're able to give Orphan's Promise, between the two of those I'd like to be able to affect 100 million children worldwide.
And you will reach it… you've got the passion, you've got the drive and you're going to do it…
Have you given yourself a timeline?
10 years to reach 100 million children is my timeline.
I know that's pretty aggressive but I think it can be done.
In America alone, 3.9 million babies are born every year. But when you think that Handsocks are not only for newborns but also for toddlers, you can triple that number.  For the number of children just for America alone that exist in our space… The average order of handsocks right now is 1.5.  I hope that that grows as awareness grows.
We're going to print limited editions so every Handsock will be limited edition. So from now on, every print of Handsocks will be a limited print and hopefully, that encourages people to buy quickly if they like something, and maybe they'll buy more of each design to give as gifts or for their other children.
The other thing that I'm really excited about is that we're going to name each of these prints after real children.
Aw, that's beautiful.
Yeah, so any parent of a healthy child, or a sick child, or an angel baby, it doesn't matter, any parent with any story can go on our website and share the story of their baby.  And you'll see, probably in the beginning of this Summer, that we'll start to share these stories with our community, just to spotlight families and children and then as we have prints come out some of those prints will be named after those babies.  Which I think will probably be really special for the community too.
Ah, amazing.  Isn't it fun?
That is such a wonderful idea. I love it.  Your ideas are amazing, you're so creative. Thank you.
What has been the number one highlight of Motherhood for you?
Oh my gosh, that's so hard, you know as a Mom, it's so hard to narrow it down to one, there are so many… Everything warms my heart with my babies, but my daughter came home yesterday and asked to go to the library to get a chapter book. And we never go to the library with our kids, so the fact that she wanted to go to the library was, wow, really? And she was like, no, no, not only do I want to go the library but I want to get a Chapter book.  I was like, you're 4 and you want to go to the library get a chapter book?
And so I had to work all day and then I had to go to my entrepreneurship class, so I didn't get home till after 9 o'clock yesterday, so they went to the library without me.  But I got back and there was a stack of 5 chapter books on my stairs!!! Big girl!!
For me, every little thing that my kids do is a highlight.
But something special that we share is bedtime. Every night, I say the same prayer to my babies and I'll tell you the prayer just in case your readers want to say the same prayer with their babies.  We sing our ABC's and then we say this prayer and then at the end of the prayer we pray for people that we know.  The prayer goes like this:
I pray for you to be happy, healthy and safe

I pray that you have good friends, good teachers and that you do well in school and get a good job

I pray that you love each other, that you love Mom and Dad and that you love Jesus

I pray for your spouses that their parents are taking good care of them right now so someday they will take good care of you

I pray for Handsocks and for Mommy's job and for Mommy's business

I pray for Daddy's safety at work (he's a firefighter)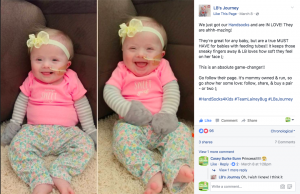 And then we start praying for babies and my kids, as soon as we start praying for babies, they immediately chirp up. We pray for baby Cora and we pray for baby Finn and baby Ed, baby John, baby Blakeley… these parents are reaching out to us with sick babies, I tell my children about them and at night we pray for them.  My babies are experiencing what it feels like to care about other babies and to care about other families and to pray for them which is probably the most powerful thing you can do for people.
The most awesome thing going on in my motherhood right now is that I have an opportunity to give something back to other parents.
What has been the greatest challenge for you to overcome as a Mother?
I think probably the guilt of working too much – you want to build a legacy for your family and set everything up so that they can grow up and do anything they want in life.  I want my kids to be able to grow up and have options so I feel like I'm working really hard to be able to provide that for them. But at the same time, you feel guilty that you might not be spending as much time with them as you should be and that you are missing out on those moments that you're not going to get back.
But I'm banking that this is going to free up time for me and by their early teenage years, I'll be able to spend time with them when it really, really matters most – and that what I'm doing for them now is going to make their life better. So even though I'm working hard, it seems worth it to me.  It's the biggest challenge to be able to balance work and family.
I have to say that is a shared concern of all the Moms I speak to, it's like a tightrope you're walking because you really want to get that balance, you really want to give time to your kids and all of this is for your kids at the end of the day.
Has it been tricky balancing work and home life?
Absolutely.  My kids are so little and my husband is so amazing. I am very blessed to have a husband who is so involved and such a good Daddy.  What they lack in their attention from me they really are very blessed to get it from their Daddy.
I think part of what I sacrifice is me-time – time with my girlfriends and time with my Mom, and time working out and reading, and all the little pleasures.  Pampering, I have girlfriends who get massages, have facials.  You know I'm spending money that would otherwise be spent on pedicures on facebook ads.  (Laughing).
Do you have any daily rituals to maintain a work-life balance?
I recently scheduled some prayer time in the morning.  I was just forgetting to do it truthfully and I have a friend who's super spiritual, and he said, "Casey, you need to schedule some prayer time and take the time to pray about your family, about your life, about your business.  And so now, first thing in the morning when I get up at 6 o'clock, I go to the same place in my house and have a little bit of quiet time.   So when my children wake up in the morning they always know where to find me because I'm always in the same spot, having my moment before I get interrupted (laughing).  So that is part of the me-time I have scheduled during the day.
I also find what's helped me a little bit to keep the balance is delegation.  I say that because I read a book called  The ONE Thing by Gary Keller and Jay Papasan.  The ONE Thing basically talks about how you can't do more than one thing well, the best that you possibly could. As a Mompreneur, I think we can all agree that we're balancing a lot.
They said you need to figure out what the one most important thing is that you do at your job, the most important thing in your business, with your family, exercise, spiritual, whatever it is, and make sure that before anything else, that one thing is getting done, you focus on that.
So for my job, that's meetings.  My one thing is to just focus on scheduling meetings because at the end of the day that's what I need in order to be successful.
For my Business right now, because I've got so much going on, my one thing is delegation. The more I can delegate and kind of oversee, the more I can have things going on in the background while I'm doing other things. Without that delegation it's just me trying to do everything, it just doesn't work.  That might change but for now, it's delegation and finding the right people who are passionate to help me do various things I need to get done.
Exercise is supposed to be 100 squats a day so sometimes I find myself just randomly doing 10 air squats while I'm drying my hair (laughing).  Just gotta squeeze it in when I can & hope to get to 100 by the end of a day, but there's not a prayer that I'm going to find time to get to the gym right now.
I think the One Thing for me has helped to save my family time a bit.  I read it only recently but it's helped a lot.  The One thing for my family is to have one fun event a month, to do something as a family and have something to look forward to.  It's like a vacation, right? You always look forward to vacation. And we know as a family that we have the one thing a month that's special, where you're making memories. Like we went to the circus last month and that was really fun.
And my One Thing with my relationship with my husband is to keep a journal, write nice things down about him so I always have positive thoughts in my head about my husband.  (Laughing) Funny to say, but wives understand that if we can focus on the positive and I am married to a wonderful man, but if you can focus on the positive it helps you to not be so irritated with things you would otherwise be irritated with. You have so much to balance, with being a good wife, being a good mother, being a good business woman, I just feel like you have to keep an attitude of gratitude so keeping a journal of the positive things about my husband keeps my heart and head in the right place.
Do you feel you are living your passion?
Yes I do.  I was made for Handsocks. I was.  I know this business is what I'm supposed to be doing. I know these babies are supposed to be touched by my product and community. So, I do, it's worth everything. Everything I do is worth it, because it's allowing me to do something that I can be extremely passionate about and I can't think of anything better I'd be doing with my time.
If you were to die tomorrow, would you be at peace knowing you had lived a full, happy and meaningful life? Or would you feel you were dying with your song unsung?
I feel like I can't die tomorrow, there's so much to do.  There's so much happening, we're just at the tip of the iceberg.  I think if I died tomorrow, I think people would rally around what I've started.  I don't think it would go untouched I really don't because of the potential it has to impact families on a level that really makes a difference.  I think people would pick up the pieces and run forward with it. If I was gone tomorrow, I think Handsocks would live on.
Do you know who would pick up those pieces and carry on with it?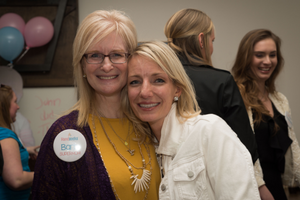 No. Probably my Mom and husband would be the first people who would figure it out. My Mom has been so close to me through this whole process.  She told me I'd better not have any other good ideas. She's like, "Ding, ding, do you think you could put a brake on your good ideas? It's a lot of work".   She knows the end user, she knows the product, she knows the process, she knows everything I've been doing so she would be I guess, a keen successor but I don't think she's wishing that upon herself right now (laughing).  But she knows this business is supposed to happen so I think she and my husband would take the reins.
That's awesome.  Do you have a message you would like the world to hear?
I think we were all created for a purpose and I don't think you should stop trying to figure that out. I think you should do whatever you have to do to know what the plan is for your life and then just believe everything is possible because it is.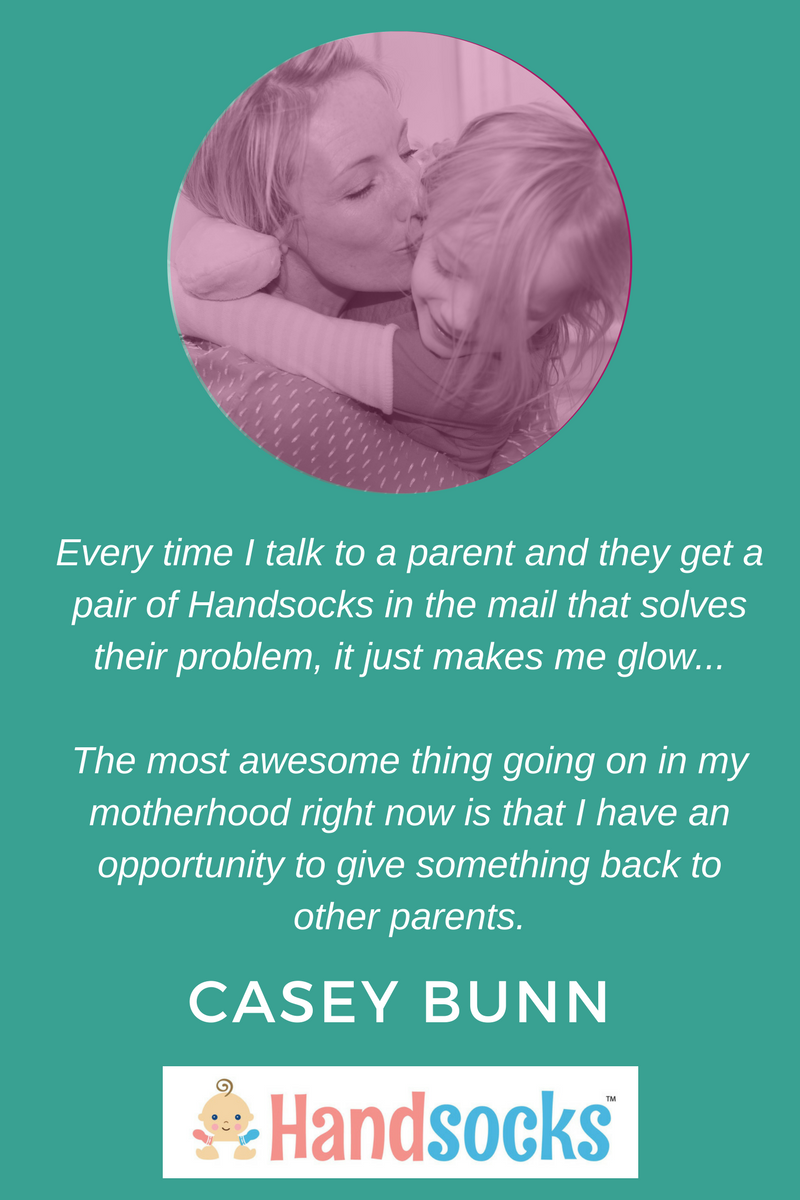 What advice would you give someone just starting out as an entrepreneur?
Talk to as many people as you possibly can. You can't take everyone's advice because the advice people are going to give you is not always going to be good advice for what you're doing so I don't recommend that.   But I think that the more people you talk to, the more lessons learned, you can kind of digest, the more contacts that you can make and the more opportunities to do for other people you have.
I think part of growing your business is about doing things for other people.  Because I know in all your free time (well there's not a lot of free time), but it's well spent doing things for other people in business.  That always comes back around and once you become successful there are going to be opportunities for you to help other people and that will continue to come.
I just feel like you have to get in front of as many people as possible, just having conversations because it's going to make you understand better business and it's going to make you more watchful for things. You're going to be able to avoid mistakes much better, the more people you talk to and you're going to make friends that are going through the same things you're going through.  You'll be able to call them when you have questions and vice versa.
I think that the community you build is important and the willingness to be a servant leader is also really important.
This is all such amazing advice, I love it.  Is there anything you know now, that you wish you knew when you started out as an entrepreneur?
Yes.
Don't sign a contract without having an attorney review it. Ever.
You don't need to overpay for expensive services as a start-up.  You can go and hodge-podge a team together and delegate things out that you need to delegate out at places like Upwork or Fiverr. There are places out there where you can get the resources to help you and it's not going to be a big financial burden.  That way you can focus your resources on the things that you need to be focusing them on, which is Sales & Marketing. The No. 1 thing you need to focus on is Sales and Marketing.  You don't need to visit those big trade shows as a start-up unless you're just walking around – you don't need to spend a huge amount of money.
And then the other thing is Customer Research, just talk to as many customers as you can.  I think most start-ups are so in the weeds of just trying to get their product out there that they forget they need to talk to potential customers.
Talking to potential customers does a lot of things:
It helps you scope out what your product is solving. Really understanding what the problem is, understanding who your customer is, do they want what you're trying to produce.
What if you were able to find it and make something people really want?  Then it's going to produce a bunch of people that are willing and expecting your product.
It produces your first customers, who feel like they were part of the process and what you're doing, and they become your advocates and your cheerleaders.
So rather than feeling it's awkward to talk about something you haven't created yet, be it a product or a service, the more people you talk to, the more people who will feel like they are a part of your world.
And boom, there's the beginning of your community.
How strong is your community at the moment on your website? Do you have email subscribers? How do you go about building your brand on your website?
My website needs improvement.  It's been on my to-do list, I've been working on streamlining manufacturing and delivery.  I think creating content on the website is really important. I had some Mommies who created some content they contributed, posting guest articles on postpartum depression, for example, which is a really raw topic, a lot of women suffer from but most don't understand it, and I found creating content on your website can be really helpful in attracting a community.
Our community is growing, our email list is over 10,000.
Wow, that's awesome.
Yeah, Thank You. It grew a lot over the past months, through Kickstarter, so that was really helpful. We ran a lot of facebook ads and had contests and that was really helpful in growing our numbers.  So I'm thankful.  I think our social networks are growing, we're almost at 3000 followers on facebook. I think in February we were at 400 or 500 so it's grown fast, which is awesome!
And more people are finding the product and are passionate about it. April was Limb Difference Awareness Month so there's been a whole lot of sharing as I mentioned from parents of babies who don't have a hand or an arm or only a piece of an arm, they call it a lucky fin.  So we've had a lot of sharing and parents from all over the world are reaching out.  It's causing a bit of a buzz, which is a wonderful buzz about the product and its impact.
What I hope is that we continue to find opportunities where Handsocks are really making a difference and that that spreads organically parent to parent.
Awesome, that is said so beautifully.
Is there anything you know now, that you wish you knew when you first became a Mom?
No. I think you just have to learn it.  You know my Mom told me a trick for when my babies are acting out, and obviously, when they are very little they just do whatever, but as they get older and once they have a little control over their emotions she gave me an idea.  I've got a two-year-old and a four-year-old now and my Mom said, "Casey when they're acting out, all they want is attention.  Instead of yelling at them, sit down with them and hold them and give them attention".  And it really works.   I know this is not for babies but for my age children, it works. When they are all crazy, and whining, that whiney voice that I love so much, if you just sit them and hold them and give them attention, they stop doing it.  It's amazing!  It's a different way of responding because I think your immediate response is irritation to whining and fit throwing, but that nurture, kind of warm, pay attention response makes them stop doing it and it turns it around really quickly. If my Mom hadn't told me that I would have still been fussing at my kids, instead of showing them the attention that really fixes the problem.
It works. So try it.
I agree with you, it definitely works. My Dad said to me if my son was ever having a tantrum, just hold him really close, hug him.  It doesn't always work, it depends on how far gone they are, but generally, that is what they're wanting, they want love.
As far as other parenting goes, you just have to learn as you go along.   You have to learn what works for you, for your baby, for your family.  There's no real right or wrong.  Other parents point their fingers at other parents and give advice, but you never know until you become a parent yourself. You just have to figure it because all kids and all family dynamics are different, so whatever your specific problem is, or issue,  there's a parent out there experiencing what you're experiencing.  The internet is a wonderful place.  Bloggers like you, people who have blogging communities, finding information like that online is awesome.  But I would just say, you just don't know until you become a parent and once you are a parent, you just figure it out.
Is there anything you feel you missed out on by becoming an entrepreneur?
Pedicures. (laughing).
Is there anything you feel you gained by becoming an entrepreneur?
I gained an appreciation for everything in the world, everything you touch, every service you leverage, every piece of clothing.  My goodness, because I'm in the clothing business I know the work that goes into making and designing something.  I look at things and like, "Oh my Gosh, somebody invented this, somebody designed, somebody went to the trouble of creating this packaging for me and the experience that I have.  If you have never done this before, just like if you've never been a waitress before, you can't appreciate it unless you've done waitressing. When you walk into a restaurant you have no idea what goes on in the background.  So it's the same thing, when you become an entrepreneur, literally every service and every product that you touch, you get a new appreciation for it.  All of that.
So I'd say I've gained a lot, I've gained perspective.
Do you feel you chose an easy path or a difficult one?
Oh, it's totally difficult but as somebody said one time, I don't know who it was, but that everything worth doing is a pain (in the ass but I don't think you want to put that in your blog) – everything worth doing is a pain to do. Nothing worth doing is easy.  Parenting, marriage, a really awesome job… whatever it is that's worth doing is not easy. If it was easy everyone would be doing it.
True.  Are there any people you'd like to mention who have been enormously helpful to you?
Oh, man!  I've had so much help. My family, my Mom, I would say number one, but outside of that, so many wonderful entrepreneurs.
JoAnn Brewer from Locker Lookz was the first person who connected with my middle man which ultimately got me the product itself.  I saw her on the Today Show.  I hardly ever watch TV, my husband was watching TV and I saw this girl, she was on the show talking about her teenage locker magnets and I was like, "She looks nice, I'm going to write to her".  And I did, and I said, "We don't compete and I need your help, I'm trying to make these baby mittens" and we connected and she was so helpful. And then she became kind of a business mentor. I'd fly to Dallas and have dinner with her and she was amazing.
And not to that extent, but I've had many other parent entrepreneurs just go above and beyond, saying, "do this, don't do this, here's a great contact, do this, don't do this, here's a great contact". Just like Julia from Nail Snail. I reached out to her when I saw her on Kickstarter, and said, "Wow, your product is amazing. Good luck and if there's anything I can do to help you. This is really hard, but you let me know".  Special thanks to Julia Christie for introducing me to Casey Bunn in this interview.
In Richmond where I am, there's a woman by the name of Larkin Garbee and she's like this amazing wizard. When I talk to her, I'm like, "Larkin, how do you all that you do?" And she just runs around helping all of these start-ups with whatever they need, whether it be finances or access to someone to help you with your website, all the things that you need as a start-up. And problem-solving, you know like, "hey, this is a big deal, this is not a big deal".  You know sometimes as a start-up you just need people to look at you and say, "Don't worry about that" and "this is something you need to focus on".  So Larkin has been a wonderful sounding board for me.
But I'm telling you, I could probably list 100 people, that's not an exaggeration, maybe a couple of hundred if I really listed them out.  People who own their own businesses or consult, or even Moms themselves just talking to me about their babies and their skin conditions and their heart problems. My gosh, it's definitely more than a hundred. I mean hundreds of people who have poured their heart out to me and tried to help with this business. It's not just 1, like I said, it's just amazing really the people who've tried to help and most of them have done it at no cost. So I feel really blessed. It's definitely not something I've done on my own.
Are there any courses or studies you feel have been essential to your success?
I'm taking a course now right now, it's called CO.STARTERS.  It's a 9-week course, each course is 3-4 hours and I feel like it's been incredibly helpful because they've walked me through who my customer is, understanding the financial model, it's really been a roadmap for doing the next steps for the business. And I found out about it through Larkin.  But I know there are probably local start-up incubators.  I'd recommend that to any start-up in any location. I find that being able to meet people face-to-face wherever you are is really important.  That's the core group.  Whatever you do, just pick something that you do, if you're a knitter, or soccer player or a runner, or whatever, having a core community of people that are local that you can meet and see face-to-face and you can see the way they react to you when you say something, I mean, there's nothing like that.  Now with Skype and with what you're doing, we can literally connect with anyone all around the world, but I think having a local community is really important.
Has there been anything else in your past that you've felt has helped you get this going?
The school of hard knocks – try and fail, try and fail, nothing official.  My degree from college, which I graduated 04, 13 years ago, was on entrepreneurship but at that time they were talking about location and digital marketing and digital media didn't really exist, so the last time I had any official training on this was too long ago to speak of,  it's outdated information. The training that I've had really has been talking to other entrepreneurs.
Who is your target market? If I were to give you a referral, who would I be looking for?
New Moms or women who are in their 3rd trimester of pregnancy, because I find that new Moms are the people right now who gravitate fastest to the product.
I am trying to build awareness for parents whose babies have certain conditions but I think that's a separate target and there are so many different conditions. 1 out of every 100 babies is born with congenital heart disease, that's a pretty high number actually but when babies have congenital heart disease their circulation is not so good.  They can have cold hands and cold feet.  So for them, Handsocks are particularly wonderful.
But the audience of babies, in general, is so much bigger than babies who have certain conditions.  Although, in America, one out of every 10 babies has eczema.  Can you believe that in the UK it's half of a percentage of that, it's 50% better, I think they might have better food in the UK.  So I think it varies country by country, even the conditions that babies have. There is definitely an audience and a target market in conditions in the medical space, I just haven't quite identified what the outline of that is.
And the other target market for me, is on the corporate side, business to business, hospitals, pediatricians and companies who want to give away branded Handsocks to their employees who have babies.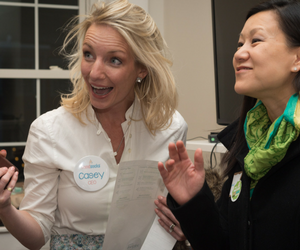 Visit Handsocks
Purchase Handsocks on Amazon
Purchase Casey's eBook, Oh Crap, I need an App on Amazon
Follow Handsocks on Social Media:

Please follow and like us: