Mom Invented?  YES – See our Interview with Mom Inventor, Casey Bunn
Product Description – No Scratch Mittens
Pros – Plush, Stay on, Fingers can be covered or free
Cons – Not available in South Africa (yet) (my opinion), No face (Young Benjamin's opinion – see below)
Recommended Buy? – YES. Especially if your baby or toddler is scratching their little faces.
Product Specifications:
Innovative design
No velcro
8 inches in total length, mitten and sleeve
Elastic end allows a snug fit.
Sewn in label
Material: Cotton & Nylon
Spandex Stretchy cotton sleeve keeps mittens on and acts as an extra layer of protection.
Cotton and poly blend mitten flips open for easy slide on and access to hands. This also allows you to expose hands so newborns can still touch and explore with their fingers.
Availability:  Buy on Amazon* or Buy from Handsocks
*This is an affiliate link. If you buy a product via one of these links, I will earn a small commission from the Amazon Affiliate Program.
My son and I were so excited when our Handsocks arrived in the mail from Casey Bunn, Mom Inventor of Handsocks.
Here's Benjamin collecting his parcel at the post office.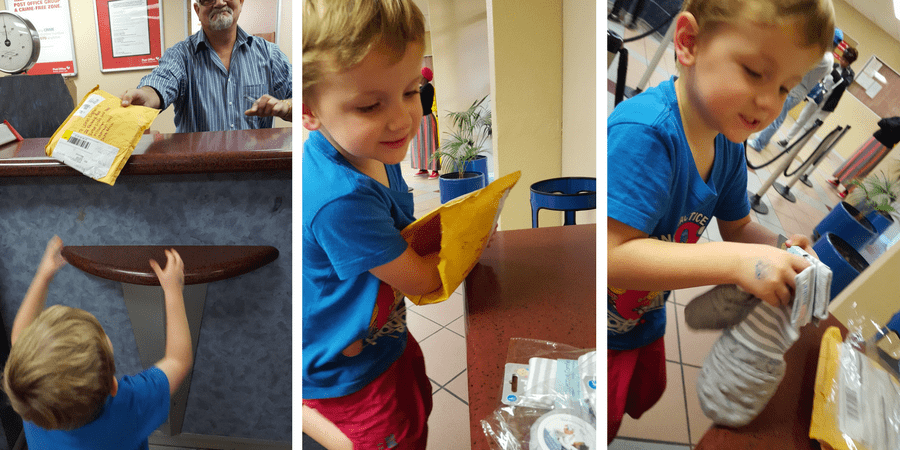 Of course, he had to open the package right there and then.
Funny story, when Ben pulled out the packages of Handsocks, Ben's first response was: "What are these?" I said, "they're Handsocks" and he retorted, in typical toddler fashion, "These are not Handsocks!" When I asked him what he meant he said, "Handsocks have faces on them!".  I think he was expecting his new mittens to look more like hand puppets. An idea for another design, perhaps?  I'll submit our story to Handsocks, maybe Casey will name one of her collections after Benjamin. 🙂 Read about this wonderful new initiative here.
I was delighted to discover that Casey sent us 3 pairs. 2 Pairs of Large (these fit Ben perfectly and he's 3-and-a- half years old) and 1 pair of small for babies age 3 to 12 months.
Unfortunately, I haven't managed to get Benjamin to wear them yet.  We don't have the coldest Winters in South Africa (no snow, except on mountain peaks) and we are only just nearing the end of Autumn now so perhaps it's just not cold enough for mittens yet.  I will update this review once Ben is using them.
Update: 11 July 2017 – It finally got cold enough for young Ben to enjoy his cosy Handsocks!  
I have to admit I've also tried them on – a few times. Okay, they're a bit tight (as I'm a wee bit bigger than a 3-year-old), but they feel gorgeous!! I love the silky feel when you touch your face.  Another design idea? Make them big enough for Mommies. Handsocks we can slip and still type or use our smartphones. 😉
What I love about Handsocks
The problems they help solve…
Scratching
I would think that the number one reason Moms buy Handsocks is to prevent their babies or toddlers from scratching their faces.
Handsocks also have some very special applications that initially came as a surprise to Casey.
Limb Difference
They are particularly useful for little one's with limb difference, children who are born missing an arm or part of an arm. These children often have poor circulation causing them to feel cold and normal mittens don't stay on.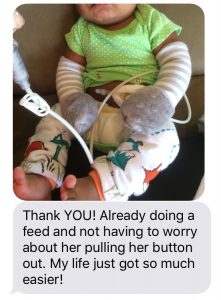 Feeding Tubes
Moms have also reported that it is a lot easier to feed babies who have medical conditions that require them to feed with a feeding tube.  Usually the children will be fiddling with the tubes.
Hospital Visits
Similarly, young children who have to hospitalized and require blood transfusions or simply to be monitored also have tubing that needs to stay put. Handsocks does the job in style.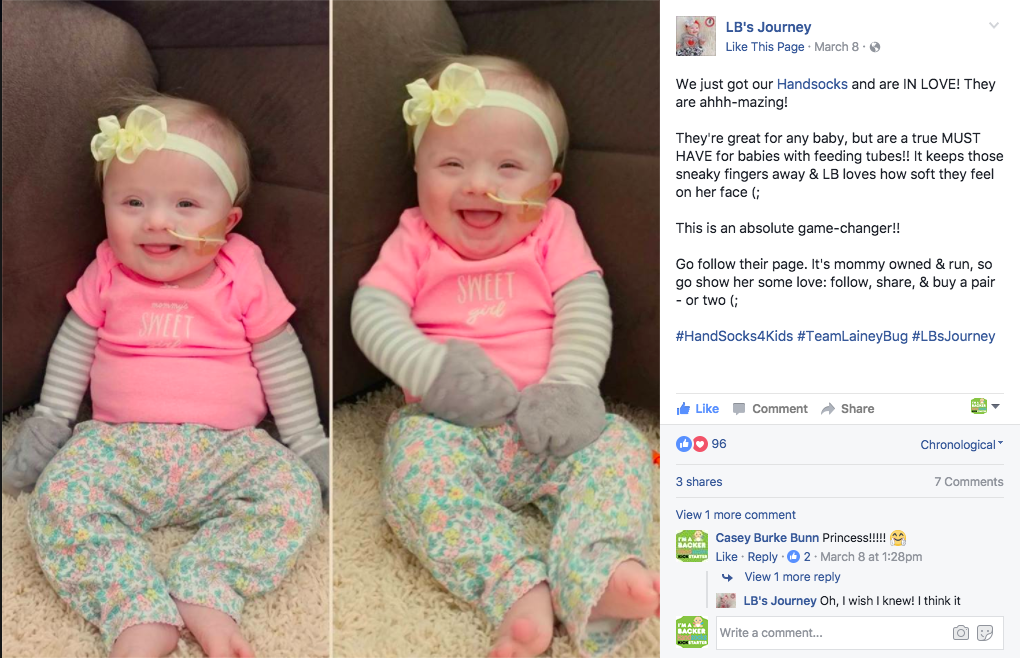 Sensory Sensitive
Handsocks are also great for children who are very tactile or sensory sensitive, such as children on the autism spectrum.
Baby Shower Gift
Handsocks make wonderful Baby shower gifts and Casey has compiled a stunning Newborn Gift Guide that you can download free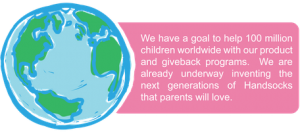 Give-Back Campaign to Orphan's Promise
And then there's the thing I love MOST about Handsocks – their Give-back campaign.
For every pair of Handsocks sold, a portion is given to Orphan's Promise.  In fact, Casey has an amazing goal:
To help 100 Million Children in 10 Years.
Personally, that's my number one reason to buy a pair of Handsocks.