Please follow and like us: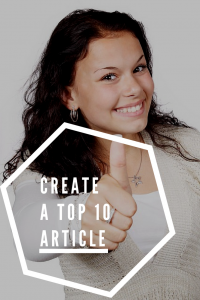 It's Day 22 on my 40 Day Challenge and today's idea from Forbes' 39 Actionable Ideas for Driving Traffic to Your Website is to: Create a Top 10 Website Post, or to simplify…
Create a Top 10 Article
Select the top 10 blogs in your niche, and write a post about them. You may also want to create a simple badge or banner those sites can embed to show off their award.
What a brilliant idea!  I love it!
This one has really got me thinking because I could be writing a post about the:
Top 10 Mom Bloggers
Top 10 Mom Bloggers in the USA or UK or SA
Top 10 Mompreneur Websites
Top 10 Mom Inventors
Top 10 Resources for Mompreneurs
Top 10 Affiliate Programs for Mom Bloggers
Top 10 Mom Inventors
Top 10 Most Humourous Mom Bloggers
Actually… why don't I just turn this into a Top 10 Series.  I would imagine this would be exactly the kind of information my readers will adore and it will lead me to another whole spat of brilliant interviews.
A couple of months ago I was turned down for the first time when I requested an interview with a well-known Mompreneur.  This prompted me to create an excel spreadsheet I called my Interview Dream List.
Every time I come across a brilliant Mom Blogger on Pinterest or Instagram I add them to my dream list.
Which gives me a couple more ideas:
Top 10 Mom Bloggers on Pinterest

Top 10 Mom Bloggers on Instagram
Top 10 Mom Bloggers on Wealthy Affiliate
I can see my dream list is about to grow a thousand fold and this series is going to be such fun!
I'll start with Top 10 Mom Bloggers… and add the link below.
Finally, my Top 10 Mom Blogs post is published!    It took me a while and heaps of research.  Here it is…
Please follow and like us: