Please follow and like us:
Top 10 Mom Blogs
I've been researching Top Mom Blogs for a few weeks months and have come up with a list of over 220 Mom Blogs.
I added them all to my  Mom Bloggers spreadsheet and sorted from Highest to Lowest Domain Authority as, to me, this is the simplest measure of success on the net.
Apologies if you're a BRILLIANT Mom Blogger with a young blog, I had to choose some way to help me figure out my Top 10.  
I'm sure there are still a heap? a bunch? a bevvy? of brilliant Mommy bloggers I haven't discovered yet so please forgive me if you're one of them and you don't show up on my list.  Feel free to email me on lauren@inspiringmompreneurs.com to set me straight (especially if your blog's DA is over 55).
Not sure where to find your DA? Not sure what DA stands for? Then, sorry to say, you probably won't have made this list.  But if you want to check anyway and also learn a bunch of other helpful stuff, simply go to MOZ and use their free tools. 
Even with my super simple Highest DA method, choosing my Top 10 has still been tricky because there are some Mom Blogs that don't look like blogs at all.
I decided to focus on Mom Blogs managed by one or maximum two Mom Bloggers rather than a whole team, and Mom Bloggers who are still happy to be the face of their blog. 
Find out more about my process and which blogs I eliminated from my Top 10 list at the end of this post. 
DISCLAIMER: All Numbers below were true while I was researching this post. They may have changed slightly in the time it's taken me to complete and publish the post. To go back and do it all over again will take another couple of weeks. And then those stats would be wrong by the time I published… get the picture?  If I knew a way to have these stats updated automatically I would be ECSTATIC.  Please email me right now if you have a way. 🙂 
Without further ado, (drum roll) here are the Inspiring Mompreneurs 2017…
TOP 10 MOM BLOGS
NUMBER 1: DOOCE
What? Dooce – https://dooce.com/
Domain Authority: 70
Who?  Heather B. Armstrong aka Wondrous Being of Light and Splendour
Who? Single Mother to 2 Daughters: Leta (13) and Marlo (7), and dog, Coco (9)
When? 27 February 2001
How Long? 16+ Years
Where? Salt Lake City, Utah
Byline: This Here Bringer of the Pooper to the Fun Party
Estimated Daily Visitors: 100,000
Estimated Monthly Visitors:  2 Million
Estimated Earnings: $50,000+ a month, as per Cosmopolitan (2015) and NY Times (2011)
Twitter – 1,510,000 Followers @dooce
Pinterest – 202,706 Followers @dooce
Why I love Dooce?
Hilarious. Just read her FAQ page and you'll see what I mean. I laughed out loud.  Heather has a sense of humour that is totally in your face. You'll either love her or hate her, which I think may be the effect she's going for. She's all about not taking life and ourselves so seriously.
Don't miss her About Me section on her Homepage. It's just as direct.
Hi. I'm Heather B. Armstrong. When I first wrote a bio for this site I called myself a SAHM—a Stay At Home Mom, or, S&%t Ass Ho Motherf#&5%r. More than a decade later I am now what's referred to as an FTSWM—a Full-Time Single Working Mom, or, F&$k That S&%t Where's Marijuana.
This used to be called mommy blogging. But then they started calling it Influencer Marketing: hashtag ad, hashtag sponsored, hashtag you know you want me to slap your product on my kid and exploit her for millions and millions of dollars. That's how this s&%t works.
Press Page – https://dooce.com/press/
Latest Post – Living in the Space Between the Beauty and the Pain
Discovered this interesting article (published August 2015 on Pro Blogger) about Dooce: Thinking of quitting Blogging? What Dooce Did Next?   I learned a lot more about Heather Armstrong in this article.  Interestingly, she was once a Mormon, as is Gabrielle Blair, our number 2 Blogger…
NUMBER 2: DESIGN MOM
What? – DesignMom – https://www.designmom.com/
Domain Authority: 68
Who? Gabrielle Blair
Who? Mother of 6 Kids!
When? Launched 2006
How Long?  11+ Years
Where? Launched in New York, moved to Colorado, then France, now Oakland, California   
Byline: Design Mom is all about the intersection of design and motherhood
Pinterest – 133,824 Followers @designmom
Instagram – 53,100 Followers @designmom
Facebook – 53,076  @designmomblog
Twitter – 27,900 Followers @designmom
"Design Mom helps women across the globe stay well-informed about up-to-date topics, to manage their home life and their work life gracefully, to learn new things daily. It's a place to read (or even participate in) captivating, eye-opening, mind-expanding discussions; a place that will give you hope and a gentle reminder that it's all going to work out.
You're doing better than you think you are. Really."
What I love about Design Mom?
Heartwarming stories about Gabrielle's real life and travels. Stunning pictures. Some Insight into Gabrielle's family life with 6 kids.  Gabrielle and her family belong to the Mormon Church. Her eldest son, Ralph is currently a Missionary in Bogota, Colombia. Read about it here. So what is this mission anyway?
Latest Post: What If The Dreaded After-Baby Mom Tummy Isn't Really a Thing?
NUMBER 3: KIDS ACTIVITIES BLOG
What?  Kids Activities Blog – https://web.kidsactivitiesblog.com/
Domain Authority: 67
Who? Holly Homer akaTexas Holly + Rachel Miller aka Quirky Momma + Jamie Harrington
Who? Holly – Mom to 3 busy boys
When? 2008
How Long? 9 Years ago
Where?  Dallas, Texas
Byline: We are on a Mission to reveal the kitchen junk drawer as a place of INSPIRATION for kids' art, crafts, games and learning activities!
Page Views – 5+ Million a Month
Facebook – 3.1 Million+ Fans @QuirkyMomma
Pinterest – 285k Followers @hollyhomer
Google Plus – 164,262 Followers @ +HollyHomer 49,323 Followers @ +KidsActivitiesBlog
Instagram – 176k Followers @kidsactivitiesblog
Twitter – 21.5k Followers  @4kidsactivities   & 14.1k Followers @texasholly
From Work with Holly Homer:
Holly Homer  "accidentally started a blog 9 years ago while raising 3 boys under 6-years-old".
Holly Teaches You to Blog!  Go here http://hollyhomer.com/  and here: YouTube Channel June Cleaver Nirvana
Great article here: How to Make Money from Blogging
There's a cool video here on Growing an FB Page from the Beginning, featuring Dayna Abraham of Lemon Lime Adventures who had just started blogging at the time.
Don't Miss Holly Homer and Rachel Miller's Book: 101 Kids Activities that are the Bestest Funnest Ever!
Get it on Amazon for Only $11.40 (marked down from $19.99)
NUMBER 4: COOL MOM PICKS
From their About Us Page: 
"Cool Mom Picks has grown into one of the hottest gear, style, and design sites on the web for parents. And a lot of non-parents too…
While the Cool Mom team will crush on all kinds of things that are cool and helpful to parents, we are big advocates of indie design, boutique brands, and entrepreneurs. Especially from mom and women-run companies. ..
We feel like our job is to weed out the meh things for you so you don't have to. Also, this is not Meh Mom Picks."
Liz often blogs on the site.  Here's one of her recent posts:
10 truly cool personalized gifts for dad you can still order in time
NUMBER 5: 100 DAYS OF REAL FOOD
From Lisa's Start Here Page:
"Hi, my name is Lisa, and I'm so glad you're here because that means you have an interest in real food!…
In the beginning of 2010 I had never before read an ingredient label, never bought anything that was organic (at least not on purpose), nor had I ever stepped foot in a farmers' market. I am certainly not proud of those things, but that was reality for the first 32 or so years of my life …
After reading In Defense of Food by Michael Pollan I got the wake-up call of my life and felt like our eating habits needed a serious overhaul… I struggled to find resources to help me understand exactly how I could apply Pollan's principles to our everyday lives.
So shortly thereafter my real food blog was born and a few years later my #1 New York Times Best Selling Cookbook was released…
Good luck on your mission to cut out highly processed food."
One of Lisa's recent Popular Posts:  How Knowing the 6 Stages of Hunger Can Help You Avoid Overeating
I just need to mention here that during the time of researching and publishing this article, this site moved from the No. 7 Spot to the No. 5 Spot as it's DA is climbing rapidly.  Hopefully this indicates that more and more people are moving from processed to real food.
NUMBER 6: RED TED ART
Maggy's About Page is very personal and friendly:
"I am half Austrian, half Spanish, living in the Uk – married to "The Englishman". I like to think of myself as an "European".  I love all this crafty and I love all things arty. I love exploring and trying out new things.
I have one son – known as Red Ted. Red Ted is a very lucky boy, as he has a brand named after him. I am very lucky mum, as I have Red Ted (needles to say I am biased). Red Ted loves making things from "junk" and drawing. I also have a little girl: Pip Squeak. Pip Squeak adores painting and getting messy and she is just like her mum…"
Every week I share with you at least one new:
The kids crafts are made by my children and me. The "How To's" are brought to you by a series of specialist guest posters or myself."
Latest Post by Maggy: Easy Harry Potter Bookmarks
NUMBER 7:  JUST A GIRL AND HER BLOG
From Abby's About Me Page:
"I am truly passionate about creating a beautiful, thriving home, life, and business and helping others to do the same! On the blog, those passions manifest themselves in posts about organization and productivity and in practical, easy-to-follow decorating tips.
And since blogging has been a total game changer for us…we also try to "pay it forward" by sharing what we're learning about blogging and online business…
MY BLOG NAME IS A LIE.
…The name might suggest that I do this whole thing alone, but I certainly don't make this blog happen all by myself! As I've mentioned, Donnie is my business partner…We've also brought on my sister Brittany…It really is a team effort!"
Latest Post: How to Get Your Husband and Kids on Board with Organization
Abby Lawson is the only Top Mom Blogger on this list who has published her earnings (well actually, Donnie wrote the latest one's). They stopped sharing income reports in December 2016, but their highest reported income month was October 2016, when they reported earnings of $51,803.  Their first report was in Feb 2014.  Read more at Do Bloggers Earn Income Blogging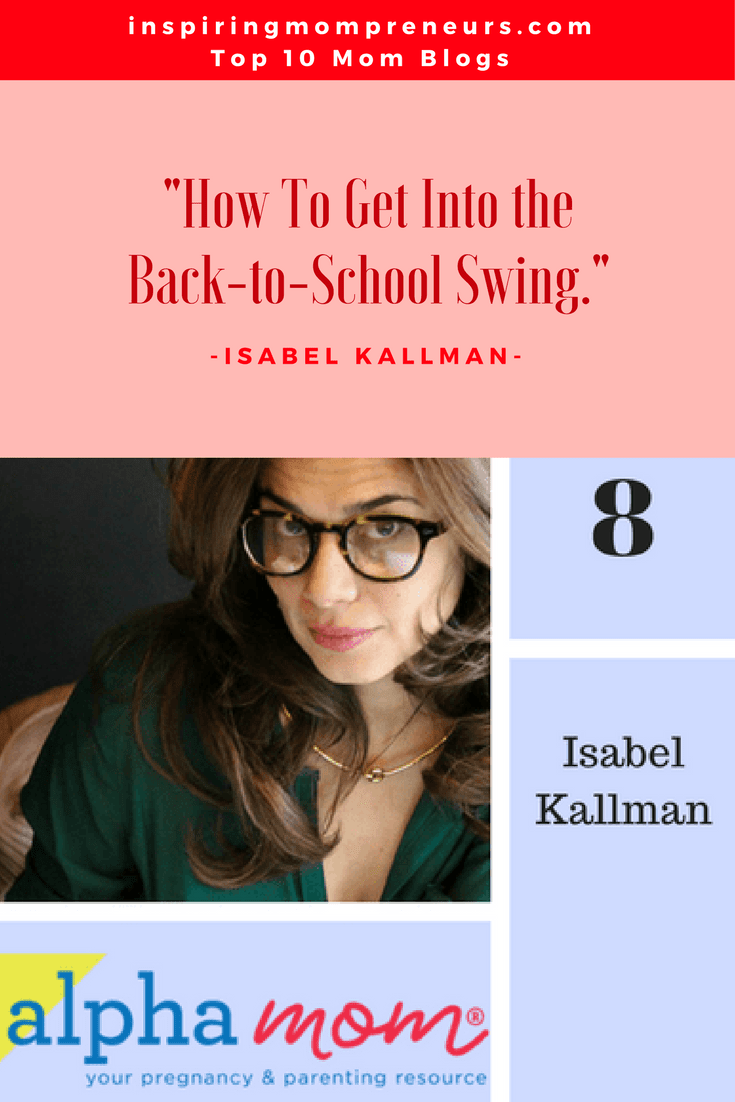 NUMBER 8: ALPHA MOM
From Alpha Mom's About Page:
"Alpha Mom is a consumer lifestyle brand, new media and research company for moms and moms-to-be. It was founded and is run by Isabel Kallman, a mother to a 13-year-old son…
Alpha Mom was started because, as counter-intuitive as it may seem, motherhood is not a natural instinct for many (many) women.
Rather, connectedness is a new mom's first instinct. And, with non-judgmental support and advice from other moms and parenting professionals, we try to help women embrace motherhood with confidence."
Recent Post by Isabel Kallman: How to Get into the Back-to-School Swing
NUMBER 9: FREE RANGE KIDS
From Lenore's Home Page:
"Fighting the belief that our children are in constant danger from creeps, kidnapping, germs, grades, flashers, frustration, failure, baby snatchers, bugs, bullies, men, sleepovers and/or the perils of a non-organic grape".
Recent Post by Lenore Skenazy:  Helicopter Parents Hope to Stave Off Death By Doing Everything "Right"
Here's a quote from her post that also sums up what Free-Range Kids is all about:
"Parents live not just with the fear of something terrible happening, but the fear of overwhelming guilt: Why didn't we, who have so much ability to control our children's lives, PREVENT it?
This guilt will grow as technology puts parents in a position to oversee almost everything their kids' do, see, read, watch, eat, hear and encounter, even when out of reach. Our job at Free-Range Kids is to combat the idea that parents can be God, if only to block the blame that comes with that belief."
NUMBER 10: YOUR HOME BASED MOM
From Leigh-Anne's About  Page:
"Leigh Anne is that neighbor you love. You know the one – they throw amazing parties, they bring you freshly-baked cookies, they treat you like family, and they're the one you hope is in charge of bringing the main dish to the potluck.
After nearly a decade in the blogosphere, Leigh Anne is now veritably the "favorite neighbor" to thousands who come to her site daily to search the more than 2,400 delicious, easy recipes and Pinterest-worthy ideas for entertaining.
She  firmly believes in eating dinner together as a family, having done so as a child and when raising children of her own. She's cultivated an online space for parents to find and make simple, straightforward, and picky-eater-proof recipes.
Leigh-Anne's latest mouth-watering recipe: Chocolate Chip and Toffee Scones
P.S.
As promised, this was my process and which blogs I eliminated from the Top 10 List.
As mentioned in my introduction, even with my super simple Highest DA method, choosing my Top 10 was tricky because there are some Mom Blogs that don't look like blogs at all.
Let's take the blog that's at the very top of my list as an example to illustrate my point –  Moms Rising at momsrising.org. Technically they share the no. 1 spot with Dooce, but finding the details of the Mom who started this blog is no easy feat.  On their about page it states,
"First, a handful of women came together, and then that handful became hundreds, the hundreds became thousands, and through friends telling friends, MomsRising is now more than a million members strong and growing!  JOIN MOMSRISING TODAY!"
Their mission:
Covering all 50 states, the MomsRising Team is unified by a mission of increasing family economic security, decreasing discrimination, and building a nation where both businesses and families can thrive.
If I was American, I'd be joining!  Sounds wonderful.
I did some more snooping to find out who the founders were. I clicked on Meet the Team, Moms Rising Blog Staff and found that Kristin Rowe-Finkbeiner is Co-founder and CEO, Donna Norton is Executive VP and Chief Advancement & Strategy Officer and was also a founding member. So I've found two of the handful of women founders.
I concluded that Moms Rising has moved way beyond a blog.
Don't miss my post, Do Bloggers Earn Income Blogging? where I share the Income Reports of 7 Top Mom Bloggers (and my first one).
There are 3 more blogs I excluded from my Top 10 for similar reasons. All are noteworthy.
With a DA of 62, Brit Mums would have shared 7th place with Just a Girl and her Blog.
With a DA of 61, Top Mommy Blogs.would have shared 8th place with AlphaMom.
With a DA of 60, Anna Fader's Mommy Poppins would have shared 9th place with Free Range Kids.
Brit Mums
Brit Mums is "Britain's BIGGEST collective of Lifestyle Bloggers and Social Media Influencers".
I almost included Brit Mums as it seems to still be run by the founders, Susanna Scott and Jennifer Howze, however, I decided against it as it didn't fit my criteria of still looking like a Mom blog.
Top Mommy Blogs is possibly the American equivalent of Brit Mums although they don't make those claims.
I could not find an About Me page for the founder of Top Mommy Blogs however I discovered on Twitter that Karen of Posh Little is the Founder of Top Mommy Blogs.  Posh Little is where Karen blogs.
[Sidenote: Doing this research convinced me to do something I've been meaning to do for a while – update my About Us page on my own site to include an About Me section. Hope you like it.]
Mommy Poppins
Mommy Poppins is essentially an Events website for some major American cities. It's byline is "Get More Out of Life with Kids" and lists the best parties, classes, family fun and more in New York, Houston, Boston, Philadelphia, Connecticut, Los Angeles, Long Island, New Jersey and Westchester.
Mommy Poppins was founded by Anna Fader.  "Anna Fader created Mommy Poppins to share the overlooked, hidden gems of NYC and help other parents take advantage of all those little details of New York that make living here seem more like living in the greatest small town in the world". Anna Fader still blogs on Mommy Poppins from time to time. There's a featured post of hers on the home page: 50 Indoor Activities for a Rainy Day
So there we have it. Our 10 Top Mom Blogs plus 4 blogs that have taken on a life of their own. Have you noticed how each of these wildly popular bloggers has captured her own corner of the Mommy market, how each appeals to an entirely different audience, how each has their own, unique style? It just shows you that there is room for all of us.
Follow your passion. Find your voice. Find your tribe.
Okay, over to you…
Who are your Favourite Mom Bloggers on this list and Why?
Who are the Top bloggers in your chosen niche? 
Please follow and like us: