Please follow and like us:
Here's Idea no. 20 from Ja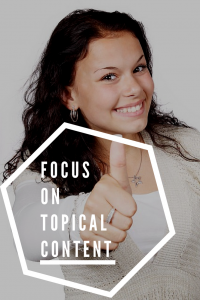 yson Demer's 39 Actionable Ideas for Driving Traffic to Your Website
Make sure you have every relevant keyword you can think of on your site
I'm not talking old-school keyword spamming here. I'm talking about focusing on topical content; and making sure you at least have the chance of being found for all your relevant keywords, no matter how obscure they may be.
Target Relevant Keywords – Focus on Topical Content
This is an idea I'm definitely going to explore in the next few months.
I absolutely love interviewing Mom Entrepreneurs as I find their stories incredibly motivational, but I'd also like my site to become a place Mom Entrepreneurs can come to for answers to their burning questions.
I recently discovered that I had made some critical errors when I first started blogging (e.g. not submitting a sitemap to Google and the other search engines and corrected that. This prompted me to go back to the Online Certification training at Wealthy Affiliate  (By the way, you can do the first Certification course FREE ).
One of the things that Kyle  (co-founder of WA) drives home again and again in his training on affiliate marketing is this:
You are in the business of helping, not selling.
Or put another way,
"Success occurs when we shift our efforts from making a million dollars to helping a million people." Dharmesh Shah
My goal is now to find out what questions my audience is asking and how I can give them answers or find out what problems and challenges they are facing and give them solutions.
I thought of the number one challenge all the Mom's I've interviewed have grappled with:
It's how to balance their responsibilities to their children and their responsibilities with their business.
So far I only have a couple of articles dealing with Work-Life Balance:
My article: 7 Ways to Beat those Housewife Blues which, interestingly contains my highest performing keyword in google.  The keyword Housewife Blues is on Google Page 1, Position 2. If you want to know how your keywords are performing, go to: Serplab
And  Helen Vella's Guest Post – How to Achieve a Work and Life Balance
Leading from this work life home balance issue is heaps of Mom-guilt. Definitely have to deal with some strategies on easing the guilt felt by Mompreneurs.
Further hot-button ideas for articles in my niche are:
Ways to Make Money from Home (with babies or toddlers at home)
Ways to Save Money or reduce Household Expenses
I will start researching some keywords and post these articles over the next few months and am sure more ideas will flow from there.  Watch this space.
Please follow and like us: