Please follow and like us:
Rina is a stay at home Mom with only one or two hours a day to dedicate to her breastfeeding blog, Living with Low Milk Supply.  Yet she has 100,000 page views a month, 2,500 email subscribers and earns over $1000 a month.  Rina shares some of the secrets to her success, as well as some valuable resources and contacts in our interview. If you're a Mom Blogger, this is a must read.
When did you take the decision to become an Entrepreneur?
I was a research officer before.  From the beginning, when I got married actually I wanted to stay at home but during my University, I had some scholarships so I needed to pay back my scholarship by working full time in a certain company so that's what I was doing.  So I knew that I wanted to be at home with my children but and at the same time I realized that if I don't do anything to bring in income at home it would be a little bit hard for my husband to become the sole breadwinner.  So that's when I tried to look around and see, "What can I do from home to earn and extra income?"  so that he's the not the only one who supports the family.
So you have only the one site, Living with Low Milk Supply, is that correct?
Before I started with Living with Low Milk Supply, I started with another blog: Fiftarina.com
I think I started that blog about 1 year before this breastfeeding website but at that time I didn't have enough knowledge about how to build the website, where to get the traffic and how I would start to get income.
Only in the middle of 2016, I discovered Wealthy Affiliate and that's when I started with Living with Low Milk Supply. Fiftarina is in dormant mode, I haven't updated it for a while.  I really want to share my experience in how I earn money blogging and I thought using fiftarina.com would be a good choice for that, but I don't have the time at the moment to update that site.
Aah, so you're actually earning money blogging at the moment?  How have you monetized?
Basically, most of the money is from affiliate marketing.  I'm an affiliate with Amazon and I have done some product reviews on breastfeeding products I've tried before or used before.
I took the lessons from Wealthy Affiliate, so basically I try search for the keywords with the lowest competition, so those reviews rank very highly on google.  That's how people come to my website and some of them click on the affiliate link and buy something from Amazon through my website.
You can find an awesome article by Rina on keyword research here.
I also signed up for the Amazon CPM Ads so I have one little Ad as a side widget on my website. It's not generating significant income but enough as an extra income for my site. Amazon CPM ads give you links just like Google Adsense links except they are from Amazon.
I'm also an Amazon affiliate, I haven't made a sale yet though.  As a South African, if I do make a sale on Amazon, they don't pay into Paypal, so I will only get Amazon vouchers. 
Yes, Amazon also sends cheques to affiliates outside the US.  Once the cheque comes, when you clear the cheque via the bank they deduct about $15 as a clearing fee.
You can set the minimum limit and only once they reach that limit they send the cheque. So I make sure my limit is not too low, so I don't lose too much on the clearing fee.
So you're obviously earning enough to make receiving Amazon cheques worthwhile. What kind of readership do you have at the moment? What are your monthly page views?
At the moment I have reached 100,000 monthly page views.   I was like, oh wow, I've reached 100k.  That's amazing.
When I first started, I went through the training from Kyle and he said, "Okay, assuming one of your blog posts has 5 visitors a day and you have so many blog posts, then after one year you will get xx visitors. So at the time I thought, okay, for 1000, its 5000 page views, it looks so high.  But right now I'm close to 2 years since starting livingwithlowmilksupply.com and the traffic is just growing (laughing) and I don't really do anything significant, I'm just following the lessons.
Oh, that's amazing!  I've been very bad because I've been on Wealthy Affiliate for a year but I haven't followed all the lessons.
I stopped following the lessons when they started teaching about social media.  The majority of my traffic comes from google – it's about 70%. So basically it's all from choosing the right keywords. So that is the power of keywords.
And the other thing that brings me traffic is Pinterest. For the last year, I've been focusing more on Pinterest. For other social Media, even though I have Google Plus and Twitter, I don't have time to do all of it, so I just picked one and decided, let's focus on this.
Read Rina's Pinterest post on Wealthy Affiliate
Do Rina's Pinterest Training on Wealthy Affiliate – How to Use Board Booster to Boost your Pinterest Traffic
What about you? You've got good engagement on Instagram, right?
Yes, I'm doing very well on Instagram and Pinterest. Pinterest is my favorite as well. I also just noticed the other day that I'm getting traffic from LinkedIn and I also use StumbleUpon and Flipboard which generates some traffic. I haven't added Facebook and Twitter yet because I don't have the time to add another two social media channels and also I'm nervous of them.
What has been the number one highlight of your career (as a Mompreneur)?
Basically, I think the number one highlight of creating these websites is the moment I get thank you messages from people who read my posts.  I realize, oh, wow, I'm impacting people's lives because they really send me some grateful messages because of the tips and resources I share with them on my website.
I know that one objective of creating the website is money, but then when I get these kinds of messages it makes my heart feel wow because oh yeah, it's not really about me, I'm helping real people to achieve their goals.  It feels very encouraging.
What has been the greatest challenge for you to overcome in your career?
To admit that I'm worthy.  I grew up as a very introverted person.  I don't really feel confident in myself even when I'm doing well.  As a student or in the career I had before I had kids, I felt insecure, I felt that I'm not worth listening to, things like that.  After I started writing my websites and I see these kinds of comments or messages, saying things like, "Oh, the way you explain in such detail really helps me solve my problem", this kind of thing, it builds my self-confidence and now I feel, okay I am worthy, I am self-worthy. I have my own opinion, it can be different from others and that's okay.  I have my audience who listens to me and yeah, it's given me confidence.
That's awesome. Do you also have a subscriber list, email subscribers?
Yes, I have around 2,5k email subscribers.
2,500? Wow, that's incredible, you have got a really big audience. That is stunning.
Yeah, and I just started my email list 1 year ago.
What do you love most about being a Mom Entrepreneur?
That I can still be home with my kids and having fun and playing with them yet I still earn some extra money working from home.
There were times I didn't have time to do anything on my website, maybe there was one month I didn't do anything and it was surprising because my website still earned some money. I was expecting that I wouldn't earn anything at all, because I didn't do any updates the whole month, but no, my website's driving, even though there may be no growth of traffic but that's okay (laughing).  I can rely on my website as a source of income, even though it's a small income for now.
Wow, that's fantastic. Your story is so encouraging.
I hope so.  You will be someone like that soon, Lauren don't worry.  One year ago I was in your shoes.
Yeah, I haven't had an Amazon sale yet but then I don't have anywhere close to the page views you have yet, so I guess it's all a matter of time. Keep at it, keep adding articles and all in time…
How to get paid for Writing a Blog
Which daily rituals are important for you to maintain a work-life balance?
I do have routines to make things organized.  I usually only work when my kids are asleep, most of the time, there will be times that I'm still working when my kids are awake but it's not very often.
So basically it's early in the morning…
So I wake at 5:15 to prepare my son's lunch and breakfast.
He has an early morning school bus at around 6:20.
I finish folding and ironing my laundry then at about 7:00 I start working.
Depending what time my daughter wakes up, I stop working sometime between 7:30 and 8:00.
The next session will be during her naptime, which is between 2 and 3 pm.
At night, depends, usually, I'll work on my phone, doing some pinning on Pinterest, things I can do on my phone.
As you can see, it's really just one or two hours here and there.
You are an amazing Mom and Mompreneur. You have so little time and you've got so much done! You must be a very efficient and effective worker to get so much done in such a little space of time.
You know, Lauren, I only post a new blog post every two weeks.
When I started with this website, I originally posted twice a week.  But because I started working on my email list, creating some freebies and creating an email series, I was thinking, I cannot keep doing the two posts a week and building an email list and building social media.  So I decided to just publish a post once every 2 weeks and the other week I do other things, learning some Pinterest traffic techniques or creating my email broadcasts.  There are so many things to do, I also want to update the look and feel of my website.
I know because I'm doing it myself, and keyword research, creating images and posting to social media, it all just takes so much time.
Yeah, so basically I have one day to create images, one day to upload those images to WordPress and do the SEO things and maybe 2 days to get the draft ready and another day to edit and find some relevant images. It takes one week just to get the post finished.
Do you feel you are living your passion?
Yes.  It's been my dream to stay at home with my family and now that I can bring in some income even when I'm staying at home. It's what I've wanted to do for so long, so yeah.
Because my husband can fully support us with his income I can save that money and use it to help pay the mortgage.
That's wonderful.  If you're okay with giving this information out, how much do you make from Amazon at the moment?
It's about $1k a month
Wow, that's amazing. $1000 a month, so Amazon has really worked for you.
You know what, even though you only promote certain products on your website, your job is to drive people to click on your picture and go to Amazon and once they're on Amazon they can buy any other thing.  I was amazed when I got a purchase of pet supplies on my website, it's totally unrelated, but people do buy weird things like that.  If it's baby stuff it's understandable but I've had a purchase of a mattress … people are buying things that are not only breastfeeding products.
And what is your Top Selling Product of the products you're actually reviewing?
It's a Breast Pump, I have a top recommendation of a breast pump and people click on that a lot. Click here to read Rina's Review.
And that's obviously the one you use yourself…
Yeah, it's the pump I have.
Is there anything you know now, that you wish you knew when you started out as an entrepreneur?
I wish I knew that I didn't have to create things perfectly.  When I first started, maybe I'd post once a week because I tried to make the post Super-perfect.   But at the time I think Kyle pointed out to me, you think that it's perfect now but actually, it'll never be perfect, so just publish the post and move on.
If I had continued in that way, I wouldn't have an email list and enough blog posts to drive traffic to my site.
And you know, something that looks perfect to us one year ago, today when we look at it, we think how ugly is that? You are changing, you are learning all the time and you'll keep updating and learning new things, but you need to start it now.
Is there anything you know now, that you wish you knew when you first became a Mom?
That I do need to combine myself with other Moms because there are so many Mommy battles now, whether you are breastfeeding, whether you are using cloth diapers or disposable diapers, things like this.  This can be a source of stress if you really listen to other people.  I wish I hadn't got stressed by these battles at the beginning, so that as a Mom I didn't have to feel inadequate or that I wasn't being a good enough Mom.
I love your answers, they are so beautiful. So many Moms will feel inspired by what you're saying.
What has been the number one highlight of Motherhood for you?
As a mother sometimes it's easy to feel unappreciated or we get greeted with new things every day, things like that, especially with little kids, your home looks like a mess all the time and you feel very tired.  Sometimes I wish I could have one day off from taking care of my kids.
And you know about 1 year ago, I think God granted my wish in some other way.  I was in an accident and suddenly I needed to be hospitalized for a few days. I wasn't prepared at the time and neither was my family and my little daughter suddenly had a fever because of that. My husband left me in the hospital with 2 crying kids, going back home.
And so there I was for the night, and I thought, this is my chance to have the quiet time that I really wanted for so long.  But the moment when I felt I was alone in my hospital room, I suddenly missed the noise of my home, I suddenly missed doing things for my kids.  It's not fun just lying in the bed and having somebody serve the breakfast I usually make for myself and my family.
It was really a turning point for me, so after I got discharged from the hospital I started cherishing all the moments with my kids, with my family. I know it's not all happy moments but I know that I'm important for them and they're important for me too.
That's an amazing story, thank you.
Yeah, I think God has tried to give me a lesson through this hospital experience.
And you really got the lesson…
(Laughing) Well no, sometimes I still feel I really need a break, but okay, sometimes it's normal, it's just a normal kind of feeling.
What has been the greatest challenge for you to overcome as a Mother?
It must be accepting that I'm not perfect and I don't need to be perfect either, nor does my family.
I felt before having a family, I'm a perfect girl, I had flying results, I had a good career, things like this, but once I got married and had a baby, you know that I was struggling to breastfeed my first son.  And I realized no matter how much I wanted to be successful at breastfeeding, I could not achieve it.  When I admitted I don't have to be perfect as a Mom but I am still a good Mom… I feel now that, sometimes my kids may be picky eaters or may not learning so well, it's okay… I don't need to be perfect, they don't need to be perfect and I don't need to be frustrated because of that.
That's lovely. No wonder you have such a huge following. 
Do you work from home?  If so, what does your room or desk look like?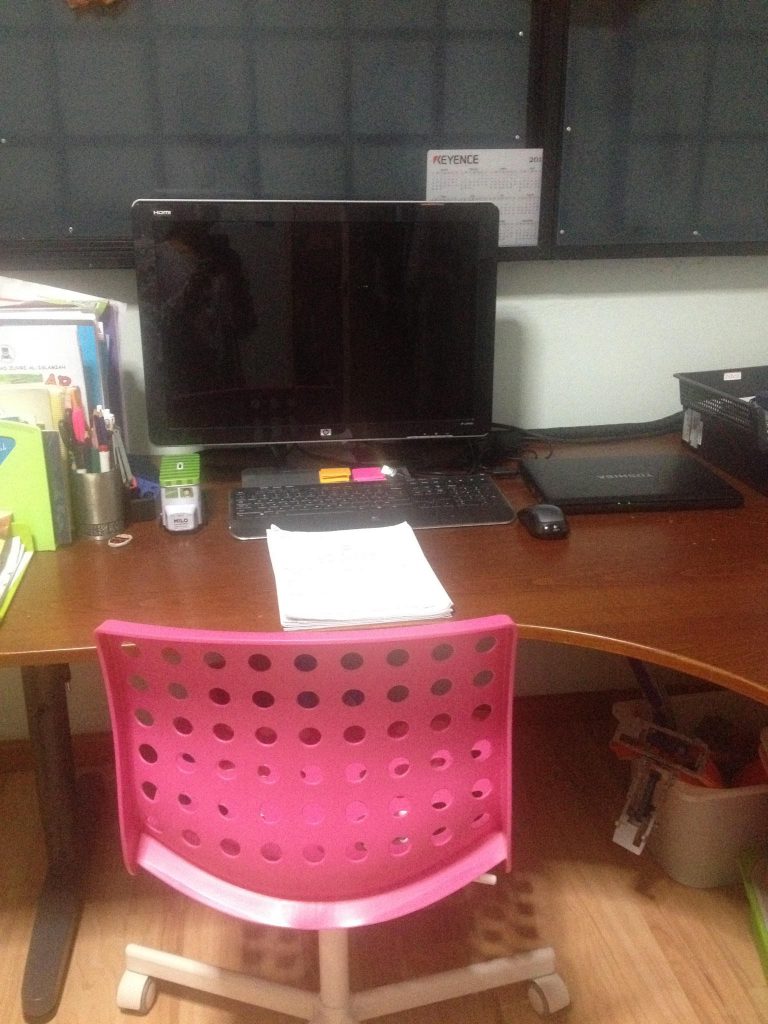 Our business station is inside my kids' playroom, okay let's just call it a creative room because I also do my ironing in that room.  It's shared between me and my kids.  My son is now in Primary and he frequently has an online quiz or online learning and both of us are using the same computer.
Which tools of the trade have been enormously helpful for you?
I use their keyword tool for every single post I write.
I used their site-comments tool for the first 6 months blogging. Once I started getting organic comments, I rarely use it though.
I watched a number of Jay's webinars and of course, went through most of the main lessons from Kyle.
(2) Canva – for creating social media images and infographics.
(3) Thrive Leads and Thrive Content Builder
To create opt-in forms and landing pages for freebies/incentives for new subscribers.  This is a great alternative from the super-popular lead pages. You only pay a one-time fee instead of being billed monthly.
(4) Convertkit –for building your email list.
As yet I may not be taking full advantage of it, but I love how powerful it is, plus it's very easy to use.
Convertkit also has opt-in form and landing page (a basic one) so if you don't want to spend too much money on opt-in forms and such, this is a good deal.  By the way, I heard this for the first time from Pat Flynn of Smart Passive Income.
(5) Board Booster– Pinterest scheduler
Automates your pinning in about an hour a week.  You can save even more time by scheduling one month ahead.
Are there any fellow bloggers who have been enormously helpful to you?
Yes, I've met some amazing bloggers on Pinterest.
Melyssa Griffin at melyssagriffin.com -she's a Pinterest Queen.  I love watching her free webinars, taking part in her challenges because her content is so actionable.  http://www.melyssagriffin.com/
Addi Ganley at addiganley.com – specializes in mastering affiliate marketing with Pinterest. I love how she approaches affiliate marketing from the audience point of view and honesty. She only recommends products that she's tried and phrases her reviews in how it will benefit the audience.
Summer Tannhauser at ladybossleague.com – also another Pinterest expert, she's a mom of two (so yeah, she only works when the kids are sleeping), runs multiple businesses, and is super successful. My current idol.
Mariah Coz at femtrepreneur.co – for growing your email list.  She's the queen of online course creation. I've not even in the stage of creating my own product, but her step by step process to grow the email list is so powerful. Get her free Build a Profitable Blog course.
Rina, if I were writing this list, you'd be on it. 🙂  Thanks for your inspiration and valuable advice.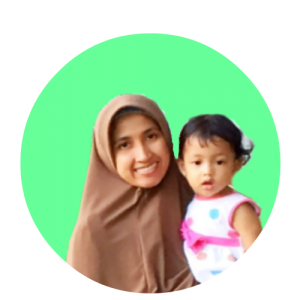 Read Rina's Top 3 Posts on Living with Low Milk Supply:
Connect with Rina on:  

Rina recently wrote a wonderful Guest Post for our Sister Site, Happy Human Pacifier.
Please follow and like us: