Please follow and like us:
Today we are sharing 5 simple tips on how to stay organized as a mom. You may have been one of the most organized people way back in the day before you had a family, but let's face it, that was before having kids.
Motherhood can be challenging and, on some days, overwhelming. Real mom issues such as mom guilt, mom rage, overstimulation, feeling touched out, and experiencing identity loss are at the order of the day and are not something to feel ashamed of. It happens to most of us.
You notice these moms that appear to be super organized, and you wonder how this is possible when you have an ever-growing pile of laundry, toys are strewn all over the floor, and you forgot what it felt like to have a warm cup of coffee in your hands that you're able to finish.
One of the biggest obstacles we face is staying on top of everything. Here are 5 tips on how to stay organized as a mom and retain your sanity in the process.
5 Easy Tips on How to Stay Organized as a Mom
1. Invest In a Day Planner To Help You Keep Track of Everything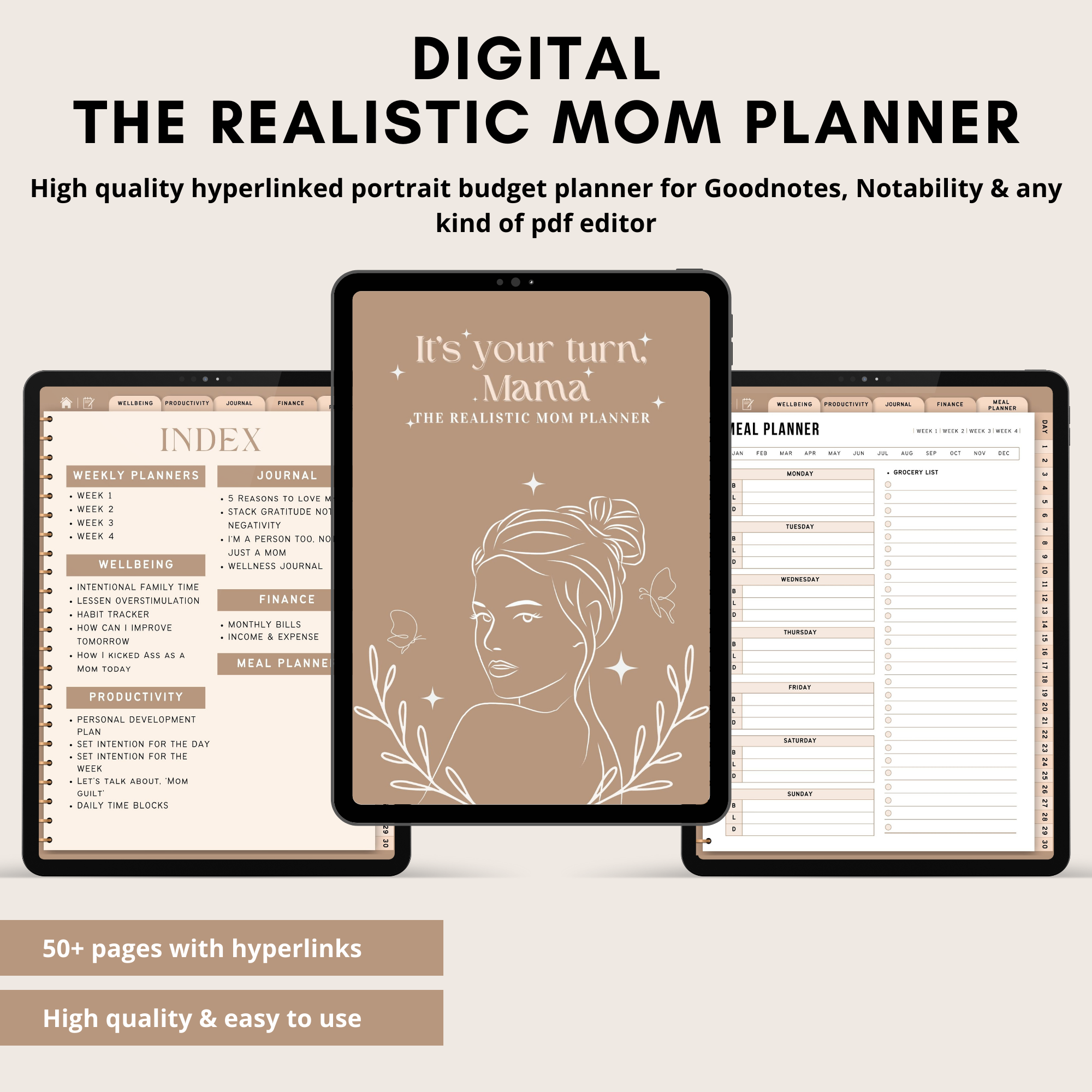 This is the number one tip for becoming more organized and keeping tabs on everything that needs to be done. The digital realistic mom journal provides relief by giving you a safe space to heal, refocus and vent.
Besides adding events, extracurricular activities, classes, meetings, appointments, etc., it is also useful for adding to-do lists like your weekly grocery shopping list, reminders, and anything else that comes to mind.
You can really personalize your day planner to suit your individual needs. For more information on the seller and where you can buy this useful mom-friendly day planner, you can visit these pages:
2. Get Up Early – Before The Rest of The Family
You might find it surprising that this is one of the biggest secrets of being organized and starting your day on a high note. It might be a bit of a challenge in the beginning, and it might take some time to get used to, but it is well worth it. You need to remain consistent, though; once you've started reaping the benefits, you will be grateful.
Set your alarm for 30 or 60 minutes before the rest of the household gets up, and use this time to start preparing for the day. Remember to set a few minutes aside for yourself. Do a bit of meditation or morning exercise, enjoy a warm cup of coffee, and take a long hot shower before getting dressed.
3. Have a Place For Everything 
Being tidy can go a long way in staying organized. Searching for missing items can be highly frustrating when you're in a hurry and need to use them immediately. Make sure there are designated places for important items that are used regularly, and make a habit of putting them back soon after you use them. Teach your family to do the same.
Try not to postpone quick and easy household tasks like folding the laundry or washing the dishes. It is easier to wash the dishes quickly after supper than to do it the next morning when things tend to be chaotic, and everyone is rushing. Tell yourself that you MUST do it right away. It might be challenging to get used to at first, but you will thank yourself later on.
4. Allocate Some Time For Yourself To Procrastinate
It is normal for busy moms to need some downtime every now and again. Otherwise, you'll feel overwhelmed and burn-out from constantly tending to everyone else's needs before yours. The golden rule of mamahood is to take care of yourself first before you can take care of others. It may sound impossible because it is in our nature to put our family's needs before ours.
But, you will be of no use to anyone, including yourself, if you have a nervous breakdown or struggle to cope. Allocate an hour in your day to do something for yourself and clear your thoughts from everyday stressors and responsibilities.
Self-care is essential to survive in the parenting jungle. Watch a series, relax in a bubble bath with a glass of wine, or do something that allows you to relax and forget about the outside world. Self-care is essential, and you deserve it!
5. Learn To Say No
We often feel pressurized to say yes to everything – helping out at school, organizing play dates, or all sorts of additional activities that just add to our already busy schedules. Learn to say no every once in a while. If you know you have an incredibly busy week ahead of you, simply say no and don't feel guilty about it afterward. 

Final Thoughts
There are so many tips on how to stay organized as a mom that you can implement to make life a little easier on yourself. These five tips are easy to follow but will make a significant difference in your life once you've successfully mastered them.
Please follow and like us: