Please follow and like us:
We have great pleasure in sharing our latest Mompreneur interview with you.  Alasen Zarndt is a certified Integrative Nutrition Health Coach who has specialised as a Nutrition Doula because of her own journey back to wellness after the birth of her first child.
What's a Nutrition Doula?
Find out in this inspiring video.  And you'll want to watch till the end because Alasen also gives out brilliant free advice for Moms who are struggling with overweight or underweight postpartum.
*Please note: the interview below is not a transcription of the video interview above.  You'll find golden nuggets in both her written answers and the video. 
An Interview with Your Nutrition Doula
Lauren: Lovely to meet you Alasen, please describe what you do for a living.
Alasen: I help women regain their mental and physical health after having a baby through individualized nutrition, in an easy to implement, stress-free way that the whole family loves. 
Lauren: If you wear many hats in business, which of these do you love most, which takes most of your time and which brings in the most income?
Alasen:  I definitely love working one-on-one with clients the most, because we really get to dive down into the details for them and watching their incredible transformations just makes my heart sing. 
That is also what brings the most income in right now, which is a nice bit of alignment there.
The tech side of my business is what takes most of my time right now – I'm trained as an INHC and my background before that was in engineering, not computers!
So I'm spending a lot of time right now learning the ins and outs of online business tools that I need to keep everything running smoothly.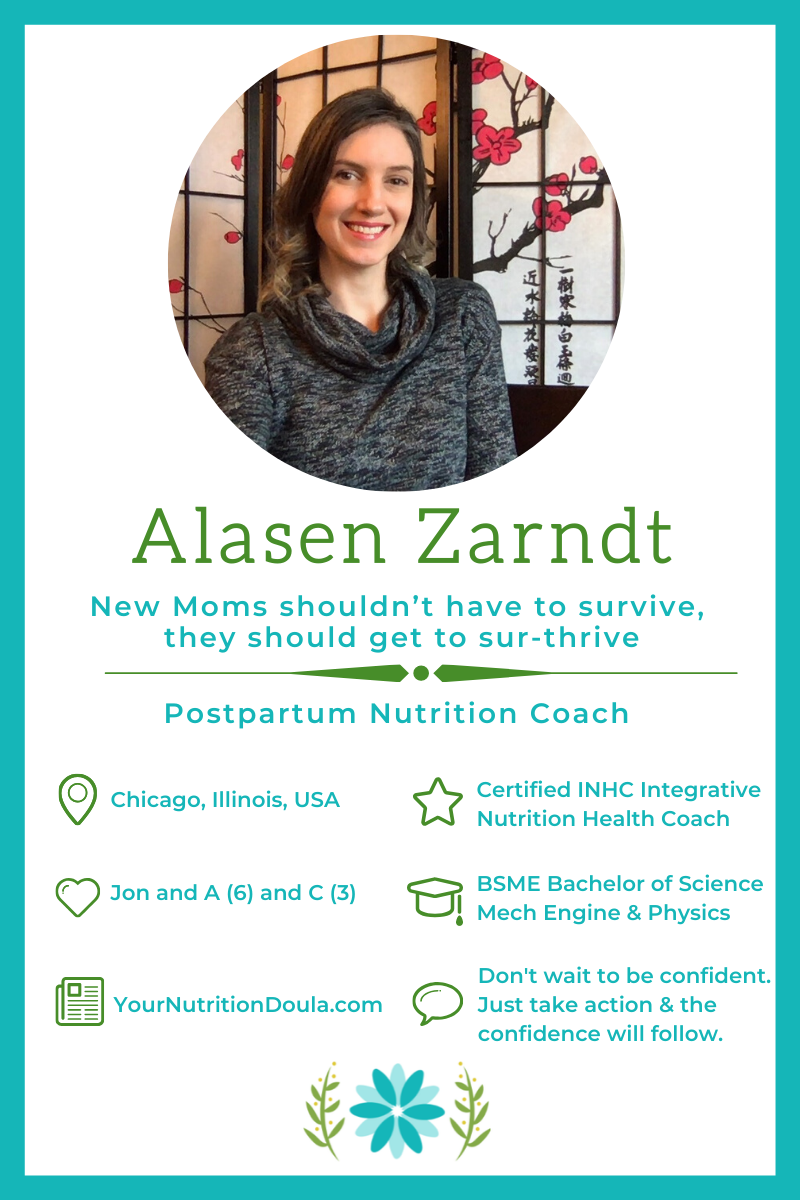 Alasen on Entrepreneurship
Lauren:  When did you decide to become an Entrepreneur? 
Alasen: April of 2017
Lauren: Why did you decide to become an Entrepreneur? 
Alasen: Through my own journey becoming a Mom, I developed a passion for helping others through this crazy transition in life.
I wanted to fill the gap I felt for others out there, so they wouldn't have to go through such a hard time. Ultimately, my new passion won out over my traditional career and I decided to take the leap!
Lauren:  What prompted you to start your own business?   How did you come up with the idea?
Alasen:  I went through my own, pretty serious struggles with pregnancy, postpartum weight, and breastfeeding and while I was "in it" I couldn't find ANY help out there. 
We shy away from teaching moms about nutrition because "pregnancy isn't a time to worry about weight" – but nutrition isn't only about weight, it's also about helping your body function optimally.
So I had to go it alone, do my own research and learning. Once I figured it out, I was thinking,
Why isn't this information readily available? Am I the only one who needed this???
I had a fledgeling idea about starting something to help other moms who were also struggling (while I was laying in bed trying to fall asleep one night), but that imposter syndrome or ego or whatever you want to call it was like 
No, that's a dumb idea. There's no market for it or someone else would have done it already. You'll fail.
So I sat on it for a few weeks, but the idea for The Nutrition Doula just wouldn't leave me alone. I finally got the courage to talk to a few trusted friends about the idea and the response was OVERWHELMINGLY positive.
Their encouragement prompted me to start talking with hubby about going back to school to make this a reality and the rest is history. 
Lauren:  Who did you have in mind?  Who do you serve? 
Alasen:  I help pregnant, postpartum, and breastfeeding moms go through all of these phases without damaging their own health in the process. 
Or, if you've already been through these things and have toddlers running around, I help you to replenish your body and get you back to feeling great!
Lauren: Is this your first entrepreneurial pursuit?
Alasen:  Yes!
Lauren:  What advice would you give someone just starting out as an Entrepreneur? 
Alasen:  Take the time to learn the in's and outs of online business operation BEFORE you decide on what your signature product/service will be. 
Having a solid foundation in marketing tools, online payments, different business structures, etc. will make everything go so much smoother once you are ready to create a product and sell it.
Lauren:  Do you feel you chose an easy path or a difficult one? 
Alasen:  This is definitely not an easy path, but I also don't view it as a constant struggle. 
Yes, you have to put in the work. Yes, you have to remain consistent. 
But eventually, the work and consistency become more like habits and it becomes a much easier path than at the beginning.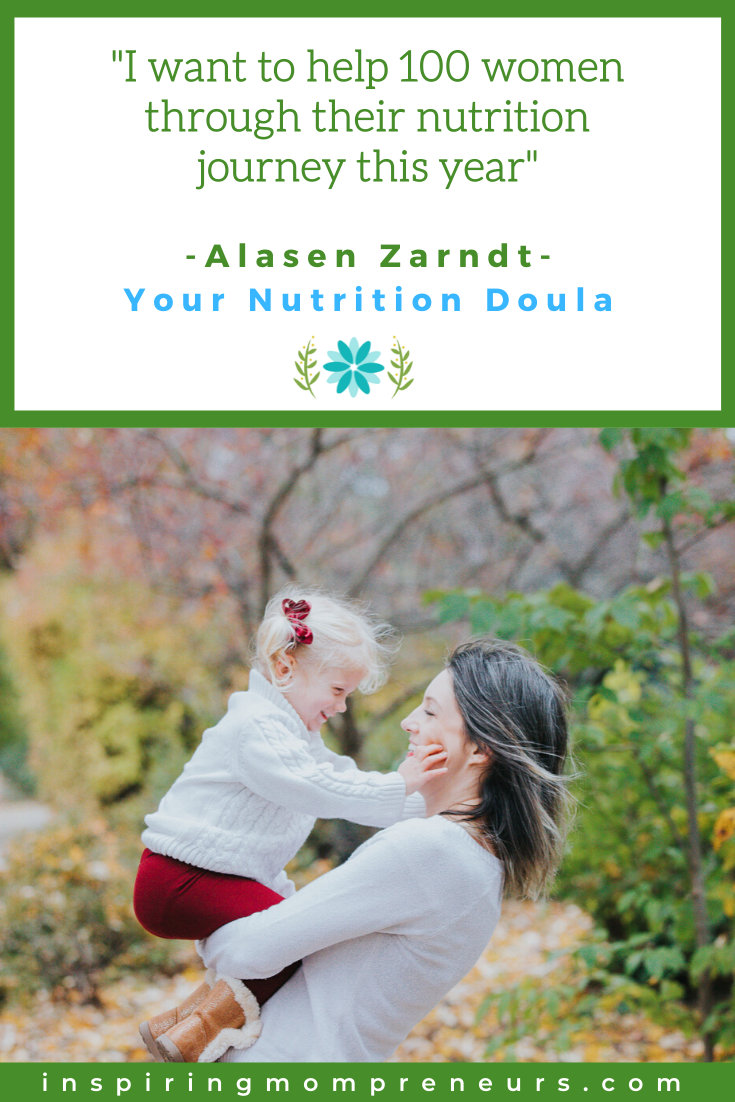 Alasen on Motherhood
Lauren:  What has been the greatest challenge for you to overcome as a Mother? 
Alasen:  I had PPD/PPA with my oldest, but it went undiagnosed because I thought it was normal for new moms to feel overwhelmed like I did. 
That was a huge blow to my confidence as a Mom overall, and it took a lot of healing to overcome that.
Lauren: What do you love most about being a Mom Entrepreneur? 
Alasen:  I get to see my kids in the mornings now, and we have a much more relaxed start to our day.
 When I was working full time, we had to leave the house by 6:15am for daycare dropoff. 
Now I get to let the kids eat breakfast at their own pace, play a little, and all of that because school dropoff isn't until 8am. That hour and a half that we got back is the best part of all of this.
Alasen – Meaning, Mission and Message
Lauren:  If you were to die tomorrow, would you be at peace knowing you had lived a full, happy and meaningful life? 
Alasen:  This is a tough one! 
Looking back over my life, I know that I have done the best I could with everything leading up to this point. 
But I don't know if I can say that I would be "at peace" because I know that I have SO MUCH MORE to offer the world. 
I really believe the best is yet to come and I want to be here for it!
Lauren: Do you have a message you would like the world to hear?
Alasen:  Oh, so many messages! 
I really want women to learn the TRUTH about nutrition and weight loss and how their bodies work. 
Most everything we are taught or "know" that's put out there by the diet industry is incomplete or straight-up wrong. 
I really want Moms to understand how AMAZING their bodies are and to learn how to care for them so that their food works FOR them rather than against their biology.
Lauren:  What are your hopes for 2020? 
Alasen:  This year is really about growth for me. I want to have helped 100 women through their nutrition journey by the end of the year!
Alasen's Mentors and Courses
Lauren:  Who has been enormously helpful to you? Do you have mentors in business?
Alasen:  Yes! When I was just starting out, I met my friend Katie who was very much like me, but about 2 years further down the entrepreneurial path. 
Katie introduced me to some super solid mentors (shout out to Landon Porter, Gabe Arnold, Tori Reid and the Gorillas) that were incredible and really helped me learn the business side of the house. 
Then there is my friend Meredith, who is also a health coach and business owner. She's the one who encouraged me to get started way back in 2017 and she has been great with helping me keep a level head when I got impatient in business. 
And I'm in Amanda Daley's Mastermind that is specific to health coaching business, which has also been amazing because I'm with a tight-knit group that is at the same point as I am right now, so the support there is really important to me.
Lauren: Are there any courses or studies you feel have been essential to your success? 
Alasen:  My Initial training at the Institute for Integrative Nutrition is essential because it is what lets me DO nutrition coaching. 
I can't speak highly enough about their program! 
From the business side of things, Landon's training around sales and getting clients (called LeadsLab) was a great fit for me. 
Tori is my go-to person for learning copywriting, and Gabe teaches more about business structure, mindset, and scaling. 
And Amanda's Upswing Mastermind is what helped me to put the pieces together specifically for the health coaching industry.
Does this describe YOU?
Lauren: Who is your target market? If I were to give you a referral, who would I be looking for?  
Alasen: I work with pregnant, postpartum, and breastfeeding moms or moms with young toddlers who feel like they have tried everything under the sun to get back to their ideal weight. 
They're feeling weak, tired, like a shell of their former selves. Moms who are tired of feeling like a zombie (or mombie) on the hamster wheel of life. 
Moms who
Struggle to maintain their ideal weight
Suffer from postpartum hair loss
Have postpartum depression and anxiety
Feel they are going through life as a mombie
Can't tell you the last time they felt rested
Moms who feel like a shell of their former selves
Moms who would give anything to feel like THEMSELVES again
My clients turn into moms who
Easily maintain their ideal weight
Enjoy a great night's sleep (regularly)
Wake up feeling rested even after their kids woke them up
Have the energy to keep up with their demanding jobs and toddlers
Banish pregnancy-brain for good
Find joy in motherhood, their jobs and their lives again
Want to get these amazing results for yourself?
Connect with Alasen
Please follow and like us: