Please follow and like us:
Business travel is always tough and it's especially hard on mothers who have to leave their children at home.
No matter if you travel for work regularly or if this is a one-time thing, you, your spouse and kids will be put to the test as soon as you leave home.
7 Tips for Travelling and Working Moms
by Lana Hawkins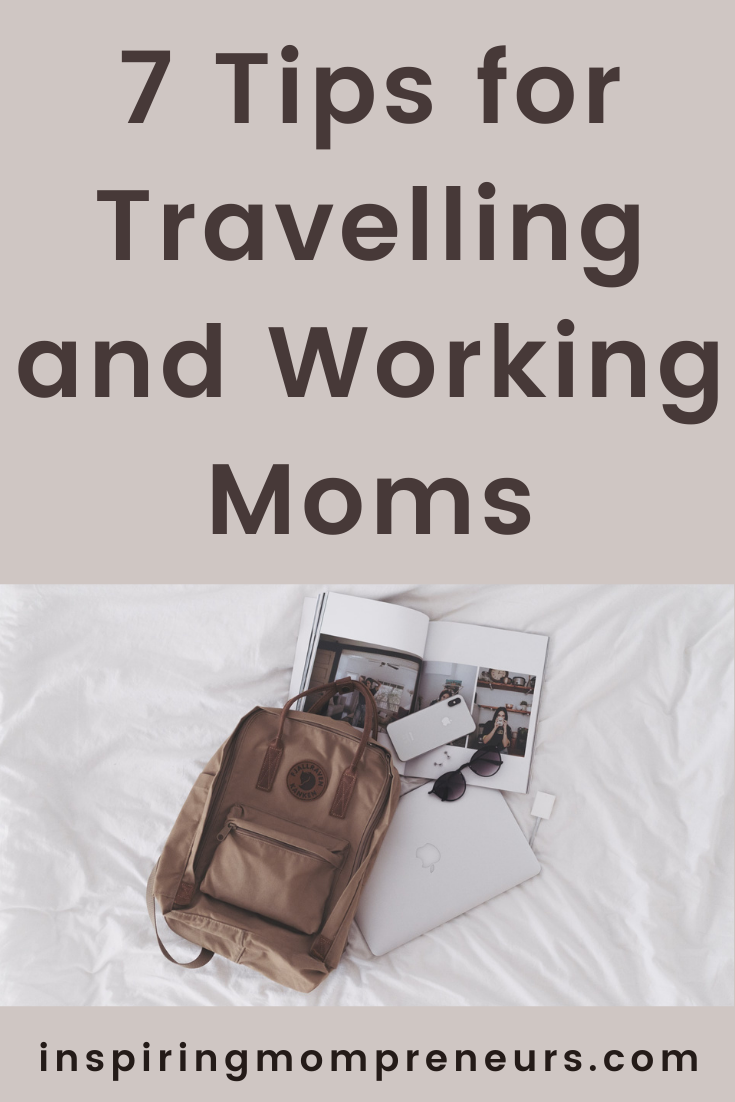 So, to make your business travel easier, here are some things to keep in mind:
1. Talk to your kids
Don't surprise your kids with your departure. Instead, talk to them a week or two before your business trip and let them know why and for how long you'll be gone.
Older kids will understand everything perfectly, but you'll have to be a little more animated with the little ones and hype them up for your business trip.
Make sure to present going away as something positive (even if your heart is breaking) and they will be happier knowing mommy is going to have fun on her business trip.
Younger kids will also love to decorate a calendar highlighting your departure, time away and return date, so they can have a countdown every morning.
2. Opt for a carryon
Busy working moms don't have a lot of time to pack their bags, so a carry-on is the best option for you.
It's light and practical, and you won't have to leave your kids early to check in your luggage or wait in never-ending baggage claim lines that will just keep you away from home longer.
If you don't have a small rolling suitcase, a duffel bag is perfectly acceptable.
3. Pack light
The key to travelling light is packing pieces that are easy to mix, match and layer. Most travel fashion experts agree that you only need 10 pieces of wardrobe for any 2-week business trip:
3 bottoms (2 fancy and 1 casual)
4 shirts
2 jackets
1 dress/formal suit (optional, depends on the dress-code requirements in your company and destination).
When it comes to shoes, limit yourself to two pairs, one dressy and one casual.
If you're staying for more than 2 weeks, pack laundry necessities or hit the local Laundromat instead of packing more things.

4. Think about your safety
You certainly want to have a safe trip and come back to your kids and spouse in one piece, so make sure to put your health and security first.
Pick up travel health insurance if you're leaving the country and opt for practical car insurance if you're travelling by car.
Car insurance won't turn you into a better driver, but it will certainly come in handy in case something unforeseen happens on the road.
Your car will be ensured in case of theft, accidents, fire, flood and many other things, and you can always receive roadside assistance and return home safely and on time.
5. Stay connected
No matter how busy you are on your trip, carve some time away from your work, meetings and business dinners and check up on your family.
Make sure to be consistent and your kids will look forward to the call from Mom before school or after dinner. You can also video call them and tuck them in for bed virtually.
If you can't make it for bed-time, you can use Zoom or Skype during the day to play fun games like peekaboo, I Spy or others. You can also have a countdown to your return every morning—it's a great way to start your kids' day on the right foot.
6. Create fun rituals
Kids will probably feel a bit weird or sad while you're away, so help them forget about their negative feelings by making your absence fun.
Organize a baking night with your partner or kids' caretaker and let the little ones go crazy over cupcakes or banana bread. This activity is guaranteed to make them happy when they are feeling moody.
Or buy a new book for them so your partner can read to them every night when you're gone. And don't forget to come back from your trip with a little gift for the kids to open—they will enjoy this part the most.
7. Ask for help when needed
Relieve some stress from your business travel and rely on your in-laws or close friends while you're gone.
If you have family, friends or neighbours willing to help, make sure to leave your pride behind and ask for assistance if you notice things at home are ready to blow up. They can help with errands, walks, play dates and house chores.
Business travel is hard for all moms, but don't feel guilty about your choice to travel. If you love your job, you should never feel bad about your passion and the fact that you're taking care of your kids financially.
Don't compare yourself to stay-at-home moms and think you're a bad parent for leaving your kids. If you follow these tips, your kids won't even notice you're not there with the family—they are much more resilient (and sometimes oblivious) than you think.
About the Author
Lana Hawkins is a stay-at-home mom by day and author by night.
She's passionate about interior design, travelling and green living.
Please follow and like us: