Tooth Discomfort
Tooth discomfort can range from a minor annoyance to being debilitating, and it can be caused by a variety of factors. In this article, we will explore the most common causes of tooth discomfort and the solutions available at a dentist Meath to alleviate it.
5 Common Causes of Tooth Discomfort
Tooth discomfort can be caused by a variety of factors, but some of the most common include:
tooth decay
gum disease
tooth injury
sensitivity, and
bruxism
Tooth decay is caused by the build-up of plaque on the teeth, which, once calcified, can lead to cavities and eventually tooth loss if left untreated.
Related:  Tooth Enamel Erosion – Causes, Prevention and Treatment
Gum disease is an infection of the gums that can cause inflammation, bleeding, and again, tooth loss.
 A tooth injury, such as a chip or a crack, can cause tooth discomfort and should be treated immediately.
Sensitivity can be caused by a variety of factors, such as those already mentioned which physically affect the teeth, but it can also result from just brushing your teeth too hard.
The formal term for teeth grinding is bruxism, and it can cause tooth discomfort, jaw pain and even headaches.
Additionally, certain medical conditions such as diabetes, pregnancy, and osteoporosis can also cause tooth discomfort, it's important to be aware of these underlying conditions and to consult with your dentist and doctor.
Solutions for tooth discomfort
Once the cause of tooth discomfort has been identified, there are a variety of solutions available to alleviate it.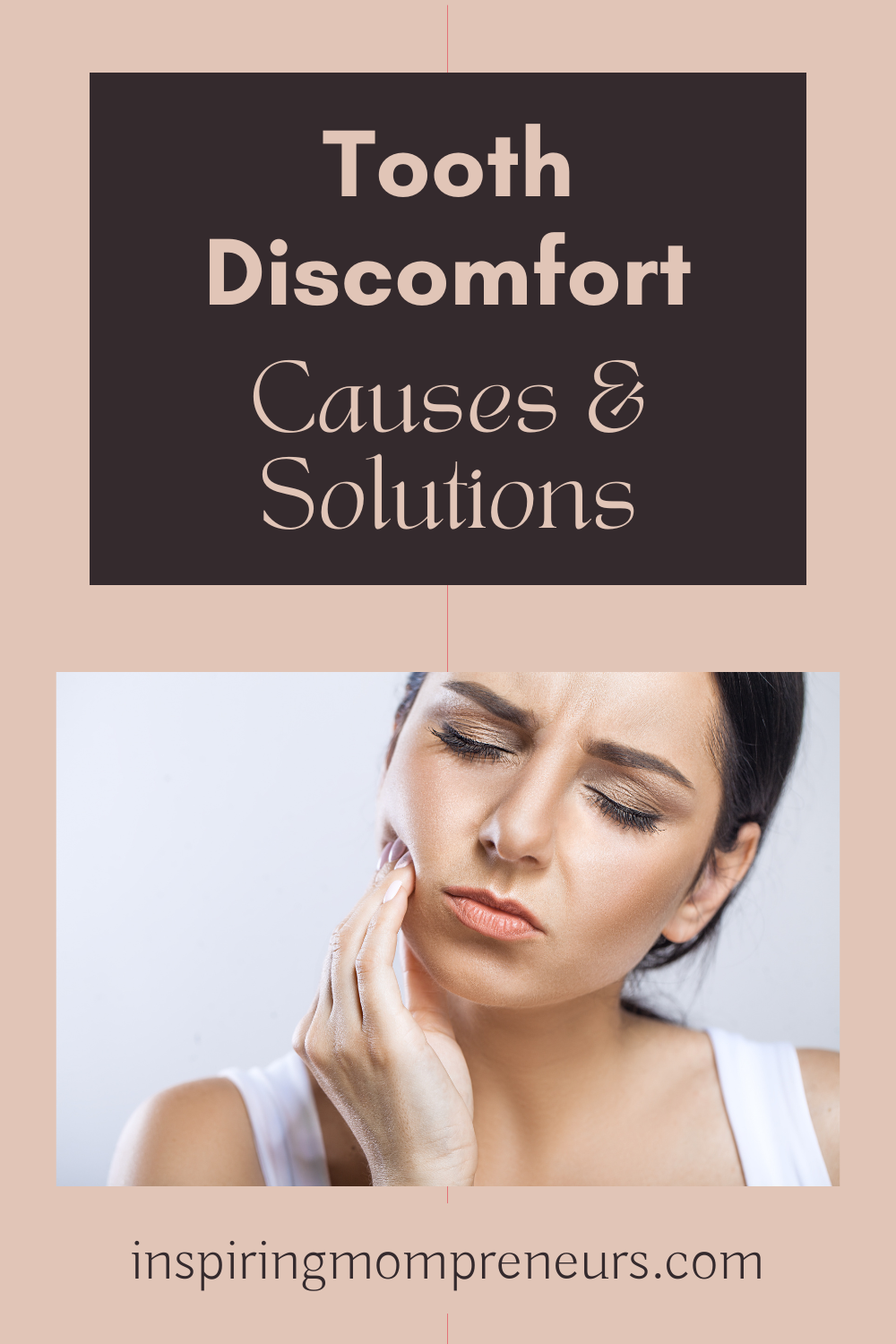 Some of the most popular solutions include:
Fillings and crowns
Root canals
Gum treatment
Dental sealants
Desensitising toothpaste, and
Night guards
If tooth decay is the cause of tooth discomfort, fillings and crowns can be used to repair the affected teeth.
If the tooth's pulp (the soft tissue inside the tooth) is infected, a root canal may be necessary to remove the infected tissue and save the tooth.
If gum disease is the cause of tooth discomfort, treatment may include scaling and root planing (a deep cleaning of the teeth and gums) and possibly surgery.
Dental sealants are a protective coating applied to the teeth to prevent tooth decay, and can be especially beneficial for children who are at a higher risk of cavities.
Desensitising toothpastes can be used to alleviate tooth sensitivity by blocking the pathways that lead to the nerves in the teeth. A night guard is a custom-made device worn over the teeth at night to prevent teeth grinding and jaw clenching.

Final Note
Tooth discomfort can be caused by a variety of factors, but the good news is that there are solutions available to alleviate it. It's important to see a dentist or dental professional if you are experiencing tooth discomfort, so they can properly diagnose the cause and recommend the appropriate treatment.
Regular dental check-ups and good oral hygiene can also help prevent tooth discomfort from occurring in the first place.
Don't let tooth discomfort control your life, take control and seek help today. Remember that tooth discomfort can be a symptom of an underlying condition, so it's important to have a multidisciplinary approach and consult with your dentist and doctor.