Please follow and like us:
Happy Valentine's Day Moms!  It's time to give yourselves some lurve.  If you're looking for the best self-care tips, you've just found them.
When it comes to self-care, most of us are told we need to find a balance in order to take care of ourselves and perform our daily responsibilities. We're told that if we can find that perfect sweet spot that lies between our personal lives and our work lives we'll be able to establish stability in all sections of life.
While all of this looks great on paper, self-care as a Mom, especially as a Mom who is also an Entrepreneur, is not so cut and dried.
Maintaining self-care in our everyday routine is difficult when it seems there isn't any balance in our lives to be found in the first place. If as a Mompreneur you find you're drowning in both emails and dirty laundry, hopefully, these self-care pointers can help you break that cycle.
Sometimes a simple shift in priorities can allow us to become the best women, moms and business owners we already know we can be.
The Best Self-Care Tips for Mompreneurs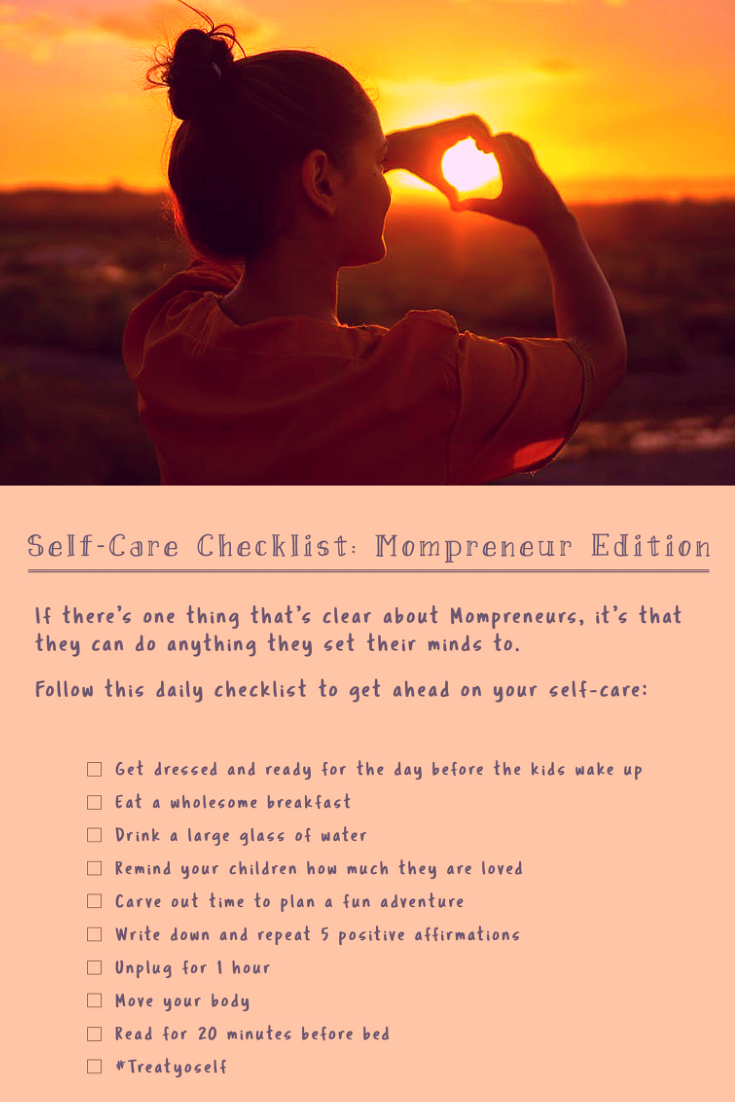 Get ready each morning
Having a stable routine when getting ready during the week, even if you're working from home, is important in order to feel and perform to the best of our abilities.
If you're finding that you're frequently stressed about what to wear in the morning or if you could care less about what you throw on as you rush out the door, it might be time to change up your routine.
The first thing to keep in mind as you get ready for your day is that sometimes what you put on under your outfit can be more important than the actual outfit itself.
You'd be surprised how easily an itchy pair of underwear or a jabbing bra wire can ruin a day. Being sure to put on a bra that is both soft and secure as you get ready for your day can actually be one of the best self-care decisions a mompreneur can make.
Really try and be present as you put on each item of clothing you plan to wear for your day.
Though it may be hard to start this habit, many Mompreneurs find it beneficial to plan out their outfits the night before.
Do what works best for you as you establish a routine and a balance in the items you wear each day.
Allow your clothes to be both comfy and reflective of who you are.
Making this small change might just allow you to identify parts you love about yourself that you didn't even know were there.
Take a well-deserved vacation
By this, we don't mean you should take some time away from work and still check your email. Out of the office emails were created for a reason, so use them.
The separation between work and personal life is a sacred one, especially when it comes to vacation time. 
If you do begin to find yourself overwhelmed at work, it's probably a sign that it's time to take a break and get away to clear your mind.
The only catch is that as Mompreneurs, we know it's not that simple. A mom's job doesn't stop when she leaves the office, sometimes it actually begins when she gets home.
Even if we make it clear to our colleagues or clients that we won't be available to work, it's not as if we can simply tell our kids we're "away from our desk" when we get home.
Though there are no easy solutions to this dilemma, vacation time is a non-negotiable piece of self-care.
First, let's make it clear that there should be no shame in taking a vacation day away from your kids. Whether it's getting your nails done, shopping for yourself or booking a much-needed massage, taking a full day for yourself is something you won't regret.
However, if having some vacation time without your kids isn't an option for you (because let's be honest, it usually isn't), be sure to block out some time to do the things you'll enjoy as well.
Try and get up before the kids to see the sunrise or enjoy a cup of coffee in the morning by yourself. Whatever it may be, we promise you won't regret it.
Oh… and, if budget allows, choose a family-friendly Hotel or Resort (with a Kids Club) rather than a self-catering chalet.  That way you won't spend your entire holiday doing all the things you usually do at home, cooking and cleaning.  That's what I call a real holiday.  Or is it just me?
Learn to say no
It's no secret that Moms say "no" a lot to their kids. Throwing out a "no" here and there when you're asked about dessert before dinner or "are we there yet?" for the hundredth time is almost second nature.
However, as Mompreneurs, there is, for the most part, a larger pressure to saying yes when something is asked of us, by our clients or customers.
If you're a working Mom who is also always lending out an extra hand to help, this tip might not be as easy at it seems. But learning how to effectively say no will save you more time to focus on the important things in life.
While it may seem like one little favour here and there at first, most mompreneurs find that extra errands can add up quickly. If you often find yourself scrambling to get things done, it may very well be because you've said "yes" one too many times. For those moms who do find saying no to be a challenge, try asking yourself, "how can I put myself first today?"
Developing self-care means putting yourself at the forefront every once in a while, and a business owner can't do that if she can't say no occasionally.
Being a Mom Entrepreneur is no easy task. Finding time for self-care can sometimes be harder than fitting in your yearly dentist appointment.
If there's one thing that's clear about Moms, it's that they can do anything they set their minds to. Most Mompreneurs do it all and still manage to look amazing while folding their laundry.
So when you're struggling to find time for some much-needed self-care in your schedule, remind yourself of all the other things you're able to squeeze into your schedule that don't necessarily benefit you.
When was the last time you said yes to you? #treatyoself
Please follow and like us: