Paint by Numbers for Kids
Are you one of those parents who just don't want to leave your kids sitting in front of the screens doing nothing?
I'm going insane seeing my son staring at the bright display of our TV set with his mouth open.  And the worst part is, I know it's my fault that he lands up doing this from time to time.  Sometimes it's the only way I get my own work done. (Bring on the Mompreneur-guilt).
Fortunately, there are numerous ways for children (and their parents too) to spend their time reasonably and mindfully.
Kids need creative activities to develop their brains and cognitive function. The number of their brain cells – neurons – grow exponentially when proper activities lead to their stimulation.
Apart from sports, running, jumping, playing around, a creative hobby like crafting is very useful and popular.
However, painting takes probably place number one. It's a creative activity where you can immediately see some results within a few minutes.
The Main Benefits of Painting for Kids
Develops creativity and imagination
Improves recognition of colours and colour sensing abilities
Dramatically improves fine motor skills
Calms down and enhances concentration
It's a perfect parent and child team-building activity as while the child is painting, especially when they are around the age of 3-4 years, you simply must be around
Why Paint By Numbers?
Everybody must start somewhere and when you want to teach children to draw or paint, it's always difficult to start on white paper from scratch.
The easiest and most fun way to get started is Painting by Numbers. I don't know if you've ever heard of this, but it's been around for many years.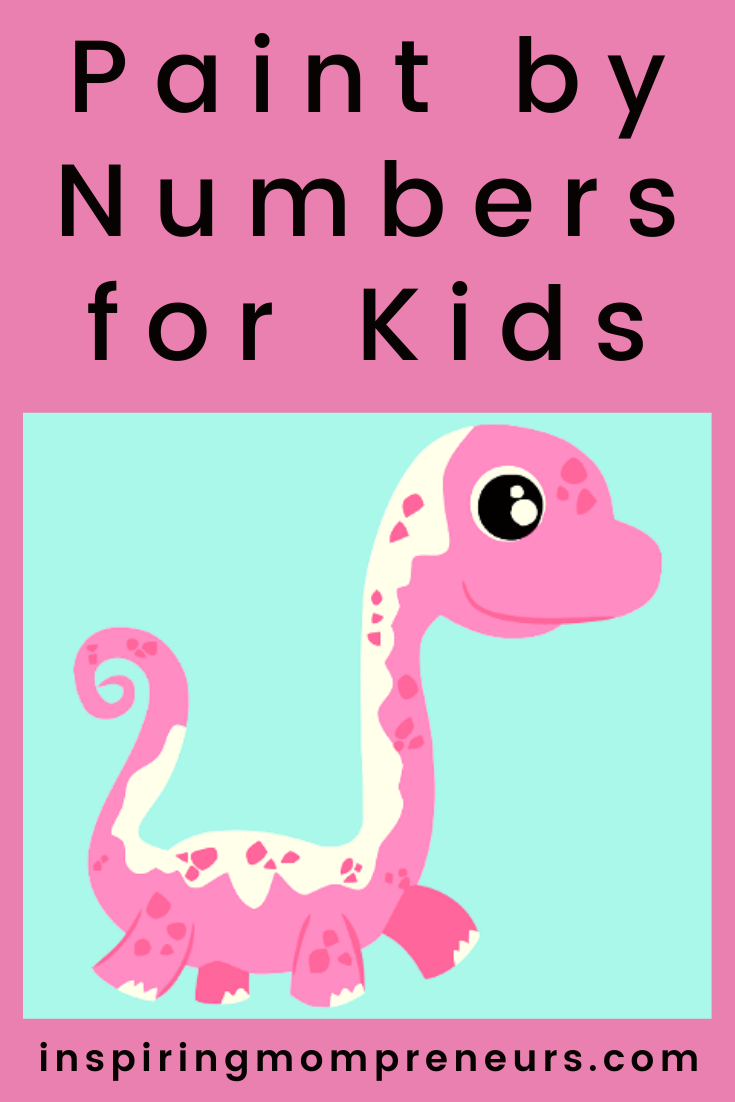 The idea is very simple –
You get a canvas with a printed picture.
Inside the small areas, there are numbers which represent a single colour.
You take a brush and paint these areas with those colours.
When it comes to  Paint by Numbers for kids, we need to give little children some support as they can't read yet.
I'm sure you want to do the painting with your child anyway, especially as there are paints involved and we all know that famous equation:
kids + paints = mess
Pictures of Paint by Number kits for children look simpler than those for adults. There are fewer colours, larger areas to paint and smaller canvas sizes.  Canvas sizes usually start at 30x30cm.
Paints are free from hazardous substances, so they are completely safe for the children. The application of colours goes either from one direction to the other – typically from top to down.
The first colours we paint are bright colours, like white, yellow, light green etc. Then we start painting darker colours. As the painting emerges from the canvas, kids get attracted to their work of art.
 Who wouldn't be proud of their very first masterpiece?
There are some paintings which are especially recommended as they're very popular.
The Pink Dino Paint by Numbers is so cute and easy to paint that kids love him.
You can even make a whole collection of prehistoric animals as there are more of these cute creatures in-store.
And, just in case you didn't find that perfect picture for your child, or anything your child especially loves, you can always try creating your own Custom Paint by Numbers by uploading your own image to the website. Just send the Painting by Numbers Shop your image and they will take care of the rest.