Please follow and like us:
How to Turn Your Home Into a Yoga Studio
Becoming a Yoga Instructor is a lovely profession for a Mom.  You can teach in set hours, when your children are at school and be uber-cool, calm and collected when they come home.
Just one problem.  Something like Covid-19 hits and suddenly you're forced out of your designer Yoga studio downtown and find yourself teaching at home (online at first) around your children.
The solution:  turn your home into a yoga studio – or at least part of your home.  This may require some light home renovations or you may need to build on an extension, depending on the space you have available in your existing house.
Getting your home yoga studio design right is essential.  How do you create a space that encourages calm, meditation and wellness vibes within your family home?
Here are some design ideas on how to turn your home into a yoga studio for professional use.
5 Tips on How to Turn Your Home into a Yoga Studio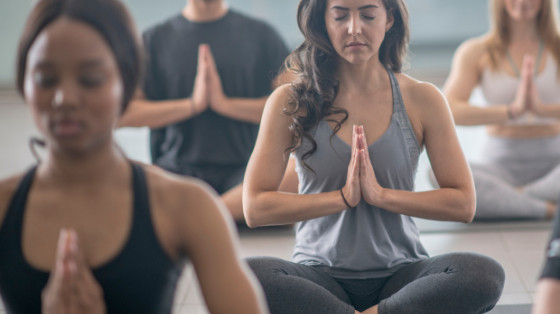 1. Choosing a Location Which Best Matches Your Working Style
One of the most essential components of creating a working space at home with where it will be located.  Think about your working style and the nature of your profession, as well as the needs of family members that share your home with you.
There is plenty to think about when choosing a location for a yoga studio. The space you create should be calming and relaxing, therefore you need to choose a spot that is free from interruptions or noise.
If you need a quiet, solitary, and private space, then a garden studio, garage conversion, or loft conversion might be your best options.
2. Creating a Home Studio Extension
Another option is to add a home studio as an extension to your existing property.  It's a whole lot easier than having to build an external garden studio from scratch because you are already close to heat and power sources.
You may also need to install a shower enclosure for guests who would like to take a quick shower after their yoga session.
These elements must be discussed with your architect during the planning stages. Another factor to think about is acoustics, particularly if you have a busy household.  To avoid distraction, place the studio away from noisy spaces like the living room and insulate the space against sound as best as you can.
If the room has a lot of glazing, think about installing blades to control natural lighting, room temperature, and shade. Home extensions tend to be cooler than the rest of your home, so it is worth considering underfloor heating to keep the space warm without installing radiators that will take up more space.
3. Setting the Ambiance with Soothing tones and Warm lighting
There is a reason why most yoga spaces are decked out in sandy and neutral hues. Soft cream shades or delicate green and blue shades invoke calm and comfortable vibes, yet warm and subtle to keep your studio light and welcoming.
Also, consider the lighting in the room.  Choose a spot that allows natural sunlight to enter the studio through the windows, as it will make your guests and yourself feel closer to nature. Lights must be turned down or consider dimmed globes for a customized style choice.
4. Keeping the Space Purposeful and Uncluttered
It is not easy to maintain a clear mind in a cluttered space. Keep things as minimal as possible and choose décor pieces purposefully when decorating the space.
The GRAVIMORPH is a wonderful device to help you still the mind during Yoga or meditation.
House plants are a good addition for boosting mood, improving focus, and relieving stress.
An essential oil diffuser can immediately give the room that inviting yoga-space scent.   Certain scents pose unique benefits like energizing the body or relaxing the mind.  Don't be shy to select your favourite scents in the form of candles, essential oils, incense, or all of them.
If you can manage to find a little indoor fountain or water feature to set up in the room, the sound of flowing water will be highly beneficial for focusing on breathing and relaxing the mind.
5. Invest in Some Yoga Props and Accessories
Here are a few of the props and accessories you may want to invest in when kitting out your Yoga Studio
non-slip yoga mats
foam yoga blocks
yoga bolsters
yoga straps
These can be helpful for back support, proper alignment and stretching. You can stack them neatly after a yoga session as part of your ritual.
Conclusion
I hope you have found these 5 tips on how to turn your home into a yoga studio helpful and that you will consider some of them when you create your own unique and inviting space for hosting yoga sessions and welcoming guests.
Please follow and like us: