Please follow and like us:
For over 2 years, I only promoted my blogs online.  In the last few months, my Mom and I have started attending the Xtraordinary Women Breakfast Meetings and I realised the importance of networking with local Mom Entrepreneurs.  It's time to get some business cards. 
Are there other ways to promote your business offline?  Sure.  You'll find them in the contributed post below…
How to Promote Your Business Offline
More moms than ever before are starting their own businesses as an alternative to going back to work. It gives them the chance to work flexibly around their children's needs, avoid expensive childcare and build financial security and independence.
It also gives them a chance to create something for themselves, an opportunity to work for something outside of family life. Running your own business can be a huge confidence boost and help you to keep your sanity while navigating the stresses and challenges of motherhood.
Many of these businesses are online. Blogs, e-commerce stores, web design, VA work, and writing are very popular careers for moms looking to make money from home.
Promoting Your Business Online
They can be promoted online, and much of the work can be done without ever leaving the house. Even those moms that run businesses in the real world, based in offices, shops or eateries spend a lot of time marketing their business online.  Social media, digital and influencer marketing are cheap, effective and easy to run.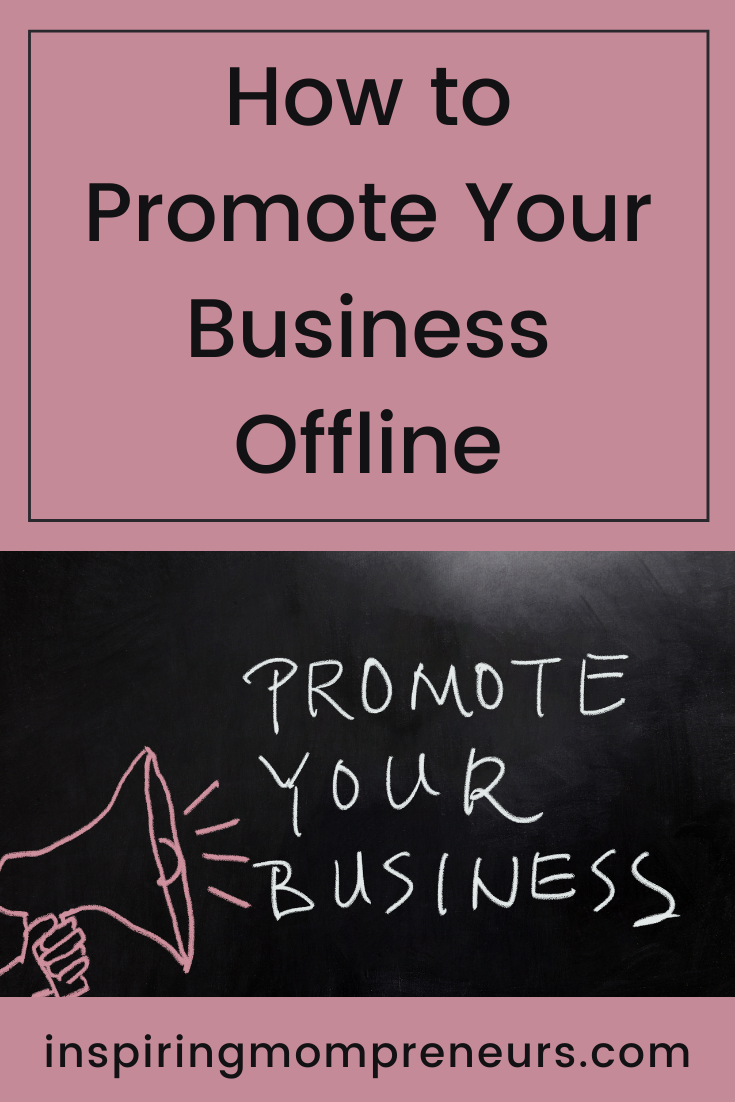 Promoting Your Business Offline
But, whether your business is based online or not, there are some advantages of offline promotion. Of actually getting out in the real world and telling people about your business. Here are some of the best ways to do it.
Business Cards
Business cards are small, easy to carry around, easy to distribute and incredibly effective. A simple design bearing your logo and basic contact details and website address are usually enough to get noticed. Consider changing the shape or using a high-quality card to make yours stand out from the rest of the pile in someone's hand.
Hand them out to contacts, at networking events and even leave them in restaurants and at events. They're cheap to print, so hand out as many as you can.
Trade Shows
Trade shows are a fantastic way to show off your business. There's a trade show going on somewhere in the country most weekends. Some, are just for local businesses looking to make connections, others will have their own niche, like food fayres or tech shows. Tradeshow displays are a fantastic way to display relevant information and get noticed quickly.
You can make sure that your trade show presence is even more memorable and impactful with just the right touch of branded swag.  You can look here for examples of branded promotional products that you can provide to anyone who stops by the booth. The right choice of products, be they pens, stress balls, mugs or otherwise, puts the would-be customer/client in frequent contact with your branding can be just the reminder that they need to reach out.
If you don't feel ready to participate in a trade show, why not attend as a guest? Walk around other stands, speak to people in your industry, make new connections and hand out some business cards.
Print Advertisements
Print advertisements aren't as popular as they once were, as internet marketing takes over. But, that doesn't mean they are worthless. If your business is local, advertising in local magazines and newspapers can still be a great way to attract new customers and clients.
Packaging
If you sell a product, either online or in-store, your packaging is essential. If someone walks out of your store with a paper bag, just think of how many people in the streets see that bag? If your products arrive in the post, they still get seen. Make your packaging different. Make it stand out, and make sure it efficiently directs people back to you with just a glance.
Are you promoting your business online and offline? What methods are you using and which have been most effective for you?
Please follow and like us: