Please follow and like us:
In today's post, we share four delicious winter meal plan dishes to warm you up from the inside. Winter is around the corner (for those in the Northern hemisphere), which means many changes are on the way. We're going to start layering up our clothes, reaching for big winter coats, hats, gloves, and scarves. We also start turning the heating on in our homes, and opt for more stay-at-home and indoor activities rather than spending too much time outside.
One area of our lives that will change and that you might want to start preparing for is our diets. During this time of year, we tend to reach for more filling, wholesome, stodgy, and warming dishes to keep us warm and energized throughout the cold days. Here are some that you might want to incorporate into your weekly meal plan.
4 Delicious Dishes to Add to Your Winter Meal Plan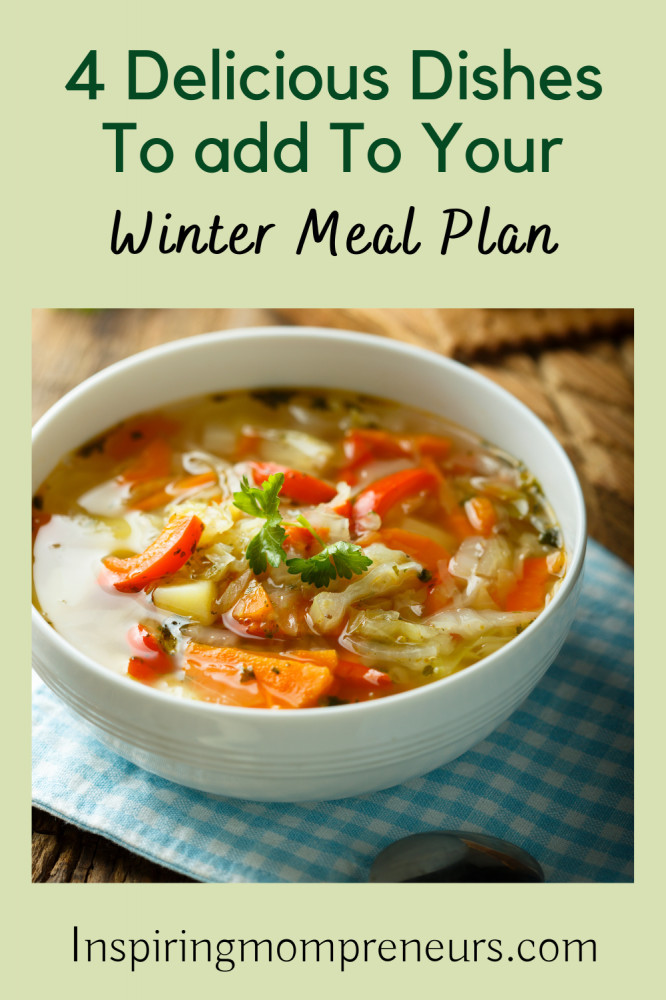 1. Porridge
For breakfast, why not try out porridge? Sure, cereal and toast can be a great source of carbs, but porridge is warming and has a real slow-release energy about it, tiding you over until lunchtime. Start with oats and combine them with your favorite milk or plant-based milk in a saucepan.
Leave it to simmer until the oats absorb the milk and expand. You can top your porridge with whatever you please. This could be healthy berries, nuts, and seeds, or a spoonful of syrup or chocolate spread with banana slices on top.
2. Shepherds Pie or Cottage Pie
Shepherds and cottage pie are popular English dishes that many people begin to reach for in the winter. It is a "pie" consisting of mince stewed in stock, layered with mashed potato, and baked in the oven.
Most people incorporate onions, peas, and carrots into the meaty base. The difference between the two is that shepherd's pie is made using lamb mince, while cottage pie is made using beef mince. For a vegetarian or vegan alternative, consider using lentils as opposed to mince. This dish pairs well with something sweet like caramel carrots, pumpkin, or sweet potato.
3. Stews and Soups
This is definitely the season for soups and stews. Nothing beats a bowl of hearty homemade soup or stew to warm you up from the inside.  Whether you take yours straight from the carton or can into your saucepan to heat up, or whether you make yours from scratch, make sure to have thick, crusty slices of bread on hand for dipping. There are endless types of soup out there, from classics like chicken noodle soup, minestrone, cream of tomato, cream of mushroom to rich and creamy butternut soup or pea and ham soup. You can also try more experimental and fusion dishes, such as a tasty mexican tortilla soup.
4. Winter Desserts
If you are looking for scrumptious winter desserts, there are plenty to choose from. From festive favorites, such as mince pies, Christmas pudding, and Christmas cake to stodgy and custard-covered desserts like sticky toffee pudding, spotted dick, apple pie, jam roly poly, rhubarb crumble, syrup sponge, malva pudding,  bread and butter pudding, and more. Select from an array and switch between them for variety.
Final Thoughts
We hope you have enjoyed our post about 4 delicious dishes to add to your Winter meal plan. Hopefully, some of the options outlined above will help you to find some inspiration for more delicious dishes to incorporate into your winter meal plan.  There are plenty to choose from to prepare for your family to give them that fussy warm feeling and full tummies. Give each one a try and see which ones are your favorites!
Please follow and like us: