Please follow and like us:
Mom Entrepreneur creates Autsome Brushes to Support Autism Awareness
Alexis M Wood started out as a Teen Mom and is now the CEO and Co-Owner of a paintbrush company that supports Autism Awareness.   She also is the Co-Owner of a successful residential and commercial painting company with her partner, Eric.   Alexis is currently full-time self-employed.
Here is her inspirational story.
Hello, My name is Alexis Wood.
I currently live in the suburbs of Philadelphia PA and I am a mother of two children. 
I have a son who is 14 years old and a daughter of 3 years old, who was recently diagnosed with autism.
At the age of 14, I became pregnant with my first child. 
Throughout my entire pregnancy and during my teenage years as a mother, I was bashed for having my child at a young age and was constantly told by those closest to me, including my own family, that I would not be able to accomplish my goals or even finish high school. 
After giving birth to my son Amir'e, I attended a pregnancy school for my sophomore year and after that returned back to my regular high school to finish my junior and senior year. My son attended daycare while I went to school. 
It was June of 2007 when I completed high school and went on to walk across the stage and obtain my diploma.
I had become one of the first members of my immediate family to graduate high school.   That was one of the greatest days of my life. 
I felt as though that was just the first step of proving everyone including my family, that they were totally wrong about how they viewed me as a teen parent. 
Shortly after graduating, Amir'e's father and I split.
Our relationship was very toxic, he was extremely abusive and he had been in and out of legal trouble for years. 
After leaving his father, I became a single parent at 17.
Being a single parent was very scary for me, I didn't know if I was capable of being totally on my own and not having my child's father around at all, even though his presence was very limited, to begin with. 
I soon after found the courage and confidence to continue on with my life and to resume being the best mother I could be while being single. 
After graduating High School I worked full-time at an Adult Day program. I maintained my position there for 3 years until I decided to enrol in college for my Bachelor's degree in criminal justice. 
After passing the entrance exam and being accepted, I felt as though I had gained another triumph and had yet again, proved everyone who had ever doubted me wrong. 
I was so proud of myself and felt as though I could achieve anything I had put my mind too.   I  had recently moved into my own very first apartment and had just brought my first car.   At the time, I felt as if I was living my very best life. 
About 1 year after beginning college, I had decided for career reasons, that I wanted to relocate back to hometown in Philadelphia Pennsylvania.
 In 2014 I successfully completed my degree and graduated with my bachelors. 
College had been so stressful during those 4 years but as a young and determined woman, I stayed grounded in order to be successful and graduate on time. 
Prior to graduating, during my junior year of college, I met a very kind and warm-hearted individual named Eric, who today happens to be my life partner, business partner and my second child's father. 
Eric and I met in 2013 and hit it off very quickly.
We became best friends and then lovers. 
Eric at the time was going to school for carpentry. During our first few years together he motivated me and encouraged me to go back to college, in which I did in 2017 to obtain my Graduate degree in Psychology. 
After graduating for the 3rd time in my life, I had my "Aha moment".
I began to realize that maybe all of the negative things that I was told when I was a teenager and how I had been doubted my entire life
…were all just to push and motivate me to actually materialize my dreams. 
I had one of those moments of truth and was fully convinced that I was the individual in my family that would break our generational curse of having multiple relatives who had failed to graduate and let obstacles get in the way.
 After I had graduated from Grad School, I was able to land several master level jobs in the human services field. 
I worked in the human services field for about 2 years, up until this year when I had recently quit my most recent job and began to pursue a career in painting and contracting with Eric. 
And today…
Eric and I run a successful six-figure painting and contracting business that he started in 2014. 
We also have a paintbrush line called Autsome brushes which we started in 2018 after our daughter was diagnosed with autism.  
The paintbrush line helps raise autism awareness and donates 5% of its revenue to nonprofits that support individuals with autism in the Philadelphia area.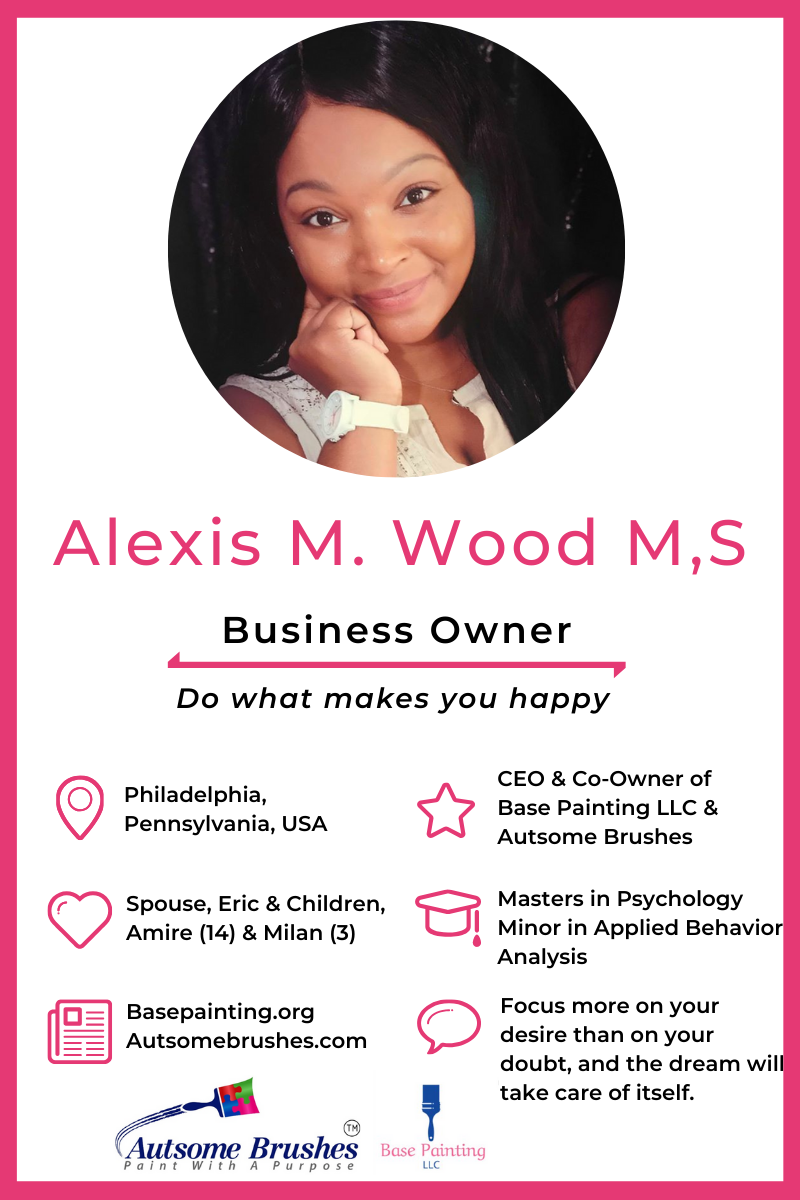 Alexis is our latest featured Mompreneur. 
We delved deep into what makes Alexis M Wood tick, in this exclusive interview. 
Alexis on Entrepreneurship
Lauren: When did you decide to become an Entrepreneur?
Alexis:  I decided to become a business owner, shortly after receiving my 2nd college degree, back in 2014.
Lauren: Why did you decide to become an Entrepreneur?
Alexis:  I decided in 2014. After graduating I had begun to realize that corporate America was not for me. I began to dread desk jobs, hate working a 9-5 and I also hated not being able to dictate how much I wanted to make. 
I wanted to build an empire or a brand that could be passed down to my children. I wanted to give them some of the opportunities that I never had growing up and going into adulthood.
Lauren:  What prompted you to start your own business? How did you come up with the idea?
Alexis:  Base painting was started in 2014 when my business partner graduated from carpentry school, we then decided to utilize his skills and start a home improvement company that serviced homes within the Philadelphia area. 
We currently provide painting services and drywall repair. 
We started our second company, Autsome Brushes, in 2018. 
That was the year our daughter was diagnosed with autism, that is what prompted the idea of the paintbrushes, we decided to combine the 2 most important aspects of our lives, painting and our children.
Lauren:  Who did you have in mind? Who do you serve?
Alexis:  As professional painters, we tried to keep contractors and painter in mind when we started Autsome brushes. We also kept in mind that autism spectrum disorder is a growing diagnosis in the world, and it would be great to spread awareness about the topic. Our company also donates 5% of our monthly revenue to various organizations throughout the country that support individuals diagnosed with autism.
Lauren:  Would you like to share any highs or lows in your career as an Entrepreneur?
Alexis:  Being an Entrepreneur, especially one that is new in the field, is very tough, it can be an emotional rollercoaster.
I have personally had many highs and lows as an Entrepreneur, it's very different to having a 9-5 career. 
When working for yourself, there is no guaranteed paycheck.  Each company has its slow seasons, in which business tends to lessen and revenue lower. Ours is typically the winter. 
We have had times where we were unsure if we should keep the businesses going, as customers began to stop calling, and on the other end, bills were still due. 
As the years have gone on and we have developed a sense of awareness of the business, we know how to budget our money throughout the year much better and prepare ourselves properly for our slower months.
Lauren:  What has been the number one highlight of your career?
Alexis:  The number one highlight of my career has been transforming our small weekend paint business into a fulltime 6-figure painting company within 6 years. 
We have grown so much as business owners and have learned so much more about the painting field. We have been able to properly build business credit and get approved for multiple business loans, net 30 vendor accounts and various business credit cards, which as also helped our business progress over the years. 
Lauren: All things considered; do you feel it was a good decision to become an Entrepreneur?
Alexis:  Absolutely, I feel as though I have found my purpose and I no longer look at work as work I often feel as though I am just getting paid to have fun. 
Painting is very relaxing and designing our paintbrushes can be exciting as well.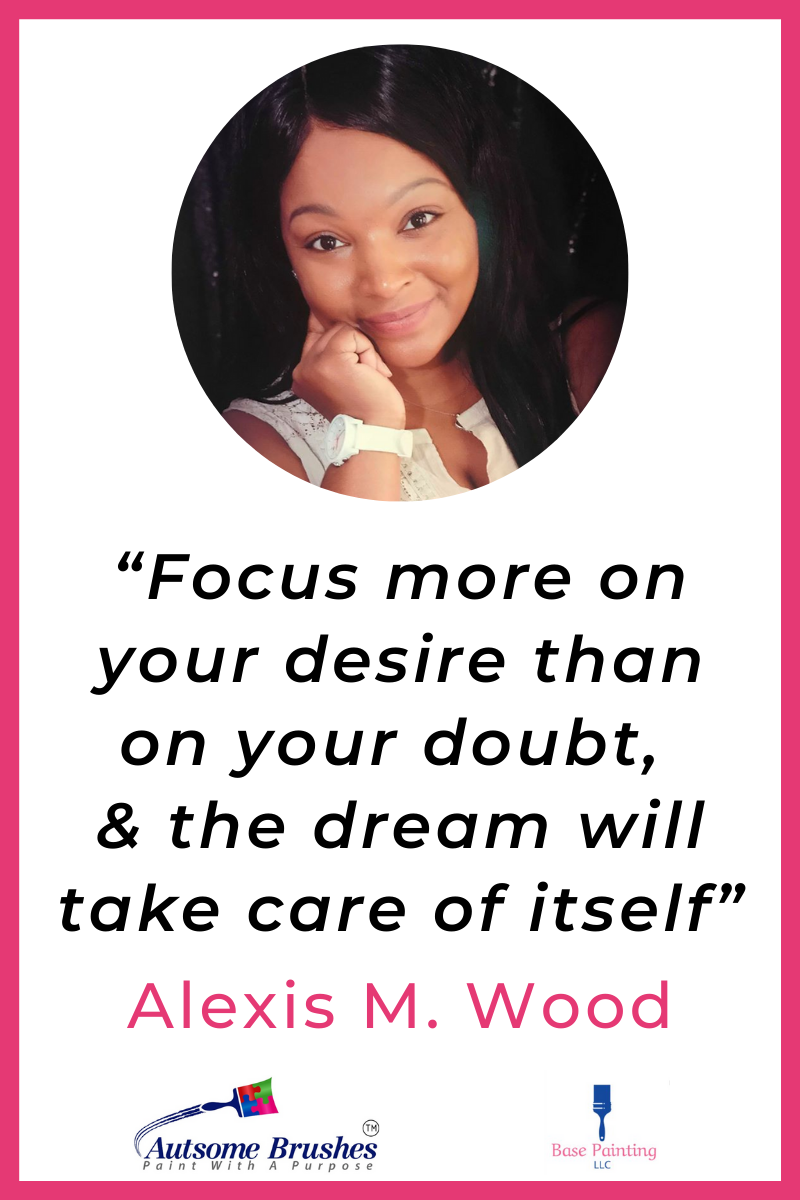 Lauren: What advice would you give someone just starting out as an Entrepreneur?
Alexis:  I would encourage them to stay focused and be sure to have tough skin. 
As an Entrepreneur, sometimes you lose family and even friends. 
I have experienced a lack of support from those who were supposed to be closest to me. 
Someone starting out as an Entrepreneur must have a great work ethic and a passion for what they are doing, otherwise, they will be miserable.
I have learned that just doing stuff for money is not nurturing. I used to work excessive hours at a job I hated all for a paycheck. That was the worse time of my life. 
Now that I am self-employed and enjoy my career and what I do, I am the happiest I have ever been.

Alexis on Motherhood

Lauren: What has been the number one highlight of Motherhood for you?
Alexis:  Being able to properly provide for each of my children and set a positive example for them, especially my teenager.  By teaching him that just because I had him at a young age, didn't mean my life was over and that I couldn't succeed in life. 
I am a walking testimony that teenage parents and single parents can still go to college, they can still build a home and they can still start a successful business.
Lauren: What has been the greatest challenge for you to overcome as a Mother?
Alexis:  The greatest challenge has been staying focused and positive, especially after our daughter was diagnosed with autism. 
Hearing that your child has a lifelong disorder that will affect their development and communication skills, is heartbreaking. 
I fell into a deep depression. 
I was an emotional wreck, but I had to get myself back into a positive state, not only for me, but for my children. I started going to therapy weekly and was able to look at the situation from a much more positive aspect, especially when we started the Autsome brushes brand. 
That was my way of turning a tragic situation into triumph, by making a change and educating others as well as giving back to the autism community.
Lauren:  What do you love most about being a Mom Entrepreneur?
Alexis:  I absolutely love the work and life balance benefits that it has, I can spend much more time with my family and give more of my attention to our daughter Milan's, therapeutic services that she receives daily.
Alexis on Work-Life Balance

Lauren:  Where do you work most days?
Alexis:  Most of my days are spent in customers' homes or businesses, doing painting projects. We get to meet so many cool people each week.  Each week we are doing different projects, some vary from interior to exterior work and sometimes custom hand-drawn logos for businesses.
Lauren: How many days per week do you work, on average?
Alexis:  Typically, I work 4-5 days a week, some days are longer than others, but my long days are usually continued at home in the office, where I still get to spend time with the kids and work at the same time.
Lauren:  Do you have any daily rituals to maintain a work-life balance?
Alexis:  Maintaining work-life balance is essential for success, breaks are necessary. 
My daily routines include:
meditation
turning my phone off when I am with my family
regularly getting massages and facials for self-care
I also schedule weekly family outings for quality time for my family 
Keeping with up being a Mom and the business, can be a tough task at times, the fact that I have such a great support system in my family makes things much easier. 
Eric is a huge help; he is also the father of my children. We often flex our schedules and take turns attending to things that directly deal with our kids, such as appointments, homework and housework. 
There are some days when I am cooking dinner in between writing contracts and taking calls from customers. 
We often try to designate a day where one of us is doing all the estimates and contract writing and the other is solely focused on the task of our children and or household. 
There are days where I am truly overwhelmed with the work of the business and attending to the needs of my family. 
There are days I just want to sleep, as human beings we all get tired. But I always remind myself that we have 2 children that are looking up to us and relying on us. 
My goal is to create the type of opportunities for them, in which I never had. I want them to grow up and have the option of wanting to inherit our business if in fact that they feel the same as I did, which is not wanting to work for another person's company.
Lauren:  What are your fears?
Alexis:  My fear is regretting the things I didn't do when I am older. While I am young and energetic, I try to do all that I can and experience the best in life. 
We are all on this planet for a limited amount of time and I believe that each human being should do whatever their heart desires and use each experience as a learning curve.
Lauren:  Do you have a message you would like the world to hear?
I would like the world to know that no matter how hard life can be or how stressful things get.

No matter whether you have a rough or rocky start, 

you still have the option of choosing your destiny, 

you have the option of making great decisions,

moving forward,  raising the standards for yourself 

and still being able to accomplish everything that you set your mind to…

I was pretty much that rose that grew from the concrete… 

just because I believed in myself, just because I was strong-minded

because I was very passionate about wanting success and wanting better for me and my child, 

I was able to materialise my dreams and my goals. 

– Alexis M Wood
Email Alexis on Autsomebrushes@basepainting.org
Follow Autsome Brushes and Base Painting LLC

Please follow and like us: