Please follow and like us:
I have a friend who refers to herself as a starving artist. Making money has always been hit and miss for her – feast or famine – and she believes it's because she's a creative soul and creatives aren't business-minded.
But what if there was a way for Artists to focus most of their time on their art and virtually no time on promoting and selling their art… yet still get sales?
Are there ways to make money online as an Artist?
Yes, via Print on Demand websites like RedBubble.
The online world has brought us all kinds of amazing opportunities and RedBubble is one of them.
How RedBubble Works
RedBubble offers a way for Artists to get their designs printed on everything from laptop bags to dresses to mugs to cushion covers.
Redbubble is a destination website with nearly 25 million visitors a month, so Artists don't have to worry about where their customers come from.  They simply have to learn how to attract customers by using the right tags when they upload their designs.
RedBubble takes care of the business end so that Artists can dedicate their time doing exactly what they do best, creating gorgeous artworks.
When someone buys your Artwork, RedBubble prints your design on the item they have chosen from your shop, packages it and ships it to your Customer. They will even handle any returns or complaints, should there be any.
RedBubble safeguards against complaints and returns by producing high-quality merchandise and offering top-notch service.
RedBubble then pays you a commission based on the mark-up you've set for each item.
In this post I'll introduce you to some of the Artists I follow, to illustrate 7 different ways to make money as an Artist on RedBubble.
1. Pick a Passion
Go as niche as possible by sharing your passion through your artworks.
Stella Bookish Art @stellaarts in Kebon Jeruk, Indonesia is a great example of an artist who has chosen a very distinct niche.   Her designs reflect her love of books.  Come to think of it, maybe they attract me so much because I love books too.
On the left are 3 of my favourite designs of Stella's on RedBubble.
2. Pick a Design Style
Go floral.  Or spiral, geometric or colourful. Pick any design style that takes your fancy.
Lisa Mönttinen @artiisan of Helsinki, Finland is passionate about creating floral designs and her entire portfolio on RedBubble reflects that.
Lisa has uploaded 107 designs to 4 collections and has been featured on the front cover of RedBubble many times.  Her 4 best-sellers are pictured on the left.

3. Express Your Personality
Go bright, go bold, go fan art. Or go humorous. Go spiritual. Or go dark.  It's really up to you.
RedBubble gives you the chance to express yourself through your artworks.
Evannave is all about fun.  Evannave hails from Edinburgh, Scotland and creates vectors using bright, bold colours.
Evannave is a prolific artist on RedBubble with 13 Collections and 239 Designs and her designs are very popular.

Leah Biernacki @adventureliela of Flower Mound, United States has uploaded 103 designs to her 10 collections that reflect her love of travel.
Shop thousands of unique art prints of Paris. Created by artists worldwide.
5. Become a YouTuber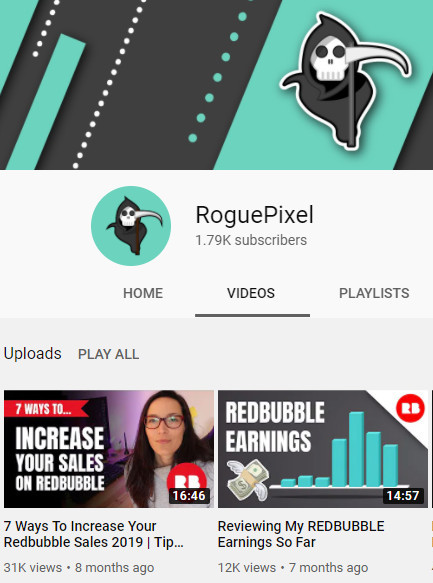 Go Video.
J Whitehouse is RoguePixel from Peterborough, the UK is both on RedBubble and on YouTube.
Her most popular video on YouTube is her 7 Ways to Increase Your RedBubble Sales 2019 where she shares the tips and techniques she used that made her RedBubble shop take off.
One of the tips she shared in one of her videos that I found very useful is that RedBubble allows you to add 50 tags to every design… However, she has been in contact with RedBubble directly and they said it's more important that keywords are relevant.
Choose quality over quantity and the sweet spot is 20-25 tags (or keywords) per design you upload.
RoguePixel is also is one of the few artists I've seen on RedBubble who shares her income reports.
I've linked to her channel from my video above.
6. Become a Teacher
Go Teach.
Another really cool (and lucrative) way to earn money on RedBubble is to teach others what you know.
Cat Coquillette @CatCoq of Lenexa, USA is one of the most prolific Artists on RedBubble, with 1239 designs.
Cat also teaches design techniques and shares print-on-demand tips on Skillshare.
If you'd like to try out Cat's classes, you can get 2 Free Months of Skillshare Premium via this link… which leads me to my next point…
7. Become an Affiliate Marketer
If you're a blogger or YouTuber, especially if your niche is fashion, lifestyle, arts, crafts, technology, gifts, or home decor, you may want to pop across to Share-a-Sale and sign up for the RedBubble Affiliate Program, as I have done.

Are you an Artist looking for ways to turn your beautiful pieces of art into a viable online business?  
I'd love to hear in the comments below whether RedBubble appeals to you…  and if you're on RedBubble already, please pop me a link to your profile so I can ooh and aah over your artworks!
 **I was compensated for this post. This post also contains affiliate links and I will be compensated if you make a purchase after clicking on my links.
_____________________________________________________________________________
P.S.  I just created a Course on How to RedBubble.  You can find it on Thinkific.
Please follow and like us: