Please follow and like us:
5 Powerful Ways Your Business can Grow with Digital Signage
Guest Post by Lana Hawkins
Improving the in-store or in-office experience for your customers, partners, and employees should be one of your top priorities in an age of digital transformation.
After all, it's not just about having a stellar digital presence, it's about elevating the offline experience to boost productivity, motivate your customers, and engage with your target demographic on site.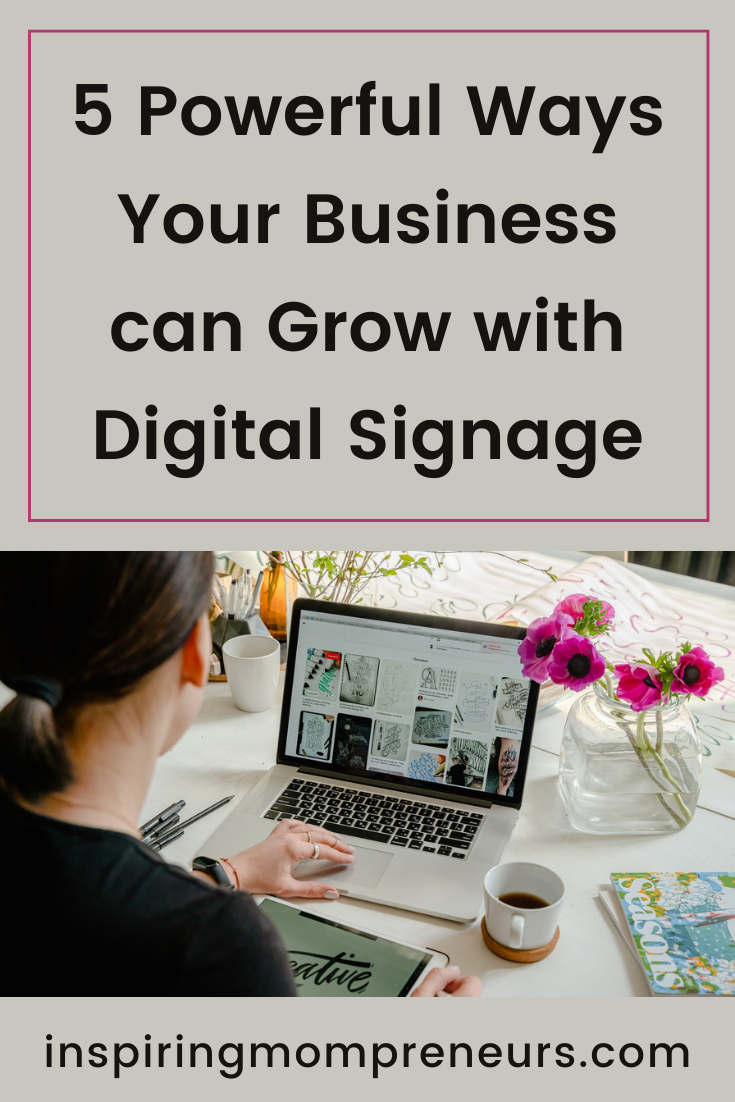 If you want your startup to compete against established brands, you need to invest in the right tech solutions.  This is where digital signage can do a lot for you and your business, as it has become a powerful way to grow your offline and even online presence nowadays.
From enhanced security to better brand-building, all the way to on-site wayfinding and enhanced interactivity, and more, digital signs can help you achieve many goals.
Let's take a closer look at this powerful piece of tech and how it can help your business grow in 2021 and beyond.
Provide useful information to customers
First and foremost, it's important to note that digital signage can serve many functional purposes in your store or office space. When it comes to engaging your customers and creating a positive on-site experience, you can use digital signs for wayfinding and as information centres. This is great for new customers who are just discovering the space, as they can use the digital sign to find their bearings quickly.
If you choose to put up an interactive digital sign, it can serve as a front desk for your office or store, where people can get all the information they need, explore the map of the space in 3D, confirm arrival for their appointment, and much more.
Your prospective clients can also use the signs for functional information like your closing and holiday hours, important announcements, and links to online channels. There is a world of opportunities here to create a more enjoyable experience through functional digital signs.
Portray your brand the right way
Building a trustworthy, memorable, and engaging brand is a cumbersome process that requires plenty of time, talent, and trial and error. Nowadays, you need to tend to meticulous brand-building on all online and offline channels in order to create brand consistency, engage your customers and employees, and lead people towards positive outcomes. Keep in mind that in a saturated market, people will stick with the brands that share their values and stand up for the same causes.
If you have defined your values and your brand's personality, now is the time to weave it into the on-site experience. You can introduce digital signs to showcase your brand's visuals and values and keep the customers engaged throughout their journey through the space. Combined with your interior design and supporting brand elements, this can be a powerful way to create a memorable brand experience.
Convey engaging messages to your customers
A big part of the whole brand experience on-site is messaging. In other words, the messages and stories you convey to your customers to inspire them, engage with them on a deeper level, and ultimately motivate them to become your loyal brand advocates. To keep people coming back to your place of business, and to spread the word of your amazing brand, you need to set yourself apart with powerful written, spoken, and visual content.
With the right digital signage software in your store or office, you can combine these three elements and create compelling stories that will keep people engaged in the store, but more importantly, keep them engaged long after they leave. The key here is to boost brand memorability or stickiness, and that means delivering powerful messages that will keep people thinking about your brand. This is a recipe for stellar word-of-mouth marketing, and it will help you bring more business to your doorstep.
Inspire people to buy with deals and promotions
Digital signage can serve a very direct, sales-oriented purpose as well. You can use some digital signs to build brand loyalty, but others you can use to encourage customers to buy through special deals, promotions, and discounts.
You can even use the FOMO (fear of missing out) effect by showing the stock numbers for certain items, putting countdown times until the end of a special deal, and more. People hate losing out on a great deal, and you can also use this for your online reputation and success by showcasing links to your website, social media, and landing pages.
Improve interactivity and capitalize on gamification
Gamification is huge nowadays in many industries, and it's important to note that people love interacting with their favourite brands, especially if there's a chance for them to get something out of that interaction. Gamification is one of the best lead generation tools out there, and you can use it to promote your business on social media and your website, but also in your store.
With interactive digital signs, or digital kiosks as they're often called, people can play flash games, answer engaging questions, and complete various quizzes to win discounts, vouchers, promotional products, and more. It also creates a more welcoming atmosphere and elevates the overall on-site experience for new customers.
Over to You
In the end, there are many ways that digital signs can help your business grow. Investing in digital signage allows you to capitalize on digital transformation and build a more memorable brand experience in 2021. Over the long term, though, the right digital signs can help you elevate efficiency and cut costs for marketing, sales, and support.
About the Author
Lana Hawkins is a stay-at-home mom by day and author by night.
She's passionate about interior design, travelling and green living.
Please follow and like us: