Please follow and like us:
I'm not ashamed to say I'm crazy about cars. Maybe it's because I grew up with two older brothers who got excited every time a cool car flashed by.
In my 20's, when I created a vision board you'd find a sports car featured front and centre. When I drew up a list of goals, the car of my dreams would be high up on my list of desires.
A red MG Convertible in my 20's. A Nissan 350z in my 30's – which also comes in a beautiful red.
When I decided to become a Mom, my goals shifted from sports car to practical baby and kid-carrier.  It's about safety, comfort and space to store prams and bikes.
I currently own a Honda Jazz and it's been fab.
My new dream?  I have my heart set on an electric car that comes in my favourite RED (it's a girl thang) which is why the Chevrolet Bolt takes the pole position in my top 3.
Without further ado, here are my top three vehicles on the market for safely and comfortably carrying your family and your equipment.
What To Consider When Shopping For Family Cars
The best family vehicles are those that meet your individual needs, therefore a natural starting point would be pinpointing precisely what you want out of the car.
If you have started a family, you probably only need to look for a car that is most suitable for babies, but if you already have a few kids, or are planning on having more kids, then a large family SUV would be your natural choice.
Top 3 Cars For New Families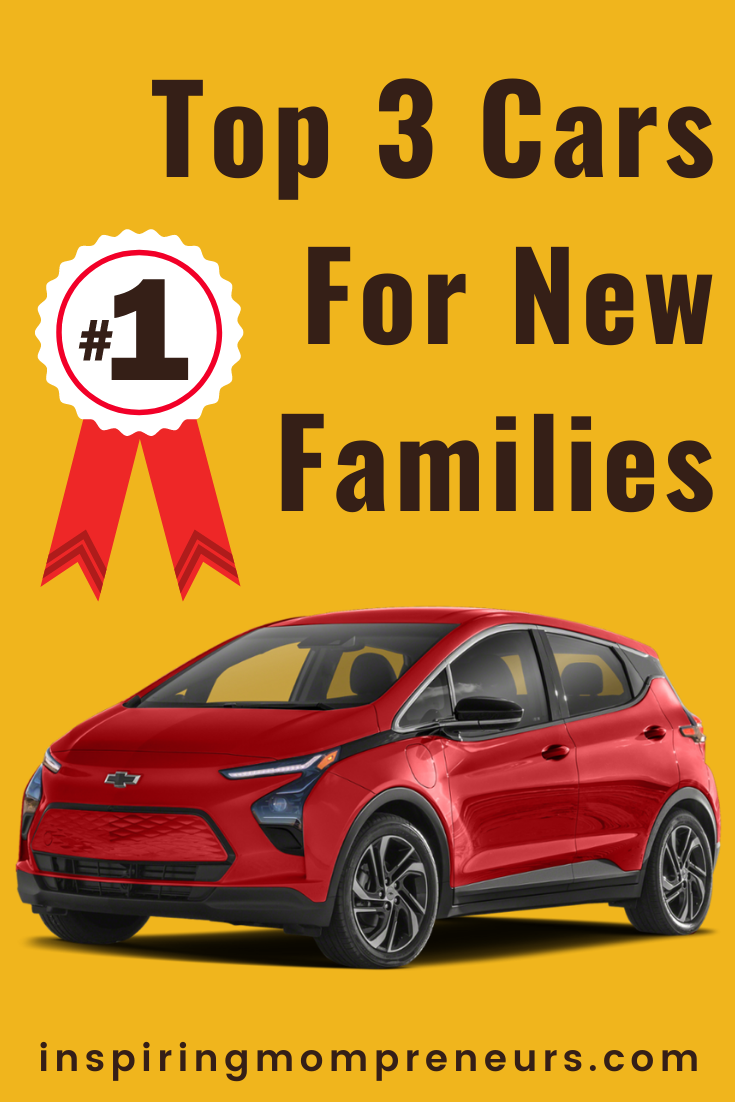 1. Chevrolet Bolt EV
Chevrolet reformed the electric car market with the Chevrolet Bolt which is the first cost-effective long-range EV on the market.
This hatchback offers a range exceeding 200 miles at a price tag of less than $40 000. The car offers solid engineering and hours of fun driving.
Standout Features
Priced from $31,000
Roomy interior and large cargo space
Smooth acceleration.
User-friendly central dash touchscreen
Compatible with utilizing the newest mobile app technology to enable gamification, car sharing, and enhanced GPS routeing to benefit drivers now and well into the future.
Driving range of 259 miles.
Powerful magnetic drive motor that delivers 150kW of power and 360Nm of torque.
60KW Lithium-ion battery pack that provides around 380km driving range.
A standard 80km trip can be recharged within less than two hours.
Fully recharging in about nine hours with a regular 240V wall outlet from the 7.2KW onboard charger.
DC Quick charging system for charging the battery up to 144km and range of about thirty minutes using the SAE Combo connector.
When you buy the Chevrolet Bolt electric car, you are eligible for a full federal tax credit. The credit system was initiated by the US Government to aid both the engineering and R&D by manufacturers and the embracing of electric cars by consumers.
Related: Having a Spontaneous Camping Weekend with Kids: Last-Minute Preparation
2. Chrysler Pacifica
Driving the Chrysler Pacifica is like floating on a cloud. The car also comes with various family-friendly features that make it a top choice.
Standout Features
Price range from $26 000 to $48 000
Unique Stow 'n Go push-button activated seating and storage system which folds up the third row to make more space.
Stow 'n Vacuum that ranges through the complete back cabin to keep the area mess-free.
Optional all-wheel-drive system for superior traction in harsh weather.
You can install two forward-facing car seats or high-back boosters in the middle row (since it has adjustable head restraints) and two rear-facing car seats or backless boosters in the back.
Convenient FamCAM camera located on the infotainment system to give parents a view of what kids are doing in the back, with zoom capability.
Safety features include a multi-angle rearview camera during reversing, a Honda Sensing suite, and a blind-spot detection system.
3. Chevrolet Traverse
The Chevrolet Traverse is an SUV with many features that make the life of parents a little easier when travelling with kids.
Standout Features
Price range from $31 000 to $53 000
Large cargo volume with three rows, great for families with small kids.
Extra-wide seats meaning no crowding.
Ceiling air vents for keeping back passengers cool
Extra hidden back storage compartment for stashing gear under the floor.
Hands-free liftgate on some models for opening the door when your hands are full.
Safety features include a back-seat reminder to double-check the rear seat for pets and kids, a rearview camera, and a teen driver system for monitoring young drivers. It allows parents to restrict the stereo volume and top speed.
Conclusion
We hope you have enjoyed reading about our top choices for the 3 best cars for new families and will take some of them into consideration the next time you are in the market or know of someone who is looking to invest in a new family vehicle.
What are you looking for in a car?  Which standout features appeal to you and why?
This post was sponsored by Richard Chevy. All opinions are my own.
Please follow and like us: