Please follow and like us:
What to Bring Camping with Kids?
Whether you just got a few days off work or a short period of good weather finally came, deciding to spend time outdoors is always a wonderful idea, as it allows you to fully relax and unwind, while soaking in the beautiful natural surroundings.
However, when you're travelling with children, a spontaneous camping adventure can quickly turn into a nightmare to plan, as the kids might not be as flexible and open-minded as you.
So, here are some tips that will help you with last-minute preparations and ensure your camping trip goes as smoothly as possible:
Pack lightly but smartly
Being a big change from your usual daily routines, camping often requires you to simplify your life, making it a wonderful opportunity to teach your children how to work with less.
For that reason, it would be best to include your kids in the packing process by asking them to pack an outfit a day plus an extra one in case of accidents, as well as any essential toiletries, into their own carry-on.
Apart from teaching your children responsibility, this will also save you some valuable time with last-minute preparations, and allow you to focus on packing your own bags more efficiently.
Stock up on food and drinks
Whether you plan on cooking in the RV or at the campsite, make it a point to pack items that are simple to prepare and easy to clean up, such as dehydrated and precooked foods, canned goods or instant mixes.
Don't forget to stock up on healthy snacks either, like dried fruits, energy bars and nut mixes, as they will help to keep hunger at bay on the road, and keep your kids satisfied.
Bring enough water to last the whole weekend, including both drinking and washing up, and pack some additional drinks if you wish, to treat yourself or the kids during the trip.
Make safety a priority
Although always an essential aspect, staying safe and secure on the road becomes even more important when you're travelling with children.
Apart from ensuring your vehicle is equipped with emergency and first aid kits, it would also be a good idea to have a surveillance system in place for added security.
Consider installing a high-quality RV camera system before your trip, as it will help to make parking a breeze and ensure your vehicle stays secure overnight.
What's more, a great camera system will also provide you with a wider field of view, allowing you to stay aware of your surroundings at all times, which can be especially useful when you have small kids who love to play and run around the vehicle.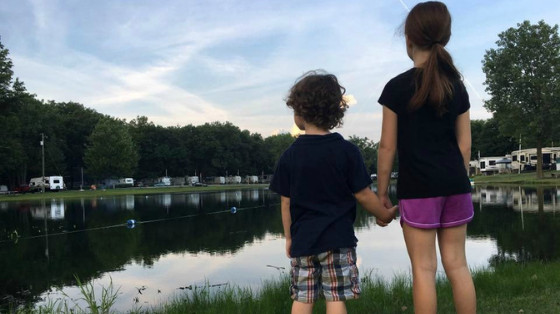 Keep the kids entertained
Any trip can quickly become stressful when you're travelling with bored, tired and grumpy children, especially a last-minute one.
To avoid this happening, and ensure everyone is happy and satisfied during the trip, make sure you pack plenty of entertainment options for your kids.
Focus on books, tablets and calming music options during the drive, and then remember to bring something for the camping itself, whether it's a pack of cards, a ball for outdoor sports, or even prepared scary stories to tell around the campfire, for the ultimate camping experience.
Don't forget the essential gear
Apart from bringing the unavoidable tents and sleeping bags if you plan on spending the night outdoors, there are a few other items you should pack for your camping trip, to ensure you are prepared for any situation.
For instance, you can make a DIY camping essentials kit equipped with flashlights, matches, rope and a Swiss Army knife, bring weather-resistant items you might need, like rain jackets and waterproof boots, or even pack a small toiletry bag filled with toilet paper, wet wipes, necessary medication, and any other essentials you might need on your camping trip.
Although last-minute trips leave little time for planning by their nature, you can always ensure a calm and hassle-free camping experience with your children by taking care of these essentials before your next trip.
About the Author
Lana Hawkins is a stay-at-home mom by day and author by night. She's passionate about interior design, travelling and green living.
Please follow and like us: