Please follow and like us:
We've all had kids who refused to eat the food on their plate or fuss over wearing that newly purchased outfit. Picky kids are normal. However, parents are facing a new type of pickiness – mask-wearing.
And it's completely understandable. Wearing a face mask is no fun, especially when you are forced to wear one all day at school.
While some kids have no issues wearing masks, others struggle with comfort, breathing, glasses fogging up and communication.
Others are challenged to show facial expressions and emotions.
Then there is the child constantly pulling up their mask or placing it behind their ears to make sure it stays on all day. Some just don't like certain textures, styles or colors.
Tips for Helping Kids Mask Up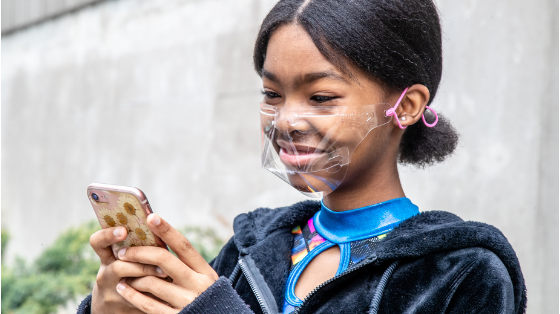 So, how can you convince your child to wear a mask, especially when they may have stopped wearing a mask for a while and now must wear one in school?
Here are eight easy tips and one bonus tip  – using invisible face masks.
Eight Tips for Helping Your Kids Mask Up
1. Select a mask that includes your child's favorite color, sports team or character.
2. For children where the pressure on the back of the head is too much or the mask keeps falling down, try face mask extenders or ear savers. Try a headband with buttons that the mask attaches on. Face masks with around-the-head tie straps work too. These "stretchy" materials often come in many prints and styles.
3. Encourage your child to try on their mask on their favorite stuffed animal, doll or toy. If your child is older, but still resisting the mask, show them their favorite celebrity or musician wearing their mask to stay safe.
4. Encourage your child to wear their mask for small periods at a time. For example, wearing their mask through a 30-minute television show or over a family board game. Reward them when they accomplished their goal. Extend the time as your child becomes more accustomed to their mask.
5. For kids into fashion, purchase a variety of different colors and patterns of their favorite style. Suggest kids match their mask to their outfit for a clean, fashionable look. You can also purchase one with rainbow colors that matches any look.
6. If your child is fidgeting with their mask, make sure it's on correctly. It should fit over his/her child's nose and mouth and be secured under their chin. Adjust the mask to avoid any gaps on the sides so it fits snug.
7. Kids mimic what we do so make sure to wear your mask. They will follow by example.
8. In some cases, you might ask your children to wear masks when others are not wearing theirs. In these cases, explain to your child they are wearing a mask to help protect others. Let them know they are preventing germs from spreading to other people and while also keeping their own family safe and secure.
Related:  How Do You Know If You're Getting Parenting Right?  (5 Signs You're a Great Parent)
Bonus Tip Nine: Invisible Face Masks
While we're all familiar with cloth masks, disposable masks and masks such as KN95's, we're now seeing the rise of invisible masks.
Mingle Mask, for example, is the ideal transitional mask for parents who still want their kids protected but don't need a medical-grade mask.
Mingle Mask is extremely comfortable for kids to wear all day long and is less likely to distract from learning. Each face mask features an innovative chin guard that comfortably rests against the face, ensuring eyeglasses never fog up and smiles are always visible.
The chin guard also helps keep material away from the face, making it easy for kids who suffer from acne or other skin conditions. The face is also kept cooler.
The new eco-friendly masks allow children to show facial expressions and emotions, the key to interactions with parents and teachers.
Mingle Mask is also perfect for kids to wear at camp, child care, extracurricular activities and after-school events.
Mingle Mask's transparent plastic barrier stops kids from spreading droplets to other people.
The mask covers the face and nose, making it easy to breathe and talk without sacrificing safety.
Mingle Mask uses Food and Drug Administration (FDA) approved reusable and recyclable materials. Each mask is lightweight, includes comfortable ear hook holders designed for long-term wear and is easy to clean and sanitize every day.
Mingle Mask offers a limited-edition six-pack with colored adjustable strings for an SRP of $12.99. Kids love picking their ear-loop colors.
The masks are also available in a 10-pack for an SRP of $14.99, a 25-pack for an SRP of $33.99 or a 50-pack for an SRP of $54.99 at https://theminglemask.com. Other transparent masks are available on Amazon or Etsy.
To meet the needs of higher education, secondary and elementary schools throughout North America, Mingle Mask offers a bulk purchase program. For more information about Mingle Mask, email sales at sales@theminglemask.com.

Please follow and like us: