Please follow and like us:
Small Office Designs
Super inspired by these interior design ideas.  My current home office is a desk in our lounge overlooking our garden.  I really look forward to the day I have a dedicated office and can put more of these wonderful ideas into practice.
5 Tips for Designing a Perfect Office for Entrepreneur Moms
Guest Post – Chioma Iwunze-Ibiam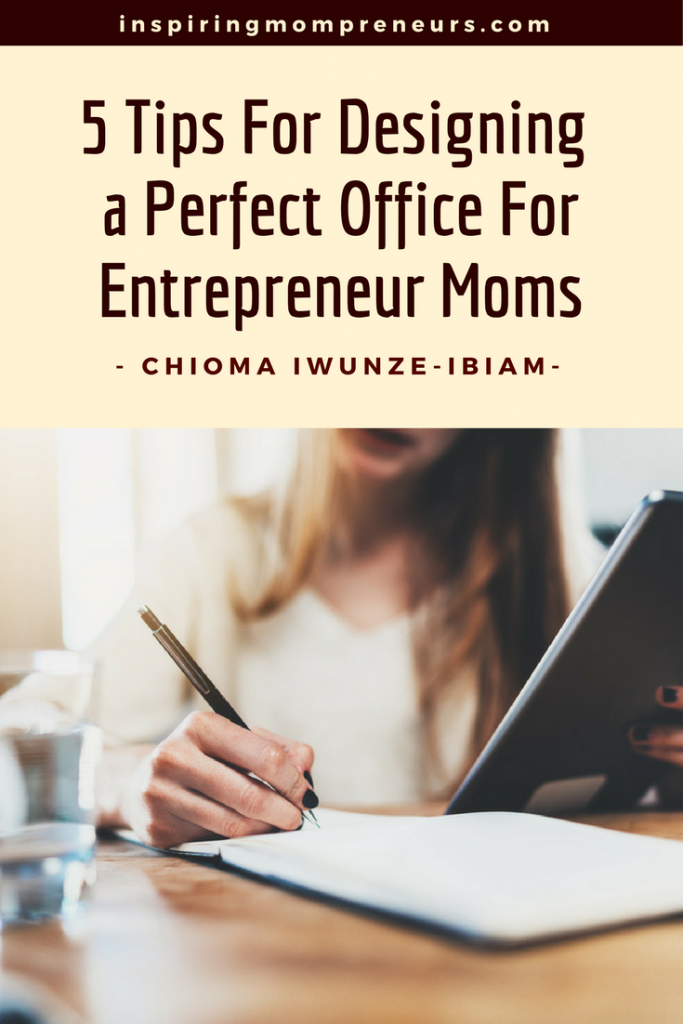 Every year, hundreds of thousands of bold women entrepreneurs establish various types of businesses. Different women have different reasons for venturing into their own businesses. While some are driven by a search for finding meaning and purpose in their lives, others want to have time for childcare. One thing all entrepreneur moms have in common is their need for setting up and designing that perfect office space for them.
Research has shown that the workspace plays a huge role in boosting productivity. This makes office designs a big deal for most start-ups. Entrepreneurs have to consider important factors like space, eco-friendliness, lighting, furniture, colour, layout etc. Many aspects of office designing can be challenging, but they don't have to be.
Below are my top five tips to make your office design projects exciting and stimulating.
1.    Select the Perfect Space
Always choose a space that best suits your business and the kind of work you want to do. If you want to set up a home office, choose a quiet space and make sure that there is a lot of room for your equipment and tools. There should be adequate ventilation and lighting too. Make sure that it is one that makes you happy and relaxed or your productivity will be affected.
If you decide to rent a building outside your home, make sure you choose the perfect location that is both suited to your personal and business needs. Again, you must ensure that there is enough space. If you are planning to have an open office space or to partition with cubicles, ensure that the work environment is large enough to fit in customers and staff (if you'll have any). Otherwise, you should ensure that you have adequate space for workstations, lounge areas, and lavatory.
If you will be spending most of your day in your office, then you have to put a lot of thought into making it the first class accommodation it should be.
2.    Store Space
Workplace strategists often emphasize the roles of storage rooms in beautifying the work environment. One of the first things you should consider is a suitable storage where you can keep everything.
As much as you can, utilize paperless cloud storage options. But you must make provisions for a physical storage. A physical store is indispensable. Choose the right place to store physical materials. The room has to be a cool dry place. Selecting the most suitable furniture can help you effectively manage the space available for storage.
One amazing advantage of a good store is that it helps you maintain a neat work environment. Cluttered spaces can be depressing, and we all know that an unhealthy mind cannot be creative or very productive.
A good store is one design element that can help boost your creativity and productivity.
If your office is at home, you can build spacious shelves above your desk. A chest of drawers can help you manage space and keep your office desk neat and free of clutter.
3.    Utilize Creative Office tools
If you're a freelancer, chances are that most of your work is done remotely. Fortunately, there are myriads of productivity-enhancing tools and software applications that make it easier for entrepreneur moms to set up their home-based offices.
Be careful to choose only tools that enhance productivity. Install only the apps you need. If you buy every gadget you can afford, you'll get distracted.
Ensure that your computer has a long-lasting battery. If the power is inconsistent where you live, purchase a reliable UPS or inverter. Use alarm clocks to time yourself. Ensure that your files are properly arranged and lists, effectively logged into a spreadsheet.
4.    Choose Comfort Over Anything Else
Many factors influence the level of comfort in your office space. Some of these include lighting, ventilation and furniture. As much as the lighting and ventilation add to the beauty of the workspace, they also affect your mood and level of creativity. In addition, proper lighting and ventilation reduce health risks for you, customers and clients.
When designing an office space, select the best lighting and ventilation options available to you.
Your furniture is even more important. Choosing the right office furniture guarantees that you will have many comfortable work days and no injuries. It is important to purchase high-quality office chairs and desks. Ensure that every furniture is positioned at the appropriate height so that you won't have to strain your neck, else u=you'll increase your risk of suffering from lower back pains. Refer guidelines published by the Occupational Health and Safety Administration. They will help you design your workspace to avoid injury.
5.    Don't Be Reluctant To Redesign and/or Redecorate
Upon reading this article or similar office design tips, some entrepreneurs will bite their fingers and think, had I known. The truth is, you can always redesign your office or redecorate. If you feel there is a need to redesign your workspace, please do. Choose a more flexible layout, improve the ventilation and lighting, replace your furniture as long as it will make your workspace the haven it deserves to be.
All it needs is a bit of dedication and strength. But basically, all you might need is good advice, some reorganization, a bucket of paint or two, some amazing window films, some creative and essential accessories and a couple of hours. Everyone loves a transformed office space.
Alternatively, you can also employ an office design expert if you don't have the time but can afford the fees.
It's easy to let things get stale and boring. If a change is as good as a break, a quick office makeover could be just what you need to reinvigorate your home-working life.
About the Author:
Chioma Iwunze-Ibiam writes creative non-fiction and prose fiction. Her works have appeared in Romance Meets Life, Flash Fiction Press, MTLS, Saraba Magazine, Sentinel Magazine and others. Her first novel, Finding Love Again, was published by Ankara Press. She owns and manages Creative Writing News.
Moms, what does your office look like? Do you work from home or have you moved out to office premises?  I invite you to leave a comment below.
Please follow and like us: