Please follow and like us:
Pregnant? Here's How to Cope at Work…
Absolutely love the advice in the contributed post below.  I worked full-time for 8 months of my pregnancy, so have added my personal comments in italics within each section that was relevant to my pregnancy.
Pregnant and Working: 8 Ways to Help You Cope
Pregnancy can be a wonderful time in your career. It's the time where you're looking forward to a new arrival, whether it's adding a child to your growing family or taking the very first steps to having your own family, it's an exciting time that you need to plan ahead for and embrace. However, working while you're pregnant can be tough, especially when you consider all of the differences you need to keep in mind and changes that your body will go through.
So if you're thinking about continuing your work even during the later stages of pregnancy, then we've put together 8 different tips to help you cope with your new lifestyle and the changes that you will go through in the next 40 or so weeks
Feature Image Source
 1. Letting Your Employer and Colleagues Know
It's important to first let your colleagues and employer know that you're pregnant and that a few changes will need to be made to your lifestyle at work.
This can be an excellent time to start asking for advice from friends and family members or even work colleagues how they coped with pregnancy while they worked. Some people will tell you that they took a long maternity leave in order to adjust to life again after having their child, and others will tell you how they maintained a professional image while they were working.
Letting your employer know will help them adjust your workflow or tasks so that you aren't stressed out too much. For instance, if you're pregnant and working on an important project, then your employer may give you lighter tasks that don't take as much work so that you aren't stressed out.
I was very fortunate to have a female Sales Director who had worked through two of her own pregnancies. When I announced I was pregnant she hired a new Sales Executive and offered me a position as a Customer Relationship Executive. I still had to do a similar job, calling and visiting clients and writing call reports but I no longer had the stress of meeting sales targets.  It was a huge relief for me and I thoroughly enjoyed my new position.
Your fellow colleagues will also treat you differently as well once they learn that you're pregnant. No one wants to encounter complications during work as a result, so it will prepare them for situations such as covering for you in the future or dealing with days where you won't be present at work.
2. Maintaining Your Professional Image
When you're pregnant, you're going to have a harder time maintaining a professional image especially considering you will physically look different, and this can reduce your self-esteem or make you more conscious of your professional image. However, it helps to plan ahead for this so that you're mentally and physically prepared for the change in the way you look.
Oh yeah, going shopping for maternity wear that looks great in the office was SUCH fun!  And a lot of the clothes I bought when I was pregnant were perfect for breastfeeding as well.
For example, if you're working at a hospital then you can adapt your image by looking into maternity scrubs. In other words, changing your uniform or clothing to adapt to your pregnancy is one of the best ways to look more comfortable and professional when you're at work.
During several periods of your pregnancy, you're going to experience fatigue, discomfort and other conditions related to your pregnancy. During these times, it's important to also be forgetful and you may want to take a break (such as a few days off) during work if you need to maintain your professional image despite these problems.
Pin Image – Source
3. Exploring Different Work Options
If you're pregnant, your employer will typically have some different ways for you to work.
For example, you might have the opportunity to work from home with a laptop or your home computer. This gives you a lot more flexibility in your work and means you can be more comfortable while doing your tasks. Of course, working remotely comes with its own set of challenges such as trying to stay focused and removing distractions, but it's much better than forcing yourself to come into work if you're feeling unwell.
Again, this was something my Sales Director put in place that I was hugely grateful for – she had all of her team, Sales Execs and Customer Relationship Execs alike, working remotely to ensure that we were out on the road as much as possible.  We didn't have to be in-office at all, unless we needed to make calls or submit paperwork. We didn't waste time driving to and from the office in rush-hour traffic so we could actually put in more hours a day on work that mattered. We also had more job satisfaction as we avoided so much stress.   One very bright lady, our Sales Director.
Speak with your employer about different working opportunities. Try and discuss if there are different work options available to you so that you can remove the stress of working while you're pregnant. Even if it's just something simple such as being taken off an important project so you can focus on lighter tasks, anything to reduce your workload or make it more comfortable is a good idea.
4. Dealing With Morning Sickness at Work
Morning sickness is usually described as a feeling of nausea or vomiting during your pregnancy in the mornings. If you go to work relatively early, then this may hit you while you're sitting at your desk working. You may want to speak to your doctor so that they can prescribe you medication or teach you how to manage your morning sickness so that it doesn't negatively affect your ability to work.
Ooh, one tip for morning sickness. I tried the usual things that I had heard worked well to alleviate morning sickness, dry crackers, Marie biscuits, ginger, snacking frequently etc. and all of these helped, but what worked best for me was…. chewing gum!  Give it a try.
Make sure you prepare yourself with a few bits and pieces. For example, if you find that you feel like vomiting on your commute, then take a few sick bags and a bottle of mouthwash in your handbag so that you can be prepared for it. It's not pretty, but it's important to embrace reality when you're pregnant and work around the problems that you have.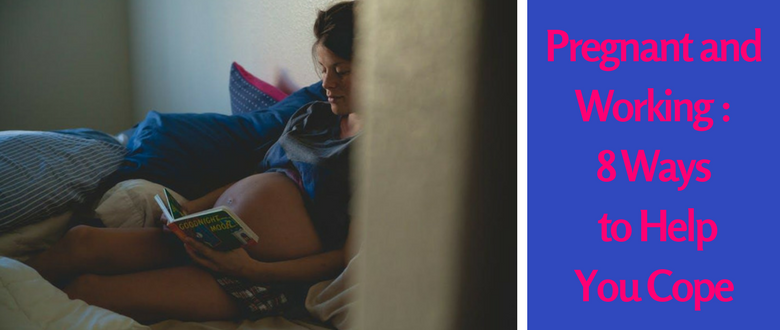 Tweet Image – Source
5. Embracing Good and Bad Days
Juggling your pregnancy and your work is going to be incredibly stressful, which is why many women simply avoid work when they're expecting a child. However, if you're adamant about working and want to continue while you're pregnant, then it's important to embrace both good and bad days at work.
There are going to be times where you'll feel like you have no energy and that you just want to go home. Perhaps the morning sickness hit you hard and you're finding it difficult to get any work done because you simply just can't cope with it. However, there are also going to be days where you're full of energy and ready to get some work done and complete projects. In short, don't let the bad days get to you–embrace them as common issues when dealing with pregnancy at work.
6. Creating a Work-at-Home Environment
Even if you're not assigned to work remotely, you can probably still get some work done at home on a smartphone, tablet or even a work laptop. If you're able to create an at-home working environment, then there's a good chance that you'll be far more successful and motivated to actually work. The key here is to make yourself comfortable when working at home by adding lots of luxuries and giving yourself plenty of space to do what you need to do.
If you work from home by operating your own business or something similar, then you may want to prepare your home for your pregnancy. Whether it's stocking up on medication and supplies to help you swiftly deal with your morning sickness or purchasing a standing desk so that you can adjust the way you work, there are plenty of little additions that you can add here and there in order to make yourself feel more comfortable when working at home.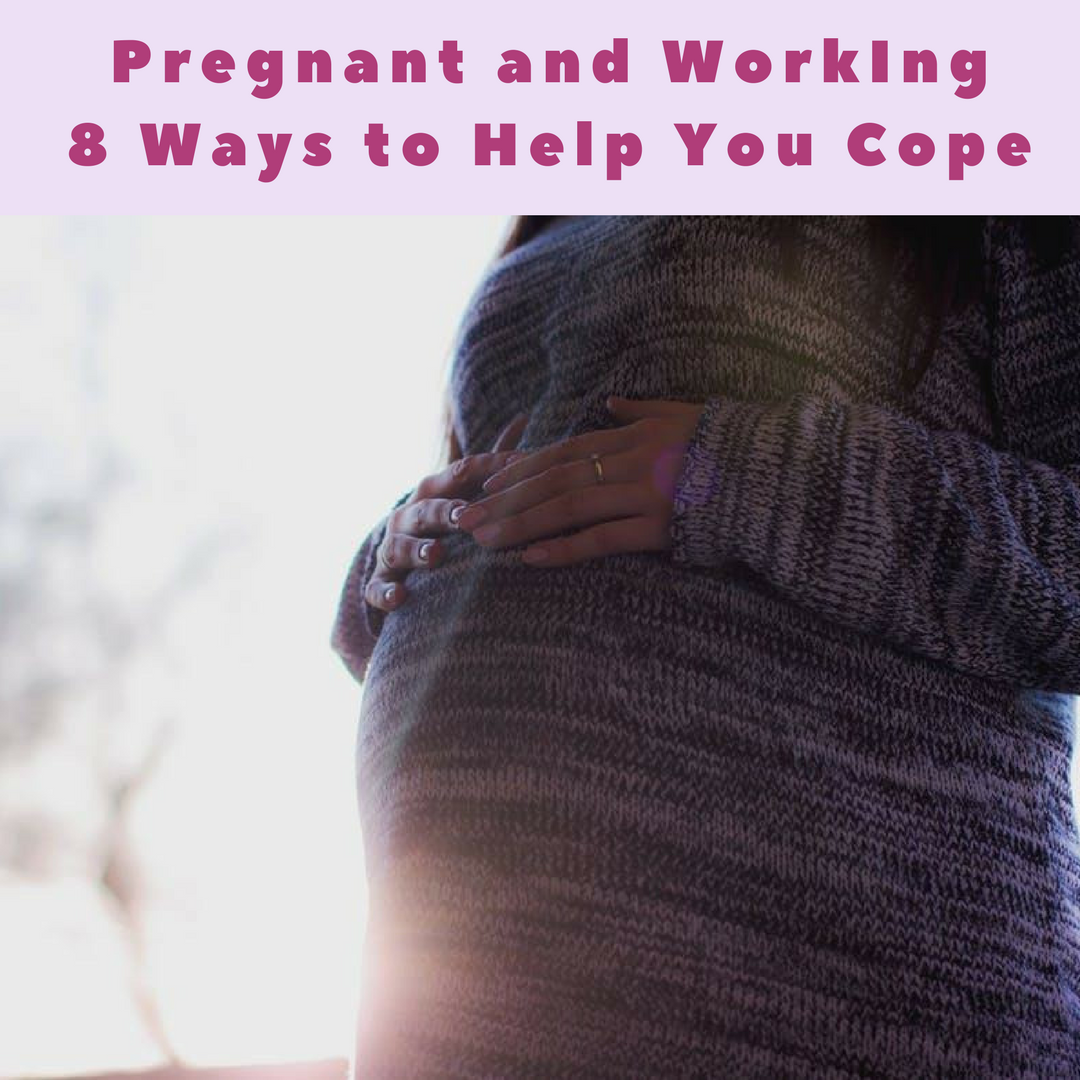 Instagram Image – Source
7. Working out Your Maternity Leave
You'll also need to speak with your employer about your maternity leave package. Every company has a different policy regarding maternity leave and your rights can change depending on the state you're. Some people will receive funding and other people won't receive much help at all. It all depends on your personal situation, but the important thing to keep in mind is your own health.
If your company can't let you go for too long, then you need to decide if it's worth keeping your job. Negotiate the terms of your maternity leave and try to understand every condition that's being made so that you aren't putting yourself in a position where you need to stress your body and work extra hours that aren't needed.
Paid leave is perfect for most pregnant women because it allows them to take their mind off their income and financial situation while taking care of their newborn baby, but not every company is willing to provide you with an income while you're not working.
Make sure you discuss the conditions of your maternity leave early during your pregnancy so that you can decide how much money you need to save or the lifestyle changes you need to make in order to account for an unpaid maternity leave.
My company's maternity leave policy wasn't all that great.  Only 50% pay for 4 months.  As I knew upfront I wanted to breastfeed exclusively for at least 6 months, we did some number crunching and decided we could afford to live on my husband's salary. So I resigned and gave up working a month before my due date.  
Best decision I ever made because I breastfed my son for way longer than 6 months.  In fact, we went full-term, which for us was nearly 4 years.  I even created a whole website about extended breastfeeding, Happy Human Pacifier. You can read part of my breastfeeding journey here.
8. Keep Yourself Positive
We mentioned briefly about embracing the good and bad days during your pregnancy, but above all else, it's important to stay positive during your pregnancy. Whether it's giving yourself some time to relax, loosening other commitments that you have or even kicking bad habits, it's important to stay positive at all times. This will make it easier for you to work, it will be easier to cope with your pregnancy and other related conditions that may affect you, and it also helps you to deal with events and situations in the future.
Remaining positive is arguably one of the best tools at your disposal during your pregnancy, so don't forget to put a smile on your face and relax when you need some time off. Working while pregnant is a commendable task, but don't push yourself to the limit and put your health as a priority.
Hear, hear.  I thought these tips were awesome!  Did you love these tips as much as I did? 
Is your Boss as understanding as mine was when I was pregnant?
How did you cope at work while pregnant? Or are you pregnant right now?
I'd love to hear your comments below.
Please follow and like us: