Please follow and like us:
Pitfalls – Starting Small Business
I'm a fly-by-the-seat-of-my-pants-kinda-girl.  I leap into new business ventures without considering what could go wrong down the line. Sometimes that serves me and sometimes it doesn't.  I can recall many an occasion over the years where I've gone down a road for a good while too long before I realised it was the wrong road.  I don't want that to happen to you. So here are the 3 most common pitfalls when striking out on your own.  #PitfallsStartingSmallBusiness
Don't Let These Pitfalls End Your Home Business Venture Before it Begins
Thinking of starting a home business? The bottom line – you should. In this day and age, it's perfectly possible for regular people to earn money doing something they love, even with limited business experience.
However, it's not all plain sailing and if you want to improve your chances of success, then it's important to do your research. Knowing the common pitfalls will prevent you from falling into these traps.
Here are just three that you need to know about.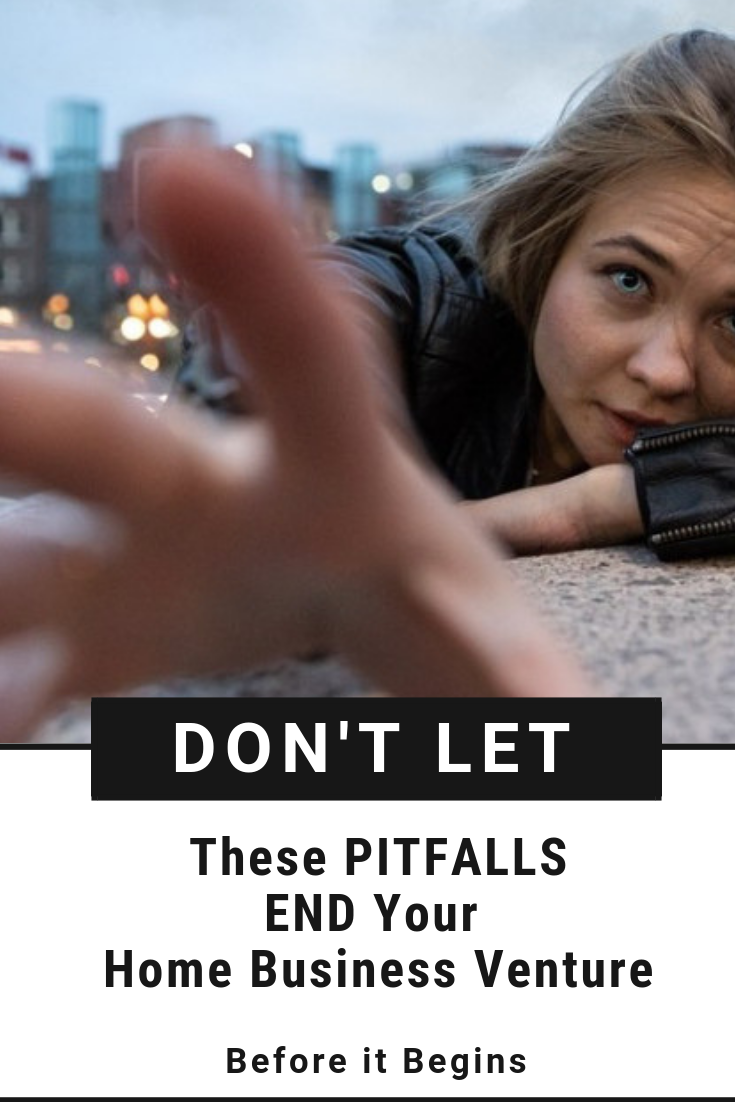 Pitfall 1- Not Managing Money
Efficiently
When it comes to business, you often need money just to get started. Even with a small, home-based business, you'll need to spend money on a website, on stock or materials and you might need to upgrade your computer. Because you've yet to make any money, so you'll have to either use savings or rely on credit to purchase what you need to get started.
The problem is, paying this back can take longer than you expect. If business takes time to pick up, you're having to pay interest back on what you borrowed meaning your debt increases.
If you're not careful, you can end up going bust before you've even properly got started. Don't let money catch you out, you need to be so careful when it comes to your business finances.
If you take out a loan to get started, work out what the interest and repayments will be and be sure you can afford them- even if things don't take off right away. Record everything you spend carefully, not only is this important for tax purposes, but it can prevent you from overspending.
Pitfall 2 – Not Marketing Correctly
It's easy to assume that all you need to do well in business is a good idea- selling products or services that people want. But it's far from that easy, and with so much competition from other companies it's not a case of 'build it and they will come.'
Getting your name out there can be tricky, you need to ensure that the right people are seeing your promotional materials and that you're advertising in a way that sets you apart from your competitors.
Utilise the help of an internet marketing firm who will have experience and knowledge of how to promote a business like yours. Without this, no one will come across your store or website and you just won't make any sales.
Pitfall 3 – Trying to Do too much by Yourself
As a small business owner, you can feel like you need to tackle everything yourself. However, as things pick up you'll soon realise that this isn't possible, without spreading yourself so thin that you're just not doing good work.
Don't let pride or ego get in the way, and be ready to take on help when you need it.
This could be in the form of an employee that you hire, otherwise, you could outsource the work or utilise freelancers. There are lots of talented people online with the skills to do the jobs that you don't have time for.
Please follow and like us: