Please follow and like us:
The 1970s marked the beginning of the vitamin revolution.
In the 1980s everybody was trying herbal supplements.
In the 1990s anti-oxidants emerged and took the market by storm.
And, since 2000… the two words on everyone's lips are stem cells.
9 Years ago, I stumbled across the most intriguing nutritional breakthrough I've seen in the last decade. A friend who's always on top of the latest nutritional research, suggested I try a product called StemEnhance. It's the very first product on the market in a brand-new category of nutritional supplements called Stem Cell Nutrition.
Adrian explained how StemEnhance supports the natural release of adult stem cells from the bone marrow. This was all Greek to me at first, but as he kept talking, bells started ringing. Adult stem cells… where had I heard that term before? I recalled Jodi Piccoult's tear-jerking bestseller, My Sister's Keeper, which explores some of the ethical issues surrounding stem cell research.
What most of us know about stem cells derives from the hype and politics surrounding embryonic stem cells. Embryonic cells are extracted from the blastula, the very early embryo, and have an exceptional ability to duplicate in vitro (in a test tube) to become cells of almost any tissue: brain, heart, liver, bone, pancreas, and so on. This raises some ethical concerns, and consequently gets a lot of media attention.
Time Magazine's cover article by Alice Park (February 9, 2009) was entitled "Diabetes. Heart Disease. Parkinson's. How the Coming Revolution in STEM CELLS Could Save Your Life". The article describes the politics around stem cell research, "In 2001, everything changed. The use of discarded embryos made embryonic stem-cell research deeply controversial in the U.S. Citing moral concerns, then President Bush restricted federal funding for the study of human embryonic stem cells. Under the new policy, US government funds could be used only to study the dozens of embryonic cell lines already in existence – many of which proved not to be viable … Barack Obama campaigned on a promise to lift the research ban and support 'responsible oversight' of the stem-cell field."
What most of us don't know, however, is that stem cells are also abundant in body tissue after we are born. Adult stem cells are most abundant in bone marrow, and are comparable to embryonic stem cells. Adult stem cells can be thought of as "master cells" which the body uses to naturally renew aging, degenerating or damaged tissue.
When we are children, our stem cells are released into the bloodstream more easily, whereas this process slows down as we move into adulthood, leaving us more susceptible to injury and other age-related health challenges. However, these unused adult stem cells are still in our bone marrow, but they are not being released as they are needed.
Maintaining health is a balance between:
Entropy: the tendency for the body to break down, and
Renewal: the ability of the body to renew and rebuild.
If the rate at which you're breaking down (or aging) exceeds the rate at which you can renew, the body experiences lack of wellness, fatigue and unhappiness. You can't catch up.
On the other end of the scale, if the ability to renew exceeds the rate at which the body is degenerating, you regain and maintain optimal health and experience wellness, clarity and happiness.  This is where adult stem cells come into their own – as the body's natural renewal system, more adult stem cells equates to faster renewal.
On 8 September 2005, the New England Journal of Medicine reported that the best predictor of cardiovascular health is the number of adult stem cells circulating in the blood. Clinical studies have proven that the higher number of adult stem cells in the blood, the greater cardiovascular health a person will enjoy.
So how do we increase the number of adult stem cells circulating in the blood?
Developments over the past 4-6 years have uncovered how to release millions of these adult stem cells from our bone marrow, naturally. Just as antioxidants are important to protect our cells from "free radical" damage, stem cell enhancers are equally important to support the release of our adult stem cells and maintain proper organ and tissue function in the body.
Enter StemEnhance
StemEnhance represented an entirely new paradigm shift when it hit the market 3 years ago, and it's still the only product of its kind available today.
1 gram of StemEnhance (2 capsules) has been proven scientifically to produce a 25% to 35% increase in adult stem cells in the blood stream within 30 to 60 minutes. This equates to around 4 million stem cells.
And the good news? It's an all-natural, organic plant derivative from an aquatic botanical.
Nature provided Aphanizomenon-flos-aquae (AFA), on a silver platter. AFA is a blue-green algae found naturally in Lake Klamath in a pristine environment in the Pacific Northwest, and StemEnhance is a 5:1 concentrate of 4 active compounds found in raw AFA.
AFA supports the natural release of adult stem cells from the bone marrow into the bloodstream, and the migration of these cells to the organs and tissue requiring repair.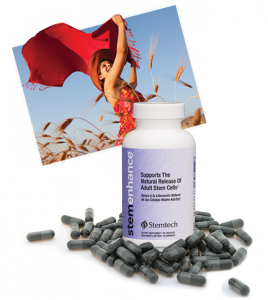 StemEnhance contains the following 4 compounds rich in AFA:
An L-Selectin ligand – this is the "magical ingredient" that supports the mobilisation of stem cells from the bone marrow to the blood.
A polysaccharide that supports the migration of stem cells into tissue, as well as the migration of natural killer cells (immune cells) responsible for helping eliminate or fight viral infections in the body.
A blue pigment called phyco-cyanin, which is shown to have very good anti-inflammatory properties.
And (my personal favourite) phenylethylamine (PEA), known as the 'joy molecule' or 'molecule of love', which the brain creates when one is naturally content. For example, if you're painting a picture and totally absorbed in what you're doing, your brain creates PEA. The most well-known source of PEA is chocolate, which has about 10% of the PEA we find in AFA. StemEnhance has a 5:1 concentration of PEA, 5mg per gram. This is the reason so many people report a general sense of wellbeing and happiness on StemEnhance.
Over the past 10 years, Stemtech has continued their research into adult stem cells and discovered other plants that have the ability to support the release of the adult stem cells. They added Fucoidan (Undaria Pinnatifida), Polygonum Multiflorum, Cordyceps Sinensis to the formulation to produce SE2.
Stemtech has just launched SE3 to Distributors in the USA and Australia.  The product is still awaiting MCC (Medical Control Council) Approval in my home country, South Africa.
SE3 is the only product on the market that contains StemRelease™ – an exclusive blend of clinically tested ingredients that help release millions of your body's own stem cells from the bone marrow into the bloodstream. Studies show that the more stem cells you have circulating in your blood, the greater the ability of your body to naturally renew itself.  With its youth-promoting nutrients, SE3 helps support telomere health.  Telomeres are the caps that protect the ends of chromosomes, similar to how shoelaces have plastic caps to stop them from fraying. Supporting and maintaining the health of your telomeres can help you enjoy a healthier and more youthful life.
Stemtech also introduced Stemflo, to support blood circulation, a proprietary blend of antioxidant herbs with reduce oxidative stress, break down excess fibrin in the blood, and help eliminate toxins from the body.
Most of Stemtech's products are available on Amazon, however you can buy them at wholesale from the company website.
To have all your product questions answered, click here.
 How could you benefit financially from this fascinating paradigm shift?
StemEnhance is the most exciting scientific discovery in decades, and is distributed by Stemtech Health Sciences Inc., a network marketing company.  Stemtech launched in the States in June 2006 and in South Africa in Nov 2007.
For StemTech distributors, the hype and politics surrounding stem cell research simply mean greater awareness, and thus ease of conversation. Mention adult stem cells and almost everyone knows something about them, and is eager to understand more.
"What do you know about adult stem cells?" is a natural ice-breaker new distributors can use to pique interest. Explain the basics of what the product does, mention that the company and the product have NO competition, and you're A-For-Away.
One StemTech Distributor reported the following: "I've sold nutritional supplements for years. The difference is that I used to get 9 No's and 1 Yes, but now I get 9 Yes's and 1 Maybe."    Join as a Distributor here.
Although the company is strictly ANTI-HYPE because the product is not intended to cure, prevent or diagnose illness or disease, personal testimonials of its health benefits abound.
 Christian Drapeau, the co-inventor of StemEnhance, is very clear. The key message is this: "StemEnhance supports the release of stem cells from the bone marrow, thereby assisting the body in regaining and maintaining optimal health. A greater number of stem cells equates to greater health. Just tell people to try it."
This is an updated version of an article I originally wrote for The SA Guide to Business Opportunities and Bizassist. It was first published in 2009.
Please follow and like us: