Please follow and like us:
My dear friend, Lynne Huysamen invited me to battle out the differences between Multi-Level Marketing vs Affiliate Marketing last Friday – we did a live video on Facebook (her page, Kaboutjie and my page, Inspiring Mompreneurs) and YouTube.  
Lynne and I met through Wealthy Affiliate, the online education platform where we learned how to blog and become affiliate marketers.
It's always fun collaborating with Lynne and what was most fun about this live online event was that we have polar opposite views on this topic.  Lynne is very ANTI-Multi-Level Marketing and I'm equally as PRO-MLM.  I've tried both income strategies and see the benefits of both.
MultiLevel Marketing vs Affiliate Marketing
Let's start with the basics…
What is MultiLevel Marketing? 
Multi-Level Marketing (MLM) aka Network Marketing aka Direct Selling is a way to make money by recommending and promoting products person-to-person and teaching others to do the same.
It's only when you build a team of distributors and leaders that the multi-level system kicks in because this allows you to earn commissions from multiple levels in your network.
Leaders in MLM have the potential to earn on every sale their team generates.
Multi-Level Marketers usually only work for one company.  They might promote many products in the range but they will be loyal to one brand.
Multi-Level Marketers earn commissions when:
someone buys a product they recommend
when someone they introduced to the business buys a product
when someone buys a product recommended by someone they introduced to the business, and so on.
Multi-Level Marketing can be conducted online or offline, in person or on the phone and generally, you make a sale when you:
demonstrate the product (show and tell)
share their personal experience and benefits of using the product – how the product makes them look or feel
explain the story behind the product, e.g. ingredients, quality of ingredients, where ingredients are sourced, how it works
Most Multi-Level Marketers recommend products they have tried, tested and enjoy using personally.  They often promote products by sharing their own personal story or testimonial.
Multi-Level Marketing is also called Network Marketing, Direct Selling or Relationship Marketing.
I usually prefer the term, NETWORK MARKETING because network marketers build a network (or team) of
customers (who simply buy products)
distributors (who sell products)
leaders (who build a network of customers, distributors and leaders)
What is Affiliate Marketing?
Affiliate Marketing is a way to make money by promoting products or services online.
Affiliate Marketers earn commissions when someone purchases a product via their affiliate link.
Affiliate Marketers don't have to create or manufacture the product or service themselves.
Affiliate Marketers usually join many different affiliate programs and promote products from many different suppliers or manufacturers.
In many cases, Affiliate Marketers are not required to purchase or use the products or services they are promoting, however, this is not always the case. For example, entry to most high ticket affiliate programs is reserved for affiliates who have purchased the high ticket item (usually an online course or mentorship program).
Affiliate Marketers simply find a product they like or believe their audience will like and create a detailed review which includes an affiliate link to the product or service.
Alternatively, Affiliate Marketers create content their audience will enjoy and add affiliate links within or below the content to relevant products or services.
Reviews and Content are published online as
blog posts
landing pages
social media posts
videos
podcasts
emails
Affiliate Marketers make a sale when a visitor clicks on their affiliate link and completes the purchase.
Most affiliate programs I've come across pay per sale, although I've heard that some affiliate companies pay per click or per lead.
Affiliate Marketers are usually not brand specific. Instead, they are niche-specific, they look for the kind of products that would appeal to their target audience.
For example, an Affiliate Marketer serving Mom Entrepreneurs might create a post about the 10 Best Courses on Entrepreneurship and include affiliate links to each one.
I have an entire post dedicated to Affiliate Marketing.  For further reading, pop over to What's Affiliate Marketing About? or watch the video below.
What is the Difference Between Affiliate Marketing Network Marketing?
The way I see it is the main core difference is that Affiliate Marketing is content-driven – it's about creating posts or reviews that promote products. Whereas Network Marketing or MLM is relationship-driven – it's about building relationships with people and having conversations with them.
However, that's simplifying things – there are a number of key differences. So created this little chart to show the main differences between Affiliate Marketing and Network Marketing.
The dog and cat in the background are tongue-in-cheek because generally…
Affiliate Marketing is more about attracting clients organically through SEO and building a strong niche or brand.
And MLM is about hunting – going out and finding customers, distributors or leaders.
Of course, both cats and dogs actively hunt and both cats and dogs rest for hours a day. But we tend to think of cats as passively attracting attention and dogs as actively seeking attention.
In the same way, you'll find Affiliate Marketers using techniques like Facebook Ads, blogger outreach or influencer marketing to "hunt" for customers (lead generation).
And you'll also find savvy network marketers using attraction marketing strategies, SEO and their organic reach for lead generation.
How are Affiliate Marketing and Network Marketing Similar?
Both of these income strategies are ways you can make money from anywhere, from home (or a coffee shop) or while travelling the world.
Both involve promoting products on behalf of a manufacturer or supplier, rather than creating your own products.
Both are passive income strategies. Affiliate Marketers and Network Marketers alike sell the dream of earning money while you sleep.   And it's possible.  It's just not instant.
The idea is to do the job once and get paid over and over again for that initial effort.
In MultiLevel Marketing, you earn money passively by marketing consumable products. You earn a residual income each month that your customers come back to replenish their products.
You can also earn passively in MLM and even retire (if you choose) once you've taken the time to recruit and train up a team of leaders.  This does not happen overnight.
In Affiliate Marketing, you earn money passively when you create a post that is so helpful and well-crafted that it continues to draw visitors for years and years to come.  (Golden tip: how-to posts and list posts work very well).  This doesn't happen overnight either.
Neither Network Marketing nor Affiliate Marketing is a get-rich-quick scheme although sometimes people make out they are. There's a learning curve.
What do people love about Affiliate Marketing?
Here are the 3 top benefits or advantages of Affiliate Marketing mentioned by Affiliate Marketers.
1. Unlimited Supply of Opportunities
Virtually every product or service available has an affiliate marketing opportunity attached to it nowadays because virtually every merchant is running an affiliate program (81% of brands have an affiliate program).
This means you can build an affiliate marketing business in virtually every niche that interests you.
2. Low Risk for High Returns
Usually, there is little to no investment to get started in Affiliate Marketing.
You don't have to buy products upfront to be successful as an affiliate marketer. You don't have to carry any stock at all.
You are simply the middle-man, promoting merchandise to refer customers to merchants.
The affiliate company or merchant handles the sale, warehousing, picking and packing and delivery of goods. They also handle any complaints or returns.
And, done right, it can be extremely lucrative.
3. Work from Home or Anywhere Online
You can do affiliate marketing anywhere, anytime, as long as you have a laptop or smartphone and an internet connection. Once you've built a successful niche website, channel or podcast and you're making sales on autopilot, you can truly live the laptop lifestyle.
What do people hate about Affiliate Marketing?
Here are the 3 main drawbacks or disadvantages of going the Affiliate Marketing route.
1. It Can take a Long Time to Build an Audience
Despite what people think when they first start building an online business, it's not a quick way of earning money.
It takes time to build out a website, YouTube Channel, Podcast or email list. It takes time to build an audience or get visitors to your site and get them to know, like and trust you.
It takes time to learn to craft posts that encourage people to click on affiliate links.
2.  Little Chance of Repeat Sales or Returning Customers
With most affiliate programs, you have no idea who buys via your link.  The sale happens on the site of the vendor, not on your site and the customer belongs to them.
You may have a little more control with email marketing versus blogging but for the most part, you are just the middle man, referring leads or sales to a merchant.  You have no relationship with the customer.
This can be a good thing in that you don't have to deal with delivery, stock shortages or returns. But it can also be a bad thing if you're promoting something that's low quality or the company's service levels are poor.
There are exceptions to this rule.  You can get to know your customers and earn residual income with affiliate partners that offer monthly or annual membership programs, such as Wealthy Affiliate, where Lynne and I learned affiliate marketing.
3. Affiliate Programs can Change Plans
Recently, we saw a prime example of this.  Amazon cut most of their affiliate commissions down to next to nothing and many affiliate marketers were up in arms.
Those who had sites relying mostly on Amazon income had to seek out other affiliate partnerships and change all the links on their blogs – a time-consuming exercise if you have hundreds of blogs to update.
What do People Love about Multi-Level Marketing?
Now, let's look at the pros and cons of Multi-Level Marketing. Starting with the Top 3 Benefits of Network Marketing.
1. In Business for Yourself, but Not by Yourself
In most network marketing companies, the training is free.
When you join the right company, it's very much like owning a franchise, a turnkey business, but without the hefty price tag.
The training is also usually exceptional. You'll learn skills like lead generation, recruiting and sales and you'll also develop personally, by learning self-motivation, time management, discipline, positivity and leadership skills.
You also get coached and mentored by leaders in the business who can teach you all they know.  Those above you have a vested interest in your success so they are willing to give you the keys to success.
Most top leaders in network marketing companies report the top benefit of network marketing not as what they achieved (financially) but who they became on their way to the top.  Meet one of the top leaders in my organisation.
2.  Residual Income and Leverage
Network Marketing is usually built on consumable products that are of higher quality than anything you can get elsewhere. This gives you the chance to build residual income, especially if you introduce customers and distributors who buy products regularly.
Once your customers fall in love with the products, they keep coming back for more.  The idea is to make the sale once and then teach your customers to buy from the company directly.  The quicker you can remove yourself from the sales process, the better.
The other form of leverage is in recruiting and training up a team of leaders.
Once you achieve success as a leader in network marketing, your business can grow exponentially.
3. Flexibility to Work from Home or Travel
Most top direct selling companies operate in many countries around the world, which gives networkers the opportunity to build an international team.
As your team expands into new regions you can travel to these countries to work with your top leaders and help them grow their own networks.
Many network marketing companies also offer free incentive trips to their top leaders, which offers you further opportunities to travel.
What do People Hate about Multi-Level Marketing?
Here are the 3 main drawbacks of joining an MLM business.  These will also be the main objections new recruits will be up against when they invite others to join the business.
1. You Have to Spend Money to Make Money
Many network marketing companies recommend that their distributors buy a starter kit so that they can try out the top-selling products in order to promote them.
And most MLM companies only pay out commissions to distributors who set up a monthly autoship (usually around $100 a month). This can be crippling to someone new in the business.
The idea behind this is that you only promote products you know and love but where it can go wrong is if you're buying more products than you need personally. If you're stock-piling products and not moving them, you can land up in financial difficulties.
Fortunately, I've aligned with a reputable Direct Selling company that has taken an Affiliate Marketing approach. 
It is free to join. Plus, there are NO required monthly purchases required in order to earn commissions.  I earn whether I buy products each month or not.
Join the Affiliate Program free of charge.
2. You Can Lose Your Friends
Virtually every network company teaches its networkers to approach their friends and family first (their warm market). This can become uncomfortable for both you and your friends.
Friends feel they need to buy to support you but may not really want to buy.  You may not be able to understand why your friends and family aren't as excited as you are about the product or opportunity.   This can put a strain on your close relationships.
3. The Way it's Sold
Many networkers sell the lifestyle dream.  And the truth is network marketing is not a  get-rich-quick scheme. It takes time and effort to build a successful team.
Spamming is also an issue, both with Multi-Level Marketing and Affiliate Marketing. Marketers will contact you out of the blue by email or on social media and launch right into their pitch.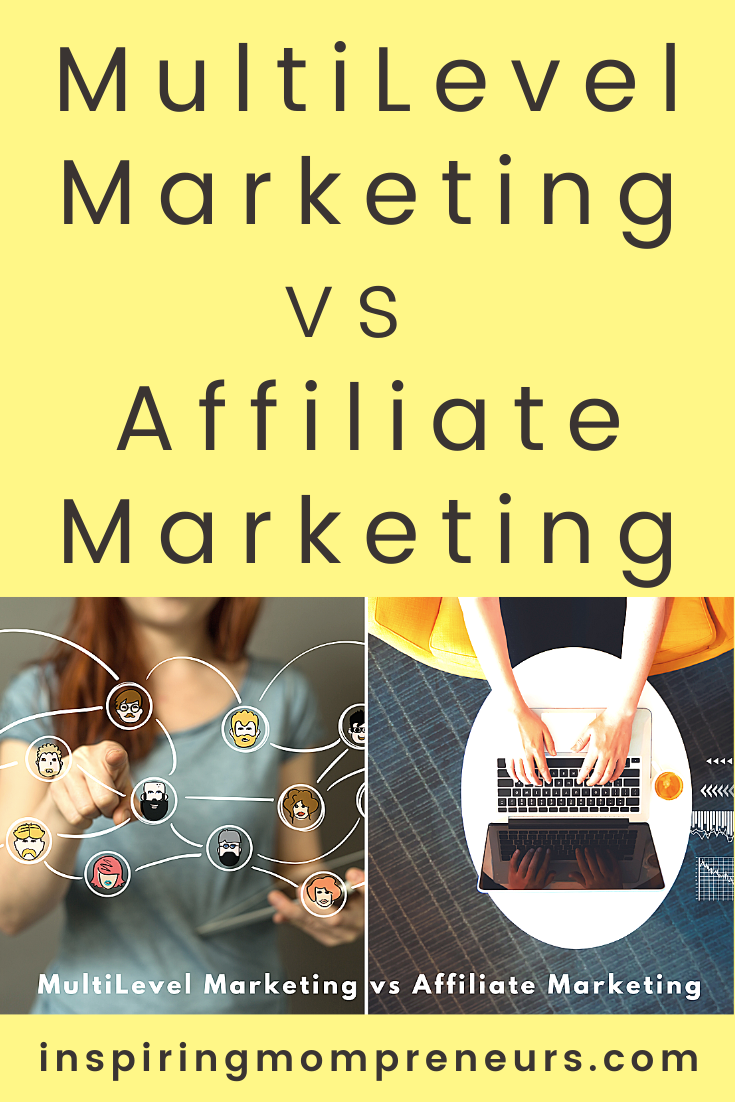 How to Become Successful in Affiliate Marketing?
Choose a niche you're passionate about, bearing in mind that some niches are more lucrative than others.
Here are seven evergreen niches to consider if you're just starting out in affiliate marketing.
Evergreen Niches
Health and Wellness – Alternative Health, Mental Health or Weight Loss
Fashion and Beauty – Luxury items do well
Personal Development – Leadership, Success, Mindset, Law of Attraction, Coaching, Training
Wealth – Personal Finance, Entrepreneurship, Make Money Online or Work from Home
Relationships – Parenting, Marriage, Dating
Travel and Leisure – Sports, Running, Hiking, Camping, Tourism etc.
Technology – Online Gaming, Apps, Software
Build a website or web presence (social media, YouTube or podcast) and learn how to drive organic traffic by creating quality content and using Search Engine Optimization.
Build a big audience.  Groups on social media work well to build a community of like-minded people.
Without people, you'll have no sales.
Solve problems and answer questions your audience is asking.
Build an email list and send affiliate offers to your email subscribers.
That first sale is exhilarating. Celebrate your wins.
Learn how to generate leads online through social media advertising or pay-per-click advertising (PPC) like Google Adwords to scale your affiliate marketing business.
Give yourself time to see results and don't quit until you do.
How long does it take to start making money in Affiliate Marketing (generally)?
In my experience, it can take anywhere from 6 months to 5 years to build an audience online and start earning income as an Affiliate Marketer. Longer if you're not committed or doing it part-time.
If you already have an online audience or you're an influencer online, you'll make money faster.
As with any entrepreneurial venture, what you put in is what you get out.
It's also essential to get good training.  If you'd like to learn how to do affiliate marketing, I invite you to read my Wealthy Affiliate review.
How to Become Successful in Multi-Level Marketing?
Find a product or range of products you love.
Do your due diligence on the company to make sure it's legit.   Make sure the company is a Member of the DSA (Direct Selling Association), ideally in the Top 100.  Check whether the company has offices in your country of residence and are members of your local DSA.  (I'm aligned with a company that's currently ranked 7th in the world).
Experience the benefits of the products and share your own personal product testimonials.
Be coachable. Learn the skills that make you successful as a networker.
Learn how to demonstrate or explain the benefits of the products to your clients.
Learn how to recruit distributors into your team and train them to become successful.
Leverage the power of duplication.
Become a leader of leaders.  Become a coach and mentor to your leaders.
Stay the course.  Don't give up until you've achieved what you set out to achieve in Network Marketing.
How long does it take to start making money in MLM (generally)?
Most people join a Multi-Level Marketing company just to get the products at a discounted price.
For those who decide to treat it as a business, it can take anywhere from 3 months to 5 years to build a successful business in MLM.  It can take years longer if you're not committed or focused.
As mentioned, I'm involved in one of the top 10 Direct Selling Companies in the world. And they have an Affiliate Marketing option. So you get the best of both worlds. Learn more here.
Over to You
So that's my take on MultiLevel Marketing vs Affiliate Marketing. Now, which income strategy do you prefer?
Are you passionately for one and against the other?
We'd love to hear your views. Join the discussion below.
*This post contains affiliate links. This means I may make some commission if you choose to purchase a product or try out a service based on my recommendations.  It's free to join either of the two affiliate programs I've mentioned in this post, however, you may choose to purchase a product or service later.
Please follow and like us: