Please follow and like us:
How to Start Up a Small Business
Do you have an idea of a business,but no solid plan in place yet?  You're highly creative but have no idea how to channel that into a viable business?  Here's some awesome advice for Moms who are teetering on the brink of their first entrepreneurial pursuit. 
How to Start Up Your Start Up
Guest Post – Hayden Myers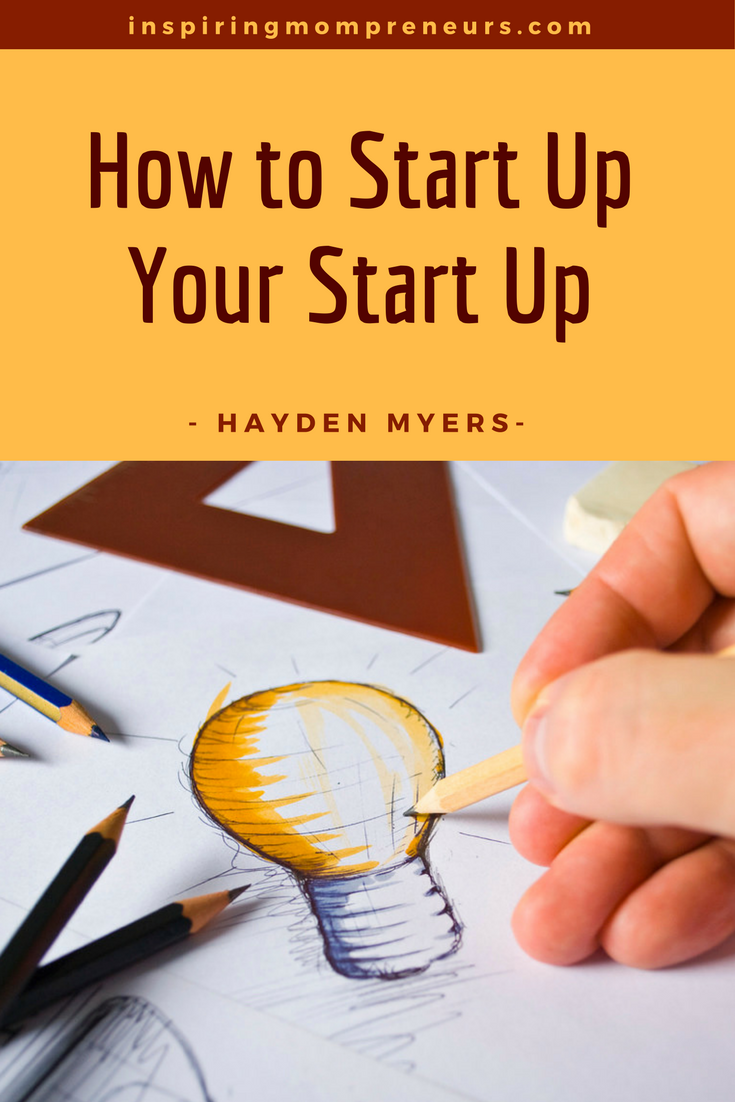 Maybe you've always dreamed of owning your own company, perhaps you have a talent or hobby that your friends have encouraged you to take to the next level, or maybe you're just sick and tired of working for a boss!
Whatever the motivation, many of us find ourselves wondering if our business idea has what it takes to become the next big thing. You might even be brimming over with confidence and enthusiasm, but what's missing? How do you take that first step in turning that dream into a reality? How do you start up your start up? Let's find out!
Start with your goals – and make them realistic
The digital age has opened so many doors for entrepreneurs – anyone can create their own website or have an app designed for them at minimal cost, which is great – but it also means you're facing more competition than ever. While there are certainly rags to riches stories out there, the reality is that there are many, many more failures than successes.
If you expect to make a small fortune overnight, the chances are you're going to be sadly disappointed. The ones who make it are those who are willing to make the necessary sacrifices, start small and stick with it.
The first step is to have a clear and attainable plan of what you want to achieve, how you plan to grow and putting in the time to crunch the numbers.
Ask yourself – what problem is my business solving for people? What am I offering? Once this is clear in your mind,  aim to do it better than anyone else.
Formulate good habits right from the beginning
There are going to be good days and bad days – maybe even bad months. How you weather the tough times is almost always decided by how diligent you are in doing what you need to do every day.
If you have a checklist of things that need to get done every single day and stick to it, you've taken the first step in formulating the habits that can mean the difference between success and failure.
Big goals are all well and good, but you can only strive for them one day at a time! Whether it's sending out 20 emails to prospective customers each morning, investing two hours on developing your website, writing one article for your blog or networking with people who can help you, have a checklist each day and tackle it.
Become an expert in your field and offer free advice
We've talked about online businesses, but remember that real world skills are still in demand too!
Let's say you have a love of carpentry and that you do it as a hobby. Maybe you've done some paid work like putting up shelving for your friends, and you've spotted that holy grail of the aspiring entrepreneur – an unanswered demand, a gap in the market.
How do you claim it? You need to become the very best at what you do. This means constantly being open to new learning or networking opportunities.
If there's a new and more cost effective wood sealant on the market, you need to be the first to know about it – and this is a great way to engage with potential clients too.
Start by offering free advice on your website or social media page to spread the word that you're a reliable and trustworthy source of information. If a potential customer asks for advice about which window film to use for their project, the chances are very good that they'll choose you to come and do the job for them if you responded quickly with solid advice.
Be willing to adapt
Once you've invested time and energy into your idea, it's all too easy to get stuck on a vision that just isn't going to work. You might need to face up to the fact that aspects of your business will need to be rewritten, completely transformed or even scrapped altogether. This is not failure, this is flexibility.
Some of the most successful companies today started off in an entirely different field altogether. Nokia started as a paper mill, then went into manufacture of rubber boots, and started working with electronics in the 60's before they went anywhere near phones!
The global market is changing faster than ever, and you need to become comfortable with not just accepting that change, but using it to your advantage.  Your first idea might not be the one that works, but that's no reason to throw in the towel. Running a successful startup is a journey, not a destination, so keep your eyes peeled for opportunities along the way!
About the Author
My name is Hayden Myers. New mother and aspiring writer. I'm a born South African who's world has been turned upside down by the surprise of my daughter, Cassidy. I have always had a passion for diarising my life and now with more time at home than expected, I've started to write stories/articles about things I have learnt through the years. My aim is to share tips and Ideas that could benefit mothers who want to start new ventures or improve the ones they are on already.
Moms, would love to hear from you.  Which of these ideas really struck home for you?  I particularly loved Hayden's emphasis on being aware of what problems your business solves and the paragraph on flexibility. 
Who knows where your entrepreneurial journey will take you?  
I encourage you to get started. Somewhere. Anywhere. With whatever inspires you right now.  And then find out along the way.
Please follow and like us: