Please follow and like us:
Around the time my son turned one, he was going through his first bout of 'flu.   Nursing had solved every niggle before but this time was different, it hurt me to see him crying so much and battling to breathe.
I managed to get him to take his antibiotic once but after that one time, he point-blank refused. He would cry and perform and spit out any medicine I managed to get past his performance.  To this day, that was the only shot of antibiotics he has taken in his entire life.
It was such a struggle to get him to take medicine as a baby that I simply gave up. My solution was that I switched over to homoeopathic medicine, which he was happy to take (because it's delicious).
But what if you have a baby with a condition that doesn't respond to homoeopathic medication? 
What if you have a baby with a chronic or even life-threatening condition that requires medication on a daily basis?  
And what if you battled as much as I did to get your child to take their medication?
Is this you, Mama? Is this your daily struggle?
Mom Inventor to the Rescue

Fortunately, there's a Mom Inventor who had the same struggle as us.  And she's come up with a brilliant solution.
Dora has designed an adaptor for baby syringes called Medapti to make it easier to give baby medicine.
Dora is a Mum of two boys living in the UK.  Her first son was on reflux medication for months and Dora was concerned about hurting his gums with the hard plastic syringe.
Her second baby refused to take medicine altogether. He would clamp his mouth, pull away, cry uncontrollably and the medicine would go anywhere but in his mouth.   She worried that he didn't swallow enough of the dose for the medicine to take effect. And she had a few really scary moments when the medicine shot straight down his throat making him choke.
Dora would look at her baby's upset face and wonder why she couldn't find an effective product that would come to her aid.  So she decided to be the person to create one.
Dora set out to invent something to make it easier to give babies medicine.  She started drawing some designs, making mock-ups using what she had at hand, Play-Doh, scissors and paper… and her journey began.  

Dora Dyk's MEDAPTI Journey
Dora (Dorota) Dyk is one of our Featured Mom Inventors so you'll find the first part of her story in the post we published in March 2017.  Read our interview with Dora here.
Fast forward to now, MEDAPTI has evolved from inspiration to a patented product, gathering interest from frustrated parents, health professionals and children's hospitals, including Great Ormond Street Hospital.
It has also been featured widely in the UK as well as international media.
Dorota Dyk was chosen as one of 4 finalists in the prestigious BPA Concept & Innovation Awards in 2019 for Medapti.
The journey to get to this point was not along a straight or smooth path, to say the least.
Production has been at a standstill since January this year due to Covid-19 and because Dora decided to make some design changes in order to make the product as safe as possible.
Progress finally started moving along again in August 2020.  The tooling is now finished and the first production run should start in the next few weeks.
Dora has been accepted on the NatWest Back Her Business Programme and is now crowdfunding so she can take Medapti to the next level.

How Medapti Works…
Medapti slips onto an oral baby syringe.
It's softer and more pliable than a syringe making it gentle on baby's gums and therefore more readily accepted by baby.
It's simple yet genius design positions the syringe in place so that instead of directing the medicine into the centre – as in, directly into the baby's throat, it directs medicine to the side, towards baby's cheek.
This reduces baby's urge to spit out the medicine and creates a lot less spillage and mess.
AND a lot less stress for both you and baby.
You only need one hand to administer the medication leaving the other arm free to hold baby securely.
Medapti is safe to use because it's made with medical-grade, non-toxic and BPA-free material.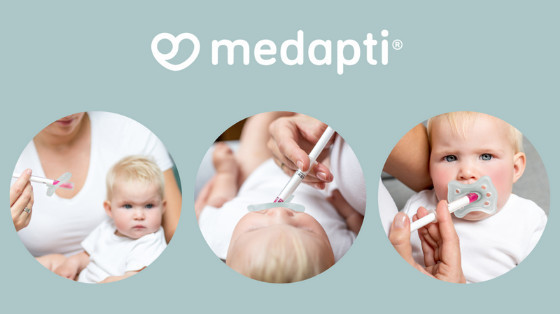 Be One of the First to Get Medapti
When we interviewed Dora nearly 3 years ago there was no way any of us could get our hands on this awesome invention.  So much has happened since then.
Medapti is set to launch in a few months and it's available for pre-order now.
There's no need to get FOMO this time around, but if you want one, please hurry.
There are only 5 days left of Dora's Crowdfunding Campaign.
So far, MEDAPTI has 118 supporters and £2,272 pledged but Dora needs more support.
If Dora is able to achieve 25% of her target (she's on 22% right now), NatWest will give her another £5000 to support her project.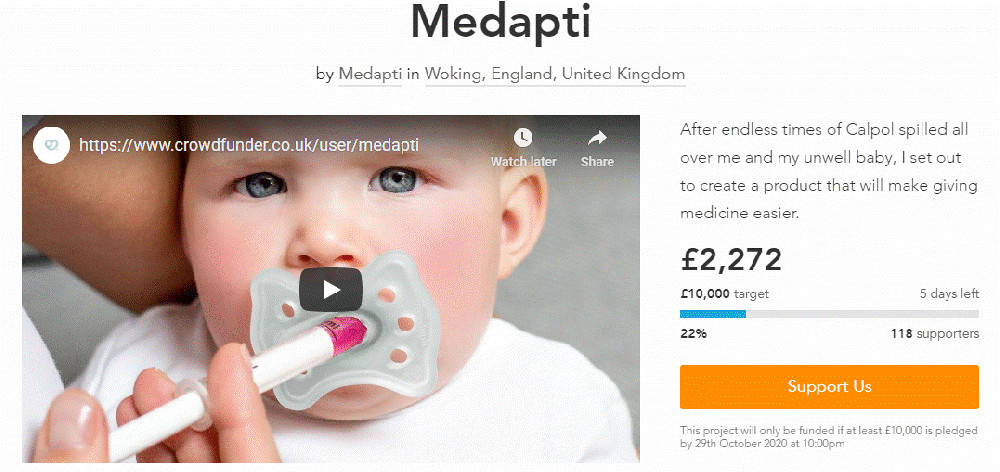 UPDATE 26 OCTOBER 2020:
The very evening after we published this post, Dora received a generous  £163 donation helping her reach her target of £2,500, Natwest instantly came to the party, taking donations up to £7,500. 
Here's where Dora's crowdfunding campaign stands now.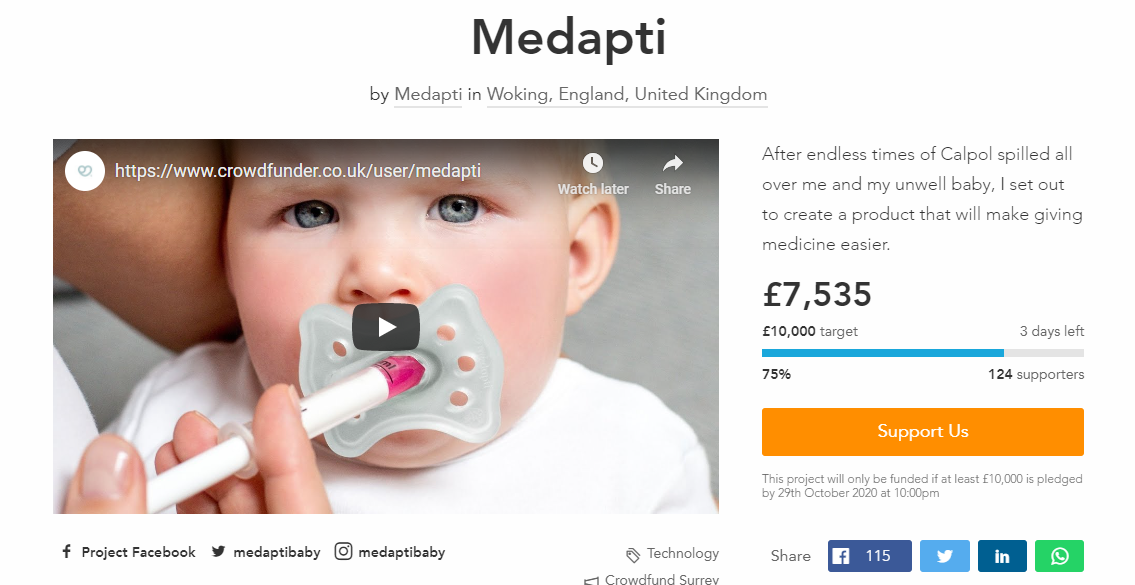 Crowdfunder Campaign
Via this campaign, you can pre-order Medapti or choose other rewards, such as:
a super cosy coatigan designed by Dora's sister (a perfect Christmas gift)
inspirational t-shirts
Mystery Launch Party VIP tickets
Dora needs this campaign to be successful so she can pay for the rest of the production costs, including packaging and shipping, as well as other important costs like insurance and intellectual property.
Since Dora started working on Medapti seven years ago, she has been through many trials and tribulations.
It hasn't been an easy road, especially while still working a day job and caring for two kids.
Yet Dora hasn't given up because she believes her product will help the desperate Moms struggling to give medicine to their babies, just as she once struggled.  Dora is an inspiration!
Fortunately, there have been highlights and signs along the way that have kept her going.   In her words…

It's been an incredible journey. I have met amazing people, learnt an unbelievable amount and showed my kids that it's important to dream big, pick yourself up when you fail and keep working towards your dream.

– Dorota Dyk (Dora) – Inventor and Founder – MEDAPTI
Let's help this tenacious Mom Inventor reach her goal.
Order a Medapti for a Mom you know who is battling right now to get their precious little one to take medicine.
Take this one small action today and you could open up the possibility to help millions of Moms with this same struggle in the future.
Because this crowdfunding campaign is what's finally going to put Medapti on the map.
Support Dora and Pre-Order Your Medapti Now
Please follow and like us: