Please follow and like us:
How to Deal – The Loss of a Loved One
I read CindyLou's beautiful, heartrending book, I Chose This! before I met her in person.  Cindy is a Mother who has endured more sadness than one could ever imagine, having lost three children. 
Reading her book and meeting her in person has been one of the most poignant experiences of my life. 
You would think that Cindy would be utterly broken and depressed but she's not. Far from it. CindyLou is filled with light and love and compassion. She is a Lightworker. Radiant. Cindy beams.
Cindy has been on a personal journey that has given her peace beyond all understanding. In the process, she has awakened to her own gifts and now guides others on their spiritual journey.
In our first meeting, we just talked and I felt the stirrings of my own spiritual awakening.  A few weeks later, we met again at an Xtraordinary Women breakfast and I asked Cindy for this interview.
Interview with CindyLou, Author of I Chose This!
** Quick heads up. This post contains Amazon Affiliate Links. Should you choose to click on a link and purchase a book on Amazon, I will earn an affiliate commission. And you'll support an Indie Author. 
CindyLou pictured here with Sibylle Stehli, Author of The Courage to be Me.
Get their books on Amazon:   I Chose This!   &   The Courage to Be Me
Who Should Read Your Book and Why?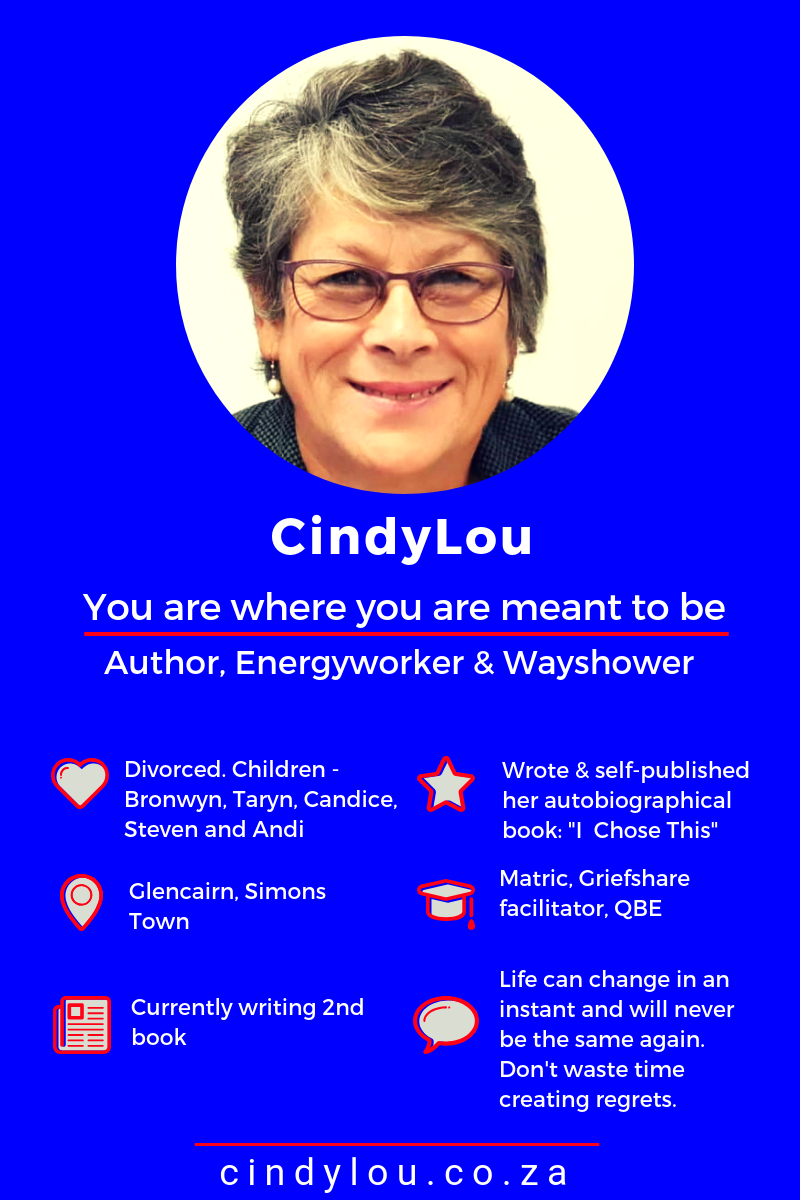 Lauren:    Who did you have in mind when you wrote your book?
Cindy: The initial primary focus in writing the book was to help other bereaved parents but as I got deeper into the book, I realized that the message has a much wider audience.
Lauren:    Is this your first book?
Cindy: Yes it is. I am presently busy with the second book.
Lauren:    What problem does your book solve (if it solves a problem)?
Cindy: I suppose it could be called a problem. Firstly, as part of humanity's conditioning, we are never taught how to work through grief truthfully and yet this is the one experience we will all, no exceptions, have to experience in our lifetime. It is part of life and living.
The present perspective we collectively hold is about losing love and holding onto the pain as a means to honour and remember our loved ones who have passed. The truth is far removed from that view. I want to bring a different truth to the table.
Lauren:    What life questions does your book provoke you to consider?
Cindy:     Oh my word! Where do I start? A ton! Firstly, we choose our lives. Deny all you like…. we all, without exception, have chosen our lives and all the experiences throughout that life – it is called a soul contract. That is hard to reconcile considering the horrific lives of cruelty some individuals go through especially children.
Yet this does not mean we live a predestined existence. We always have a choice! We have the ability to rise above our circumstances and create the life we want all the while evolving through the experiences.
So… when is humanity going to take responsibility for their own lives and their behaviour? Every thought, every emotion you project onto others and every word you speak is creating your life.
Start practising mastery, starting with yourself.
Secondly, all there is Love and within that spectrum lies infinite freedom. Freedom from fear; freedom from karma and freedom to live in universal peace. It starts with You.
I could go on and on, but for now, will leave it at those two.
What Inspired You to Write a Book?

Lauren:    How did you come up with the idea?
Cindy:     About 6 months after my second child passed in 2011, I was working with my good friend, Kim Brooks who is a psychic medium and life coach. It was a way to keep in contact with my children who had passed.
They, through Kim, had said that I would write a book. Kim just never let go of that thought and pushed me to start.
I initially dismissed the idea, but my children and Kim had planted the seed and they just would not let it rest.
Lauren:    When did you take the decision to become an Author?
Cindy: I eventually toyed with the idea but it was only after I had moved to Cape Town in May 2016 that I finally made that decision and started writing.
Lauren:    Why did you take the decision to become an Author?
Cindy:     Initially, I did not think that anyone would want to hear what I had to say or what had happened in my life but when I looked back through my personal journals in 2016, I realized that I could help others who were stuck in grief and pain.
Highs and Lows as an Author?

Lauren:    Would you like to share any highs or lows in your career as an Author?
Cindy:     There were many, of both highs and lows. The first high came when I had finally completed my book.
I asked a friend who is involved with Toastmistress to read the rough manuscript. Her professional opinion was my lowest point.
Even though she had delivered her verdict as sweetly as possible. As a result, I doubted my capabilities as an author and was considering giving up. We worked together to greatly improve my grammar and style.
The second great high was when I presented the manuscript to Russell, the editor. He also made some suggestions but the greatest compliment I received came from him, which put me on an all-time high.
He was taking longer than scheduled to work through the manuscript. The initial timeline was 3 weeks but his work stretched out over 3 months.
After a month we communicated via Skype to discuss the issue and he confessed that it was taking much longer than anticipated because for him the book was so close to home and had raised so many personal issues which he had to address before he could commence.  
Yes, I thought…I had reached my initial objective of impacting just one person. It made everything, even the pain, worthwhile.
Highlights and Challenges as an Author?

Lauren:   What has been the number one highlight of your career as an Author?
Cindy:    After my daughters had read my published book, both of them said, at different times, "Well done Mom, I am so proud of you!"
Lauren:    What has been the greatest challenge for you to overcome in your career?
Cindy:    My lack of self-confidence and my fear of failure. At times I was immobilized by fear.
Highlights and Challenges of Motherhood?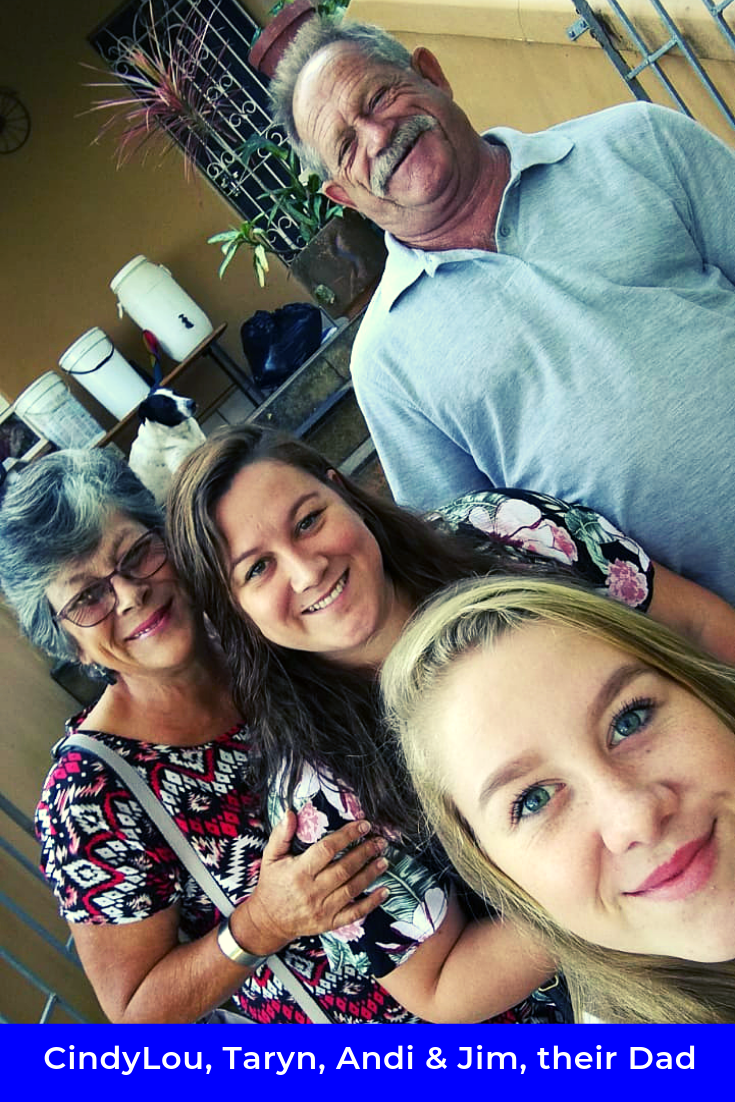 Lauren:    What has been the number one highlight of Motherhood for you?
Cindy:    During a session with Kim, my children thanked me for the platform I had provided as their mother during their last incarnation, which had allowed them to evolve beyond their own soul expectations.
Now, if I had achieved that in my unawakened state, how much more could I help my daughters who were still here?
I was being given a second chance to be an even more awesome mom and I could become the person I had only dreamed about. Definitely a defining moment.
Lauren:    What has been the greatest challenge for you to overcome as a Mother?
Cindy: Outside influence in my relationship with my children.
Do you enjoy being an Author?

Lauren:    What do you love most about being an Author?
Cindy:     The convenience of being portable. I can take my work wherever I go. Plus, with one book I have the potential to impact thousands. That is a privilege and it comes with responsibility.
Lauren:    All things considered, do you feel it was a good decision to become an Author?
Cindy:     Absolutely. Every story must be told.
How do you maintain a work-life balance?

Lauren:   Do you work from home? If so, what does your room or desk look like?
Cindy:    I do not have my own home anymore. It is part of my journey. I am staying with a good friend who has opened her home to me.
So yes, I do work from home, her home and I only have a little round table that stands in front of my bedroom window. It is a collapsible affair, so I set up every day and then pack away every evening.
Once my laptop is opened the only thing that fits on the table is my stationary bag and my cellphone. Very minimalist.
Lauren:    Has it been tricky balancing work and home life?
Cindy:     It was very tricky while I was still writing the book. I eventually had to take 2 months off work to complete the final chapters and to revise the manuscript from beginning to end.
Lauren:    Do you think it's harder to balance work and home life working from home?
Cindy: It is to some degree but the pros far outweigh the cons. Working from home affords you more freedom as long as you remain disciplined.
Lauren:    Do you have any daily rituals to maintain a work-life balance?
Cindy:     I do not. I am not tied to a specific schedule. My children are now grown up so my time is my own. I do still need to be disciplined in setting time aside to work and write, but each day does differ.
Are You Living Your Passion?

Lauren:    Do you feel you are living your passion?
Cindy:    Yes. I am in alignment with my soul purpose and it is deeply liberating.
Lauren:    Do you feel you have already created your best work?
Cindy:    Yes and no. The first book, "I Chose This!" was my best work up to that point. I have evolved since then, so I am expecting the second book to be my best work…up to that future point of completion.
Lauren:    If you were to die tomorrow, would you be at peace knowing you had lived a full, happy and meaningful life? Or would you feel you were dying with your song unsung?
Cindy:     Once again, yes and no. I am immensely grateful that I have had the opportunity to get this out there, but my work is not done… yet.
What's Your Message to the World?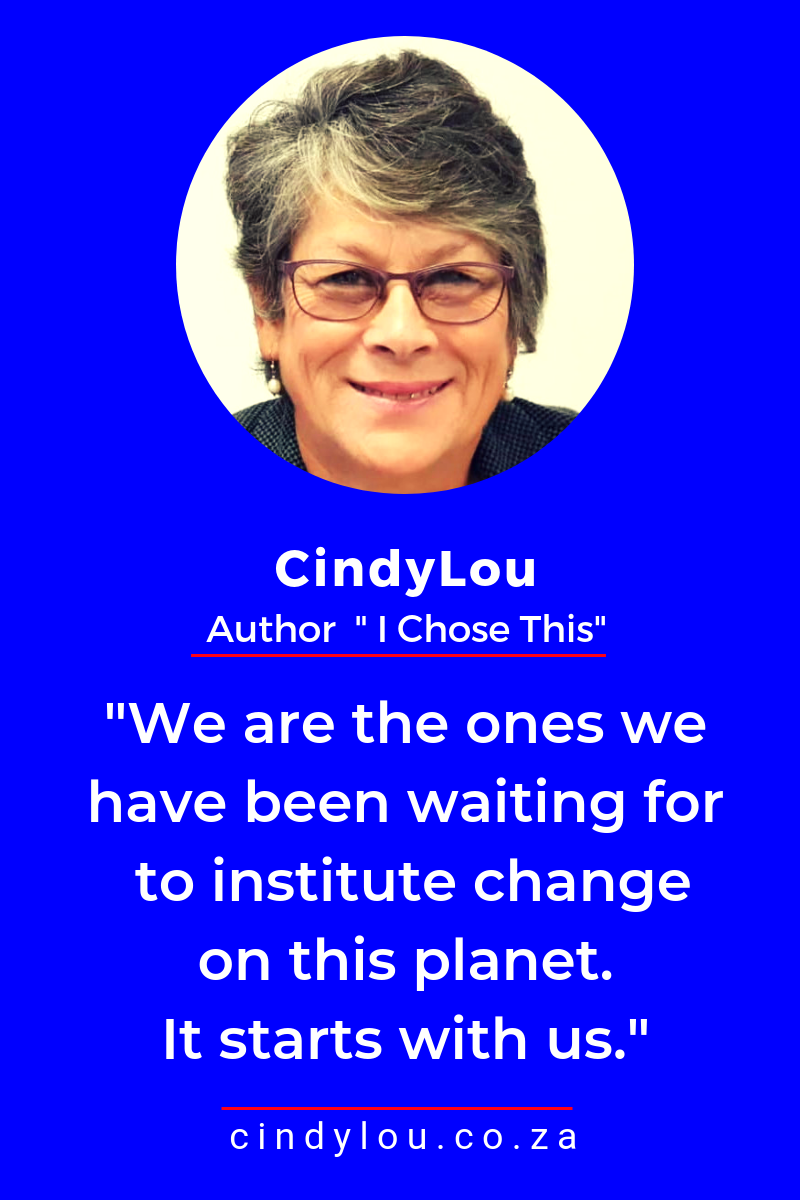 Lauren:    Do you have a message you would like the world to hear?
Cindy:     Yes, actually many. Lol. We are the ones we have been waiting for to institute change on this planet. It starts with us.
Who Inspires You?

Lauren:    Is there a book or a song or a movie that has had huge significance or meaning in your life?
Cindy:    Once again, many, too numerous to list. I am an avid reader and have taken something from every book I have read.
At the moment, I am reading "The Field" by Lynne McTaggart. I have mentioned a few books in I Chose This!
Music is the timeline of my life. I constantly have a song running in my head but very seldom the same one.
More movies than I can list, but the one whose message I am so taken with is Monsters Inc. The message to the world is quite subtle but it is very powerful.
Lauren:    Which tools of the trade have been enormously helpful for you?
Cindy:     The numerous authors who have published e-books. They are chockful of really helpful hints.
Google whatever you need, the world is full of authors who have done this before and are more than willing to advise. Bless you, for paying it forward.
Lauren:    Are there any people who have been enormously helpful to you?
Cindy:     Numerous people have helped me more than they realised, but with reference to refining my book, I would say without doubt Carol-Ann Savosnick and Russell de la Porte.
Lauren:    Are there any courses or studies you feel have been essential to your success?
Cindy:     Not any specific one. I have done a few online courses and studied a few e-books by various authors and in the process, I took only what resonated with me and my circumstances.

Advice for Aspiring Authors?

Lauren:    What advice would you give someone just starting out as an Author?
Cindy:     Get it down on paper or the hard drive. It matters not what it looks like or if the grammar is correct or not. That is the beauty of working on a computer. Changes can be made at any point. Just get the words down.
Lauren:   Is there anything you know now, that you wish you knew when you started out as an Author?
Cindy:     Yes. It is easier in this modern day to self-publish than you think. If I had known how simple the process was, I would have not dragged my feet in fear.
Lauren:    Is there anything you feel you missed out on by becoming an Author?
Cindy:    No. On the contrary, it has opened the potential for my life to greater things.
Lauren:    Is there anything you feel you gained by becoming an Author?
Cindy:     My purpose.
Lauren:    Do you feel you chose an easy path or a difficult one?
Cindy:     My path was made easy by the people who were brought into my life at the appropriate time.

Advice for Moms?

Lauren:    Is there anything you know now, that you wish you knew when you first became a Mom?
Cindy:     Don't sweat the small stuff. Clean clothes and 3 healthy meals are not character-building criteria. It's okay to let the kids have cake for breakfast occasionally. Your mother is not always right.

Advice for those Dealing with Loss?
Lauren:   What advice do you have for those dealing with the loss of their loved ones?
Cindy:   If your loved one has passed – I am so sorry. 
In each of the steps listed below, there is no order or urgency. Take your time – this is your journey.
I would encourage you to remember by holding on to sentimental or personal objects that belonged to your loved one.
Perform the daily rituals that remind you of them.
Celebrate the significant days and include them. Talk to them.
Talk, talk and talk some more. At every opportunity, about your feelings, about what you are going through, about your loved one, about those left behind and about the circumstances surrounding your loved ones passing and their life.
If you want to scream at the moon/stars/mountains or just into your pillow – do so.
If you do not have sympathetic listeners, try to journal. It matters not how it comes out on the page. You are getting the emotions down in writing and in no specific order. Let the anger, fear, hopelessness, helplessness, disappointment, rage, love and any other emotion flow onto the page. I took to using different colour pens for different emotions, but that was for me. I would sign off each entry with the phrase… "with unconditional love".
Hopes and Fears?
Lauren:    What are your hopes for 2019?
Cindy:     I hope to market my first book fully, complete my second book and publish that by the end of 2019.
Lauren:    What are your fears?
Cindy:     After the candidness of my first book, what is there left to fear? I have been through the worst that a parent can endure and lived, what is left to fear?
How Can I Help You?
Lauren:    If there was anything I could help you with, what it would it be?
Cindy:     You are already. Just the fact that you are interviewing me is hugely helpful. I am grateful.
Lauren:    Is your market local or international?
Cindy:     Both.
Lauren:    Who is your target market? If I were to give you a referral, who would I be looking for?
Cindy:     My initial target market was bereaved parents, but I have come to believe that the greater message that my book delivers is for everyone.
It is just unfortunate that my message grew out of immense pain of grief as a mother, which does not mean it is confined to that target market.
I was approached 3 weeks ago by a 22-year old who had read my book. She had experienced a school friend who had passed from an overdose. My book had been of great help to her and in conversing with her I had been able to bring closure for her on a number of issues.
Are you battling to deal with the loss of a loved one?   
CindyLou can personally guide you through your grieving process with deep empathy and understanding.  

You can find CindyLou's details on her website:  CindyLou.co.za
Or buy her inspirational book, I Chose This! on Amazon Kindle.
#HowtoDealtheLossofaLovedOne
Connect with CindyLou on
Please follow and like us: