Please follow and like us:
How to Choose a Business Location
I'm still enjoying working from home and working remotely, but I suspect in the next year or two I'll be needing the advice in the contributed post below.  
Luckily I also have a friend who has already blazed the way. She is a couple of years ahead of me on her online journey and has a number of staff members already.  Dylan Kohlstadt has set up a Digital Marketing Agency called Shift One and has stunning premises at Eden on the Bay.
Key Considerations When Choosing Your Startup's First Workplace
Starting a business is an immensely exciting time in your life, but it's also a time where you'll need to make a number of key decisions. Picking a workplace is undoubtedly one of the most important.
No two ventures are identical, which is why you must cover all the bases to ensure that you've made the right decision. Here are some of the most pivotal elements to consider.
Feature Image Credit  Your workplace forms the backbone of the whole venture.
Home Or Away?
The thought of working from the comfort of home is one that appeals to millions. Moreover, the growth of online business enables an increasing number of entrepreneurs to take this route each year.
Having said that, this decision should not come to the detriment of the venture.
Sometimes, having a commercial premises is needed for production while some businesses need it for selling.
Alternatively, a mobile workplace opens the door to reaching several localized demographics.
Weigh up the costs of operation against the revenue forecasts, and you won't go far wrong.
Is It Big Enough?
When selecting a potential work venue, it's not only your personal comfort that needs to be considered. Size matters and the building needs to be big enough to satisfy the demands of your business.
Even if your venture is focused on serving an online audience, there's a strong chance that you'll need the help of employees. Remote freelancers can take care of many tasks, but they aren't always the best solution. Therefore, knowing that your premises can accommodate the staff as well as the machinery is vital.
Without this factor, you'll be limiting your success before the journey has even started.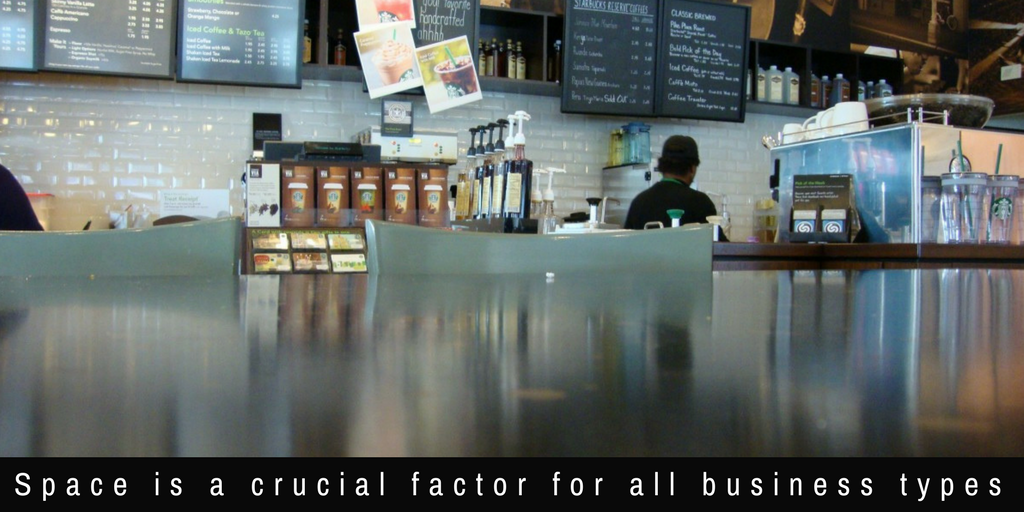 Image Credit  Space is a crucial factor for all business types
What Are The Geographical Impacts?
A large number of factors can influence your business and its performance, and the location is one of the most crucial.
For starters, different cultures and demographics respond to varying products and ideas.
However, you also need to think about the health of the company buildings. When situated in vulnerable locations, the use of oil-water separators can prevent damage from floods and disasters.
Aside from stopping those problems, you must consider how this might impact foot traffic as well as the employee situations.
Nobody can afford to take needless risks with their ventures. Looking for a different town or venue could be useful.
Can It Serve Long-Term Ambitions?
This might not be a major issue when working from home, as transitions into commercial premises can be fairly smooth.
When starting off in a commercial location, however, you must look beyond the immediate needs. If the company is expected to outgrow the venue quickly, being tied to a long-term contract could cause major restrictions. Besides, you don't want to be left with a situation where relocations result in needing to find new audiences.
While you cannot ignore the immediate requirements, keeping one eye on the future is key. Sustainability is essential
Choosing your first working environment is a daunting challenge. Still, getting it right instantly gives the venture a better shot at success. If that doesn't inspire you to go the extra mile, nothing will.
Where are you on your entrepreneurial journey?  Are you still working on from home or have you set up shop?
Please follow and like us: