Please follow and like us:
How to Boost Sales Online
Have you sourced, imported, created or invented a brilliant product?  
Have you written a book or created a course that you know could help, teach, inspire or entertain millions? 
Or do you have a service that you are sure fulfils a gap in the marketplace, that solves a problem no-one else is solving quite like you can?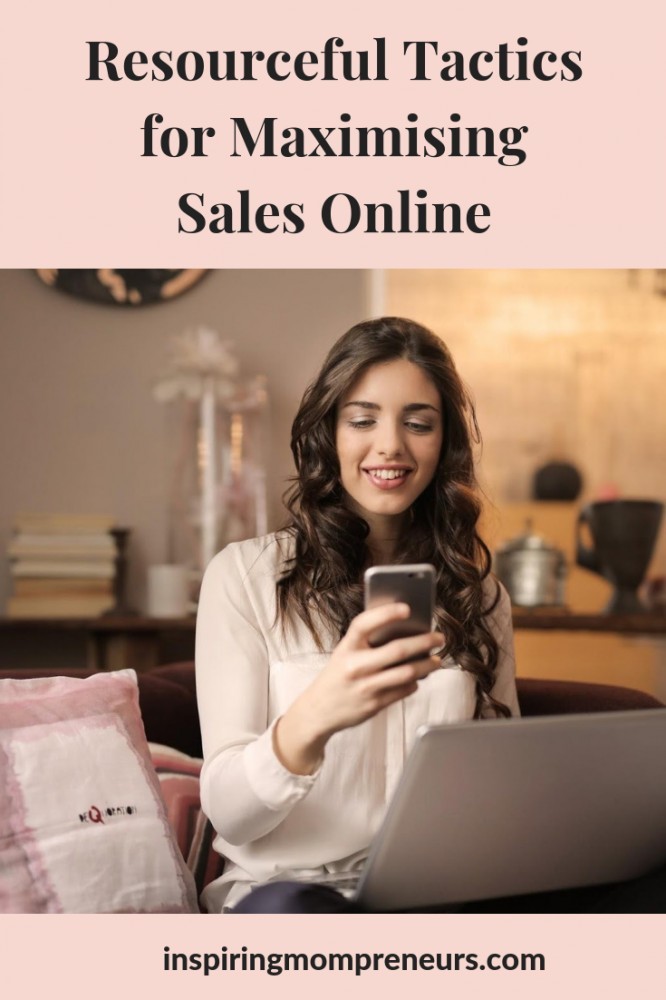 You know you have the perfect product or service and you know the time is right BUT… and it's a big but…you're just not getting sales. 
Then you'll luuuurve the brilliant advice in the contributed post below on how to boost sales online.  It really got me thinking.
Resourceful Tactics For Maximising Sales Online
Your life as a Mompreneur is not always an easy one. After all, you have not only the kids to attend to but are also looking after the wellbeing and success of your business too. A business that you have probably nurtured from the ground up and want to see thrive. Of course, for your business to be a success, you will need to maximize your online sales.
Happily, my post below details how to generate more of them for your business online. Something that may just make being a Mompreneur a little easier. Keep reading to find out how.
Website design
Firstly, if you are going to sell successfully online, it's absolutely vital that you have your website sorted. What this means is that your site isn't just a static catalogue of images and information, but is fully interactive and optimized to achieve the best user experience possible.
Luckily, it's not too difficult to do this, as long as you pay attention to your site's infrastructure. One aspect of this is to ensure that your user interface design (UI) includes things like the graphics, images, colour and layouts that are clear and engaging. Then, there is the user experience (UX) design which is more to do with the wireframes and information architecture that leads customers to engage with content or buy, and products.
Also, its vital that you not only get the entirety of your site right but the actual parts customers use to choose and purchase their product as well. Something you can do by reviewing information such as this e-commerce platform comparison to make sure you are using the right one for your needs.
After all, losing sales conversions because your customers cannot find, or purchase what they want is a terrible way to run a business and is the exact opposite of maximizing your sales.
Trust and money back
Customer trust is an essential aspect of increasing sales.
You can also help to maximize your online sales by ensuring that you encourage your customers to trust your brand as much as possible. One way of doing this is to offer a no question asked money back guarantee. Something that can successfully convince customers to go ahead with their purchase if they are currently on the fence.
Secondly, it can be helpful to embed positive reviews or use testimonials in writing or on video on your site. The reason being that this demonstrates that other customers have been pleased with the product and service they have received.
Lastly, when it comes to trust, humans are much more likely to put their trust in people rather than automated systems, and mascots. Therefore, it is worth bearing this in mind when you are creating your customer service strategy and marketing campaign.
It can even be beneficial to use real people in your advertising as this is an excellent way of reinforcing that your business is not just a faceless corporation. A move that can, in turn, make potential customers much more likely to buy from you and so help to maximize your sales.
Descriptions matter
Lastly, another way of increasing your website sales is to ensure that you are as honest as possible when it comes to displaying your product online. What this means is that your product descriptions need to be engaging and fun, but most of all they need to be an accurate representation of what you're selling and the item you customer can expect.
Also, the product copy can be a fantastic place to preempt any FAQs that a potential customer may have about the item, and ask and answer them as well. Although it's always wise to display additional methods by which they can make content such a phone number, email address, or live chat link. After all, you don't want to lose a sale just because they have a question that goes unanswered.
Last, of all, a significant part of maximizing your sales online is the product image that you provide. In fact, as many customers will have never seen the product they are paying for in real life, it is essential that the images you display are top quality. This means anything photos that aren't well lit or grainy are out, along with any pictures that make your product seem like something that it's not.
Remember, your product description provides you with the opportunity, to be honest, and create a positive and trusting relationship with potential customers that could buy from you again. Therefore, it's vital that if you want to maximize sales in the long term, you treat them in the manner described above.
#HowtoBoostSalesOnline
Please follow and like us: