Please follow and like us:
Get Keywords (SEO)
So… you've just started blogging and you're ready to learn how to get the best Keywords for SEO?
In this post, I'm going to teach you exactly how I choose Keywords for each of the posts I publish. But first, let's start with the basics.
Beginners Guide to SEO
For those of you who have just started blogging and are new to the term SEO, it stands for Search Engine Optimization. Let's unbundle this term for you.
A Search Engine is simply a place where you go to find what you're looking for on the internet. Kind of like the internet's library.  The biggest and most popular search engine these days is Google followed by Bing and Yahoo.
So you'd go to maybe Google Search and type in whatever you're looking for.
You're ready to start learning about Keywords and SEO  so you might type in something like this:
Website SEO 
Search Engine Optimization SEO
Basics of SEO
How to find Keywords for a Website
Beginners Guide SEO
Website Search Optimization .. or you might even type in the keyword I chose for this post… Get Keywords SEO
What Google, Bing or Yahoo will do is provide you with a very long list of all the posts they have indexed on the internet using the keyword you typed in. This list can run into the thousands and span over many pages.
You'll then click on the first posts you see that seem most interesting to you.  Unless you are doing an in-depth study, you are unlikely to go beyond the first page of posts.
The posts that are on the first page are the most popular posts (and often the most helpful posts) ranking for this keyword.
What is Organic Traffic?
Generally, the higher on this list that a post appears, the more likely it is to get read, which means:
The higher on this list that a post appears, the more visitors the post will attract, which means:
The higher on this list that a post appears, the more traffic the website will receive.
This is called Organic Traffic. The more organic traffic the website receives, the more trust and authority the website builds.
Why is Website Traffic so Important?
Website traffic works in the same way for your online business as foot traffic into a physical store. The more people you can entice in your store, the more people you will have buying your goods.
In the same way, more traffic to your site equals more potential customers and email subscribers and ultimately more sales or more revenue generated by the site.
Basics of SEO
So… for a blogger or webmaster,  Search Engine Optimization is knowing how to find the keywords that will drive traffic to your site.
Great SEO = Great Traffic Flow = Great Income (down the line)
So let's start looking at this from the viewpoint of a blogger, offering the information that people are looking for on the net.
If you're writing a really helpful post, you'd like it to be found by those who are looking for the help you're offering, right?
An Optimized Keyword would be one that will take people to YOUR post on the internet. 
This usually means your post has to show up on page 1 of Google, Bing or Yahoo.
Now, how do you find these keywords?
And why did I choose the Keyword:  Get Keywords SEO?
How to find Keywords for a Website
Here are 3 simple ways to find Keywords:
The simplest way to come up with Keywords for your post is to think of what you'd be asking if you were searching for this information in Google Search.
If you're struggling to come up with ideas you can try the "Alphabet Soup Technique".
Alphabet Soup Technique
You pop over to Google and type in the "keyword" and the letter "a" and Google will give you a few popular options, e.g. keyword analysis, keyword analysis tool.
Then you type in the same keyword and the letter "b" and again google will come up with some options for you: keyword builder, keyword bidding.  You can continue down the alphabet until you find a keyword that interests you.
Testing Your Keyword using a Keyword Tool
Now you need to start testing the Keyword you've chosen to see if it's going to drive traffic to your website.
Ideally, you need to find and make use of a  Keyword Research Tool for this.
What the Tool needs to do is this:
Track certain stats of the particular keyword you have chosen
Offer up ideas for other similar keywords you might want to use
These are the Certain Stats a Keyword Research Tool must track for each Keyword:
Number of Monthly Searches (how many people are searching for this exact keyword monthly)
Potential Traffic  (potential number of visitors you will get to your site when you use this keyword)
Competition (number of website posts using this exact keyword)
How to Find Keywords for a Post
This is my exact process for choosing the Keyword for my post.
I usually choose only ONE Keyword per post (the search engines will naturally rank you for other keywords you've used in your article, don't worry).
I use this Keyword in my SEO Title, in my URL for the post, as a Headline (H1, H2 or H3 Tag) within the post and as the title of my first image in the post.
I use Jaaxy, my Keyword Search tool to find a number of great Keywords.
I save all my keywords into an Excel Spreadsheet
I sort my data in order of LOWEST to HIGHEST QSR (Competitors for that exact keyword phrase)
I choose a keyword that has a minimum of 50+ Monthly Searches
I choose a keyword that has a maximum of 50 Competitors (the closer to zero the better)
I look at both of these factors, with LOW Competition being the most important criteria for choosing a Keyword
I choose a keyword that has the highest monthly searches with the least competition
WARNING:
Be careful not to get so excited by high monthly searches that you lose the plot.
Low Competition is imperative.
Unless of course, you are one of the TOP AUTHORITY SITES on the Internet. 

For most of us, if we choose a Keyword simply because it's getting loads of traffic, our blog post will never be

 found because it will be on page 20+ on Google!
So… let's go back and look at the Keyword examples I gave you earlier so you can see why I chose the Keyword Get Keywords SEO.  These are the results I found when I did my keyword research.
Website SEO  – has the highest number of searches – 7375 monthly searches BUT competition is also high at 500 QSR.
Search Engine Optimization SEO – 3,074 Monthly Searches, nice!  But 392 Competitors, aargh!
Basics of SEO – Only 82 Searches with a whopping 420 Competitors
How to find Keywords for a Website – 481 Searches with only 53 Competitors! NICE!! Almost hit the sweet spot! If my site was not so new and had more authority this would be a great option.
Beginners Guide SEO – 466 Searches with 96 Competitors, this could be a great name for a free e-book.
Website Search Optimization – 958 Searches with 166 Competitors.
Can you see why none of these is the ideal Keyword for a new website?
In comparison look at the Stats on the Keyword I chose:
Get Keywords SEO – A healthy number of  Monthly Searches: 262. This fits my criteria of more than 50.
And look at the Competition!!  Only 4 Sites are targeting this Exact Keyword.
Here are the Top 10 Keywords I found based on LOW Competition. Competition is listed under the Column QSR (Quoted Search Results). I got this information from Jaaxy. You can sign up for 30 Free Searches on Jaaxy here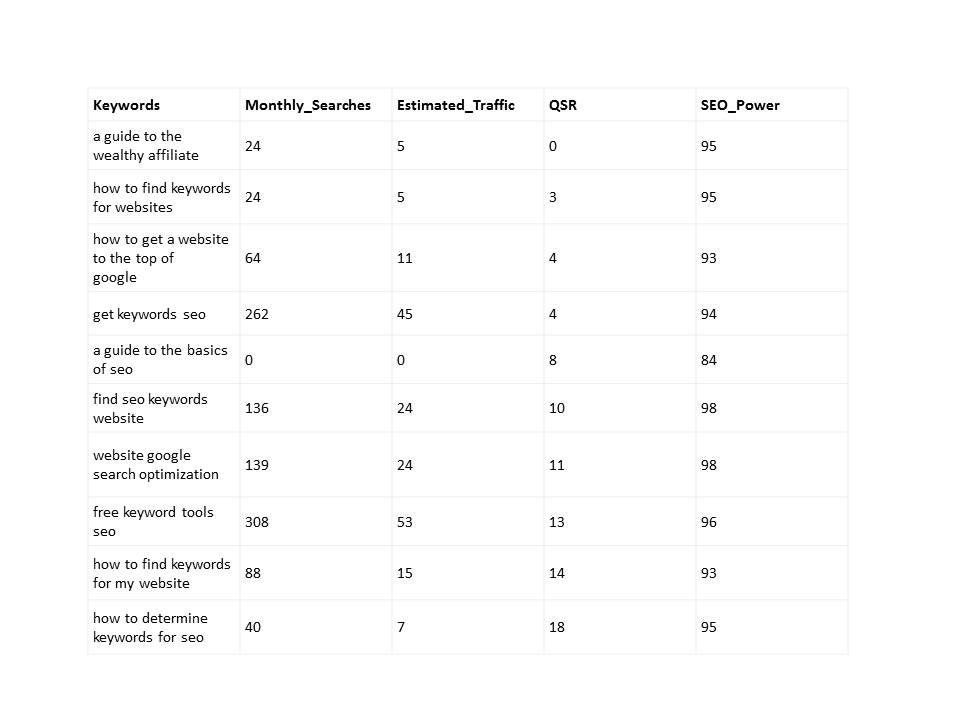 Jaaxy is the Keyword Tool I Use
If you only need a Keyword Tool, you can sign up directly for Jaaxy.   This is what I use for all my Keyword Research.
And it's not only a Keyword Research Tool.
Jaaxy is also a Site Ranking Tool
Jaaxy includes a Site Ranking Tool which helps you see where your Site is the Ranking for the keywords you've chosen in Google, Bing and Yahoo.
I've tried a few free site ranking tools and they are covered in adverts and their stats are not nearly as accurate as Jaaxy stats.
Jaaxy Membership Options and Pricing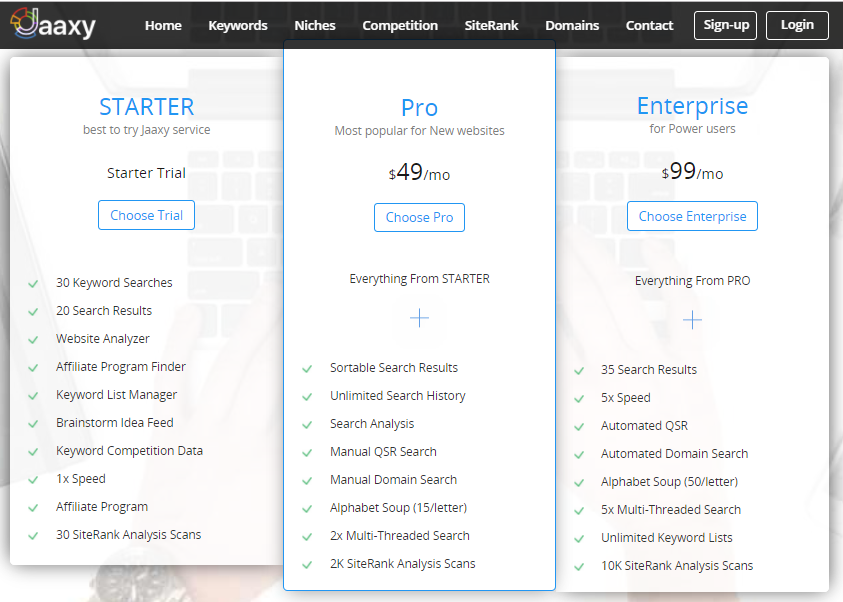 Jaaxy offers 30 Free Searches and 30 Free Site Rank Checks so you can try before you buy.   
Jaaxy Pro is $49 a month or $499 a year.
Jaaxy Enterprise is $99 a month or $999 a year (for those with a really big site or a number of sites).
One thing I know for sure, as a new Blogger, my posts would have no chance of ranking on Google without a good Keyword Research Tool like Jaaxy.
Want to learn how to get Jaaxy for HALF the PRICE?
Jaaxy is Now the Official Keyword Tool of Wealthy Affiliate!
This means that if you join Wealthy Affiliate, even as a FREE Starter Member, you have access to Jaaxy.
You can sign up FREE for WA and get some wonderful training on keywords and everything else you need when you start out blogging.
Because Premium Members of Wealthy Affiliate get Jaaxy FREE or HALF-price.
Read my Wealthy Affiliate Review here.  
See Discounted Jaaxy Pricing for WA Members Below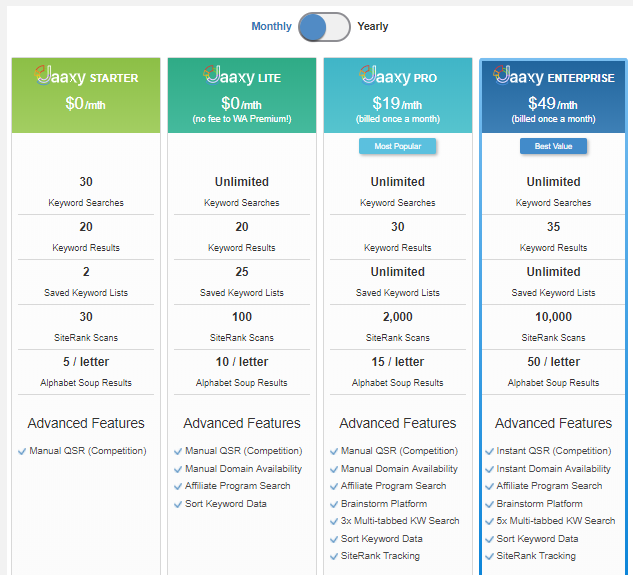 Jaaxy Starter is FREE to WA Starter Members
Jaaxy Lite is FREE to WA Premium Members
Jaaxy Pro is HUGELY Discounted for WA Premium Members: Only $19 a month or $199 a year
Jaaxy Enterprise is HUGELY Discounted for Premium Members: $49 a month or $499 a year
Jaaxy Enterprise is FREE to Wealthy Affiliate Premium PLUS Members
Ready to start choosing the best keywords for your posts? 
Join Jaaxy or Wealthy Affiliate FREE today.   Read more in my Wealthy Affiliate Review.  
Hope you found this post useful.  Would love to hear how your SEO is going.  What Keyword Research Tools you've used so far?  Have you found any free tools that match up to Jaaxy?  
*This post contains affiliate links.  This means, that I would earn some commission (at no extra cost to you) should you choose to take up the Premium option of Wealthy Affiliate or Jaaxy after your free trial. 
Please follow and like us: