Please follow and like us:
Have you ever tried your hand at any free online games for the brain?
I often play free online games on my phone to stimulate and challenge my brain. They are great for those 5 or 10 minutes when I have a few minutes to spare, like when I'm waiting for my son to come out of school, or standing in a queue.
Why I Love to Play Free Online Games for the Brain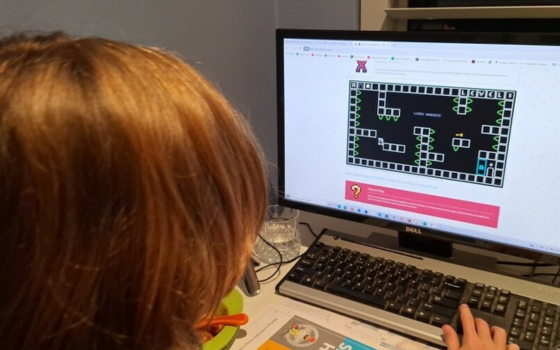 When my Dad was first diagnosed with dementia I bought a book explaining how he could slow down the progression of his dementia by exercising his body and his brain.
To improve brain health, the book recommended things like doing crossword puzzles or playing Sudoku or Scrabble.
My parent enjoyed many evenings playing games like Rummikub and Scrabble, sometimes inviting friends to join in the fun.
A few years ago, my Mom and I started playing Words with Friends together, which is an online version of Scrabble.
What I loved about it was that it was a fun way to interact with my Mom (especially during the pandemic when we couldn't see each other).
Our word skills are pretty evenly matched, creating healthy competition which boosts the mental stimulation and, of course, the kick we get out of working towards the win.
My Best Time to Play Free Online Games for the Brain
My best time to play a brain game is when I have a sticky problem to solve in my business and I find myself in resistance and procrastinating. Like when there's a technical problem on my website, for example.
I'll play a difficult word puzzle game so I can experience that high of solving a tricky problem, which gets me in the mood to solve real-life problems.
How Most Free Online Games Work
I've also played Word Chums and Scrabble Go which are very similar to Words with Friends.
How these games work is you download an app on your phone and can connect with family and friends to play against them or play against other members or the computer.
When there's no one online to play with, and I have some free time, I like playing similar wordy puzzle games like Wordscapes or Word Search.
The Downfall of Free Online Games
The only downfall is these daily dopamine hits can get quite addictive and playing these games can suck up hours of your time.
The thing that frustrates me about playing these games on my phone is the ads. I'll be just about to play a word, and an Ad will pop up. Sometimes I close the game and forget to come back to it. And it makes me wonder how much time I waste in watching ads, rather than training my brain.
The thing is because most online games are "free" – meaning you don't have to put any money down to play, the "cost is your time".
Let me explain. So, advertising is what pays for app development. This means that a lot of the time you spend playing is actually wasted time watching all those pesky ads between rounds.
Now, for my Mom, who's nearly 80, and kind of retired (she has her own blog and sewing business), or for a child, with plenty of time on their hands, this isn't a problem, but, for me, as a Mom entrepreneur, there's plenty else I "should" be doing with my time, right?
So I really don't like things that waste my time. I want to get in, play my words, and get out.
The Solution – Free Online Games with NO Ads
And then I found a website called Plays.org which, amazingly, has NO Ads! Zero. Zip. Nada!
It's a website that has loads of free games, where you don't have to download an app or software, and you don't have to watch any adverts. Yay!
Of course, the first thing I went looking for was their version of Scrabble (my fave), which is called Wordmeister.
It's not one of their games you can play against a friend, but I did get a great confidence boost winning a couple of games against the "computer".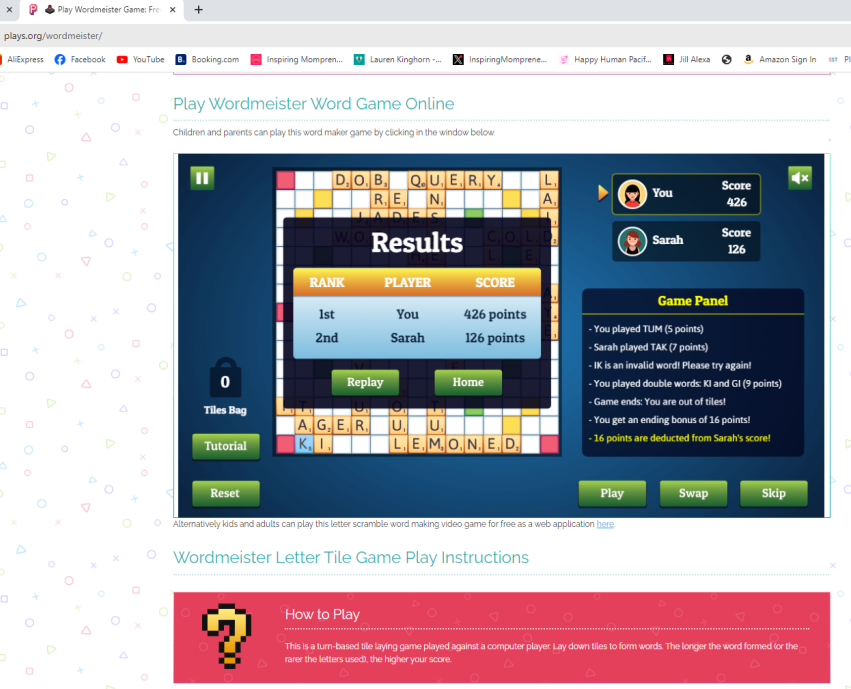 It was almost too easy, so I went on to look for a few more Word Games on the site with good rankings.
I found Letter Scramble. And this has become my latest addiction because I started out with a nice high score that got me on the leaderboard, and my competitive streak kicked in.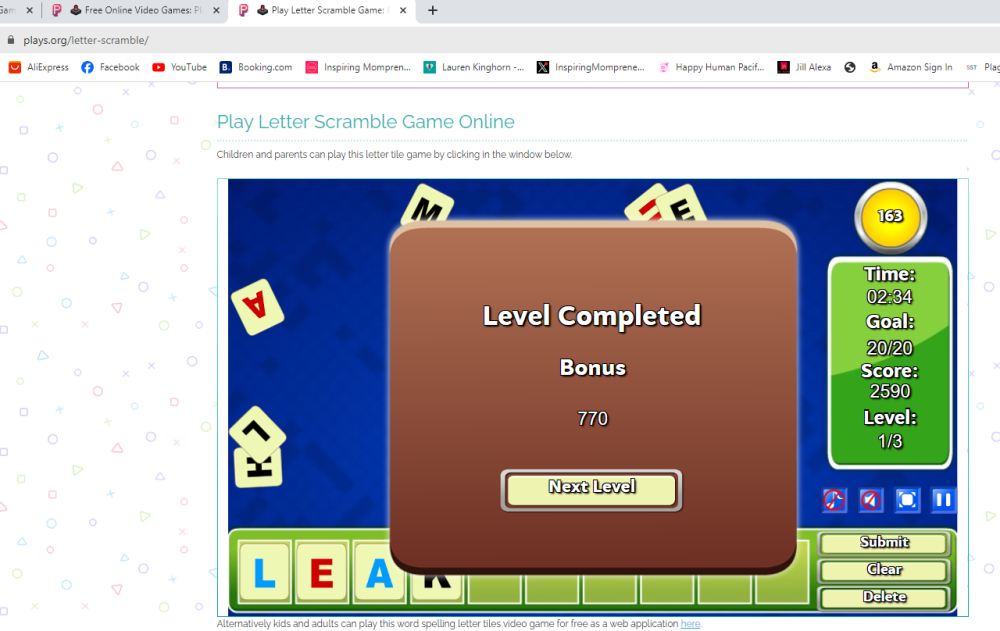 I've played Letter Scramble on my laptop, phone and my son's tablet to see which device is fastest (I think it's my phone). I'm now ranked 8 and 9 on the leaderboard with a top score of 11,685. The number one record holder has a top score of 12,560 so I still have a way to go to beat them.
Playing Free Online Games as a Family
I introduced my 10-year-old son to Plays.org yesterday and he's also found a number of games he enjoys playing.
He tried out their newest game, Merge Fruit, which he says he saw a gamer playing on YouTube.
He and I ended up playing online Chess last night until 10 pm – I didn't even know he knew how to play Chess as we don't have a Chess set at home. It was great bonding time for us.
If you missed it, be sure to read Elize's post on 5 Benefits of Free Online Games For Kids to Play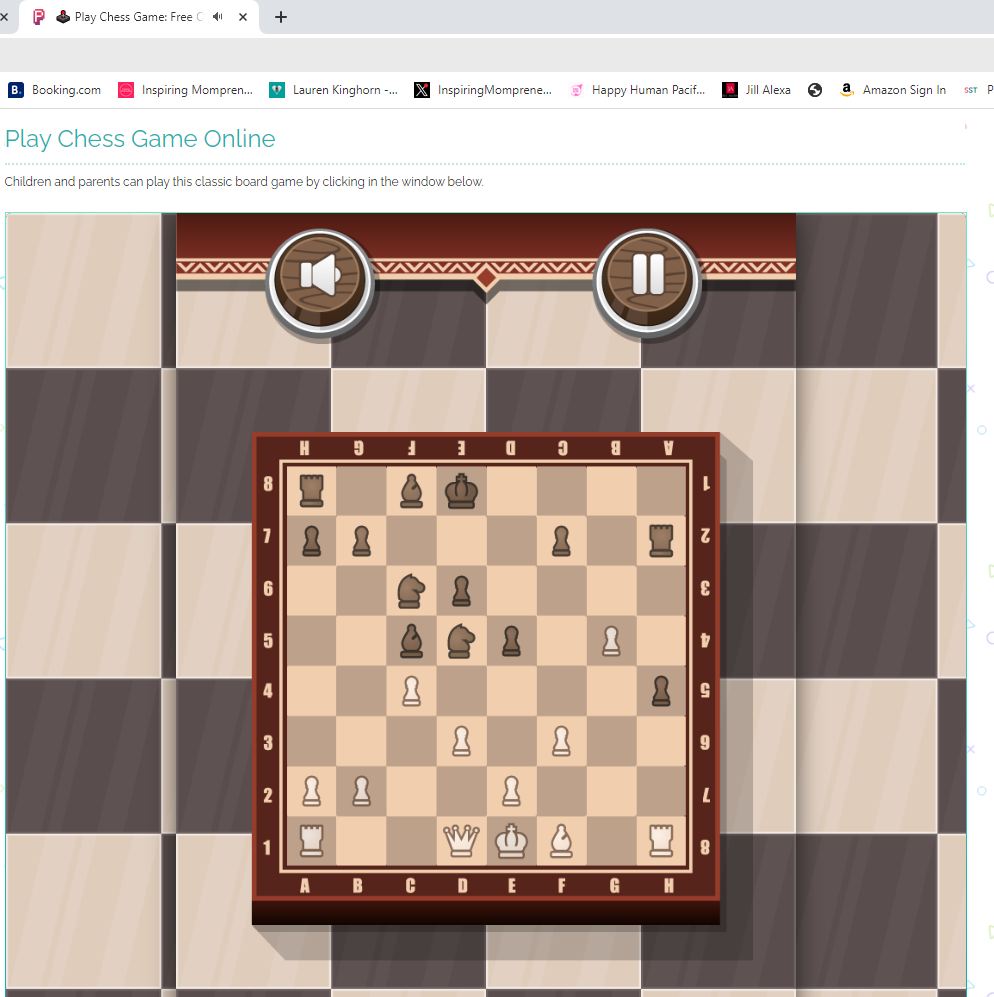 My 5 Top Reasons to Play Free Online Games for the Brain
So, here are my 5 top reasons to play free online games.
To stimulate and challenge my brain (and hopefully prevent dementia)
To get me into problem-solving mode (and hopefully help me solve real-life problems)
For the thrill of winning (dopamine hits and confidence boosts)
To interact and bond with family and friends
For the fun of it (to relax and unwind)
Can't wait to introduce this website to my Mom when she comes over for Sunday lunch tomorrow. I think she's going to love it!
Always something new and exciting online to do.
Over to You
So, have you ever played any free online games for the brain? Which games are your favourite?
Please follow and like us: