Please follow and like us: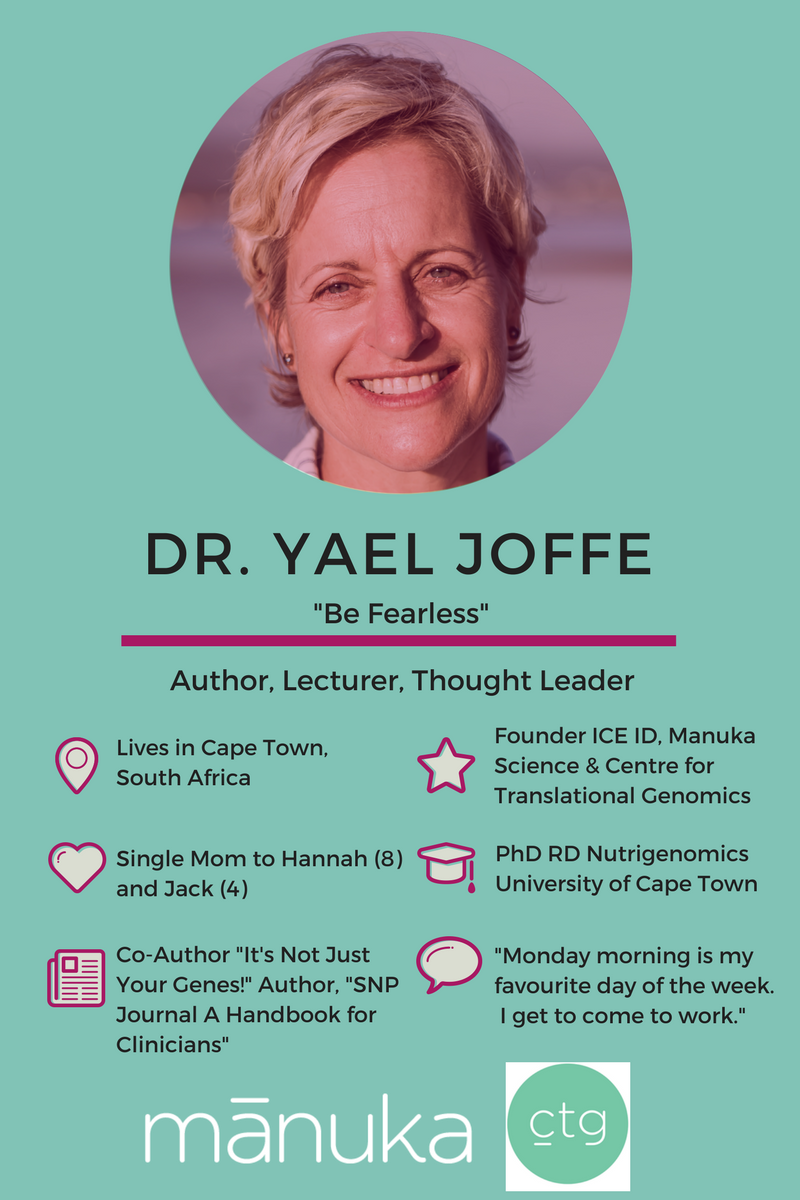 An Interview with Thought Leader, Dr. Yael Joffe PhD RD, Co-Author of "It's Not Just Your Genes!"  Yael is also a Single Mom Entrepreneur with 3 companies.
Ever heard of Translational Nutrigenomics? Nutrigenetic Testing?  Functional Medicine? No? Well, me neither… until recently.  And wow!  I am blown away.
DNA Testing – Health Risks
Concepts I do understand, are DNA Testing to find and treat the root cause of illness. Genetic Testing or DNA testing is one of the best ways of finding the root cause and Functional Medicine is one of the best ways of treating it.  
Still confused? Yet intrigued? Let's take it from the top, in the words of the expert…
Dr. Yael Joffe is a Pioneer in the field of Nutrigenomics. I had the great honour of meeting her recently. This is a rare face-to-face interview and I was spellbound the whole way through. 
When did you take the decision to become an Entrepreneur?
Gosh, that's a really good question. It's when did I not take the decision.
So you've been an entrepreneur your whole working life?
No, not all my life, I guess…
Because you've got a PhD, that took a while…
That took a while but I worked right through my PhD and had two children through my PhD. It's kind of weird, I qualified as a dietician but I never really practiced.  I practiced a little bit in London, as you do, to make money so you can travel Europe.
Sciona – Nutrition and Genetics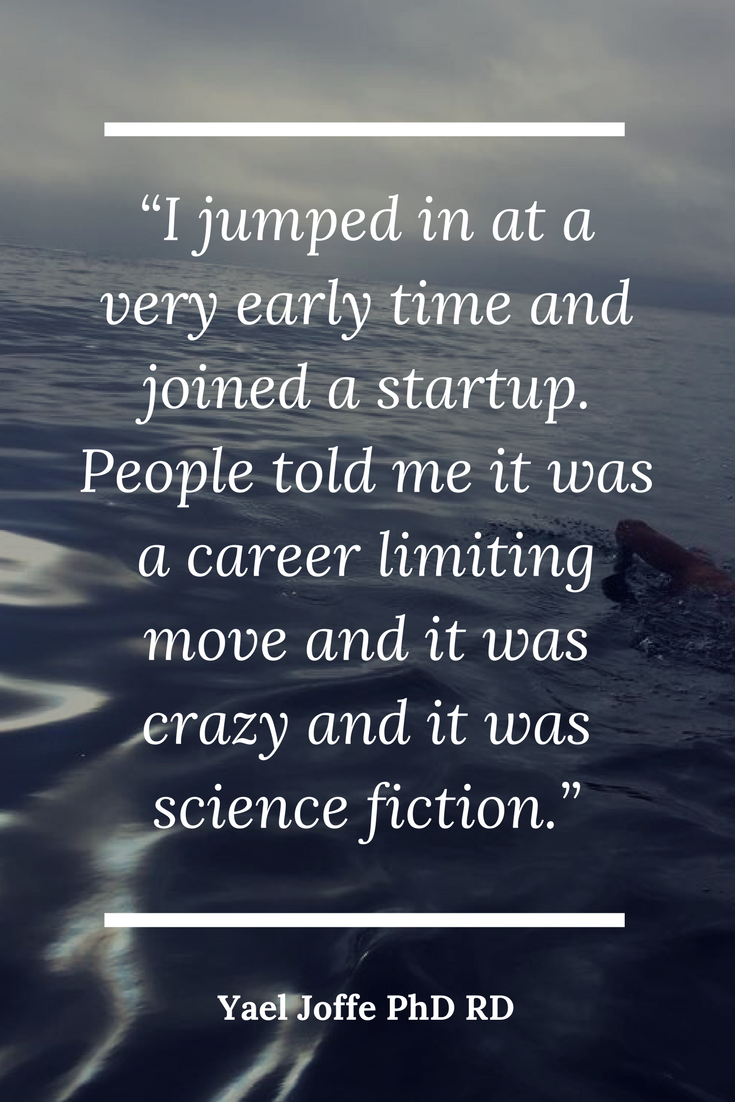 But while I was in the UK I met up with a start-up company in genetics and nutrition.  And this was in the year 2000 so they were the first company in the world to put nutrition and genetics together in a commercial company.
I met up with this company and they said come and work for us and I said something like, "Genetics and Nutrition? What's the connection?" I said, "Look, I don't know anything about genetics."  And they went, "Well, there's no dietician that knows anything about nutrition but do you want to come anyway?". And so I was like, "Okay, cool." And so I was the 3rd employee of this crazy start-up.
Are they still going?
They actually closed about 8 years later, but I went to the States with them and worked in Colorado.  And they closed their doors but there have been many since then.
So for 8 years, I was part of the first start-up. So I wasn't an Entrepreneur to start off with but I was in many senses close to it in that I took all the chances and jumped in at a very early time and joined a startup.  People told me it was a career limiting move and it was crazy and it was science fiction.
But I decided to go for it because dietetics was really uninspiring to me and I was very disappointed with it. So I joined them in 2000 and probably conned my way the first couple of years and was trying to teach myself, then went, "this is kinda tough stuff but it's also amazing so I'd better upskill myself".
Masters and PhD at UCT
So in 2004 I registered for a Masters at UCT (University of Cape Town) but not in Dietetics and Nutrition but in Human Biology and Physiology and Genetics. So I tried to get out of my comfort zone and try and learn this genetics stuff.  I registered for a Masters and I upgraded it to a PhD.  But the PhD was quite unique in that there was no Nutrigenomics (the study of Nutrition and Genetics) degree in South Africa so I kind of cobbled together one at UCT where I got a Genetics Supervisor, a Nutrition Supervisor, a Bio Statistician Supervisor, put together a team to create my own degree, essentially.
Are you the only one in the world? Or are there similar degrees in other countries?
Well, now there are. This was in 2000.
You must have been one of the first though?
Definitely one of the first. In the Netherlands, there were PhD's.
So yeah, I cobbled together this degree, graduated in Nutrigenomics but, as I said, the PhD and the Masters were always done alongside full time working. This company, Sciona,  I headed up their Nutrition Department in terms of Genomics, not as a Dietician exactly, I headed up their R & D.
What were they developing?  
A genetic test. They were one of the first companies in the world to develop a nutrigenetic test.  That's where I kind of did my trenches work, working with geneticists, biologists and it was quite long.  7 or 8 years, I learnt a huge amount and they gave me the option of moving to Boulder, Colorado and working for them full time.    So I moved to Colorado, this was pre-children days. I was living in Cape Town, I was so in love with Cape Town and at first I said, "No, I don't want to move to America."
Mentor, Ruth DeBusk
Eventually, I decided to go, I lived there for 2 years and it was a very intense time working there but it was a wonderful time because I met up with a mentor, Ruth DeBusk, who was the first woman to have a degree in… I think she had a double PhD in Dietetics and Genetics and she had written a book on Nutrigenomics. There were only 2 books in the world that had been written on this topic and she had written one of them.
First Book – It's Not Just Your Genes!
And I had an idea for a book and I was living in Boulder and I called her up and I said, "Hi, my name is Yael, I'm from Cape Town, you're my hero.  You're the only one who's actually got any experience in this field. I have an idea for a book. Would you like to hear it?"
Wow, you pitched your idea… fantastic! 
Yeah. Anyway, long story short, we wrote a book together.  She loved my idea… it's called It's Not Just Your Genes!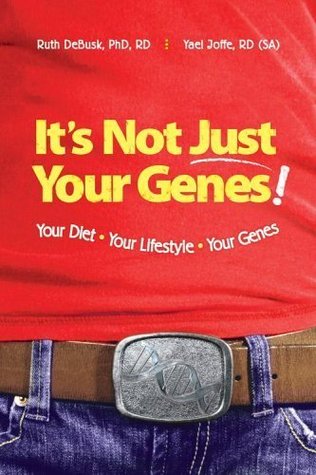 It was an amazing experience because I got to work with Ruth who was really my mentor. She's 20 years older than me and she really had been the first Dietician in this field. But because I was this unknown person from South Africa and at the time I had no Masters, no PhD, I went from complete obscurity to, when we published the book, being second in command, because she was first.  Everyone thought well if she wrote a book with Ruth she must be right up there.  And we actually did a lot of work together, we set up a subgroup in the American Dietetic Association for Dieticians in Nutrigenomics. We did a huge amount of work together.
America's where it's all happening, isn't it? But I thought everything started in California?
Boulder, Colorado is amazing, it's a real gem of a place.  There's a lot of really interesting Biotech there, a lot of medical stuff happens there.  It's also one of the most beautiful places, right at the foot of the Rocky mountains.
So when I saw where they were offering me a job, I said, well, that's good. I packed up my bags, picked up my two cats, one under each arm and moved to the States.  So the States completely changed everything for me, as it does. By meeting Ruth, publishing our book.
I never got a single royalty for the book because we had to find a publisher and they didn't know who I was so the company I was working for said, "you can write the book in work hours but then we'll take the royalties".  I said, "no problem".  It did more for my career, the book, than anything.
Yes, I've heard you don't earn much from books anyway. It's all about notoriety and credibility.
Exactly and it 100% did that for me and it changed my career completely.
Move back to Cape Town
And then I got to the point where I had spent 2 years in the States and my friends were all getting married and having kids while I was working so hard. You work so hard in America, it's crazy the hours you work there, much much harder than we work here. It's mad. You don't take leave, leave is like a swear word in the States. You just work, work, work. And I was writing the book, I was exhausted. And I wasn't loving the company and I just thought, I'm missing home, I'm missing Cape Town and I had got to the point where I wanted to have kids. I was 36.  I thought, these are the best years of my life and I'm spending them in the States. I'd rather be back home.
First Online Company – ICE ID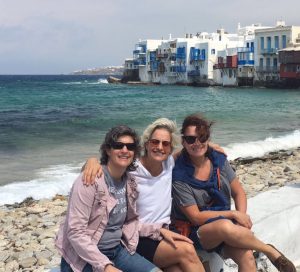 I decided to come home, I consulted to the company for another 8 or 9 months and then I actually took some time off from genetics to finish up my Masters and I started another little company called ICE ID . (ICE = In Case of Emergency).  It's got nothing to do with Nutrition and nothing to do with Genetics.
When I was living in Colorado, I used to do a lot of trail running. I'd go running in the mountains by myself and they have mountain lions there so I was scared I would trip or fall and if I fell, because I was so new there, I was worried that they might find my body and not know who I am and they won't be able to tell my mother.
So I found this company called Road ID in America and they have a tag engraved with all your details that goes into your running shoe.  Your name, phone number, blood type, Medical Aid number, you can have whatever you want engraved on it.
So when I came back from the States I brought these as presents for all my running friends.  All my other friends said, "how do you get these?"  So I created a company called ICE ID. You get arm bands, tags for running shoes, dog tags, you can get a kids range, for when your kids go running off in a crowded place.
Oh, I need one! Especially for the Aquarium, my son just goes running off into the crowds…
Yeah, so we created a kids range and a funky camo bag.  When I started the company it was just a little online business. I didn't know what I was doing. I bought a book from Exclusive, "How to write a business plan" and I read the chapters, wrote the business plan, started the company.  I did that for about 2 years while I was finishing my Masters.
I never really grew ICE ID much because I'm very good at ideas and then I really get very bored.  So I'm not good with the day-to-day admin and I was getting really irritated with customers phoning me.  So I ran it for a couple of years and then I sold it to my sister who is brilliant and she ran it in South Africa and then she moved to the UK and opened ICE ID UK.   She still runs it in the UK and sold the South African one to the owners wife of Cycle Lab so it's doing brilliantly in South Africa at the moment. They just got a deal with Comrades. It's lovely to see because it's actually grown into something but it wasn't something I could grow because it wasn't my core expertise. But it was super fun and it was my first online business and I learnt so much about building a commerce website. Also it was something I could do at home.
It's lovely to see because it's actually grown into something but it wasn't something I could grow because it wasn't my core expertise. But it was super fun and it was my first online business and I learnt so much about building a commerce website. Also, it was something I could do at home.
First Child – Single Mom
Because I also decided I wanted a child about that time. I had been engaged, broken off my engagement and time was ticking.  I was dating but I thought, well, this is crazy. I don't want to feel like the first person I meet I'm going to go like, "do you want to have a child now?"  So I went to the Cape Fertility Clinic and I had my daughter by myself as a single Mom.   I had her with a Donor.
Wow… you are such an interesting person.
Hannah was born in 2009. We lived in Sea Point and had a little office where I ran ICE ID and did my Masters. I was also a Project Manager for Discovery Vitality.  So I was kind of cobbling a whole lot of jobs together to make our way. I was a very single Mom, no Medical Aid, so I wanted stuff that I could work from home and hang around with her for the first couple of years, but also work, because I wasn't the kind of Mom who could just be a stay at home Mom.
Financially it was really tight, I had a mortgage and I had been very loathe to go back into genetics. I felt that I needed a good break from that, America had completely burnt me out. I was approached by Danny Meyersfeld, he's also a PhD who had started a lab in Joburg that just had one little test and really wanted to build his company around Nutrigenomics.  He'd heard about me and heard that I'd moved back to South Africa from the States.
I was approached by Danny Meyersfeld, he's also a PhD who had started a lab in Joburg that just had one little test and really wanted to build his company around Nutrigenomics.  He'd heard about me and heard that I'd moved back to South Africa from the States.
So he basically started stalking me in a nice way, I was pregnant at the time. He had a tiny test that he was running in Joburg and he knew that I could build genetic tests and he wanted me to build them with him. For about 4 or 5 months I said no, and he would fly to Cape Town every second month and ask if I would reconsider?  I said, "you know, I don't want to join you but I'll give you information about my time at Sciona and my experience and everything, but I'm not joining you".
And then when Hannah was about 3 months, I found I didn't have enough work.  And so I phoned him up and said, "I need some more work.  I'm not joining you but I'll consult".   I started consulting for him, but once I was sucked back into Genetics, I built all the tests for DNAlysis.  So it actually was our company because he gave me shares in the company to join.  It was the only way I would join since he was getting all my IP (Intellectual Property).
So the consulting didn't last long?
No, I got the shares and went in full time and built all the tests and we were basically partners.   I think when I met Danny his turnover was R30,000 or something, and now, I think he sold 11,000 tests last year and it's global now.
So, 11,000 tests at around R1,800 a test? 
No, no, no… that's the cheapest test. They are around about R3,000 a test.
[Okay, so if the average price of a test is around R 3,000 – from R 30 Thousand to R 33 Million Turnover. Wow.]
It sells all around the world now, he's got a partner company in Copenhagen and they sell and distribute.
I worked with Danny until January 2013. We built the business together, I headed up R & D and he headed up the business side and then I was finishing my PhD and I was completely exhausted.
PhD's take a huge amount of time and I also got married and fell pregnant with my second child. And I fell pregnant at 44. So my gynae said to me, "You can't do everything.  You can choose, you can have a PhD, a child and a job, but you can't have all three.  But if you do the PhD and the job then you probably won't have the child, because there's no way you will carry this pregnancy through. You're going to lose this child if you keep working this hard.  So one of them's gotta go".  So Adam and I decided the job must go. I resigned from DNAlysis and for about 6 months I only did my PhD.  I was literally typing it up on my tummy.
Second Child – Durban – Married to Adam
I had Jack the month before I turned 45.
But you knew your genes were sound…?
My genes are actually not so sound at all. I've got some stuff that needs work. But at least I knew what my genes were.
In fact, 2 weeks after Jack was born I submitted my PhD.  My PhD took me 8 years if you include my Masters. So both children were born and I was pregnant with them during my PhD.  I graduated and we went to the graduation ceremony, Jack was a little bundle in my arms. That's how hectic it was.
I'll never forget, my Mom came to live with me in Durban for 5 days so I could submit.  Because there's a cut-off and if you miss the cut-off you have to wait another 6 months to submit.
So… I resigned from DNAlysis and I consulted for them for many years. But that was my pre-entrepreneurial stuff, to be honest.  Even though Danny and I built this business and I built ICE ID.
Manuka Science
About 4 or 5 years ago I realised that the biggest weakness in the field of Nutrigenomics was Education, that there were all these Doctors, Dieticians, Medical Practitioners using these genetic tests that DNAlysis and many companies around the world were building, but they didn't know understand how to use them properly.  They didn't understand the Science. There was a huge gap between what was being taught or not taught at University and what they needed to know in Practice.
I used to travel overseas to conferences every year and I used to teach a day here, a day here, a day here and people used to say, "well, when are you coming back to teach?" And I used to say,"well, I can't. I've got a little baby, I can't travel".
So they asked, "well, how can you teach us, can you do webinars?" And I didn't really like that idea so I decided to build a new company, which was an online training company called Manuka Science, where I built the first real course on Translational Nutrigenomics.  If you go to University and do a PhD it's academic and you're in a lab, but that still doesn't really help you here, in the Clinic. So it was the first course taught of Translational Nutrigenomics.
So the lay person can understand…?
Not the lay person. Students still had to have a health professional degree. You have to be qualified as a medical specialist, a Doctor, a Dietician, anyone who has a health professionals degree, and then you can do the course. Because it's a really tough course, really high level, it's like a Masters level course and it takes between a year to 18 months to finish and it's hectic.
Christine Houghton
I was at a Conference in Italy and I was standing a queue, moaning about the conference or something and there was an Australian woman behind me and I think we were the only two English speakers. And we got chatting over lunch and I think drank about a bottle of wine each over lunch, in the middle of a conference day which apparently is quite common in Italy.   If you go to a conference in Italy they put wine on the table and then you have a siesta after lunch and the conference starts at 6 pm again.
Her name is Christine Houghton and she's a Nutritional Biochemist and we got chatting over lunch and she had read my book and she knew all about me so she couldn't believe I was standing in the queue in front of her.  Her passion was Nutrigenomics as well but she has a different skillset from me. She's a Nutritional Biochemist whereas I'm a Dietician and we have quite different skillsets.
We realised that we're a great team and we actually had the same vision. We both wanted to teach practitioners how to really use this stuff. Christine had worked a Nutritionist for 30 years in practice so she understood clinical practice really well, as well as being a great Scientist.  And she's actually working on her PhD now and will be submitting it in a month or two.  She's awesome.
So we basically bunked the whole conference.  She's also half Italian so we spent the rest of the conference going to find restaurants to eat and drink wine and I said, "well you know, I'm planning on building a course. Do you want a build a module of my course?" and she said, "I'd love to!"  So I said,"what topic do you want to do?" and she was like, "I don't know – anything."
So we spent the whole conference just talking about work because it's a weird speciality.  It's actually quite lonely because there's only a handful of us in the world and there's no-one, certainly in South Africa for me to talk to at that level.  So we got on really well. She lives in Brisbane and before she headed back to Brisbane she said, "Right, just let me know what topic you'd like me to write on".
Anyway, she landed up writing half of the course for me. There are 10 modules and she wrote 5 out of 10.
The course went from being like, my vision was this big and it landed up being THIS big because Christine had such amazing knowledge and it was like we were yin and yang. I'm very good at finding yin and yang. She's one of them and we built the course and we launched the course in the States when we only had 2 modules ready.
Wow, that's brave…
We had students, and every time a student was completing Module 2, we were launching Module 3 and so on.
Sounds like you like pressure, you work well under pressure…
I do work well under pressure, but we worked so hard the two of us.  That couple of years I used to wake up at 4 every morning. The kids would wake up at 6 so I'd get up at 4, work "till 6, get the kids ready, get back to work.
So you're a morning person? 
I am.  I'll often go to bed with the kids and then wake up at 4 to work. I cannot work in the evenings. I have this dazed look on my face.
I am exactly the same, especially if I've had a glass of wine…
Every moment I worked, it was incredibly stressful. I actually didn't do any other work at that time except Manuka and the kids obviously. I mean Jack was so small and we were living in Durban.
Poster Couple for Divorce
And then, after 4 years, Adam and I decided to get divorced and move back to Cape Town.
So back to single Mom.
Yeah. But a single Mom with amazing backing. Adam had adopted Hannah straight away.  So single Mom but very different. Financial support from Adam, obviously for schools and Medical Aid and stuff.  And also, I get some time off because he's an amazing Dad and he lives 2 blocks away.  He's incredibly hands-on.  He just took them to Mocambique for a week so I could work for a whole week and I actually even took off a day from work.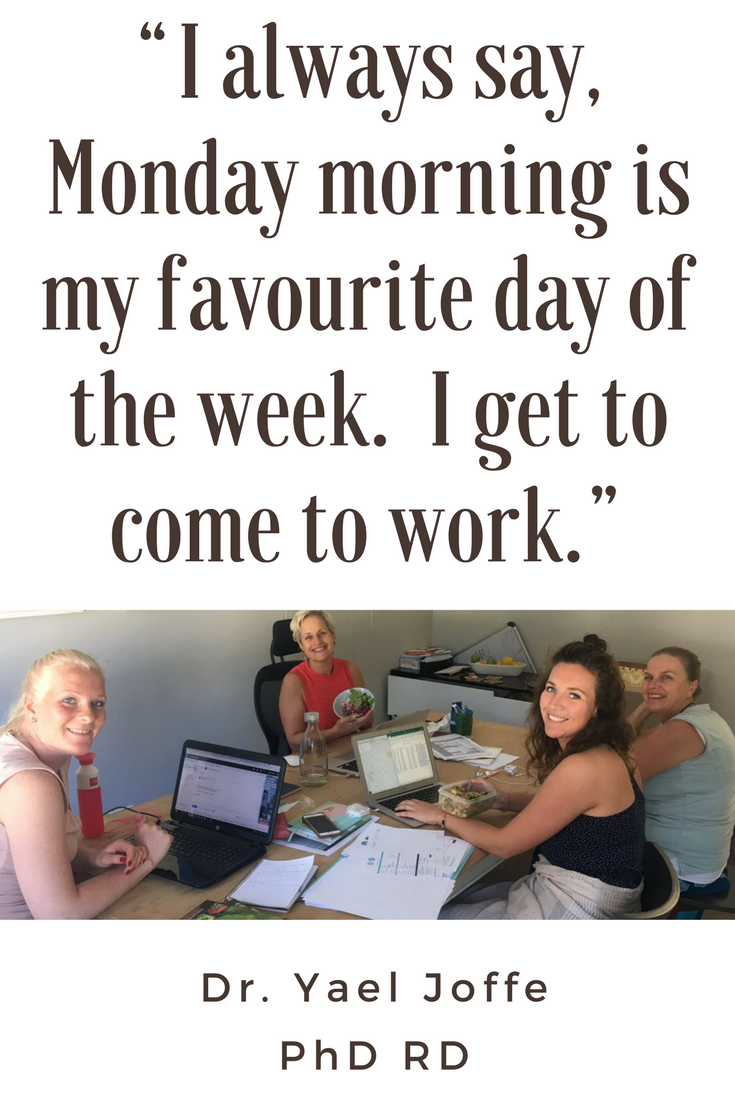 It's amazing how when you're passionate about your work you want to work…
I always say, Monday morning is my favourite day of the week.  I get to come to work.
So actually things are much better since the divorce.  Adam and I get on brilliantly. We're like the poster couple for divorce. We could write a book on happy divorces.
I think maybe one day I could be with someone but I needed so much independence and I landed up cooking, shopping, cleaning, taking kids to the Doctors plus trying to run this business, plus Adam would come back from work and go, 'Oh, I'm just going for a surf. I'll be back later".  And it just didn't work for me. I wanted an equal marriage, completely equal and I didn't get it.
Now we think highly of each other again so for us it's worked really, really well. The stuff he never did as a Dad when he was married to me, he does all of it now.
Things are much, much better and I get a break and I travel a huge amount. When I go overseas, I try not travel more than 8 days in a row, which doesn't leave much time when flying to the States, 10 maximum, and he takes the kids and he's 100% competent to look after the kids.
So I have an online training company. We have students all over the world and that's done quite nicely.
Back to Cape Town
I moved back to Cape Town and I decided I needed an office to work from because I like to work from an office rather than from home.  I was looking for offices all around Cape Town and eventually, someone told me about this office. I really liked it because it was down the road from my house in Vredehoek. There's parking, Wembley Square is nearby.
Initially, I just rented out the front office and then one day I thought, you know what, here I am teaching these people all over the world how to use Genetics in their practice, but I actually need to put my money where my mouth is and say well, "not only do I teach it, we actually practice it".  So I decided to set up a centre.
We divided the front office into two and I put an advert out to ask if there was anyone into Nutrigenomics.  And Annelie, who's our main Practitioner, I had worked with about 10 or 15 years ago. She had always had an interest in genetics but had never really been able to study it and had been very frustrated.  But we're colleagues, we're the same age. She answered the advert and then another Dietician named Alex Royal.  Alex comes in two days a week, she's just had a baby so she's not here at the moment.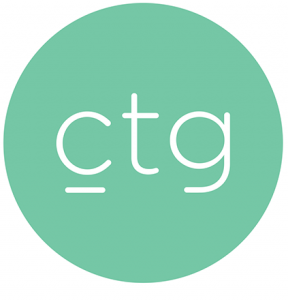 In the beginning, it was me and Annelie and two days a week, Alex. So Annelie and I literally did everything and I saw patients for the first 6 months, which I tend not to do. But to get the business off the ground, I saw patients and we did all the courier, we did all the sales, we did all the phone calls, we did everything.
It was like a real start-up but it was amazing because we never spent a cent on advertising, not one. We still have no idea how people found us.  We did nothing.  I think, you go to a dinner party and you tell someone and then they come and then they tell someone… so we doubled our income every month for a few months and then we needed more staff. Annelie and I couldn't do everything.
Network
And then we built this network. So it's not just the Centre now we built this network of dieticans in the Cape.
And then we built this network. So it's not just the Centre now we built this network of dieticans in the Cape.  We decided, Annelie and I, that we would set up a network because we didn't want to grow this practice too big and also, we're in town, so we wanted someone who could deal with clients in Tokai and Constantia and Paarl, so we decided to go hand-pick the best practitioners around Cape Town.  And obviously, Annelie and Alex had to study my courses and they got mentored by me and every time they got a genetic test I would take them through it and mentor them. And then we started meeting with a few of the best practitioners, usually Dieticians and Doctors around Cape Town, and we knew they had the best practices and were quite progressive and cutting edge.
So to join our network:
you need to be invited
you need to have a successful practice
you need to have studied the Manuka Science course and
you need to buy your genetic tests from us, become a reseller
We are almost like a wholesaler, we handle the admin, the invoicing, the pricing, but we also in return offer training and mentorship. You do the course with us and on the last Friday of every month I teach for a day, called the Friday sessions. They get mentored by us, lots of hand holding. If they have any problem patients they can phone Annelie and if Annelie can't deal with it, she'll ask me. I think we have 13 Practitioners in our Network.
So now we've just grown and grown and grown and we have a lot more staff. We have a social media person and a sales person and an Office Manager and we have 2 or 3 Practitioners and we have an MD, Julie Ettelin, who's our Consulting MD, who has been since we opened the centre but her main practice is in Mouille Point.
Then, that was all very well, then that wasn't.  I got to the end of the first year of the Centre and realised it was great, we were doing really well, but it wasn't good enough. It wasn't what my dream was.
So now we're about to embark on a completely new and incredibly exciting thing.
The Future
The Centre's been great because we are probably the only Centre in the world that specialises in Translational Nutrigenomics. We were the first in the world to set that up and I think we've done that extremely well and I think the expertise of the practitioners here in genetic translation is the best.
But I wanted to do more, I wanted to really change the way we manage patients. Because the problem I had is that even though the content is given to patients when they came here was extremely high, they would come to us for 3 or 4 sessions and then in most cases they would stop coming.  And you can't change behaviour and really impact health if you see them 3 or 4 times and then you don't see them.
I've been lucky enough that I travel to all these great Conferences and I've been all over the world and there's a lot of talk around, what does the future of healthcare look like? And one of the ideas I've come up with is to create a completely different kind of centre.
One of the problems we have is, if you go to a Doctor and you pay R 400 for 15 minutes every time you go, you're going to think, "I don't really want to go. I'll just wait and see. I'm sure I'm fine" or "My hairdresser told me to do this, I'll try that".
Functional Medicine
We practice Functional Medicine where we focus on the dysfunction in the system rather than the disease. We look at the systems in your body and see where there is dysfunction in your systems rather than treat your Diabetes or Heart Disease.
It's closer to Eastern Medicine, then?
Not really. It's a different paradigm. You'll see online there's an Institute for Functional Medicine and it's about metabolic systems and how when they are dysfunctional they cause disease.
So you might get Diabetes and someone else might get Heart Disease. The underlying dysfunction is actually exactly the same but they manifest differently. So what happens is, you go to an Endocrinologist, someone else goes to a Cardiologist. The Endocrinologist gives you this drug, the Cardiologist gives you that drug, so that's a plaster up there or a plaster up here, but the root cause is exactly the same dysfunction in the metabolism.  So we only work on the root cause.
That's awesome, no wonder it's the missing piece in the puzzle.
Exactly. It is totally the missing piece in the puzzle.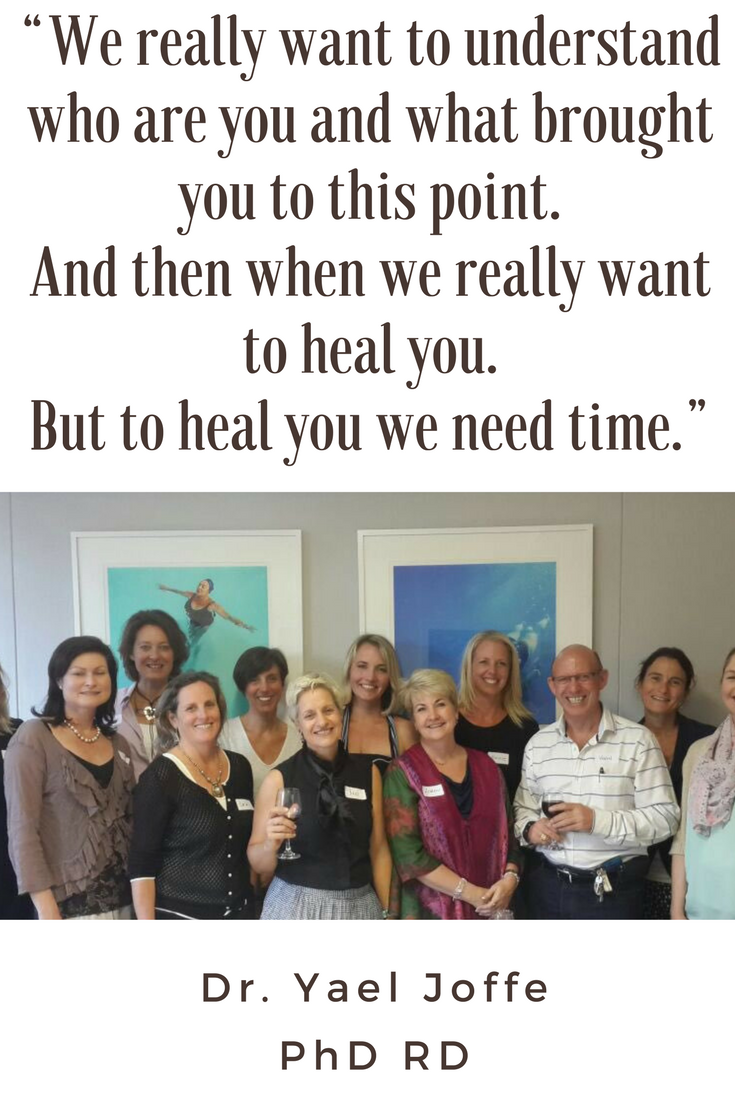 So we are not particularly interested if your Doctor told you you have Diabetes or Heart Disease or Arthritis because all of these come down to the same processes. So we here at the Centre are very interested in – and that's what the genetic test helps us do – identifying the dysfunction and then a whole lot of other stuff that we're trained to do.
The problem with functional medicine is it's so brilliant but it takes a lot of time.  We spend a lot of time with our patients because we want to know, we literally start with something called the Timeline. We start with "Tell me about your mother's pregnancy."  So we go from minus 9 months to present day. We want to know everything that ever happened to you and then we have a whole lot of assessments.
And what if we don't know what happened in our mother's pregnancy?
It doesn't matter, then we will just jump ahead to zero or whatever, but the whole thing is we start getting a picture.  Because most times when you go to a GP, they'll say why are you here, and you'll say, "I've got a headache, I'm tired and I can't get out of bed in the morning" and they'll say, "take a day off work, lie in bed, drink some orange juice, have a vitamin B shot".
If you come to us, we'll ask, "what's been going on the last 3 months" and you'll say, "I've been really tired, I can't get out of bed, I've got terrible headaches". Then we'll start and go back to zero because all these diseases are a dysfunction. Unless it's acute medicine, which is emergency medicine, rush to the hospital and we'll fix you, everything happens over a timeline. So we want to say, "well, chronic fatigue is one of the biggest things we're seeing today and it can be the result of a million different things".   It can be an infection, it can be adrenal burnout, it can be mould infection, it can be a million things. So there's no use you coming to me and saying I'm tired, and me saying, go and get a vitamin B shot. That's not even a good plaster.
We really want to understand who are you and what brought you to this point and then when we really want to heal you. But to heal you we need time.
The New Centre
So, I had this idea to kind of invert the centre, if that makes sense, in the treatments.
So we have 3 brilliant Functional Nutritionists, they are all Dieticians but we call them Functional Nutritionists, who are really trained in Progressive Nutrition and in Genetics.  Our MD, Julie Etellin, who's a Functional Medicine Doctor, she's one of the few in the country. And what we're doing is we're inverting it, so…
At the bottom of the pyramid is the Doctor who is the most expensive person to see
Then we have this extraordinary layer of Functional Nutritionists who are highly qualified
And at the top we've put a layer of Health Coaching
So now we've got this concept: Everyone goes to a Life Coach and Business Coach but one of the big trends overseas is Health Coaching. So you've got a degree as a Health Professional, in this case we're using Dieticians and then you go train them in Counselling Skills, NLP (Neuro Linguistic Programming), all these different things.
Our Health Coaches have an underlying degree, most of them are Dieticians. Dee, who's our full time Health Coach. She's a Dietician, but her Undergraduate was in Exercise Sports Science and Psychology, then she did Dietetics and now she's studying Counselling.  She will be our first Health Coach and then we've got some part time to help us until we grow.
So what we've done is say, you don't need to see a Doctor, unless you're very sick, more than once a month.You need some serious assessment work done to see what's going on with you, our middle tier can do that, and then when we've found out what's wrong with you and we've developed a treatment plan, you'll get a 24-7 Health Coach who'll be assigned to you and who will take care of you.
We've got 3 Functional Nutritionists. We've got Julie, who'll be joining us 2 days a week as our MD.  But more than that, we've got Ann Lannoye, who's a colleague I met in Copenhagen. This is my other Yin Yang.
Dr. Ann Lannoye
Anne is one of the best Doctors I've ever met in my life.  She's an MD, she's a Functional Medicine Doctor but she's a Functional Neurologist and she ran her own clinic for 25 years in Belgium and she moved here on Monday. She's coming to run the Clinic with me.
So she's moved here from Brussels. She's left her husband and her children to come here.
I was teaching in Copenhagen when we met and she came to one of my teachings and we landed up staying in Copenhagen. She's also a Wine Master, so just like Christine, we landed up drinking a whole lot of wine… anyway…
You make all your best decisions over wine.
All over wine.  Absolutely, wine is actually a great food.
We were going to open a clinic in Brussels and a clinic in Cape Town and then we decided rather than open two, let's start with one as a pilot to build our model. Once we've got the model perfect in Cape Town, then we'll open Brussels and then we'll open, please G-o-d, the rest of the world.
So this has all happened very quickly because I believe you only opened this Centre (CTG) last April…
A year ago. Yes, it's all moved very quickly. And we're about to launch our first recipe book. It's the first gene based recipe book in the world.  So that's all very exciting. We're working on the new Centre now, which will launch after the Consumer Day.  And the whole thing about the new centre is that it will be based on a membership model.  So you'll come here for an assessment and
You'll have this extraordinary assessment where we find out everything about you.
Then you go through a feedback session on your results, we go through everything with you.
You get a treatment plan.
Then you get Health Coaching
But you pay a monthly amount and for your monthly amount you get 24 hour health coaching, there's a community, you get access to the Doctor, a certain amount of time.
Have you already decided on the cost monthly?
We've decided more or less. There'll be 2 different levels.
A medical membership which is around the R1,500 mark
A health membership around the R1,000 mark
And that gets you unlimited health coaching.
So the Medical membership is if you already have some kind of medical condition?
That is correct. If you have chronic fatigue or cancer…if you come to us sick and we have to put a lot of work into getting you well. Once you're well, you can move down to Health.
People who start on Health would be Athletes, those looking for weight loss, those looking for optimal health.
For that, you get unlimited coaching, community, discounts, walks on the mountain etc.
What's so fantastic about this company is: our Social Media person is actually a Nutritionist who went on to specialise in Social Media. Tina is actually a Dietician, who went on to specialise in PR and Sales. Everyone understands what we're doing. So Tina can be a Health Coach if we need her and Megan can be a Health Coach. Any one of us could be a Health Coach.
And the other thing is we're using cutting-edge technology, we're bringing in the best apps and the best technology platforms to interact with our patients.
Your whole approach makes so much sense to me because when I studied nutritional medicine and learnt about all the different diets, I never believed there was one diet that suits everybody.  What I became interested in is the Ayurvedic way, where they first determine whether you are Pitta, Vata, Kapha or a combination and then tailor the diet accordingly.
So you know who Deepak Chopra is?
Yes, I do.
Deepak Chopra and Rudolph Tanzi just wrote a very interesting book called Super Genes.  Rudy Tanzi is a brilliant guy, I just heard him speak at a conference a month ago.  It was about Alzheimers and Dementia and Cognitive decline.
My Dad has Lewy Body Syndrome and was really interested when Tina mentioned there's a DNA test you can do for Alzheimer's.  Does it test for all forms of dementia or only Alzheimer's. 
No. In fact, you don't test for Alzheimer's per say because Alzheimer's you can get early onset Alzheimer's which has very strong genetics, but most people get late onset, like 60's, 70's. And when it happens at that age it's usually a combination of genetics and a whole lot of lifestyle stuff.
How old is your Dad?  He's 75.
And how bad is he? Terrible. It's progressed really quickly.
So this conference I went to was all about Alzheimer's and Cognitive decline and the whole thing was that you really can treat it and not by using the mainstream drugs, you can treat it.  And it was interesting, the first lecture of the conference. They put up all these things that can prevent Alzheimer's and Dementia, a long list, do this and this and this, and they said, of all these one is the most powerful, and all the others are almost as powerful as one.  And you know what the one was – exercise. Because exercise generates brain cell regeneration.
And it was interesting, the first lecture of the conference. They put up all these things that can prevent Alzheimer's and Dementia, a long list, do this and this and this, and they said, of all these one is the most powerful, and all the others are almost as powerful as one.  And you know what the one was – exercise. Because exercise generates brain cell regeneration.
The Conference was about, in Alzheimer's we try to sort it out when we've got it, in Cancer and Heart Disease we try and prevent it, so why is that? We need to start thinking about Alzheimer's in the way we think about Heart Disease.
So that's a lot of the work we'll be doing here in the Clinic – How do we prevent cognitive decline 20 years before it's apparent?  Because once you get as bad as your Dad is, it's impossible, because there's a break in the self-awareness of the patient. They cognitively can't connect, "I need to do this because it's going to make me feel better". The break's already happened. But 10 years ago we could have done something.
And Treating Cancer?
Sometimes you need to have cancer treatment but you need to have a million other things. You can't just go for chemo and ignore everything else.
From what I've studied if you do chemo or radiation and also try the alternative route, they cancel each other out.
Not necessarily. Sometimes you do need the treatment. First of all, there are a lot of things you can do before you do Chemo, which obviously is first prize but there are some treatments that are better than others and there are a lot of ways you can support your body so that the chemo doesn't kill you. And then when you survive cancer, everyone just leaves you alone and you live with this fear of getting cancer again. There's no one to say you need to do this, this and this so
And then when you survive cancer, everyone just leaves you alone and you live with this fear of getting cancer again. There's no one to say you need to do this, this and this so the cancer doesn't come back. So we are going to be doing a lot of Cancer work.
I'm so glad your approach is not just diet, as in losing weight, it's about overall health and wellbeing.
About 20% of this clinic is weight loss. We thought it would be much more.  People come here generally when they have been everywhere else and they haven't got help.
Target Market
Who refers mostly to you?
We have a lot of Doctors who refer to us. A lot of Psychiatrists. MD's, GP's. But also just people find their way here.
Who is your Target Market?
Those people who are seeking optimal health.
Weight – but we obviously treat weight in a very holistic way.
Very sick people. Anything, we can handle anything.
Yael Joffe Unplugged
Do you have any daily rituals?
Exercise – I swim.  Annelie and I are very big into open water swimming. We swim in cold water, Camps Bay every Sunday and we do races.  I love open water swimming.
Is there any book, song, movie or person who has had huge significance in your life?
Shoo, that's a tough one, there are so many influences.
My children.  My children stop me from being a complete lunatic. They ground me and keep me humble, because otherwise, first of all, I'd work all the time. But also they don't give a s%#t about what I'm doing.
My daughter's very funny and she's really good. She's a great cook and she's really good at nutrition and stuff, but she told her teacher that I had dropped out of University. Teacher said to me, "heard you dropped out of University" and I was like, "didn't know that".  And she told her Teacher I'm not a real Doctor. Because it's a PhD not an MD.
So that's what I'm talking about. My children keep me humble, they keep me very grounded.  Here everyone is so nice to me and then I go home and they're like, "You're not a real Doctor, Mom". They balance me hugely and they make me stop working so that I go to the park and take the dog for a walk. My children and my dog keep me grounded.
Do you ever unplug?
Well, I went hiking in the Hermanus mountains on Thursday, Friday and there was no cellphone reception. Very proud of myself.
So forced unplug
Yeah, it was forced.
That's interesting because I also unplugged last weekend in Franschhoek but it felt much harder because it wasn't forced, there was cell phone reception.
No, that's too hard for me. I have to enforce it.  So last year I went swimming in Croatia for a week which was a major unplug. So I find that I have to. I can feel when my crash is coming and I just have to do it.  And I discovered hiking recently which I love but it's usually swimming for me. If I can immerse myself in water.
Message to the World
Do you have a message you would like the world to hear?
I'd say be fearless. Have courage and be fearless. And I mean that on every level. When I think back, having Hannah by myself, starting companies, trying something different, moving to other countries, tackling health care in a different model… have courage, be fearless, because if you don't then you die with an unsung message.
And also so clichéd, but really, if you can find work that's meaningful then Monday morning can be your best day of the week.
I always say the thing that's got me where I am is just I am absolutely fearless, I just don't give a s%#t.
For me, I'm very good at taking risks, tackling things that everyone is nervous to tackle, and that's what keeps me going. It's probably a bit adrenaline junkie stuff but the world is such an exciting place at the moment. It's so global, it's so interesting, it's so ideas based and that fits perfectly for me. As opposed to manual stuff, it's all in the ideas realm.  And global connectedness, everything is connected, which I'm loving.  It doesn't matter which business I'm talking about, they are all connected together.
Advice to Entrepreneurs
Any advice for someone starting out as an entrepreneur?
Be fearless, have courage, but also it's a roller coaster ride. There's so much good and there are so many tough times.  That I've come to learn.  You'll be disappointed, you'll be betrayed by people you trusted, you'll get money, you'll lose money.  It's definitely not the easy option. You do it because you can't help but do it.
I could never get a job, so this is what I do. But it's 24-7. It's consuming.  And you never get a moment off. Even when you're with your kids in the park, you're like, "I wish I could check my phone".
I think the thing about being an entrepreneur is that for me, I couldn't be anything else. I have to do it. For me, I have to be this, but it's not the easy choice.
Any tools of the trade that have been enormously helpful to you?
Study, study, study and it doesn't have to be formal education
Travel
Connect
It's funny, weird things I studied that had no relevance to Genetics land up benefitting me at the strangest times. Even doing ICE ID, because I built an e-commerce website and 10 years later, oh, I know how to build a commerce site.
It's just nothing goes to waste. Perhaps that's a better message. So Travel, Connect, Study.
Yael Joffe and the Tipping Point in Genetics
Do you feel you are living your passion in your work?
Yes. Maybe a bit too much. I love, love, love my work.
Do you feel you've already created your best work?
No. I feel like this is my best decade coming now.
What's happened is, Genetics has reached a tipping point in the world. And because I've been in this space for 17 years and now suddenly Genetics has caused the eye and the ear of the world, I feel  I'm now in the perfect place for my career meeting the tipping point in Genetics.
I've told you probably 50% of my work, there's another 50%.  For me, I think the next decade is going to be amazing, absolutely incredible and then I really need to retire because I'll be very tired.
If you were to die tomorrow would you be at peace knowing you've lived a full, happy and meaningful life?
The only thing about dying tomorrow is my children. The rest of it, love my work, love my life.
But you wouldn't feel your song is unsung?
Oh G-o-d no, I think I've already made enough noise.
Yael Joffe Vision for the Future
What do you feel is your secret sauce?
My children will tell you it's mayonnaise and tomato sauce. We call it the secret sauce.
What is it that you do differently to everyone else?
I think I run at a high frequency.
I learn extremely quickly.
I have big ideas.  I have a vision.
I've been doing some work on it. I've got 3 companies and I've been working on my vision for each one. So what I need to do now is work out what my vision is for all of them, but they are all connected.
So it would be something to do with healing the world, isn't it?
Well, it's changing Healthcare – so the new name of the Centre is Impact Clinics because we're looking to impact healthcare and Ann is exactly the same, we want to change healthcare.
Not change the whole world, but healthcare is such a fundamental pillar of the world.
Yes. We believe that now we're reaching a tipping point of health. That people are looking for a new way of engaging with their health. And now that I've got Ann (Lannoye) who has the protocols and programs to actually heal.  I've got the ideas and she's got the programs.  We really believe that we can truly, truly impact so many individuals so that if you put all those individuals together – if we can build a clinic and then have 100 all over the world that practice this amazing medicine, with health coaches and protocols, we can truly impact healthcare.
Part of what we practising here is called P4 Medicine –  The 4 P's are Predictive, Preventive, Personalised and Participatory. It's kind of the model we're looking to build. That's the future of medicine. Instead of becoming a Cardiologist you could become a P4 Medicine specialist which is the future.  So watch this space.
We're giving away tickets to The Missing Piece in Your Puzzle event. Kathie Swift, another Nutrigenetics and Functional Medicine Expert and Author of The Swift Diet will also be speaking at the event.
Would love to hear your views… 
Have you ever been for DNA Testing to determine your health risks? Do you believe DNA testing and Functional Medicine could be your key to optimal health?  Are you looking for a new way to engage with your health? Ever employed a Health Coach?
Looking forward to your comments.
Please follow and like us: