Please follow and like us:
Guest Post by Emily Bartels
Running your own business can be rough and it can take a little bit of time to figure out the kinks. Here, we'll talk about the top difficulties Home Improvement Entrepreneurs face and why they are important to know about, especially in our modern environment.
The State of the Industry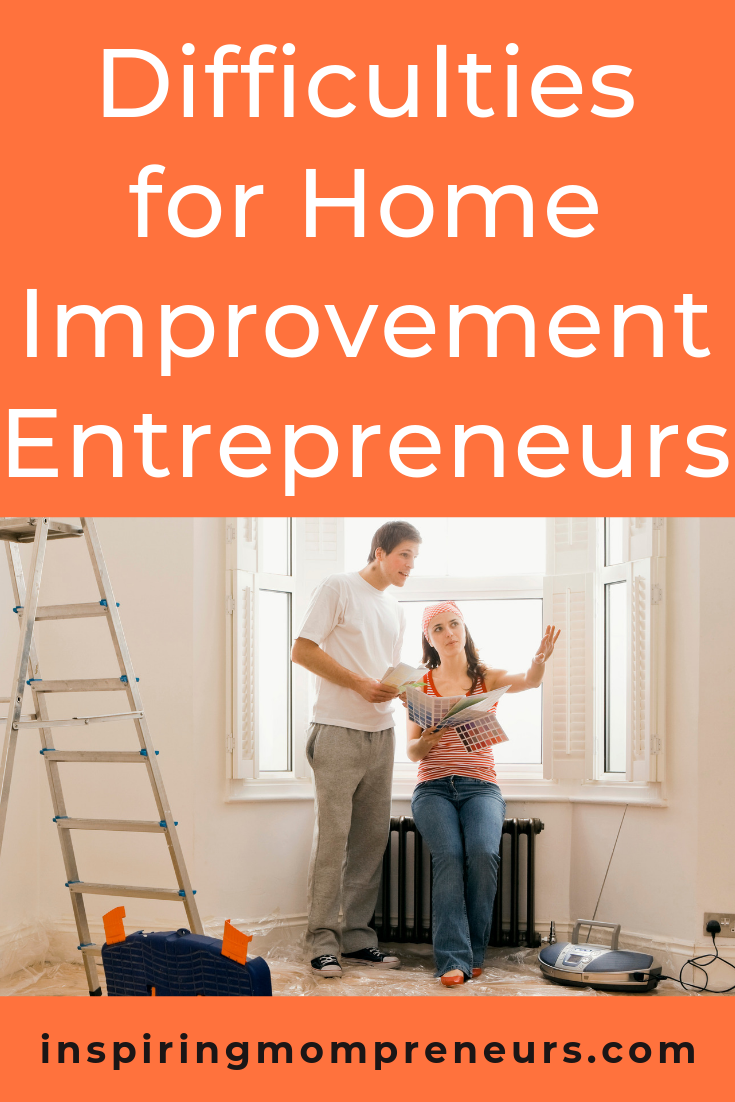 The state of the industry can be a little bit hard to judge. For example, residential companies have seen the biggest increase in sales but for the most part, architects have had a more conservative outlook on their own personal growth and extent of their skills.  What you need to realize is that some of these companies may not have as much expansion compared to other fields.
Architects may not see more than 15% of the growth that they desire in the next year or so,  which is why it's important to understand that the business may make a change in the direction that gets them more money.
You need to realize the supply and demand of the industry and the area you're in currently, and if you're running into issues, perhaps looking at the state of the market is a good idea.  Understanding how much of an impact your industry is making on the current market is definitely important.
Sticker Shock
Ever experienced that look of shock you'll find on the faces of your prospective clients when they see your price tags?
For example, if you're going to remodel their bathroom, that can cost a couple of Thousand Dollars, in some cases as much as a used car. Some people may even gasp at the fact that Five Grand covers only the cost of the materials
The pushback on that is something that many professionals might face.  Some clients may have budgets and expectations that make it a lot harder to grapple with, which means you are going to have to learn to tell them the reality of this without sounding rude or as if you're trying to get more money out of them.
Home Improvement Entrepreneurs are going to have to deal with consumer expectations and you'll need to do your best to keep your pricing as affordable as possible.
Managing Expectations
This is probably the biggest issue with architects because consumers have a lot of pie in the sky ideas and sometimes, they're too unrealistic. If you know how to handle people's expectations, you'll avoid this problem.
You need to be firm but realistic because that's a big part of home entrepreneurship, and getting your business going.
Finding Workers
This is something that a lot of interior designers and landscapers, in particular, run into. The costs of labour are starting to increase as well, and the need for employees and subcontractors will always be a challenge.
The need for workers is always an issue, especially in niche industries. If you're running a business in these industries, know where you can find workers to help with labor.
Having firms you can turn to for advice, support and staffing assistance will help in the coming months, Finding the right person for the job is something that a lot of newbie entrepreneurs run into, especially if you want to get the job done fast and done well.
Remember, you want to cater to the demands of the other people, but it also can be quite hard to face and deal with some of the demands these people can make as well, so having a strong team on hand can benefit you.
The Cost of Doing Business
This ties into the previous point since it can cost a lot to deliver this type of service, especially for newer business owners. A lot of business professionals are running into the issue of marketing expenses as well, the costs of materials and products, insurance fees and the subcontractor wages and the like all of this affecting the business.
Professionals are looking to grow, and you need to realize that they also need to be paid appropriately for their service and you have to make sure that you keep that in mind
The best thing to do if you're running into the issue of not having enough money, is to start with small jobs you can do on your own. Don't try to hire out until you need to, see how much you can do on your own, and always try to deliver the best product possible.
It can be hard out there for industry professionals, but catering to the demands and changes in the market is very important, so make sure there is a balance of both.
Getting it Done Quickly
This is the last challenge many professionals tend to overlook.  Many times, they don't realize that speed is a big part of why people will choose a company or service. They don't want to have to wait six months in order to get their kitchen remodelled, they are hiring out to get it done fast.
Now, this does tie into making sure that you have enough people on the job, are creating a decent, liveable wage, and are also employing an experienced team but you need to have a timetable, a good idea of how you're going to actively create the best home improvement experience possible.
There are many different home improvement entrepreneurs out there, whether they're putting in concrete pools Perth, or remodelling a whole new space.
Having the idea of what you need to do in order to achieve this is important for the business professional. Having a good idea of what to do, and how to achieve it works wonders.
Are you an Entrepreneur in the Home Improvement Industry?  What difficulties are you facing right now in your business?  Have you found any interesting solutions you'd like to share?
About the Author:
Emily Bartels loves to write about issues related to Home Improvement.
She has been in this industry for over 5 years and specialises in writing educational content on Home Improvement.
Emily loves to read trending news to keep her updated.
Please follow and like us: