Please follow and like us: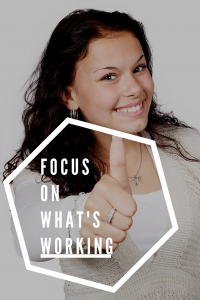 Forbes Task for Today – "Focus your energy on strategies that are working – You don't have to do what everyone else is doing. Study your analytics to see your main traffic drivers, and focus on your energy on these areas."
I really like this idea.
The Christmas holidays are fast approaching and my plan is to take a holiday break.  I'll stop my 40 Day Challenge at the midway mark (that's tomorrow), and go back and work the first 20 ideas properly.  I'll come back and complete the last 20 steps in January.
So far I'm not seeing massive results in Google Analytics, but then again, I'm also way behind on effective implementation of most of these strategies (due to limited time).
Once I can get a handle on what's working, I'll also be able to judge the ROI, and discern which ideas are worth my time.
There's one other factor that weighs hugely in my opinion – in the end, I will only focus on the tasks I really enjoy.
This is another one of the main reasons I choose to build a social media presence on Pinterest, Flipboard and StumbleUpon rather than Facebook and Twitter.
Update: 20 June 2017
Analyzing my Google Analytics over the past year, here are my top 15 Traffic Sources:
Direct (none) – 32.8%
flipboard.com/referral- 18.7%
my.wealthyaffiliate.com/referral – 10.23%
l.facebook/referral – 7.03% (what do you know – and I'm not even on Facebook)
Google (Organic) – 5.09%
corp.stumbleupon.com/referral – 3.91%
t.co/Referral – 3.36%
m.facebook.com/referral – 2.74%
l.instagram.com/referral – 1.33%
stumbleupon.com/referral – 1.21%
happyhumanpacifier.com/referral – 0.89%
Happy Human Pacifier / email – 0.80%
facebook.com/referral – 0.73%
za.pinterest.com/referral – 0.73%
pinterest.com/referral – 0.70%
Well! That was an eye-opener!  I was sure that most of my traffic was coming from Pinterest.  Turns out it's not.  Quite a number of surprises in this data.  And it may be time to seriously consider Facebook.
Please follow and like us: