Please follow and like us:
Today, we are shining the spotlight on cleaning robots and the benefits they offer. Countless homes today have robotic vacuums and mops. These devices first hit the market in 1996, and manufacturers continue to improve on them. In fact, many commercial cleaning companies today use robots to assist in their tasks. The devices offer many benefits and few drawbacks. Will robots overtake humans in the commercial cleaning industry? What advantages come with using robots in place of human workers?
Cleaning Robots: The Best Way to Automate Workplace Chores
The Future of Commercial Cleaning
Humans have nothing to worry about when it comes to cleaning robots, as robots won't take over all jobs. Business owners use robots to take on certain chores so their employees may focus on other tasks, such as customer service.
Robots cost less than human workers, as they are a one-time expense. Once the company purchases a robot from Lionsbot.com, it only needs to pay for maintenance and repairs.
This allows the company to hire more workers for other tasks, including research and development.
Benefits of Cleaning Robots
The International Federation of Robotics reports cleaning robots will become more commonplace in the coming years.
COVID-19 showed the need to minimize human contact at times, and robots ensure essential tasks are taken care of when people cannot complete them.
If the robot needs repair or maintenance, a technician carries out this task without the need to bring in other humans.
In addition, robots take on tasks that are hazardous to humans. For instance, a company may send a robot to clean up toxic fumes that would make a human ill. The company pays less in workers' compensation insurance when it isn't asking employees to take on dangerous jobs, as the risk of an injury or illness decreases.
Multifunctional Cleaning Tasks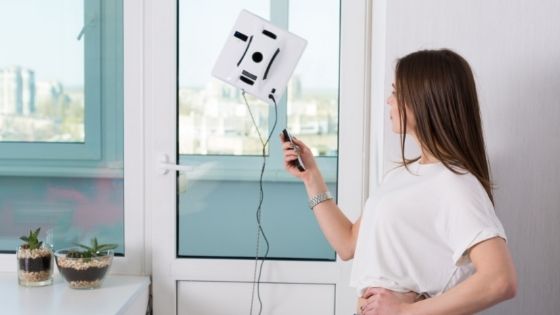 Robots may take on various tasks. The tasks completed by a device vary with the type of robot selected. The following jobs serve as examples of tasks a cleaning robot may tackle for a company.
Residential use: Countless homes today have a robotic vacuum. Commercial vacuums, however, come with advanced capabilities not seen in these household devices. Some commercial devices are capable of cleaning up to 200,000 square feet in a day. They use advanced technology to avoid obstacles, and the owner can program the vacuum to return to its docking station when all tasks are completed.
Business use: Certain companies today offer robotic duct-cleaning services. Business owners appreciate having the option of using a robot for this task, as doing so eliminates the need to cut access points in the ductwork. Cutting into the ductwork could compromise the system's integrity. The robot enters the ductwork through an existing vent and cleans the ducts. These devices have remote control capabilities and a high-quality camera to ensure no part of the ductwork is overlooked.
Commercial use: Window cleaners take on innumerable risks when carrying out their duties. Window-cleaning robots provide a better option for completing this task. These automated devices now clean curved windows with ease and move across the building without difficulty. Furthermore, they operate in high winds, something human window cleaners cannot do.
Manufacturers make robotic cleaners for specific purposes besides those mentioned above. Device options include automated vacuums designed to clean bathrooms in high-traffic facilities, such as a gas station bathroom.
Hospitals often use robots to kill bacteria and sanitize rooms in minutes. Humans cannot complete these tasks as quickly and could make errors that lead to a person becoming ill or dying.
Conclusion
Every business owner is encouraged to use cleaning robots to assist with cleaning tasks. Companies that do so find they receive several benefits, including some they were not expecting. Robots appear to be the wave of the future in cleaning. Purchase one now so you are ahead of the curve.
Please follow and like us: