Please follow and like us:
I have to admit, I haven't paid much attention to my office workspace since I set it up a couple of years ago.  It's really just a desk in the lounge (for now) but I'm quite sure I could do more with the space.  And I'm feeling a few gentle nudges in this direction. 
Yesterday I received a guest post about adding greenery to your office space, today's guest post by Tom Jennings covers just about everything else.  I picked up an office-load of excellent tips. 
If you're finding your workspace rather uninspiring, you'll definitely want to read these excellent business office makeover ideas…
Step-By-Step Guide To Giving Your Workspace A Makeover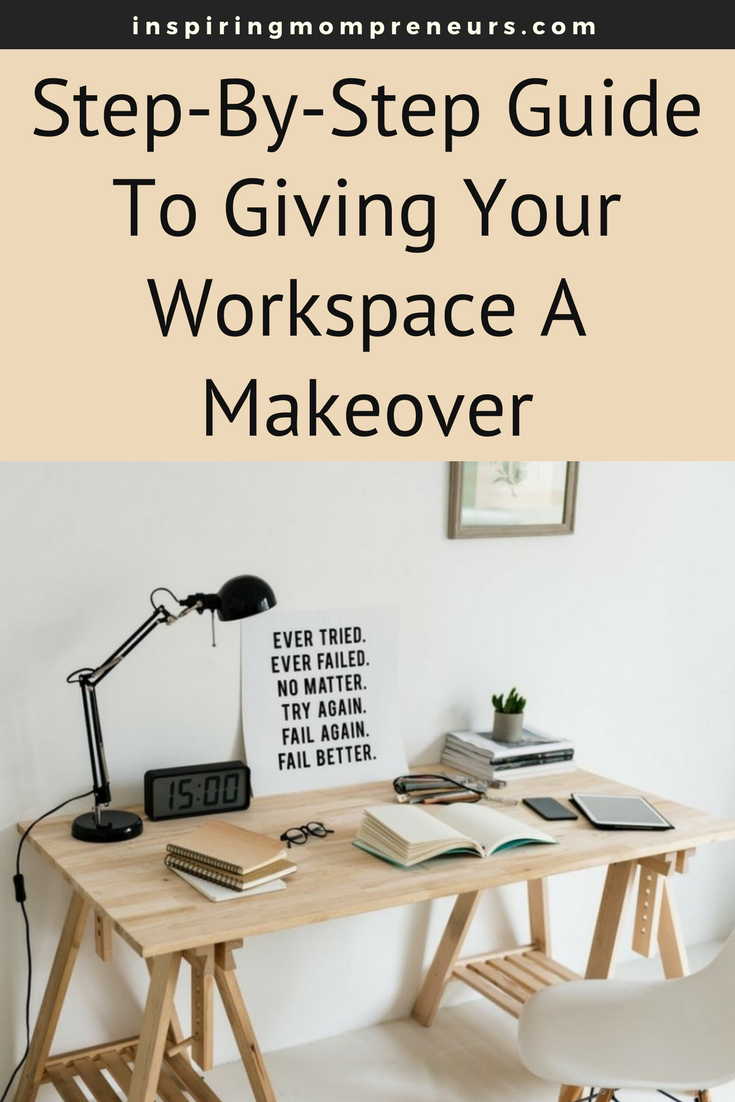 Is your office space not exciting you enough? Is your productivity getting hampered? Are you looking for a change? Then why not make some changes in your workspace.
A makeover of this place can improve your mood and also make you more productive.
Here are a few of the things to consider as you plan for your office's next update.
#1. Clear All The Unnecessary Things
A makeover cannot happen until you remove all the things that are lying unnecessarily on your table. This not only provides ample space to get creative but also add some freshness to the table. Utilize it to add a few new things and jazz up the space.
Once you finish clearing up, do the needful:
• With no clutter around, don't forget to dust the window sill and other fixtures.
• If there is a window, wash it
• Accomplish deep cleaning of the hard surfaces, desk and cabinets
• Vacuum the carpet or shine hardwood/tile, whatever required
• Don't forget the monitor screen. Clean it as well.
Lastly, look for things that you may not have used, but can in the future. Keep them aside. Here's how –
An old piece of art, when moved to a new place, looks equivalent to new.
Similarly, placing even the desk and chair at a new place can mark a new change. Wall decoration can find inspiration in this low budget fixture.
#2. Your makeover should not put your health in hindsight
Well, if you don't have one of these already, then buy one – an ergonomic chair. It is the need of the hour.
Consider office chairs Singapore from Masons for comfort and health.
They can be adjusted as per the required height and comfort level.
For those who find it difficult to touch the floor, use a footrest.
You can add a few colourful cushions and hence add a spark to the room. These will give you comfort and also make the space a little more colourful.
The top of your monitor should be just below the eye level.
Employ an ergonomic monitor and keyboard to ease the pain in your neck and hands.
#3. Lighting
Change in the lighting system can bring in a massive change.
Though daylight is sufficient for daytime, the location matters. Take your desk as close to the window as possible if it has been at a distance.
Evenings and night need to be lit up with the right lighting. Think about changing your old lighting system. New lights can add a new flavour to the whole space.
The best in this category are soft white LED table lamps Singapore. As a bonus, they are good for the eyes too.
#4. Mood Boosters
What are mood boosters for you? Well, you know that better than I do.
(Editors note: Chocolate. Coffee. Deep breaths. Ted Talks.  Inspirational Posts.) 
Still, note some suggestions.
Pick some scented candles. Light them to lighten your mood. Every time you feel you are stressed or need a break, light them to feel energized and meet the productivity levels. Candle scent coupled with fresh air is second to none in boosting the mood of a person.
Flowers are the second most loved things in an office. When fresh, they are loved more.
#5. Make use of empty spaces
The spaces you had not utilized earlier can be utilized now. If there is a space right behind your monitor, for instance, a wall. Make use of that wall and create something that can serve the purpose of inspiration while also helping the whole area don a new look.
And lastly, vow not to meddle with the changes and the pieces kept so creatively. Let this makeover last longer than others think. Enjoy the new space, enjoy your work!
Author Bio:
Tom Jennings is a freelance writer who is binging on Netflix series and food when not expelling some wisdom. Catch his words, he loves playing with them.
Over to You Moms
What does your office workspace look like? Is it also in need of a makeover? 
Let me know which of these tips were your favourites.  Or if you already have a super duper workspace, feel free to share a couple of your own top tips.
Please follow and like us: