Please follow and like us:
Some of my best childhood memories are of climbing trees and playing in the park or the open field across the road from our house.  These days, especially if you live in a city, there is less open space than ever before and it doesn't feel as safe to let our children go out to a park to play on their own.
This is why parents have had to come up with creative solutions for their children. Many are now turning their own gardens into playgrounds or parks by building wooden outdoor playsets for kids.
Mark, CEO and co-founder of Spimbey was just such a parent.  Mark wanted to recreate his fondest childhood memories by creating a wonderland for his little boy in their own backyard.  He did such an excellent job that parents of his son's friends started asking how they could build their own.  This is how the idea for Spimbey was born.
Now, parents around the world can purchase wooden modular outdoor playsets that they can build themselves in their own gardens and each playspace has been intentionally designed to spark their children's imagination.
In this post, we'll share a few fun benefits of these kinds of wooden outdoor playsets for kids.
This post was sponsored by Spimbey, all opinions are my own.
5 Awesome Benefits of Outdoor Playsets for Kids
1.  Get Children Off Digital and Outdoors
Of course, the most obvious reason for creating a playground in your own backyard is to get your children away from the TV screen and off their iPads or tablets.
It's not always possible to get out and about to an actual park or play area.
You used to be able to stop in at a park on your way home from work or the school run, now that so many of us are working at home and even homeschooling our children, that's no longer the case.
Even if you're not a regular homeschooling Mom, you've had to come up with creative ways to keep your children occupied when a nationwide lockdown was enforced or you're all in quarantine because a child at school has contracted Covid-19.
Our home is our castle now more than ever.  It's a great opportunity to build imaginary castles outside for our children to play in as well.
And this brings us to our next point.
2. Help Your Children Create a Fantasy World
We all know the benefits first-hand of imaginative play.  As children, we built sandcastles, climbed trees and created make-believe worlds out of our minds and it was awesome fun.
What we didn't realise at the time was that this kind of creative play was developing our young minds, helping us become problem solvers and critical thinkers. Now, we are beginning to realise that this was exactly what helped us become the well-rounded adults we are today.   And science backs this up.
There are a number of proven scientific benefits of pretend play.    You can read about them in this scientific journal.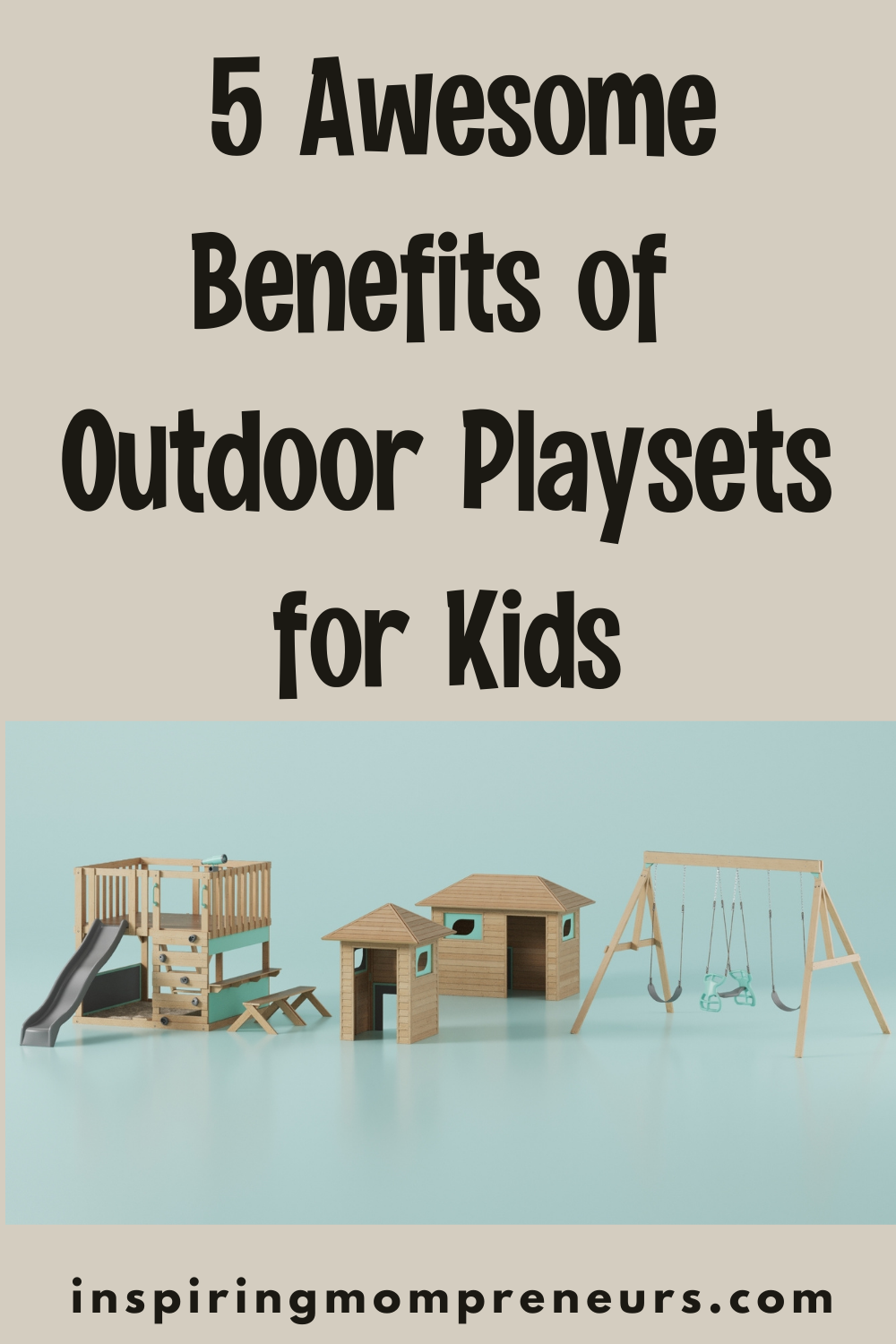 Here are some of my favourite benefits. Pretend play helps children…
develop empathy for each other
become less aggressive
learn to delay gratification
express feelings (both positive and negative)
resolve conflicts
If children spend too much of their playtime on digital devices, they are simply not learning these skills. Creating play areas that encourage this kind of creative play is a great way to get them off those devices and outside.
2. It's Safer to Play at Home
Sadly, we live in a world that feels distinctly more dangerous than it did when we were children.  And because of this, our children have lost many of the freedoms we used to have when we were kids.
Public parks don't seem as safe as they once were, with the number of kidnappings and abductions climbing in most countries.
This global pandemic has also highlighted dangers we hadn't even considered before. Most countries are still recommending that everyone masks up, sanitizes frequently and practices social distancing.
And while children have adapted a lot better than many of us parents, wearing masks all day at school with few complaints, it can't be fun to wear masks AFTER School and on weekends as well.
You can avoid all these extra precautions by building your own playground in the privacy of your own garden.  
4. Health Benefits of Active Play
Another thing children don't do enough of these days is MOVE. Active outdoorsy play like climbing, swinging, running, jumping, skipping and hanging from monkey bars are all essential for a child's body and brain development.
Here are some of the top health benefits of active play.
Improve coordination
Build muscle strength
Develop fitness and build heart (cardiovascular) strength
Get the lymph moving around the body to improve immunity
Maintain a healthy weight
Boost self-esteem and confidence
And let's not forget that the very act of building wooden modular playsets like these is an activity that could be fun for both you and your children to participate in.
It's extremely satisfying for a child to be involved in a project like this and will give them a sense of accomplishment and ownership when you're done.  And then, of course, they can have years of fun playing on them afterwards.
5. Creating Childhood Memories
As conscious parents, we strive to give our children more than we had as children.  At the same time, we are becoming intensely aware of how the digital age may be depriving our children.
We are also busier than ever and can't be there every second of the day to entertain our children.
This is why playsets like these can be a God-send, a gift we can give our children that evokes the kind of childhood memories we have of our own childhoods. Just the counter-balance we need.
And think of all the wonderful photo opportunities. Not to mention how YOUR garden wonderland will be the envy of the neighbourhood and help your child become "Miss or Master Popularity".
Over to You
Have you built an outdoor playset for kids in your own backyard?  Are they make-shift, like a treehouse, swing or jungle gym designed by you or spectacular wooden modular playsets like these?

Please follow and like us: