Please follow and like us:
Motherhood has this fascinating way of changing your path and your priorities, doesn't it?
From Forensic Audit Associate to Popular Mompreneur
I'm sure Lydia Naidoo had no inkling that in becoming a Mom, she would turn her back on 5 years studying Law and 6 years in prestigious multinational auditing firm, Ernst & Young, to take on an entirely new challenge – she opened Gazoome Play Centre in Cape Town.  Nor, could she have foreseen that within a year, her new business venture would be so successful she would already be looking at franchising Gazoome into other major cities in South Africa.
…the first place where I could finish an entire, unbroken conversation
Benjamin and I just happened to be the very first customers to walk through the doors when Gazoome opened a year ago.  What a pleasure to receive such a warm welcome from the owners. While I was still signing Ben in, he excitedly broke loose and started playing, no supervision required.  That very day Gazoome became the first place where I could finish an entire, unbroken conversation with another Mom. What a win!  Over a cup of coffee and delicious home-baked cake, to boot.  Mom and son, SOLD!!
…humble, down to earth and hands-on
What's so inspiring about Lydia is how someone so brilliant and accomplished, can be so humble, down to earth and hands-on in their business.  When you bring your child to play at Gazoome, you are greeted personally by either Lydia, or her husband, Craig.  They know all their regular customers, and their children, by name.
Lydia has always had a passion for children and felt called to work with children in some way.  Her main reason for opening Gazoome was that she felt she wasn't able to enjoy enough quality time with her own son, Jude, while working 8 to 5.
Every time Jude saw a car he would say in typical toddler fashion, Gazoome.
Interestingly, Jude also provided the inspiration for the name Gazoome.  He was 18 months when Lydia opened the play centre and crazy about cars.  Every time he saw one he would say in typical toddler fashion, "Gazoome".
Ernst & Young's loss, was most definitely our gain.   From the moment Lydia opened her doors, parents in the area started flocking to Gazoome for play time, and booking children's parties.
The keys to their apparent "overnight success" in business?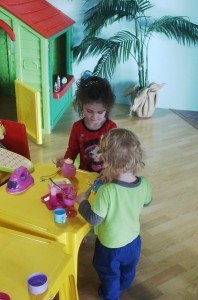 1. Market Research
Lydia and Craig spent a few months researching the market, doing surveys on facebook and conducting feasibility studies on various options.
2. Workable Business Plan
They put a business portfolio together, committed to using all their savings for the initial set up costs, and convinced their parents to loan them the rest of the start up capital.
3. Location, location, location…
They found a venue in a reasonably quiet centre, with plenty of available parking bays right in front of their shop, on a busy Main Road (Koeberg Road in Milnerton). They put up bright, welcoming signage facing the road, while renovating and fitting the play centre, attracting the attention of parents driving into or past the centre.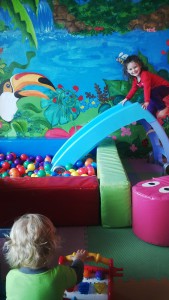 4. Fun Zones for Children, relaxing Cafè for Parents
Lydia made sure to choose a venue big enough to accommodate about 30 children at a time, and just small enough so parents, grandparents or caregivers could sit at a table and relax with coffee and cake with their children always in view.
She divided the space into:
An open plan Cafè

 

and main play area with jungle gym, play house, mini trampoline and jumping castle in the forefront.

A special, cordoned off play area for babies and toddlers up to 2 years situated behind the seating for parents and fitted with soft toys, mini slide and cushioned play ball pit.

A larger closed off area reserved for children's parties which can be further divided into two separate party areas for smaller parties held at the same time.

They spared no expense when it came to toys, with a focus on pretend play (mini oven, ironing board etc.) and educational toys, so popular with the age group they were targeting.
5. Marketing and Advertising
Craig's business is marketing and branding and he is an experienced webmaster. Before opening day, their website and facebook page were already up, and their leaflets were printed advertising their opening special.
6. Attention to Detail
Lydia paid attention to the things that matter most to parents – hygiene and safety. We absolutely love that Gazoome is always beautifully spic and span. Makes for happy play and excellent photos.
7. Products and Pricing
Lydia drew on her penchant for event planning, and came up with party ideas and themes that youngsters would love, and priced them right.
The result?
Within 4 months the business was debt free, thriving and profitable, almost unheard of in a traditional business venture. Most start-ups fail in the first year, and it's the norm to take 2 to 3 years to break even and start turning a profit.
Having proven she knows how to create a viable business out of thin air, Lydia's logical next step is to franchise.
If you are a budding Mompreneur in Joburg, Durbs, PE or East London looking for a franchise opportunity which promises good, clean, fun playdates for your children and their friends, contact 
Lydia Naidoo at Gazoome Play Centre on 
084 455 6722 or lydia@gazoome.com
Lydia has the last word:
"Nothing beats that look on a child's face when they walk in excited on their birthday and see all the balloons and their favourite characters."
Please follow and like us: