Please follow and like us:
Women and Health Issues
Most women with health issues who decide to have children do not regret the decision, despite the fact that their health issues may compound the struggles of motherhood. The joy of becoming a mother can eclipse physical aches and pains.
Raising a family is a dream for many women, and no one should have that dream taken away from them just because of an injury or a difficult diagnosis.
In just the same way, women will fight for their dream of owning their own business.  That said, it can be a challenge to navigate health issues, entrepreneurship and motherhood.
Adam Williams covers this subject masterfully in this guest post.
Mompreneurs and Health Issues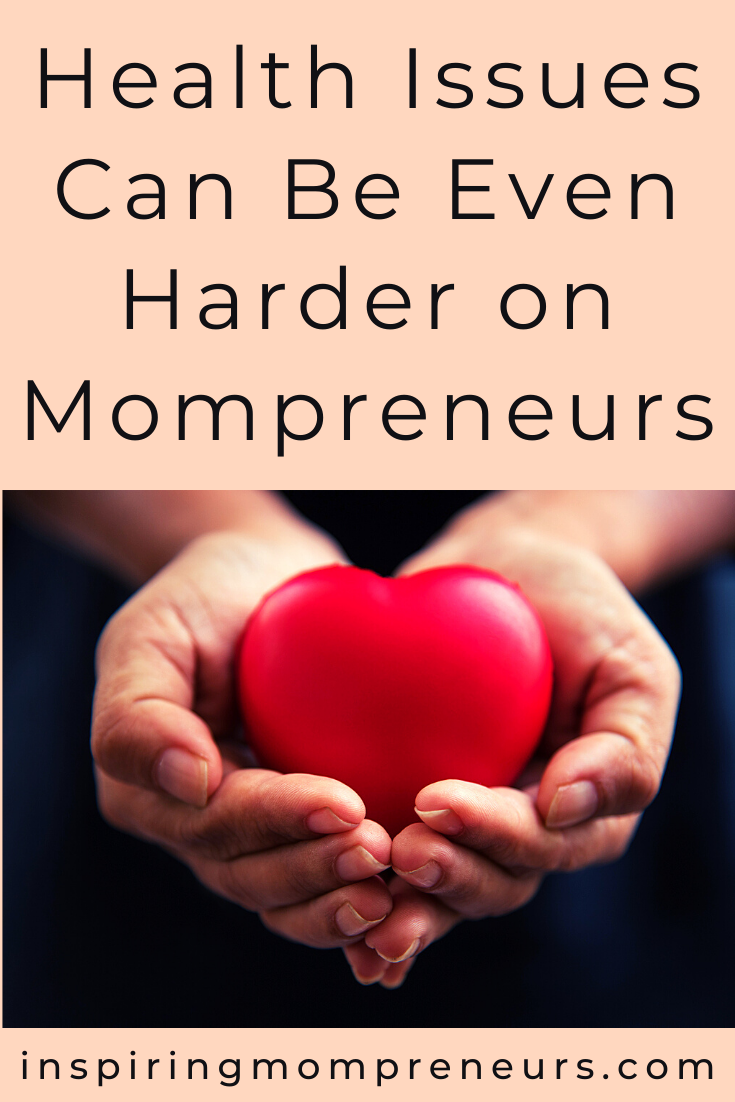 Guest Post by Adam Williams
The COVID-19 pandemic has changed a lot for many mompreneurs, especially those who have transitioned to working from home and juggling childcare with taking meetings, phone calls, and other work-related issues.
Although many of us have had the opportunity to spend more time with our families, it can be a struggle to handle all of the responsibilities and overwhelm from home each day.
This is especially true if you are a mother who is dealing with health issues, whether chronic or caused by an unfortunate accident.
I've personally seen the effects that chronic illness or long-lasting injury can wreak in my own family. My mother was diagnosed with fibromyalgia when I was a teenager, an autoimmune illness that can cause intense pain, tiredness, and other debilitating symptoms.
She struggled with it for many years before her diagnosis, fielding disbelief from doctors and even our own family members before she finally had an answer to her health issues.
I remember how difficult it was for her to come home from work and have to deal with making dinner while she was in intense amounts of pain–it's part of the reason why I learned to cook, to help her carry her weight a little bit more easily.
My mother, a mompreneur if there ever was one, started two businesses despite her health issues. Although she remains an inspiration to me to this day, I know that she was not alone in her struggle with health while simultaneously juggling her business, work and parenthood.
Motherhood and Health Issues: The Statistics
The ideal of motherhood is a shadow that hangs over many parents, but especially those who are dealing with chronic health issues or injuries.
One study, which took a look at qualitative data from 1980-2000, found that most mothers, "see themselves as mothers first and patient's second." This means that oftentimes, mothers will put their own illness to the side in order to care for their children instead of asking for help or receiving help from others.
Mothers also deal with unfortunate bias from healthcare workers. In general, the study of disease and injury in the female body has been underrepresented compared to our male counterparts, and thus this can lead to inaccurate diagnoses or the idea that pain is just "all in our heads", leading to a mental health diagnosis rather than one of disease or injury.
Chronically-ill mothers tend to feel unsupported by workers in the healthcare field and may find themselves in dire straits when their injuries or illnesses become worse.
Not all hope is lost, however. Despite health issues that may compound the struggles of motherhood, most women who decide to have children do not regret the decision. Raising a family is something that many women dream of, and no one should have that taken from them just because of an injury or a difficult diagnosis.
How to Deal with Injuries and Illness as a Mom
No one would argue that injuries or illness makes motherhood a cakewalk. Deciding to start a family is an incredibly personal decision, and having the support that you need to take care of yourself is something many mothers do not have the luxury of attaining.
Getting Expert Help
However, if you are injured due to someone else's negligence, filing a personal injury lawsuit against the person responsible might be a viable solution to your chronic pain or other health issues.
Communicating with your Partner
The most important thing, however, is to balance motherhood with health concerns. The best way to do this is to communicate effectively with your family and your partner (if you have one).
When you are unable to complete your "duties" as a mother, they will understand and hopefully help you to pick up the slack when you are able.
Teaching Your Children
Educating your children from a young age is also important to help them understand your condition. When we found out my mother's diagnosis, I researched the symptoms and causes as deeply as I was able–any information you are able to share with your children and your partner will allow them to understand your situation a little bit better instead of judging you for your supposed "deficiencies".
Following Your Dreams
Lastly, when it comes to aspiring mompreneurs, it's vital that your family knows some of your energy will always be reserved for your goals in business and your career aspirations for the future.
No one should be held back by a diagnosis, least of all a working and active mom, but it's important you know that your dreams are on the horizon and not on the backburner.
Having that hope for the future can help quite a bit when you are dealing with pain or juggling responsibilities with all your fingers and toes.
About the Author
Adam Williams is an acclaimed personal injury attorney based out in Las Vegas. To reach out to him directly, contact LV Personal Injury Lawyers, 400 S. 7th St #450, Las Vegas, NV 89101, (702) 800-4660
Please follow and like us: