Please follow and like us:
This post was sponsored by 310 Creative.  I studied their mammoth article, the Definitive Guide to Top B2B Marketing Strategies in 2021 detailing 18 top B2B Marketing strategies to implement and summarised the highlights in the post below.
Here are five important points to consider as you finalise your B2B Marketing Strategy for the upcoming year.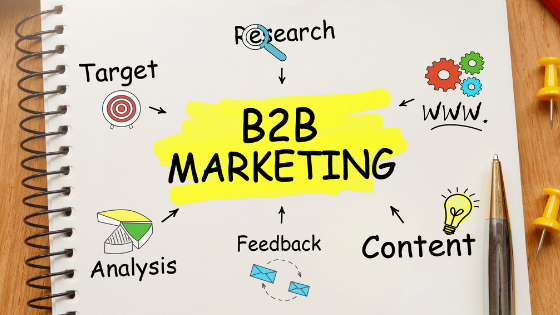 1. Think Longterm
There are subtle differences between selling B2B (business-to-business) versus B2C (business-to-customers) and therefore it's advisable to adjust your marketing strategy accordingly.
Remember that with B2B you're generally selling a long-term contract rather than a one-off product or service.
Don't make the mistake of treating your B2B clients in the same way as customers.
B2B clients are more discerning than most customers.  Your sales team may not be meeting with the decision-maker at the get-go. The sales process is also likely to take longer, be more detailed and your clients will be interested in the potential return on investment.
That's why savvy marketers nowadays opt for a flywheel strategy rather than a traditional funnel strategy. Simply put, your focus should be on nurturing your clients rather than on straight sales.  Here's a great video by HubSpot explaining the key differences.
2. Do Thorough Research
It's never been more important to keep on top of market research because the world is in a state of flux.
To maintain your competitive edge, it's important to keep up to date with what your competitors are doing as well as the latest tech developments.
Research your ideal client – do a thorough needs analysis and incorporate your up-to-date findings into your marketing strategy.
Keep tabs on your key performance indicators and monitor how previous marketing campaigns have performed. 

And never forget the value of asking your existing clients directly for feedback.  Create polls and surveys to make it easy for clients to air their views. Their answers can be used in your content marketing strategy.
3. Website and SEO
Your company website is a critical element in your marketing strategy.  It's usually where your prospective clients get their first impression of your organisation and, designed well, can be used to collect leads and even convert them into buyers using inbound sales strategies.
It doesn't have to cost the company an arm and a leg to get your website up to speed. Many web designers are moving to growth-driven design these days. GDD saves your company time and money by focusing on redesigning one page at a time and launching each page individually.
Your website needs to be eye-catching, secure, responsive (mobile-friendly) and load fast, not just to attract your ideal client but also to move up the ranks in the search engines.
No SEO strategy is complete without a good content strategy.
4. Content Strategy
For starters, your potential clients should know exactly what you offer and what makes your company unique the moment they land on your page, so keep your messaging clear, succinct and packed with the benefits of working with you.
SEO Content strategy is shifting away from keywords to content clusters.  Create posts on various topics related to your unique selling points and link posts together.
Video has been dominating all markets for the last few years and will continue to increase in popularity. Create video content to embed into your web pages, posts and social media.
Third-party validation is becoming more and more sought after by today's market.  Incorporate case studies of satisfied clients into your content strategy, social media strategy and email marketing.
Consider interviewing satisfied clients on video or creating a podcast and adding their testimonials to all your marketing channels.
Link building is still very popular to build authority online. If your content is well researched and thorough, authority sites may link to your website naturally, however you may want to also consider doing some blogger outreach or working with a reputable link building agency.
And while we're on the subject of agencies…
5. Consult with Experts
You don't have to go it alone.  Consider working with an agency that specialises in B2B Marketing to help you iron out the finer details of your campaigns as well as advise on the latest software advances. There's a good chance you may be leaving money on the table if you don't.
For a deep dive into the latest tips for lead gen, sales and customer satisfaction that lead to repeat sales, don't miss the article by 310 Creative I mentioned in the first paragraph.
What B2B Marketing strategy do you have planned for 2021? Which points stood out for you in the article?
Please follow and like us: