Please follow and like us:
There are useful ways you can protect your home business from crime. As we approach the end of the year, home break-ins are on the rise. When the days get dark early, and people are becoming increasingly desperate due to the cost of living crisis, the number of burglaries in residential areas is growing.The prospect of a break-in is frightening for anyone, but if you run your own business from home you have reason to be doubly worried. You probably have some expensive equipment that is essential for your day-to-day operation, such as computers, speakers, smartphones, and other valuables.
There is an added risk if you use your home to store reserves of your business's products. Apart from the loss of finances and physical assets, a break-in can also cause enormous disruption. It will take some time to replace the things that were stolen and get business up and running again. Your relationships with clients and customers could suffer in the meantime.Fortunately, there are numerous steps you can take to protect your home business from opportunistic thieves. Here are four tips to keep you safe.
4 Ways To Protect Your Home Business From Crime

1. Install a Security System
Although it costs a bit of money, by far the most effective method of deterring thieves is to install a robust security system. Pick a well-known company offering quality products, rather than a cheaper firm whose security may not be up to scratch.
There is a wide range of different products available including burglar alarms, motion sensitive cameras, heat sensors, and locks that are almost unbreakable. Most people decide not to go down this route due to the cost, but no doubt regret it when a breakin does eventually occur. You can't mess around when it comes to your business so be smart with security.
2. Keep Valuables Out of Sight
Most thieves will take the path of least resistance when it comes to robbing houses, so make sure you don't have any valuables on display. If a burglar sees your expensive computer setup through a ground floor window, it won't take much for them to pry the lock and make off with the goods in the middle of the night. Keep these items out of sight from public thoroughfares and close blinds and curtains at all opportunities if possible.
3. Lock Up Your Home
Many burglars will try their luck to see if a door or window has been left open, and if there is no easy access, they will move on to the next property. Always check your windows and doors are securely locked when leaving the house or going to bed.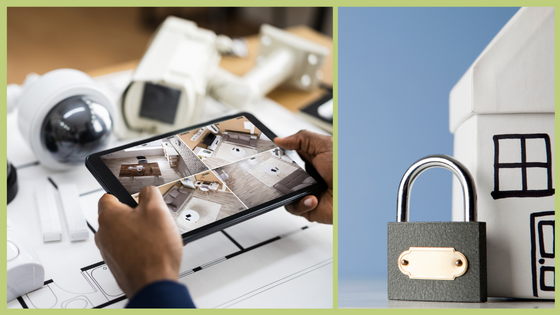 4. Insure Your Property
Whatever security measures you do take, there is always a chance an experienced burglar could get in and steal your possessions. That's why it's always a good idea to take out an insurance policy. You may be able to protect your business assets under a standard home or contents policy, or you might require a commercial property insurance policy, such as provided by companies like Tivly.
Final Thoughts
We hope this post about useful ways to protect your home business from crime has been insightful. If you follow these tips, you will be able to enjoy peace of mind that your business and its assets are safe. What other security tips do you know?
Please follow and like us: