Our Heart
I started Inspiring Mompreneurs because I care about Moms in business and feel they deserve to be applauded.
As a Mom and Entrepreneur myself, I know how tricky it is to balance being wife, parent and housekeeper as well as managing all our other family obligations and maintaining friendships while building a business.
And of course, as a Mom, I care deeply about children.  Mine and others.
The Kids Gym and Ninja Zone
My 4-year-old son started Ninja Zone classes at The Kids Gym Cape Town 6 months ago and it's been brilliant for him.  He absolutely loves doing his Li'l Ninja classes. He's having so much fun, he doesn't realise he's also learning valuable Physical Literacy skills to help him meet his gross motor milestones.
Joining The Kids Gym as BDC
I'm always referring friends (and anyone who wants to listen) to The Kids Gym. So much so that recently I became the Business Development Consultant for The Kids Gym.
It's the perfect position for me as my son is a happy Kids Gymer so I'm totally sold on the concept and I'm also always networking with Moms in the area.
Physical Literacy for Children Non-Profit
At my interview, I was excited to discover the Owners of The Kids Gym have also started a Non-Profit Company, called Physical Literacy for Children (PLC).  And on my first day as BDC, I became the Public Officer for PLC.
I've done some Volunteer work over the years for various Non-Profit Organisations (mostly at Children's Homes) and it's been on my heart for many years to either start a Non-Profit or get involved as a Volunteer again.
When I started my blogging, I always had the intention of finding some way to add a contribution page to my sites but wasn't sure how.  Finally, it's all coming together.  This is my first Contribution Page.  And I've also just built the PLC website.
Every Child Deserves a Physical Education
PLC currently supports 150 underprivileged and Special Needs children.
These children attend a Physical Literacy Fitness class once a week at The Kids Gym in Cape Town (Sable Square, Century City).
It's wonderful to see these children come in on Monday and Tuesday mornings and so beautiful to witness their progress. They leave hot, out of breath and smiling from ear to ear.
Here's a little glimpse into what happens here on Mondays when the children of Molenbeek School Pupils are here.
 70% of Children at Primary School don't achieve the minimum requirement of an hour of Physical Activity at day.  
Which is why we're seeing, for the first time in history, more deaths in children from obesity than malnutrition (across the globe). 
Sedentary children usually become sedentary adults, overweight children usually become overweight adults.
We need to give children a chance to turn this around as early as possible.
Only One Snag
Out of the 150 children PLC supports, currently, only 25 children are sponsored.
The Kids Gym is bearing the cost of the remaining 125 children.
AND there are so many more children at underprivileged and Special Needs Schools who would like our support.  So we need donations.
For as little as R 240 or $20 you can Sponsor a Child on our Program for a Month.
Would You Like to Contribute?
Are you looking for a way to make a difference?
Are you in a position to sponsor a child?

Or a School?
There are two ways you could assist:
You can either make a Donation to PLC via Payfast, from wherever you are in the globe.
Or
If you're in South Africa and feeling the pinch, you could shop Online at WeBenefit for things you'd ordinarily be purchasing, like Airtime, Electricity and office supplies.
WeBenefit gives you a way to contribute to a Cause you believe in, even when you have no available budget to do so.
You do this by changing your point of purchase.
For example, for the past 3 months, I've bought my household electricity via We Benefit.  It didn't yield a massive benefit to PLC, but hey, when I buy electricity any other way, I'm not donating anything.
As you can see from the Screenshot below, I'm contributing R 19.22 a month totalling R 57.66 over 3 months.
There are ways to contribute a lot more money via We Benefit.
As a Mom Entrepreneur, you may be needing office supplies or equipment or household appliances.
Shopping for a bigger ticket item, like a Laptop or Washing Machine, for example, can contribute a tidy sum, as you can see in WeBenefit's online shop.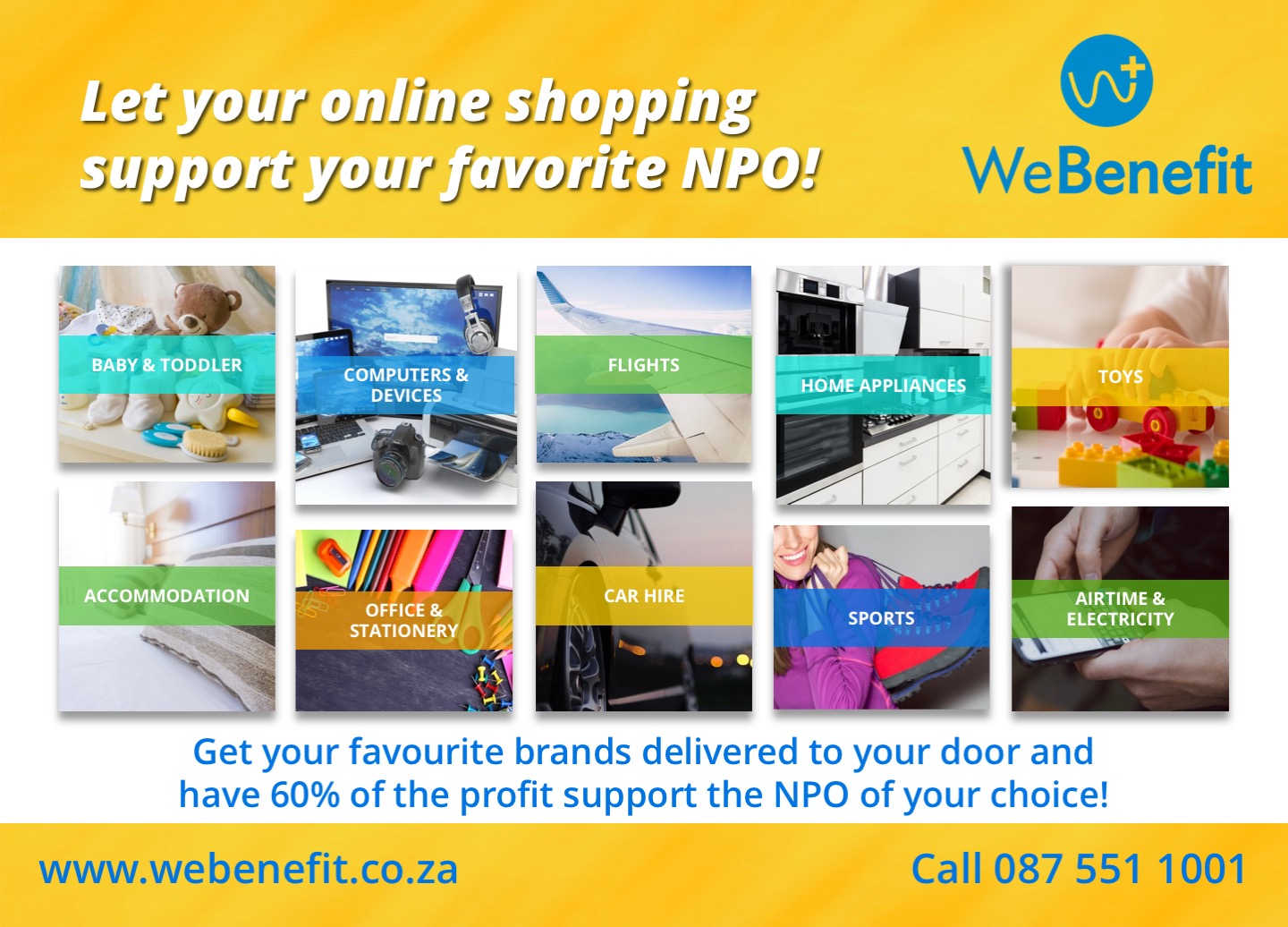 Invitation
I invite you to join me in helping underprivileged children get the Physical Education and the Physical Literacy Skills they need and crave.
For less than $20 (R240), you can sponsor a child for a month.
If you would like to make a donation, please click here:

If you're in South Africa, you can donate via Payfast or We Benefit (or both):