Please follow and like us:
From Pain to Peace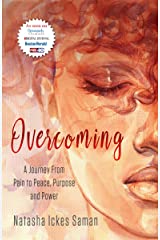 I just had the honour of meeting Natasha Ickes-Saman on Zoom for this fabulous interview.   Natasha wrote a  beautiful autobiography during lockdown (Covid-19) that became a bestseller on Amazon, Overcoming: A Journey From Pain to Peace, Purpose and Power. 
I snapped up a copy of her book on Amazon Kindle* so that I could start reading it immediately.  I finished reading it yesterday and I feel like I can take on the world.  It was exceptionally well written and hugely inspiring.
Natasha has been through so much to get where she is today and she tells her story with such honesty and self-awareness. 
Natasha is an incredibly talented Hairstylist who has built a busy hair salon so that she could do what she loves while raising her children. 
Natasha has a deep level of self-awareness and is highly intuitive and empathic, so I was not surprised to discover she's recently become a Certified Life Coach.
Meet Natasha Ickes-Saman
Natasha Ickes-Saman – Mom Entrepreneur
Lauren: In your own words, what do you do for a living?
Natasha: 
For 15 years I was proud to be focused and committed in one career.  After spending years losing my way I was proud to be steadfast in one thing, being a hairstylist and salon owner. 
However, Covid and an amazing mentor of mine changed things up. Over the last year what I do has expanded. I am now an author, speaker and certified life coach. I am still searching for a word or term to package it all up.
Lauren: Now that you wear many hats in business, which of these do you love most, which takes most of your time and which brings in the most income?
Natasha: 
I love them all in different ways. Just simply doing something different is so fun for me. Once I separated my career from my identity I felt free to explore new things. So right now I split my time. 
About 60% of my time is focused on the salon, which brings in the most income (well over 6 figures a year). 
The rest of the time is spent building up the new business. It doesn't bring me a huge amount of money yet but I am setting the foundation to create that in the near future.
Lauren: When did you decide to become an Entrepreneur?
Natasha:
I decided to be an entrepreneur at 19.
 As a teenager, I tried working a series of odd jobs. The lack of money and respect was draining. I knew that I couldn't spend my life that way. 
Once I got pregnant with my daughter, I wanted a career that provided good money and flexibility. Of course, it needed to be something I enjoyed.
Natasha Ickes-Saman – on Motherhood
Lauren: What has been the number one highlight of Motherhood for you?

Natasha: 
I always wanted to be a mother. I wanted my children to feel loved, protected and cared for. I have gone above and beyond with trips, sports, etc.  
My biggest joy has been creating relationships where my children feel unconditionally loved.

Lauren: Has it been tricky balancing work and home life?
Natasha:

I was a workaholic for a very long time. 
Before I had my daughter I was homeless for several years. I was desperate to not just provide stability for her but to give her the best life possible. 
That meant a large home, international trips and tons of toys. I needed money to do that. So I became a workaholic, working 7 days a week for years, often 12-15 hour days. 
I rationalized it in 2 ways. 
The first was constantly having my children with me in the salon. I had a desk for them to do homework and kept toys, books and snacks readily available. It took me years to admit that time with me at work wasn't real quality time. They needed my full attention and focus. 
The second way I rationalized being a workaholic was by always taking off for my kid's sports and special events. 
My daughter does competitive cheer in which we travel the country. In 7 years I only missed 2 competitions. 
However, I ignored the fact that I was exhausted all the time and still unable to show up as my best self. 
Covid shifted my perspective. I now work 4 day work weeks and prioritize game nights, running around the park and movie nights at home. It hasn't been easy but I am getting much better.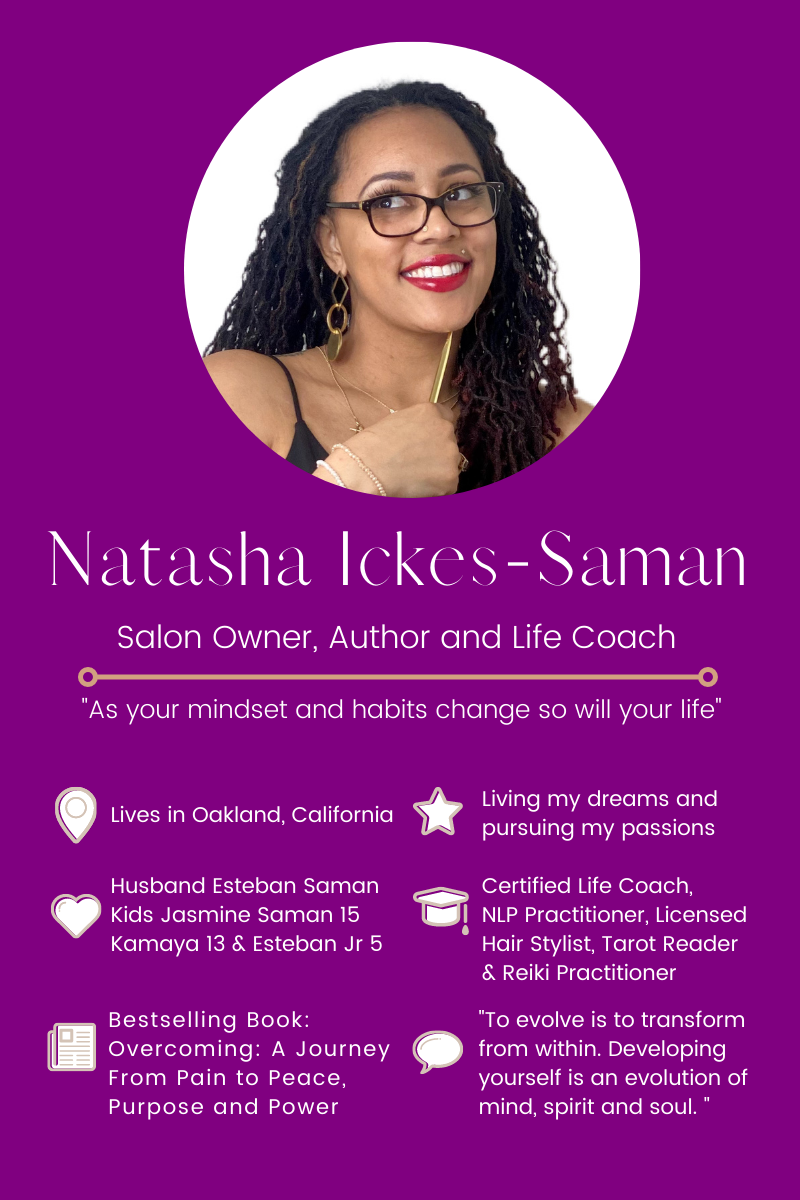 Lauren: Do you feel it was a good decision to become an Entrepreneur?
Natasha: 
It was the best decision of my life to be an entrepreneur. It's all I have done for the last 15 years and I wouldn't trade it for anything in the world. 
What greater blessing than making money doing something you love, that also has a positive impact on others?
Lauren:  How many hours do you estimate you work per day, on average?
Natasha: 
 I used to work 70-hour workweeks but it took a toll on my health. I now work about 40 hours a week.

Lauren: Do you feel you are living your passion?
Natasha:
I feel so blessed to be living my passion daily, which is connecting with women and facilitating transformations. 
I used to think your passion could only be expressed in one way. So while I enjoyed things like Tarot, Reiki and studying Spanish, I looked at hair as my passion. 
In fact, my salon is named Shear Passion. I now have a broader and more fulfilling view. I am allowing myself the space to express my passion in different ways.
So whether it's through hair, writing, speaking or coaching- I am playing full out and living a life I am wildly passionate about.
Lauren: Do you feel you have already created your best work?
Natasha: 
I feel I have so much more to give. I am still learning and growing. As I continue to step more into my light, I will able to share my gifts with others. 
Natasha Ickes-Saman's Message
Lauren:  Do you have a message you would like the world to hear?
Natasha:
My message is Get it Done. And I say that with love. I know what it's like to spend years wasted on sadness, depression and excuses. I wasted so much time stuck in my story and pain. 
I don't regret any of it because it was my path. But my life transformed for the better when I decided to just stop, take control of my life and get stuff done.
I learned to grab life by the horns, take leaps of faith and take risks even when I was scared.

Lauren: What advice would you give someone just starting out as an Entrepreneur?
Natasha:
The top 3 things that are most important in entrepreneurship are passion, preparation and persistence. 
Do what you love, put in the work to ensure you are good at it, and never ever give up.
Follow Natasha Ickes-Saman
Here's Natasha's Top-Viewed Video on her YouTube Channel
Related:  Find more Featured Mompreneurs here.
P.S.  You can find an article written by Natasha Ickes-Saman on Breastfeeding a 5-year-old on our sister site, Happy Human Pacifier.  
*Affiliate Disclaimer: The link to Natasha's book on Amazon is an affiliate link. If you click on the link and make a purchase on Amazon I will earn a small commission, at no extra cost to you.
Please follow and like us: