Please follow and like us:
Laura Di Franco is the author of 8 Books. 4 of them are Amazon Best Sellers.
Brave Healing: A Guide for Your Journey
Your High Vibe Business: A Strategic Workbook for BADASS Entrepreneurial Success
Warrior Desire: Love Poems to Inspire Your Fiercely Alive Whole Self
Living, Healing and Tae Kwon Do: A Memoir to Inspire Your Inner Warrior
Laura is also the owner of Brave Healer Productions, an Inspirational Speaker, Podcaster, she has a Black Belt in Tae Kwon Do and she's a Mother of two.
Super grateful to have the honour of meeting her today on Zoom and getting this amazing interview.
Towards the end of our interview, I asked the question, How do you fill yourself again as a healer?
This was Laura's answer: "Here's the key… I follow the joy. By following joy, every single day, I feel like my energy is limitless. I can give to people all day long and go to bed with a smile on my face." 
Watch the video here. 
Career Highlights
Lauren:  What has been the number one highlight of your career?
Laura:  The highlight of my career as an entrepreneur happened the day I realized that sharing my words may have saved someone's life.
We all search for the purpose and meaning in our lives. We want to know that what we do is what we're meant to do. But that day I realized purpose wasn't about what I did, it was about who I was doing it for.
Purpose had a face and a name. 
The woman who reached out on Facebook Messenger was a mother of five, struggling with depression. Through our interactions, I realized that I'd given her the hope and connection she needed to feel her own worth. 
It was later, after developing a friendship and getting to know her better that I found out she'd been planning the suicide note she'd write to her husband and five kids. 
If this connection is all I ever do with my life or business, it will have been enough. Her face is what keeps me going most days when I think I want to quit.
On Wearing Many Hats in Business
Lauren: If you wear many hats in business, which of these do you love most, which takes most of your time and which brings in the most income?  
Laura: I do wear so many hats in my life and my business. I totally admit to being a multi-passionate entrepreneur and person.
Out of the holistic physical therapy, intuitive writing coaching, healthcare practice business coaching, and my new poetry business, I'd have to say that writing and performing poetry that lights up the hearts, souls and faces of the audience, and my clients are my favorite hat to wear. 
I was born to inspire people with the spoken word.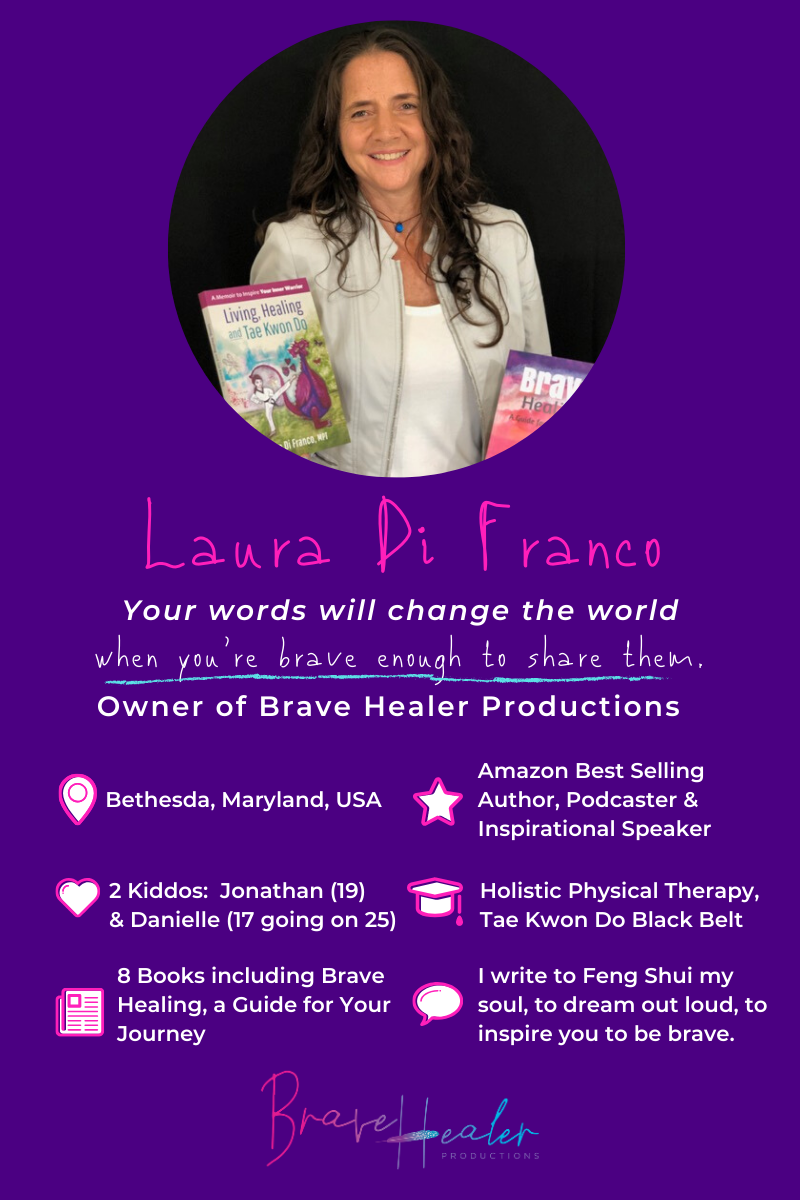 And a quick note about being a mom. Because as mompreneurs, we're supposed to say, "Being a mom is my favorite," right? 
It's not. But I'm a really great mom. 
The way I parent is different from a lot of parents. I do it with a lot of awareness. 
But I figured out a way to pursue my dreams and gave myself permission to love that more than my mom role many days. My kids will receive that authentic, aware energy and that is what matters when it comes to these roles we play in life. 
On Work-Life Balance
Lauren: Has it been tricky balancing work and home life?

Laura: The balance of work and home life is always tricky, right? But what if I told you it's not about balancing everything? 
What if I said it's about riding the rollercoaster with your hands up and enjoying each chaotic moment as it comes? 
I think balance is a myth.
I believe that when we master and prioritize our mindset, our self-care, and our goals and dreams, we can do the wild and crazy up and down that is life. And we can do that from an overflow of joy and energy, instead of our reserves. 
On Dying Happy
Lauren:  If you were to die tomorrow, would you be at peace knowing you had lived a full, happy and meaningful life? 
Laura:  I love this question. I would so die happy tomorrow. 
Four years ago after I asked for my divorce, and ended up going through the worst year of my life in terms of stress, I picked up the pieces and made a decision to really go for it in terms of what I was here on this planet to do; help healers share their stories. 
The ripple of love, joy, inspiration, and freedom I've experienced from that allows me to wake up and say, "I could die tomorrow it's been so good." What a badass feeling that is. 
Some things that have happened since that moment include finding a much bigger love (I fell in love with someone who matched my level of awareness and called me out on the bullshit). 
In this relationship, I've grown and healed and loved in such big ways. Enough for this lifetime. 
I've also lived inside of my purpose to the point of knowing that I've done what I came here to do. 
In fact, these feelings started to feel so intense that I got off my butt and hired a lawyer to draw up my will and power of attorney late last year. 
In other words, my life felt so good that I wondered if the Universe was going to take me home at any moment. 
On Entrepreneurship
Lauren:  Is there anything you know now, that you wish you knew when you started out as an Entrepreneur?
Laura:  Oh my, don't get me started. So. Many. Things. 
But that's actually part of what I'm here to do; help other business owners with the information, short cuts, tips, tricks and strategies that I messed up on through the years as I taught myself everything.
I went to school to become a physical therapist. I did not go to business school. So I learned by taking action. 
And now I teach that action-taking strategy to other healer entrepreneurs so they don't have to spend so much time learning it by themselves.
I truly believe that mistakes and failures were stepping stones in my life. I'm grateful for every one of them. They helped me do what I do now. 
Every single moment helped shape the badass I am today. 
And today I can move an entrepreneur through a high-vibe strategy for their business that not only feels great to them but produces results they'd only dreamed about before. 
This is a combination of mindset tools and business development. And it's amazing. 
On Tools of the Trade
Lauren: Which tools of the trade have been enormously helpful for you?
Laura: I want to tell you all the tools here you guys. There are so many great tools. But a tool is only as good as the amount of practice you do, right?
Okay, listen, you need to get your technology tools straight. 
Tools like Quickbooks Online (for bookkeeping), Zoom (for online classes), and AWeber (for your email list)…these should be no-brainers. Don't resist the list! Your email list is the biggest personal sales tool you'll ever have. Even more than your social media. 
But I also want you to know about some tools for awareness that will give you ninja moves as an entrepreneur. 
For me, those included tapping (Emotional Freedom Technique), myofascial release (a mind-body healing modality), martial arts (not just an exercise, but a way of life), and mindfulness meditation or body awareness meditation (because if you're not getting still and connecting with your intuition on a daily basis, none of the other tools will work well. 
And as a writer, I'll shout out tools like Grammarly (your proofreading program) and Scrivener (an organizational tool for your writing) and Medium (easiest way to start a blog). 
If you're climbing Mt. Everest it's the climber with the best equipment and tools that have half a chance. And it's the one with the most disciplined mindset that will survive in the end. You need all these kinds of tools. 
On Motherhood
Lauren: Is there anything you know now, that you wish you knew when you first became a Mom?
Laura:  I would say that what I know now is you need to pay more attention those first five to seven years because my career as a healthcare practitioner and writer gave me an incredible education about what happens in the early stages of life with those little, amazing brains.
We're so caught up in the chaos, exhaustion, and survival mode of being a parent that sometimes we forget that those first several years shape our kids way more than we realize. 
People know this now. I did not back then. I was just doing the best I could with the information I had at the time. 
If you have a moment, pick up The Biology of Belief, by Bruce Lipton. 
He's going to give you a few reasons to do things differently as a parent in those early years. What I did have going for me back then was a continual quest for healing, knowledge and awareness. 
So my kids benefitted from that and they turned out pretty darn awesome. 
But if I had known what I know now, I would have been braver about the way I talked to them and the kind of energy I chose when I was around them from the start. Because with awareness, we have a choice. 
On Choosing Entrepreneurship
Lauren:  All things considered, do you feel it was a good decision to become an Entrepreneur?
Laura:  I think I must have been born an entrepreneur. 
I remember the lemonade stand, and the post office my sister and I would set up as kids. We watched our grandparents and parents live the life of entrepreneurs. And my sister and I both went that route. Maybe it's in our blood. 
It was the only decision for me. After working two or three jobs for a boss and a big corporation the most important thing I knew was what I didn't want to do; answer to someone else and make someone else's retirement dreams come true. 
After conjuring up the courage and going out on my own, there was no looking back. 
Once you've tasted the freedom of being an entrepreneur it tends to overpower the stress of it. And there are stresses, believe me. 
Going from benefits like healthcare and paid vacation to neither of those things wasn't easy. 
And for sure it was harder after I became a single mom. 
There are days still where I think to myself, what did you do?  But those moments are short-lived. 
My dream, goals, desires and mission are way more important. Expressing my true purpose in the world without anyone telling me not to, or that it's wrong, or not-good-enough…that's something I'll never give up. 
Laura Di Franco's Message to the World
Lauren:  Do you have a message you would like the world to hear?
Laura: Back to our first question to wrap up here. It was the day that stranger reached out to me to let me know my words had helped her. 
The Facebook messenger read, "I read something you wrote on your blog and it really helped me. Do you have any more links to share?" 
I realized that sharing my words out loud was important. I dropped her a couple of links, but I went a step further. I wrote and dedicated a blog to her and I asked my audience to step up in the comments. Because I knew I had other mothers, healers, and women who'd suffered from depression in that audience. 
And they did step up with love and support. My new friend (Shirley) felt some hope and connection. 
We became friends and she came into my world through a class I was teaching online. She then went on to writing her first two blogs to the world; one a story about her struggle with depression and the second a reach-out to other moms that said, "If I can do this, so can you." Do you all feel the ripple? 
Here's my message to the world
Your fear of not-good-enough is boring. What if the thing you're still a little afraid to share is exactly the thing someone else needs to read or hear to change, or even save, their life? It's time to be brave. 
I'll leave you with this quote from Laura's video interview.

"Just remember, you were born. So you are worthy. Your message matters. And what if the thing you're just a little bit afraid to share, is exactly the thing someone needs to hear to either change or even save their life. It's time to be brave…"
Find Laura's signature course, Intuitive Writing and Speaking for Healers here. 
Laura Di Franco's 4 Amazon Best Sellers

* Please Note:  I am an Amazon Associate. If you purchase anything through a link in this article, please assume that I have an affiliate relationship with the company providing the product or service that you purchase, and that I'll be compensated in some small way at no extra cost to you.
Follow Laura Di Franco on:
Please follow and like us: