Please follow and like us: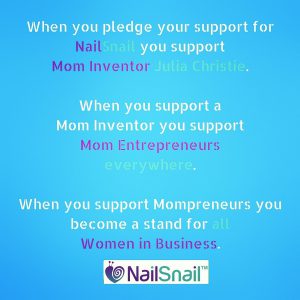 6 Days to go for Nail Snail's Kickstarter Campaign!
When you pledge your support for Nail Snail you support Mom Inventor, Julia Christie.
When you support a Mom Inventor you support Mom Entrepreneurs everywhere.
When you support Mompreneurs you become a stand for all Women in Business.
We are super excited to be one of Julia's backers and can't wait to receive 5  Nail Snails in the post soon.
BUT Julia Christie needs your help.
There are only 6 days to go of Julia's Kickstarter Campaign and still AU$2,354 in pledges to be secured.
All pledges are null and void if Christie & Christie don't reach their target of AU$10,000.
Please pledge your support.
Here's a quick run-down of what the Nail Snail is all about.
Mum (Julia Christie) struggled to trim her baby's nails (as we all do)
Inspiration struck – the idea for the Nail Snail was born
Loads of hard work spanning over 3 years
A prototype was developed: it worked!
Parents tried the Nail Snail and were super impressed!
Nail Snail effectively trims baby nails with no tears, no drama
Kickstarter Campaign Launched today
How many people do you know who came up with a fantastic idea and turned it into reality?
How many Mums do you know who invented and designed a product Mums love?
We interviewed this Inspiring Mum Inventor!  Read more here…
Clever Mum Invents Baby Nail Trimmer to Relieve Parents Stress
We've been tracking the Nail Snail's campaign progress both on Kickstarter and Instagram.
Day 24: 10 March: AU$ 7,646 pledged by 176 backers.
Day 23: 9 March: 7 Days to Go – we upped our pledge from AU$10 to AU$50
Day 15: 1 March: AU$5,903 in pledges by 115 Backers.  Over half way!
Day 8:   22 Feb: AU$3,500 pledged.
Day 3:   17 Feb:  AU$2,128 & 55 Backers.  Over 20% of goal has been reached!
Day 2:  16 Feb: Pledges are up to AU$ 1,556 of AU$ 10,000 goal from 41 Backers.
Day 1: 15 February 2017: 
Nail Snail's Kickstarter Campaign went live  5 hours ago! As expected The Nail Snail is in huge demand – AU$ 704 pledged already!  Inspiring Mompreneurs just pledged their support!
Please follow and like us: