Please follow and like us:
Oh my goodness.. this is exactly why I love receiving guest posts.  I learn so much from them.
I don't have any physical stock because I'm selling services, not goods. And therefore, I've never considered the need for an inventory tracking app.  
Our featured Mom Inventors, on the other hand, certainly have inventory they need to track. 
And YOU might be a Mom Entrepreneur with inventory.  If so, this post is for you.
5 Reasons Every Entrepreneur Should Use An Inventory Tracking App
Guest Post by Chioma Iwunze-Ibiam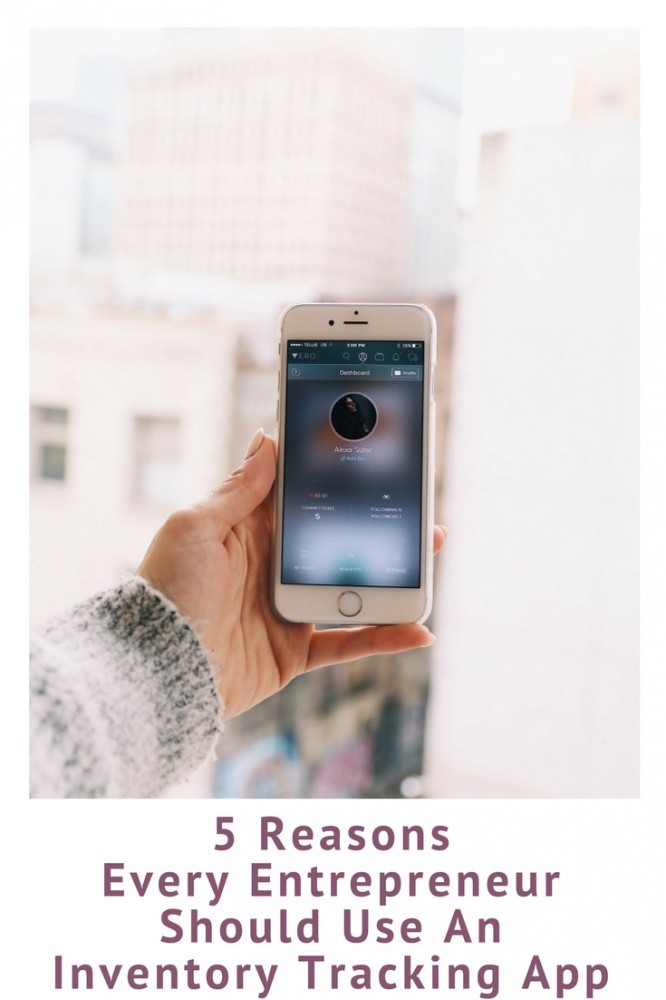 Thousands of businesses have lost a lot of money as a result of poor inventory-tracking. A survey showed that at least eighty-one percent of customers have experienced an out-of-stock disappointment from stores and other businesses within the past year. I have experienced quite a number of these disappointments and it only makes me wonder how much these entrepreneurs lose annually.
Customers lose confidence in stores that often give the out-of-stock excuse. They assume that the business is disorganized. With time, they will choose to patronize competitors who have a better grip on things. Who wants to waste their time going to a store that won't have 50% of the items on their list?
Serious business owners take steps to track their inventory. For instance, a boutique owner should be able to ascertain what colour of handbags and children's shoes are in stock. The boutique owner should also be able to accurately forecast which products will be in demand. Having the right business information will help you manage and grow a more organized business setting.
Organization is an important aspect of a successful business irrespective of the niche. A reliable inventory app streamlines the organization and planning processes for small, medium and large-scale businesses. Not only will it help your business save money, it will guarantee the growth of your corporation.
In fact, Forbes' business experts have revealed that the average business owner wastes up to one hundred and fifty hours per annum, looking for products, data, or both. This amounts to the loss of $3,842, where the annual earnings are $50,000. No sane entrepreneur would want to waste so much.
There are so many reasons why every entrepreneur needs an inventory-tracking app in warehouse management and other aspects of business management, but I will list only the top five on my list.
1. Helps You Achieve A More Organized Warehouse
Everyone prefers organized business and home settings. An organized place makes you feel safe and confident. Every business owner wants to create that perfect ambience for the customer. With an inventory tracking software, it is easier to organize business processes and improve employee creativity and productivity. The software works perfectly mostly in the warehouse and customer service areas.
One great aspect of inventory apps is that they design great layouts for warehouses so that you can place your top-selling products in more strategic locations. This will help save dispatch and delivery time for both the sales representatives and the customers. And nothing satisfies a customer better than great service.
2. Improved Customer Service
A good inventory tracking software can help you improve your customer service. It simplifies the process of gathering customer information. Customer orders are easily filled and tracked when a good inventory management software is being employed.
When there is an automated way to quickly complete customer orders and track them, the manufacturing and delivery processes become faster and easier to manage. What's more? You'll have very happy customers who'll patronize you in the future.
3. Reduce Cases Of Product Misplacement
We already know that inventory apps help businesses save money and reduce waste. In cases where the business has suffered as a result of lost goods and products, employing this great software will make a world of difference. Besides, it is important for business owners to know the exact location of every product as well as the stock count.
You can save a great deal of time and money if you take advantage of the cost-saving benefit of inventory tracking software.
4. Great Way To Save Money
Big successful businesses employ inventory-tracking apps in order to save money. It helps the managers know which materials and tools are needed in what site and what isn't in use elsewhere. A reliable inventory app will help you keep track of products that need replenishing, and which ones need to sell off at discounted rates. A great inventory app will also furnish warehouse, products and sales managers with the information they need to work efficiently.
If you want to save money and maintain healthy profit margins, get a great inventory app.
5. Simplifies Planning and Forecasting
With an inventory-tracking app, it is easier to analyze data of well-performing stocks. Not only will this make it easier for you to forecast demand, it will help you plan future manufacturing projects. If you want to reduce holding and handling costs and increase your profits, then you must invest in a reliable inventory management app.
In fact, the easiest way to improve customer service is by forecasting demand and planning effectively.
About the Author:

Chioma Iwunze-Ibiam writes creative non-fiction and prose fiction. Her works have appeared in Romance Meets Life, Flash Fiction Press, MTLS, Saraba Magazine, Sentinel Magazine and others. Her first novel, Finding Love Again, was published by Ankara Press. She owns and manages Creative Writing News.
Follow Creative Writing News on Twitter @ChiomaIwunze
Over to You, Moms…
How are you doing tracking your inventory? Are you using an inventory tracking app?
Please follow and like us: